YouTube is undoubtedly one of the most popular websites worldwide. It ranks after Google and Facebook and normally
YouTube is undoubtedly one of the most popular websites worldwide. It ranks after Google and Facebook and normally witnesses abundant traffic in millions every second. With its record-breaking number of users, it has won the hearts of all across the world through its high-end free video browsing services. With a record of around 1 billion hours of videos watched every day and approximately 400 hours of videos uploaded every minute, there is nothing similar that will beat this tech giant any time soon.
If you thought that YouTube was only meant for watching your favorite videos online, then you are highly in the dark. Surprisingly, there is a lot of other interesting stuff that YouTube can do for you. There are several exciting secrets about YouTube that you might probably not know at all. Here are some of the surprising things you didn't know YouTube can do for you.
Read also- How To Enable Dark Mode On YouTube
Things you didn't know YouTube can do
Play Videos in Slow Motion:
Did you know you could make YouTube play any video in slow motion? This is an interesting feature offered by YouTube to those who love experimenting with the videos. If you wish to play a video in slow motion, then it is quite simple to do so. You just need to press and hold down the space bar. The video would automatically start playing at a comparatively slower speed.
If you are not satisfied with this, then to enhance your experience, you can sign up for the HTML 5 Video Player by YouTube. This functionality offers you the ease of slowing down or even speeding up any video. You could so by clicking on the settings icon from the gear section of the particular video.
Instead of downloading GIFs online, you can make your own GIFs from the YouTube videos. It is super simple to make the animated GIF out of a small portion of any YouTube video. You just need to open the particular YouTube video you like. Then, in the browser's address bar, simply add the term "gif" in front of YouTube. It now reads "gif outube.com". This site would redirect to a separate page wherein you might select around 15-second video clip out of the particular video to create the desired GIF.
After you have chosen the animation timeframe for the GIF, a new section would offer the option of adding special stickers, effects, and texts as well. This would enhance the fun element to your GIF. Now, the GIF can be downloaded to the computer system.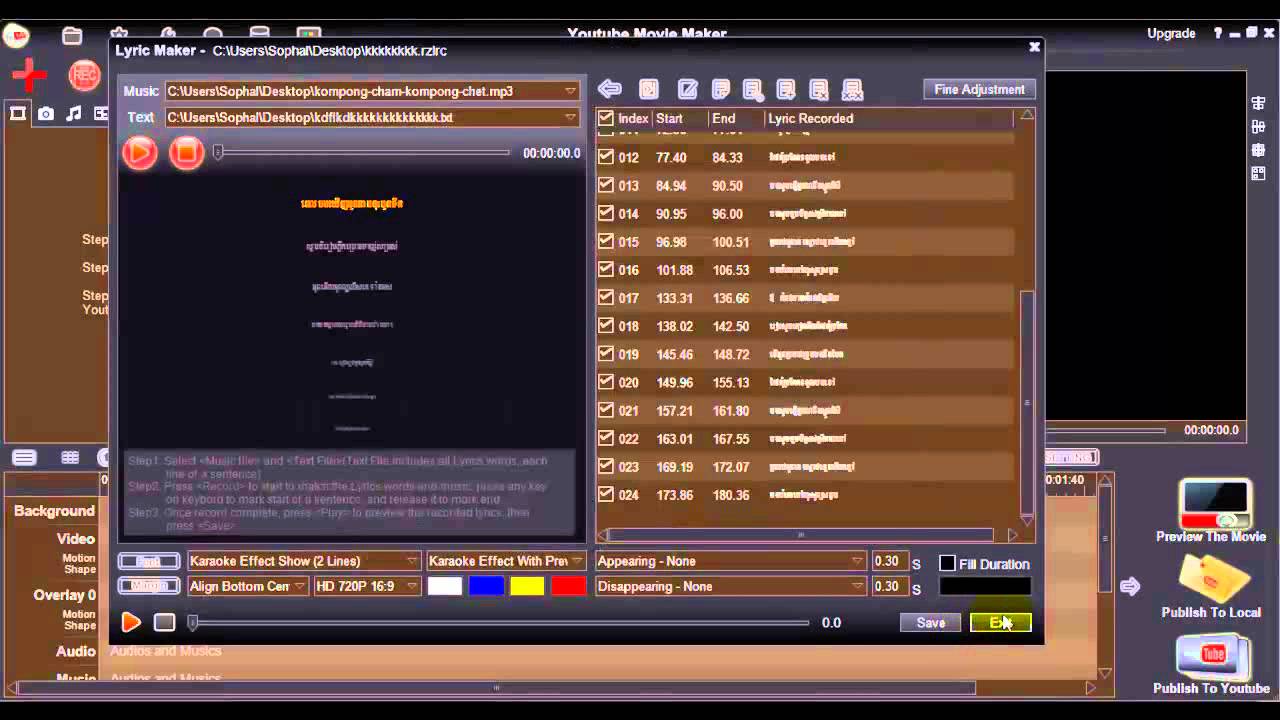 If you are a Karaoke fan, then this feature could be super fun for you. YouTube offers tons of videos that have embedded lyrics in the form of subtitles. For doing the same, you just need to type the song name with karaoke in the YouTube's search bar. This would display a list of videos that have karaoke support.
Now, if you wish to use the same as the karaoke machine, then connect your laptop or phone to the TV. Make use of a mixer for attaching external speakers as well as a microphone. In case the available lyrics are not of good quality, then you can also get a browser extension for free named as "YouTube Lyrics". This will display the lyrics just next to your video. To enhance the overall experience, tap on the gear icon for settings like color, fonts, opacity, and window color.
Magic Actions is one of the most enhanced features of YouTube. When you add this browser extension to your YouTube address, it opens a separate settings page. On this page, you will come across a series of handy tools and features. These might include volume control with the help of your mouse scroll wheel, 4K or force HD video playback, enable cinema mode, bypass country restrictions, hide ads, and enable speed booster for enhancing the speed of video loading.
If you are watching YouTube videos on your laptop or computer system, then you can transform the screen into a TV mode. YouTube offers a full-screen mode of TV to enhance the watching experience of its viewers. It makes it an enrich feel if you wish to watch videos from a certain distance.
For enabling this feature on YouTube, you just need to type "http://www.youtube.com/tv" on your system's browser. This would launch the YouTube's TV mode. The users are provided with the option to control the TV mode as per their preferences. It can be done so with the help of the keyboard. Moreover, the TV mode also comes with a special dark theme to be soothing on the eyes in some dimly lit room. You also can search for specific videos from a myriad of different categories.
Customize the Ads:
YouTube ads are highly unwelcomed by the audience. Nobody likes to watch them. They can pop up anywhere and at any time as the video is playing. Though there is an option of skipping the ad, still you have to watch it anyhow for a minimum of 30 seconds. While you cannot get rid of them completely, you can definitely customize them as per your watching preference.
All you need to do is to head to Ad Preference section. Here, you can remove whichever ad you do not wish to appear again during your video browsing. Not that you wouldn't receive any more ads, still you wouldn't have to watch the same irritating ad for the second time.
Comic Book Mode:
Wish to watch any video in the comic book mode? It is quite simple to do so on YouTube. You just need to add "&pow=1&nohtml5=1" line of code at the end of the video URL that you are watching. You would observe a "pow" icon added to the particular video.
You can simply click on that icon. This will convert your video into a comic book mode. If you wish to restore the normal setting of your videos, click on the "pow" icon again.
These are some secrets about YouTube that you should know!
Read also- 10 ways to promote your YouTube channel
---