The ZenFone 2 Ze550ML is the little brother to the 5501ML, but don't let that fool you. Having the same screen
The ZenFone 2 Ze550ML is the little brother to the 5501ML, but don't let that fool you. Having the same screen size, body weight, and camera as its sibling, the 550ML is here to impress. When the ZE5501ML was released in January 2015, the smartphone world was alight with curiosity. Critics raved and consumers loved. And when this stripped down, Android-powered beast was released in March 2015, all other smartphones ran in terror and only the bravest critics dared to watch it. Equipped with astonishing technical aspects, the ZE550ML is to your typical smartphone what a lawnmower is to an F1 car.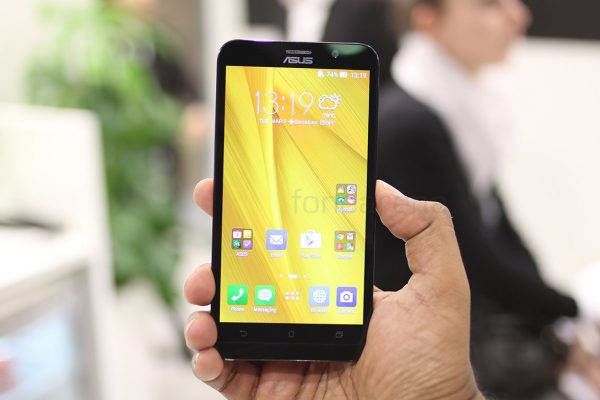 Phones that came before it don't compare, and those that come after are riding in the wake of the ZenFone. Simply put, ASUS created this class with the 5501ML. Then, they perfected it with the 550ML.
The Body and Screen
Bullets. Pencils. Coins. What do they have in common? They're wider than this phone's thickness. At just under 4mm, the 550ML's edge is easily slipped into any pocket. When you're done appreciating how thin it is, look at the face of the phone. Yes, that is a very, very big screen. This phone has a 72% screen-to-body ratio for a maximized viewing experience. That mammoth screen lets you see videos and pictures in a better, brighter, more realistic way! It's easy to imagine the clarity this screen provides at 267 ppi (pixel density) because it is similar to the clarity of which humans can see. Happily, this screen isn't all looks and no strength. Made of premium Gorilla Glass 3 material, even a gorilla would have a tough time cracking this baby. This, along with the sturdy metal frame, creates an extremely durable smartphone.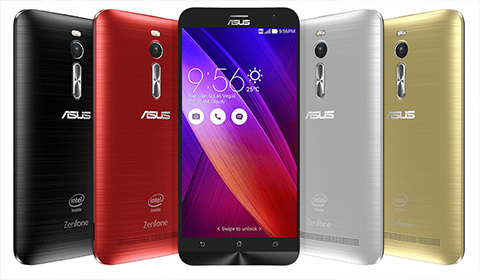 When creating this phone, the main focus was Zen. This comes across as you look at the metal back, similar in appearance to the surface of an undisturbed lake. Then, gazing at the area around the bottom buttons, you'll find a ripple-like design engraved. The buttons themselves are level with the face of the phone and are very minimalistic. Pressing these buttons multiple times or holding down these buttons allows users to complete functions other than buttons specific purpose. Almost all of the features on this phone are similar to the buttons, in that they are flush with their surroundings and appear to be "in place". The artistic detailing on this body is simply unparalleled.
The Specs
Inside the ZenFone sits a 1.8GHz 64-bit Intel processor, capable of just about anything you could throw at it. Which is good, since you'll need a lot of power for your potential storage of 64GB worth of apps, music, movies and more. You'll see details you've never seen before as you watch close-up to the stunning high definition screen.
Don't feel like storing it on your phone? Quick web browsing is a tap away. You can always expect smooth video playback and great gaming experiences even while multitasking on the 550ML. This means fast Youtube, Vine, and Instagram videos, without lag and without buffering. So if you're tired of watching a circle spin endlessly, pick up a ZenFone and compare browsing speeds. With this much processing power, the ZenFone can tear through tasks like this with ease.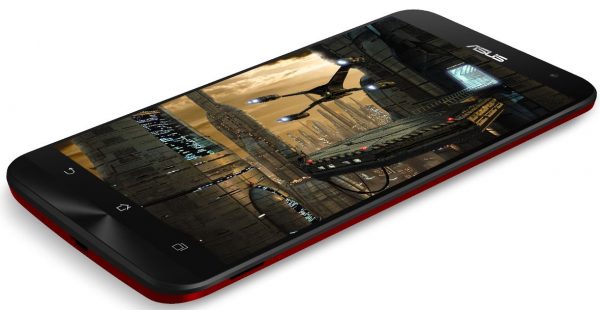 When it comes to cameras, the ZenFone is king. ASUS has incredible low-light algorithms, which allow you to take pictures that are up to 400% brighter than similar phones. This could eliminate the need to use the flash, in some situations. No matter the lighting, or time of day, this 13 MP (4128 x 3096 pixels) camera takes clear, well lit and reliable photographs. Available on the ZenFone is the proprietary feature of Super HDR. When using the Super HDR mode you can eliminate pesky daytime shadows in an amazing, seemingly professional picture. Uploading these pictures to your favorite social media site is a simple, quick process. Because of this, the ZenFone easily rivals similar phone's cameras, particularly in darker settings.
A Unique Situation
Hate having to switch between your home and work phones? Feel like you need another phone just for personal matters? With Dual SIM technology, the ZenFone allows users to seamlessly accept or make calls on either SIM card. With no time wasted, you can end a call on one SIM card, and begin a call on your other SIM card. Just because you need twice as many SIM cards doesn't mean you need twice as many phones! This not only saves you money on a phone but on your monthly phone bill, too.
If two SIM cards aren't individualized enough for you, why not completely customize your phone? ASUS have developed an entire line of cool accessories to go along with the Zenfone. The View Flip Cover allows users to protect their screens while displaying valuable information. These covers come in as many colors as your heart desires. Then there's the ZenPower product. At a little over 200g, and similar in shape to a credit card, this box allows you to power your smartphone several times before needing to be recharged itself. All of these products come in addition to the thousands of third party companies who develop every kind of phone case imaginable.
Conclusion
I'm betting that you use your phone quite often, and for many things. Your phone is important not only to allow you to communicate but to communicate for you. And the ZenFone does just that. It's a conversation piece, it's the cool kid you want to be around, it's a functioning piece of art. When you're seen using the ZenFone, it gives an aura of intelligence and individuality. Using two SIM cards, you can switch identities in seconds. The sleek, dynamic design displays workmanship of a luxurious caliber. The only possible thing one could say is missing from this phone is an obnoxious, well-known logo on the back. All in all, the 550ML is a properly designed, well constructed and highly efficient smartphone.
---