If you decide to reinstall the system – you'll want to make a copy of your bookmarks in Google Chrome,
If you decide to reinstall the system you'll want to make a copy of your bookmarks in Google Chrome, in order to restore them. It may also be useful to copy all of the important information on Google Drive, or on a USB flash drive. If you use a proper backup, it is possible to restore all lost data at any time. Here, we will explain how to backup Google Chrome bookmarks.
You also may read: How To Translate The Webpage In Google Chrome Into Your Native Language
How To Backup Google Chrome Bookmarks
The easiest method that can be implemented in a standard Chrome interface is to export your bookmarks to a file with the HTML extension, which can then be imported into Chrome, or any other web browser. To save the data in HTML, follow the simple instructions:
Start Google Chrome
Open Chrome menu by clicking on the right side of the browser address bar
Select the category "Bookmarks"
Click on "Bookmark Manager" at the upper side of the menu
In the new window, you will see a list of all your pages. Above the list is "Organize" button. Click on it
Select the last item – "Export bookmarks to HTML"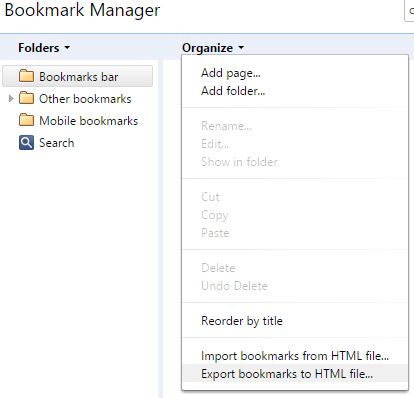 Navigate to the directory where you want to save the file, and name it properly, for example, "My Bookmarks".
Now you have a copy of all your bookmarks. After reinstalling the system, you will need to go back to the "Bookmark Manager", select the "Import" and locate the HTML exported file.
If for any reason the standard export function doesn't suit you, you can save a copy of the Chrome file that contains bookmarks. Folder Google is in a hidden "AppData" directory.
Open "File Explorer".
Go to your system disk (in most cases this is drive C).
Locate the folder "Users", and in it, open your user folder (the name is the same as your login).
Now you need to adjust the File Explorer to be able to see the hidden folder
At the top of the window is "Option" menu
Open it and click on "View" tab. Scroll to "Show hidden files, folders and drives", click on it and click "Apply" and then "OK".
Now, «AppData» directory will be visible to you. Open it, then move to «Local», then «Google», and, finally, «Chrome».
The appropriate directory that contains personal information is «User Data».
There is a folder «Default». Open it.
This is where you can find «bookmarks» file.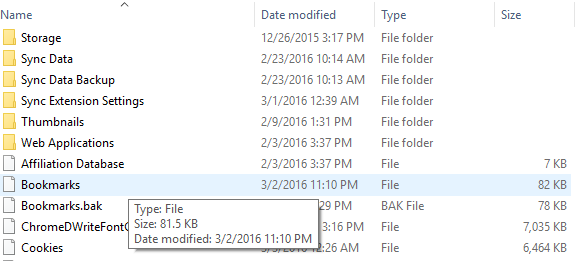 It keeps the data about all of your Chrome bookmarks. You can keep it in a safe place, and then just move it back. Unlike the previous method, this file is not suitable for importing into other browsers.
Image Source: www.wallpapercave.com
You may also read: How To Choose The Default Download Location In Google Chrome
---