Homebezz is supported by its audience. We may get a commission from retail offers
3D printers are awesome devices that allow you to print in actual 3D as opposed to 2D which is the case with
3D printers are awesome devices that allow you to print in actual 3D as opposed to 2D which is the case with traditional printers. Though it isn't exactly a very recent technology, it has only now become more easily available in the consumer market. If you are out to buy one of these printers then you need to do some solid research. They come with a variety of features, specifications, prices, and designs. To help you find the right one to suit your needs, you can take a look at our list here that features some of the best 3D printers available online for purchase.
See also: Top best laptops for teachers
Best 3D Printers
One of the Best Mid-Range 3D Printers
FlashForge Creator Pro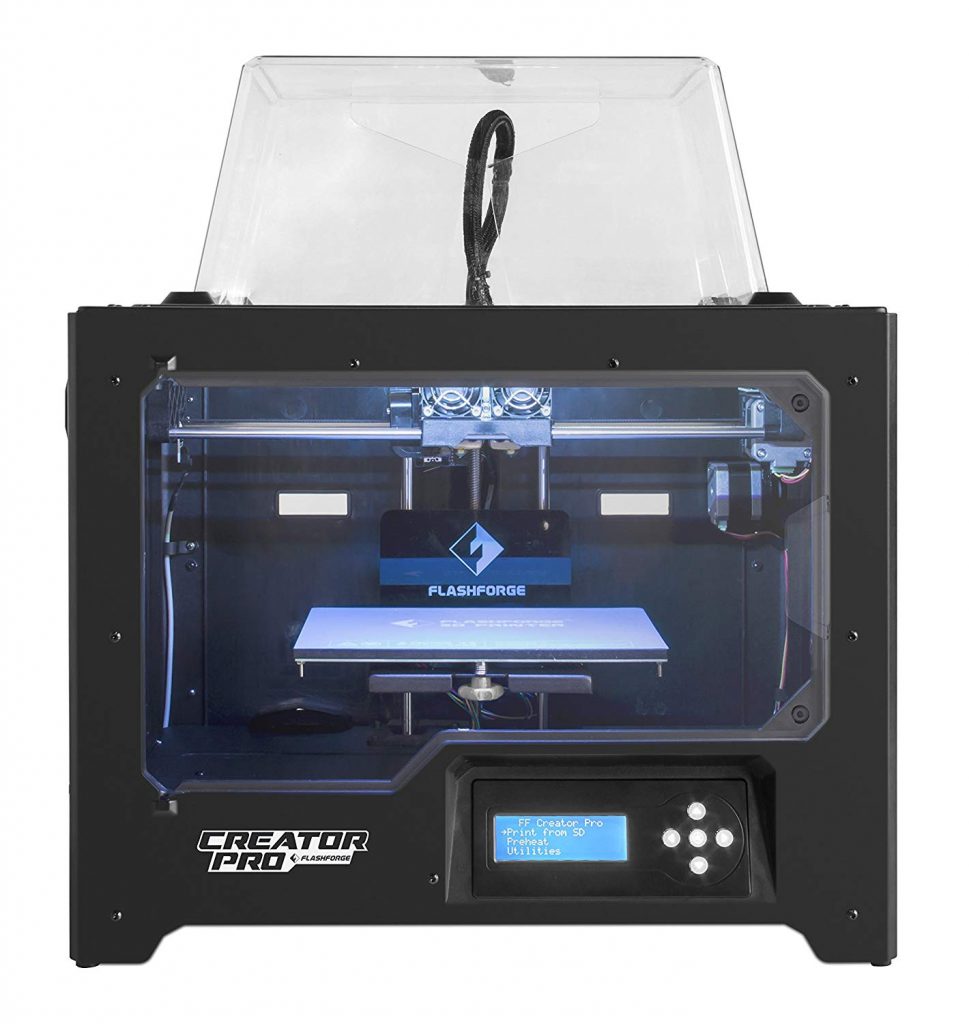 The FlashForge Creator Pro comes with a metal platform support, a 10 mm guide rod for better Z-axis movement, a print speed of up to 100 mm/s, 100-500 microns layer resolution and LCD controls. The design is interesting with a unique touch, bordering on the ordinary at the same time. Some people will love it whereas others will hate it. However, the build quality is pretty nice as it has a sturdy metal frame with a build volume of 8.9 x 5.8 x 5.9 inches. It comes in an aviation-grade aluminum plate with a thickness of 6.3 mm that you don't have to worry about it getting warped when it gets heated up.
The metal platform along with the 10 mm guiding rod allows it to make precise Z-axis movements and prevent it from getting deformed at the same time. When it comes to filament compatibility, it goes well with PLA, ABS, PLA color, Change, Pearl, ABS pro, Elastic, PVA, HIPS, PETG, TPE, TPU, conductive filament, flexible filament, metal-filled filament, wood-filled filament, and PP. The Creator Pro doesn't have automatic bed levelling so it has to be done manually. This printer is made more for those who have experience working with 3D printers than beginners.
One great aspect of this printer is that it is open-source with two extruders. These two extruders allow you to have a dual-color print or even water dissolvable supports. Filament compatibility with lots of brands is also a huge plus as some printers only allow their filaments to be used in their product. It's also pretty easy to clear jams in the nozzle or stepper motor which saves you a lot of headaches in the future. As for print quality, it isn't the best but it is above average for its price range.
Who should buy this?
It's perfect for those who are looking for a mid-range printer at a reasonable price.
It's ideal for people who want above-average print quality.
It's a great choice for those who need a pre-assembled 3D printer, with minimum work required to set it up.
See it on Amazon
One of the Best 3D Printers under $300
Comgrow Creality Ender 3 Pro
The Comgrow Creality Ender 3 Pro comes with a Cmagnet build surface plate, UL certified power supply, resume print functionality, semi-assembled kit, 1.7 mm filament, 24/7 technical support, and a 2 years warranty. Design-wise it looks like a mechanical guillotine but behaves very much like a 3D printer. All jokes aside, this 3D printer looks pretty unique and the design is quite compact. The printing size is 8.6 x 8.6 x 9.8 inches which are great for its price point and the dimension of this machine is 17.2 x 16.1 x 18.3 inches. Both are very reasonable sizes if you are looking for a small, compact 3D printer.
There are many reasons why the Ender 3 Pro is probably one of the best 3D printers under $300. Its compact printing size saves a lot of space while not compromising on the scope. It comes in a semi-assembled form where you have to do only minimum work to set it up and get it running. Its power supply system can effectively protect the device from unexpected power surges as well as heat the hotbed to 110°C in 5 minutes which is impressive. It also comes with broad rubber feet that reduce noise considerably which is always a plus when it comes to 3D printers.
The C-MAG magnetic printing bed is quite cool too as you can remove this flexible sheet and remove your prints off the build plate more easily. At the same time, the textured surface allows you to stick the first layers properly to the bed which is very critical to get a good print. If you are a 3D printing enthusiast on a budget, then the Ender 3 Pro is easily one of the best options to go for. If you have a little experience in manual bed leveling, then there is no better machine to have than this one.
Who should buy this?
For those looking for a 3D printer below $300.
For people on a strict budget as well as those who have some experience in 3D printing.
It is ideal for those who want an upgradable 3D printer.
See it on Amazon
One of the Most VersatileMid-Range 3D Printers
BIBO 2 Touch Laser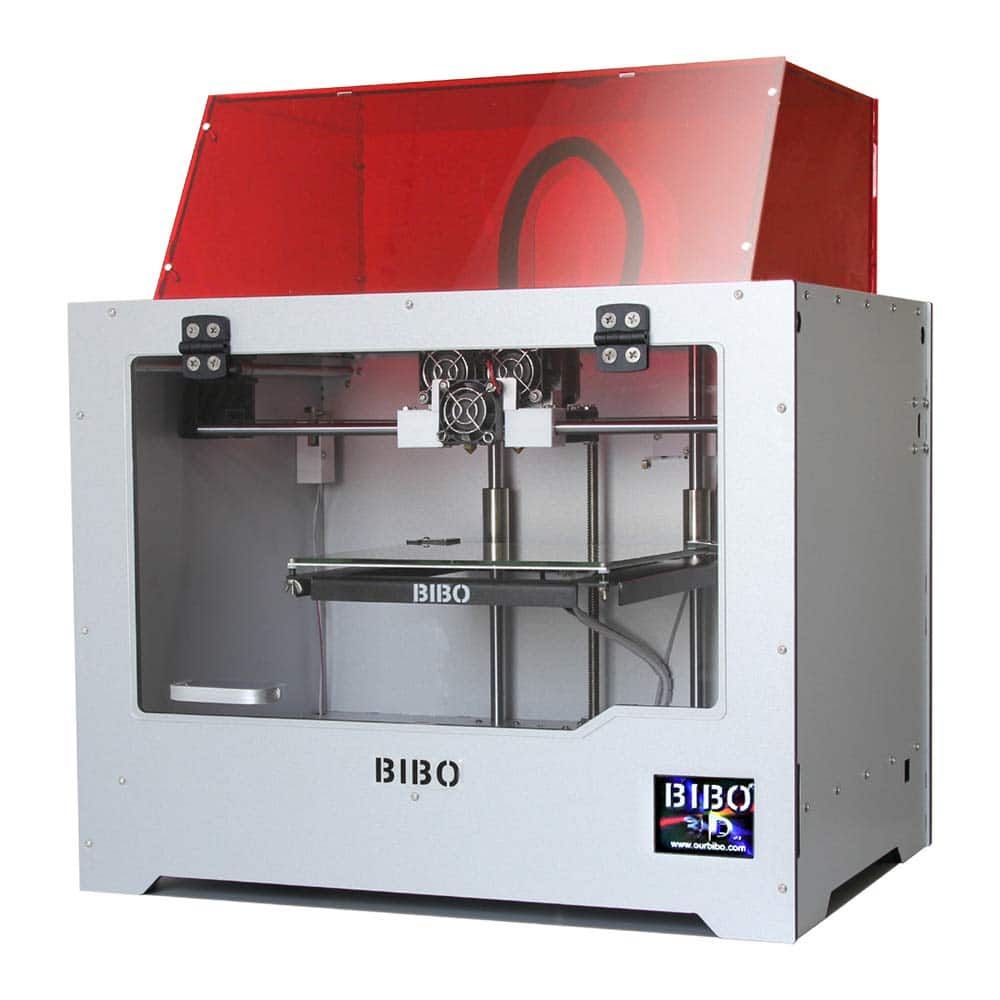 The BIBO 2 Touch Laser 3D printer comes with a full-color touch screen, laser engraving functionality, filament detection capability, Wi-Fi control, copy printing, two-color printing, and a printing laser resolution of 0.05-0.03 mm. The design of the BIBO 2 Touch laser 3D printer is pretty standard and doesn't come with any bells or whistles. The red acrylic hood looks pretty nice though and instantly catches your eye. It is removable if you want to regulate the interior temperature. With a build size of 8.4 x 7.3 x 6.3 inches and a printing laser resolution of 0.05-0.03 mm, you get a very respectable printing size as well as quality.
One of the unique aspects of the BIBO 2 Touch laser 3D printer is that it not only prints 3D objects but also functions as a laser engraver, which is very cool. You can engrave on different surfaces such as wood, plastic, leather, paper, etc. You can even cut thin materials like plastic which is a nice added feature to have. Another cool feature is its filament detection capability which makes the machine pause if it ever runs out of filament spool. This is a very handy feature to have when you are printing objects in large volumes.
If these features aren't enough, you also get a Wi-Fi module so that you can connect it to your phone or PC. The Automatic Resume functionality is another useful function that kicks in when there is a power outage, where the printer will resume where it left off once the power comes back. Very few 3D printers have this function making the BIBO 2 Touch Laser very special. To summarize, if you are looking for a 3D printer packed with lots of cool features, then this one might just do the trick.
Who should buy this?
Ideal for those who are looking for a feature-rich 3D printer.
For people who are new to 3D printing and intermediate users.
For those who like to do laser engravings on various materials.
See it on Amazon
One of the Best 3D Printers for Beginners
Monoprice Select Mini Pro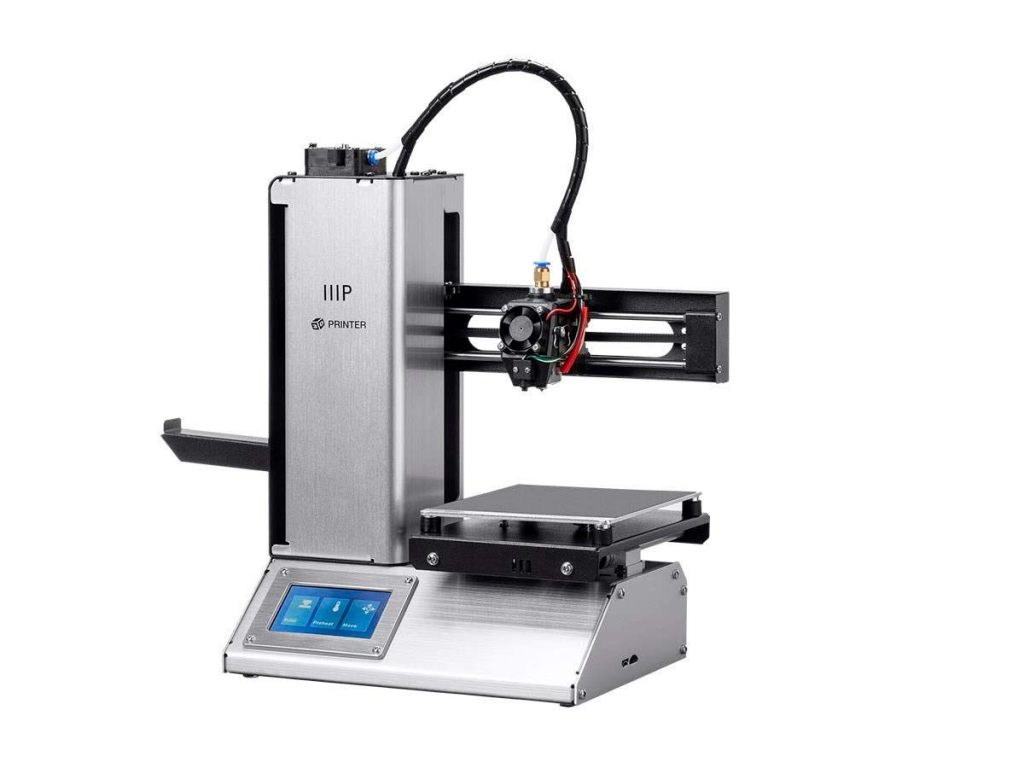 The Monoprice Select Mini Pro has automatic bed leveling, E3D style all-metal hot end, removable magnetic build plate, an inductive sensor, Wi-Fi capability and comes fully assembled. As the name suggests, the Monoprice Select Mini Pro is pretty compact making it easy to carry around if that is your wish. Unlike other 3D printers it doesn't come with an acrylic hood nor does it look like a glorified oven. Though it is a low-end 3D printer it has a different look and feel to it. The design is refreshing for this type of printer. It comes with a build area of 120 x 120 x 120 mm and a resolution of 100-300 micron.
This 3D printer is mainly targeted towards beginners or budding 3D printing enthusiasts which is great as it has all the necessary functions and features to help the user understand the basics of 3D printing. Most importantly it has automatic bed-leveling which is a great help for those who are new to 3D printing. Manual bed leveling is something that requires a lot of precision and the result might make or break your 3D prints. All you have to do in the Select Mini Pro is press a few buttons and the printer will calibrate itself automatically to handle this.
Another cool aspect is the live Z adjustment which you use to manually increase or decrease the nozzle-print bed distance to balance the level properly. By doing so, you will be able to make a perfect first layer and hence a better 3D print output. If you are just starting with 3D printing or wish to dabble in it, the Monoprice Select Mini Pro is a great printer to have due to its ease of use, convenient features, and good output quality.
Who should buy this?
It's perfect for novice 3D printers.
It's just the printer for those who want a compact and small 3D printer.
It's a good choice for all those who are on a tight budget.
See it on Amazon
One of the Best Compact 3D Printers for Home and School Use
QIDI Tech X-one2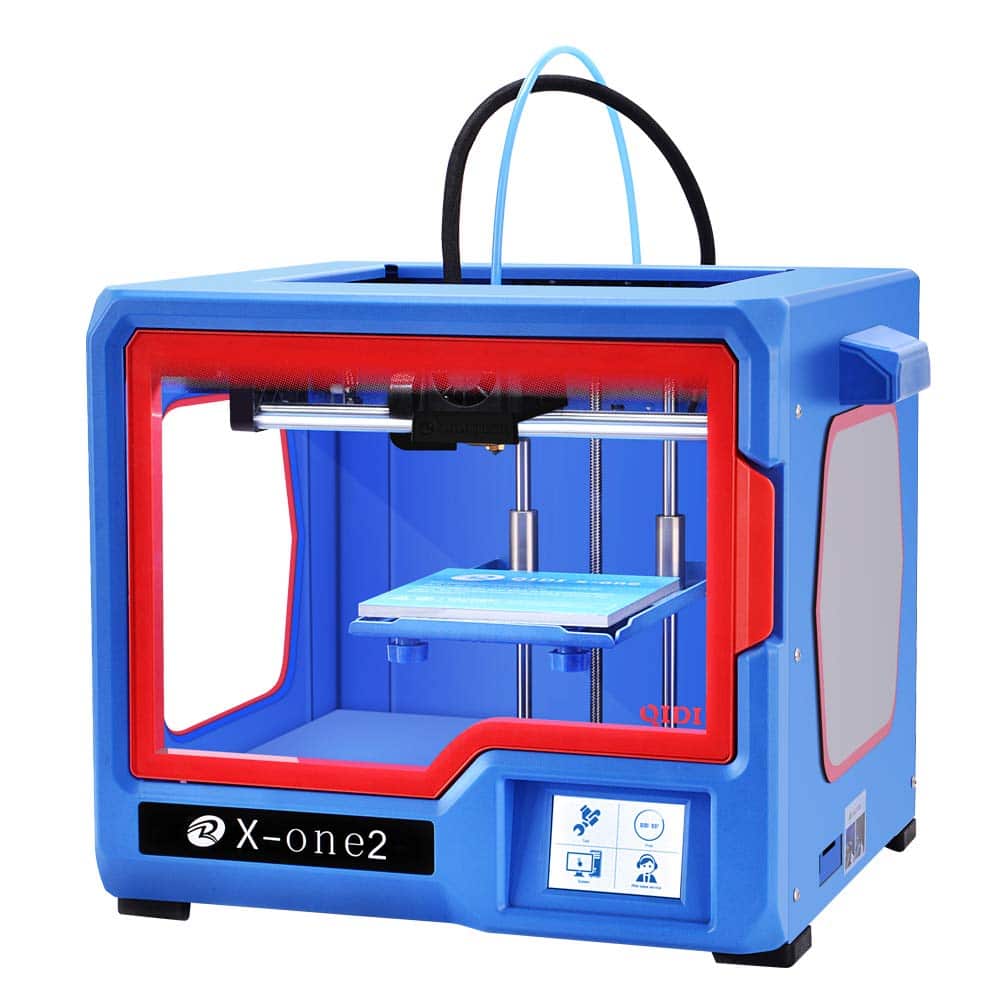 The QIDI tech X-one2 comes with a 3.5 inches color touchscreen, 3D slicing software, high-quality aluminum plate, single extruder, excellent one-to-one service and a printing resolution of 100 microns. One glance at it and you will know what purpose it is designed for. The bright and high-contrast colors of the printer appeal to kids making it perfect for educational as well as recreational purposes. It comes with a single extruder and the injection mold provides stable and easy 3D printing. It is designed in such a way that the printer is always well ventilated which helps to protect it from heat build-up and therefore increase its longevity.
One of the best aspects of this printer is its touch screen interface. Very few 3D printers at this price point have touch screen functionality. It's very intuitive and easy to use even for beginners or budding 3D printing enthusiasts. You can even pause and resume printing as you like which is very handy especially when you have to change the filament midway will printing. Performance-wise it may be said that it is worth more than its price. The aluminum plate, as well as high flatness, can effectively solve potential printing flaws. The heat is also spread evenly reducing the chances of the object getting deformed.
The build volume of 5.5 x 5.5 x 5.5 inches is ideal for educational purposes and casual use. You also get the QIDI 3D slicer software that you can use to perform a variety of cool functions. However, if you want to use another program, you can do that too as the QIDI X-One2 is open source. You can also get test prints to get more familiar with the process and output. The QIDI X-One2 is a great value, an affordable 3D printer that is ideal for educational purposes and casual use at home.
Who should buy this?
Ideal for students as it is affordable and compact.
If you are looking for a really small and portable 3D printer.
It's a great choice for those who want to buy one for their home.
See it on Amazon
See also: Best computer for AutoCAD
One of the Best High-End Printers
Monoprice Delta Pro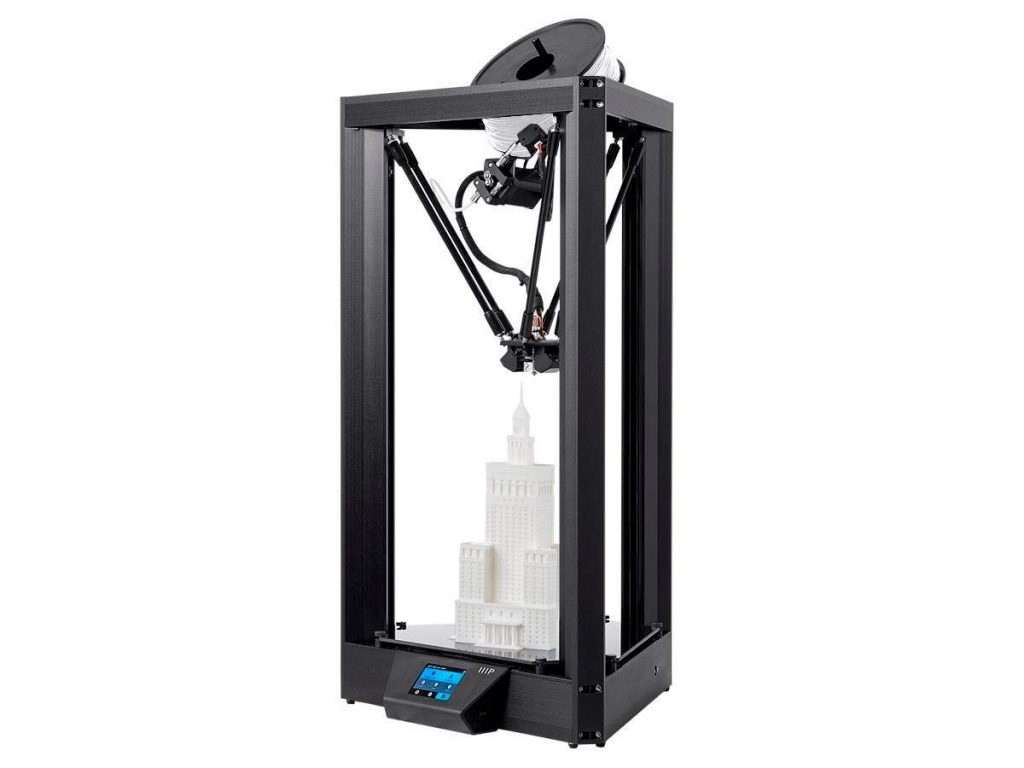 The Monoprice Delta PRO 3D printer comes with auto bed leveling, extra-large build volume, auto PID tuning, low filament sensor, 32-bit ARM processor and some quality software. It comes fully assembled and delivers ultra-quiet performance. The design looks gorgeous with its sleek black matte frame and hidden motors. It's very reminiscent of a large lantern which is pretty cool. It's one of the few 3D printers that will look good even when placed in your living room. What separates the Delta Pro from most of its competitors is how big it is at 3 feet tall and 1.5 feet wide. This isn't the average compact 3D printer you can carry around. However, it will allow you to print taller objects.
It comes with automatic bed leveling so you don't have to bother yourself with using hex keys and feeler gauges. You are pretty much ready to go the moment the printer is set up. What's impressive is its build volume of 270 x 300 mm which lets you print large objects in one go rather than a series of small pieces which later have to be assembled. The built-in Proportional-Integral-Derivative (PID) Control algorithm tuning keeps the temperature consistent to make sure that the print quality is reliable every time you use it. One convenient feature it has is its ability to pause printing when it runs out of material and resume once again when the new spool is loaded. It's also exceptionally good at overcoming very tricky obstacles like printing steep overhangs and unsupported spans.
The Delta Pro is very quiet when it starts printing. Most of the 3D printers out there tend to make a lot of noise while printing which can get a bit irritating. It also doesn't come bundled with any proprietary software but you can use a bunch of third-party programs such as Cura, Kisslicer, and Repetier. In short, if you are looking for a gorgeous 3D printer with a lot of cool features, reliable performance and a large build volume, then the Delta Pro might be the one for you.
Who should buy this?
For people who need a high-end 3D printer with the great build quality.
It's a great choice when are looking for numerous features for convenience and functionality.
Ideal for those who want a 3D printer with a large build area.
See it on Amazon
One of the Best Value3D Printers for Casual Use
da Vinci Mini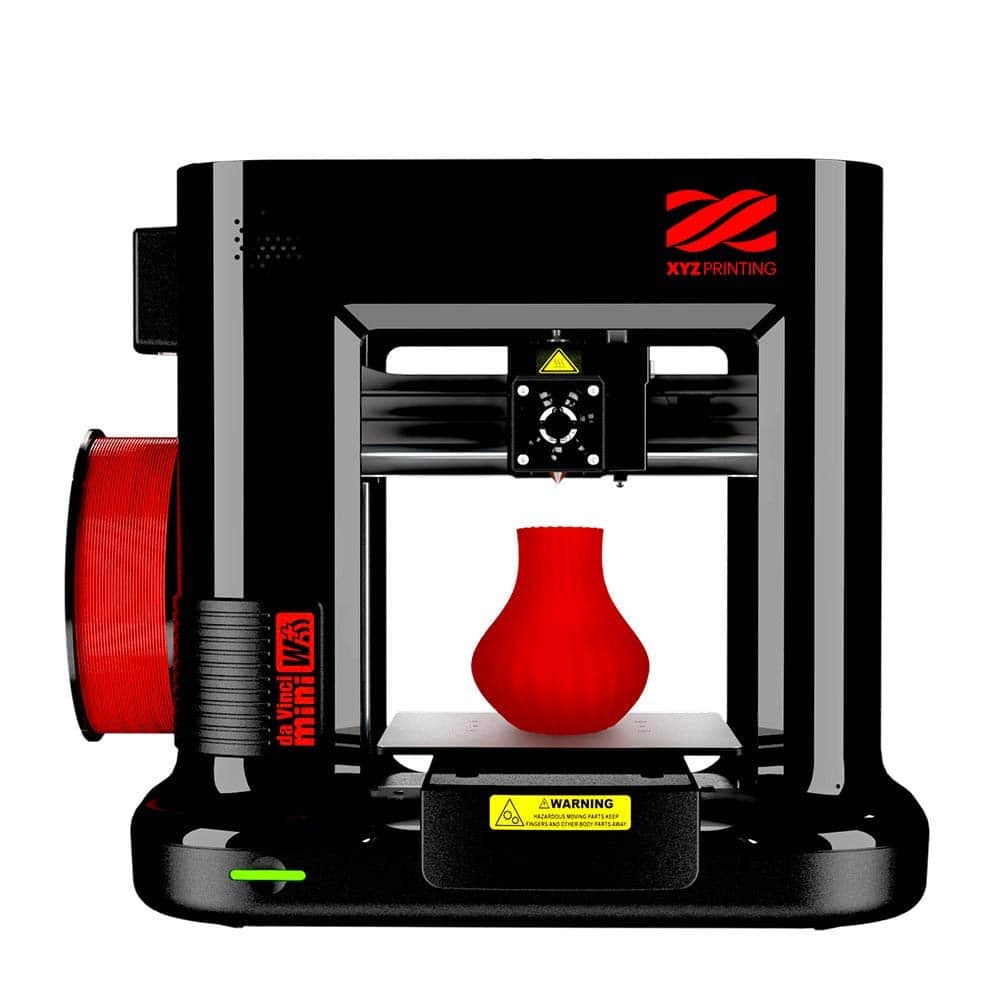 The da Vinci Mini 3D printer comes with wireless connectivity, non-toxic and environmentally friendly filaments, downloadable beginner software, lightweight body, auto-calibration function and the ability to print with carbon PLA. The da Vinci Mini, unfortunately, doesn't look as good as you think especially when it's named after one of the most creative geniuses the world has ever known. However, it isn't bad looking either. One might even go so far as to say that it looks quite cute like a cross between a mini coffee maker and a Lego factory. You also get three color options such as Black/Red, Bronze and Orange/Black. The dual-tone color combos do set the da Vinci Mini apart from its competitors because they look good without making it look as if it has just been painted in a gaudy color.
You get a small 5.9 x 5.9 x 5.9 inches build volume which is good for such a small printer; after all, it weighs only about 22 pounds. However, it doesn't have a heating bed and so printing large objects would be a problem. You can solve this issue by applying a little white glue to the print bed to make sure the object sticks to it while it gets printed. The auto-calibration feature is convenient to have as a lot of inexpensive 3D printers usually require manual calibration. If you upgrade to the hardened steel nozzle, you will be able to print with not only metallic PLA but also carbon PLA which is pretty cool.
The da Vinci Mini filaments are made with PLA plastics derived from corn starch which makes it environmentally friendly and safe. This one doesn't have any LCD touchscreen, so you have to control it via the XYZWare, the company's proprietary software. The printing resolution is also quite exceptional at 100-400 microns. You get clean and smooth prints with good details. The da Vinci Mini is a great 3D printer for its price due to its convenient features, ease of use, environmentally friendly filaments and above-average print quality.
Who should buy this?
It's perfect for those who are looking for a small 3D printer for educational purposes.
It's ideal for people who are seeking an affordable 3D printer for casual use at home.
It's a great choice for those who want a portable device for their 3D printing needs.
See it on Amazon
One of the Best Affordable 3D Printers for Kids
FlashForge Finder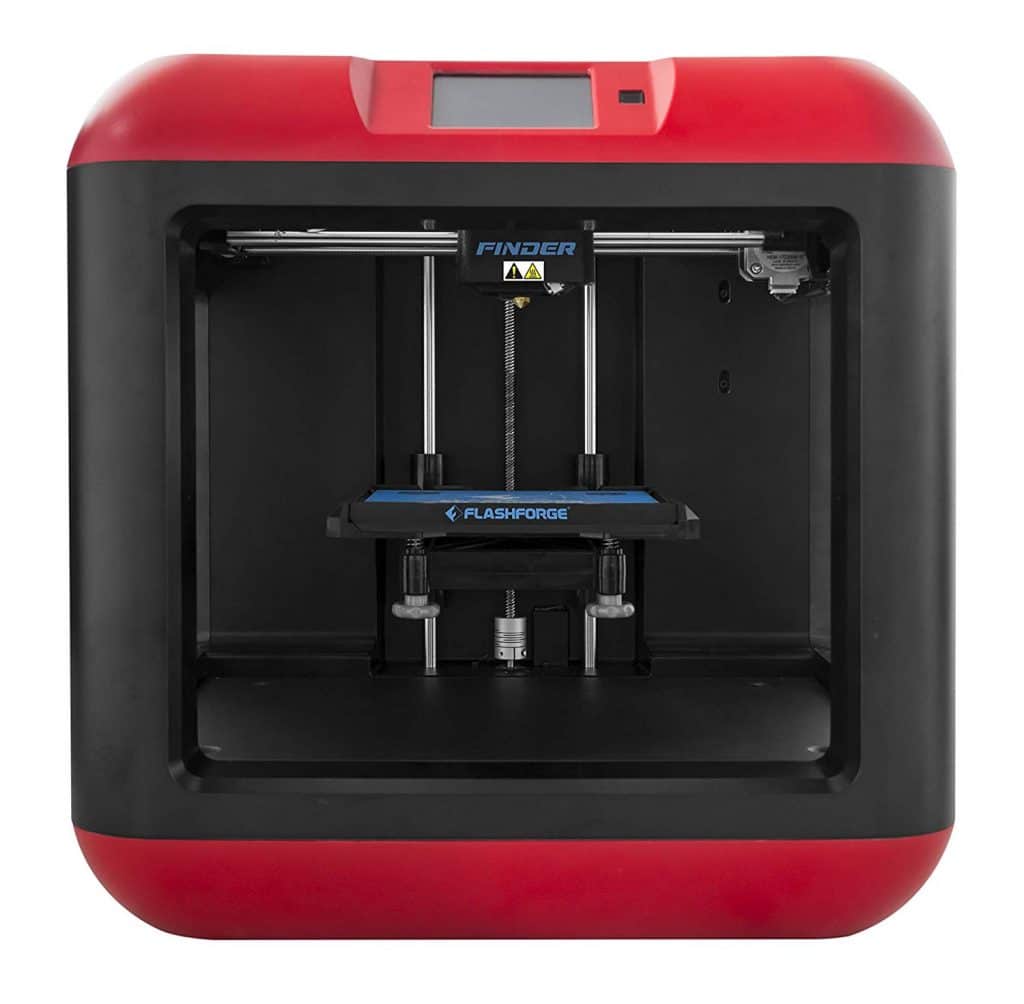 The FlashForge Finder comes with the sturdy build quality, non-heated plate, Wi-Fi/Cloud connectivity, slide-in build plate, an intelligent assisted leveling system and a layer resolution of 100-400 microns. The FlashForge Finder is another good looking 3D printer with a sturdy, plastic alloy body that comes in a vibrant red and black color combination. It's very compact too and weighs only 24.2 pounds. It can print in only non-toxic PLA so it can be used for educational purposes at home or at school. The printer parts which are prone to get heated up are all well covered to ensure that you don't accidentally burn your hand.
The Wi-Fi connectivity is a very good feature to have especially for such a small 3D printer like the FlashForge Finder. You can easily connect it to your PC and send the print conveniently and easily. You can use a flash drive for the same purpose too. One unique aspect of this printer is that it is very quiet when it is printing and it has a chirping sound which is pretty cool to hear. The prints come out in good quality and it handles details pretty well. The proprietary slicer software is also very good as it churns out some solid 3D prints. However, third-party slicer software won't deliver the same level of high quality.
Since it's mostly targeted at kids, you can make some cool miniature toy models such as helicopters and catapults. It also comes with a slide-in build plate which helps to remove the 3D print easily. You don't get automatic bed leveling with this printer but the intelligent assisted leveling system can efficiently guide you in calibrating the machine properly. However, it is advisable to be very careful while doing this as a small error can result in not getting the required best quality output. To summarize, the FlashForge Finder is a great option if you are on a budget and you need a good-looking 3D printer for your kids that performs well.
Who should buy this?
If you are looking for an affordable yet good quality 3D printer.
It's the right purchase for people who are seeking a 3D printer that is very easy to use.
It's a great choice for those who want a 3D printer that is slightly more advanced than a beginner's model.
See it on Amazon
One of the Best Reliable 3D Printers
QIDI TECH 1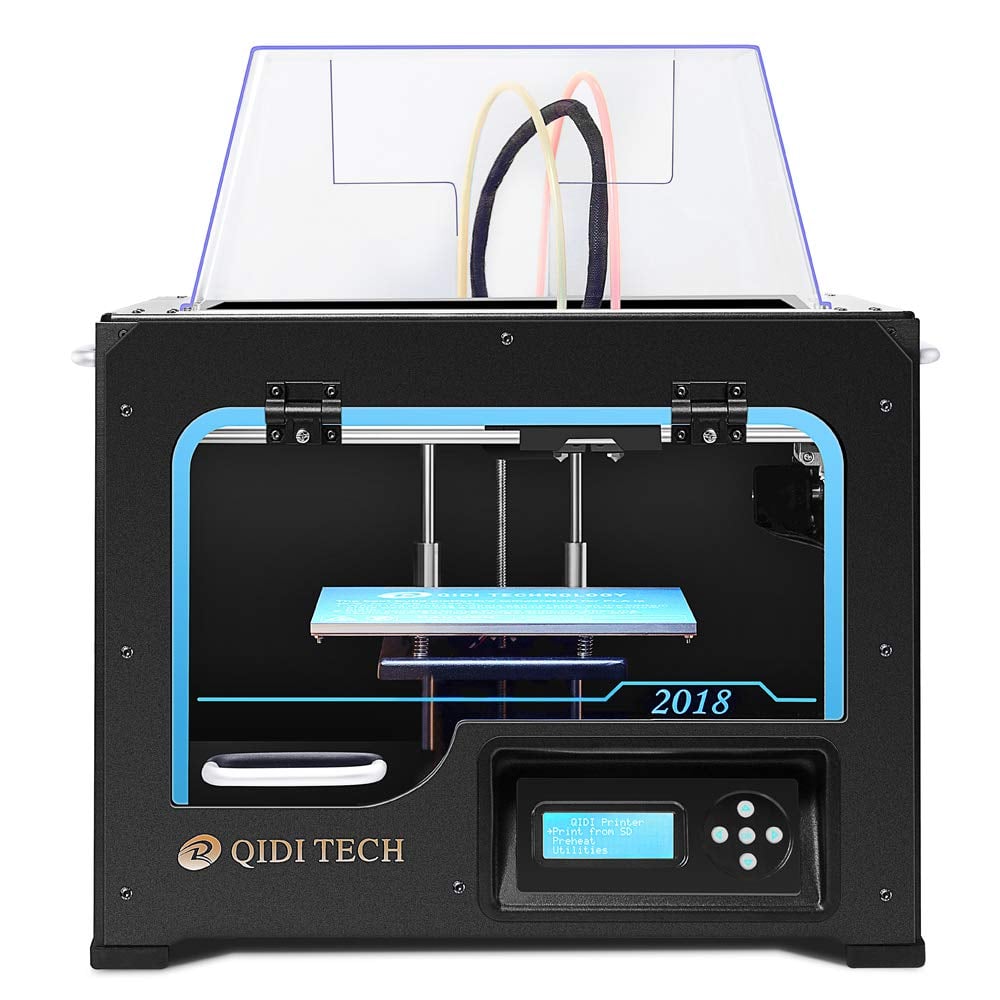 The QIDI TECH 1 comes with Fused Deposition Modelling (FDM) technology, dual extruder, aviation-grade aluminum build plate, heat resistant metal platform, 3D print slicing software and a layer resolution of 50 microns. The QIDI TECH 1 is a stylish looking 3D printer that may appear a bit overambitious. The design is simple, clean and well thought out in terms of functionality. The metal frame along with the acrylic paneling is of high quality making it quite sturdy. You also get handles on the sides for easier handling and transportation. The build size area is 230 x 150 x 150 mm which is ample space for a mid-range 3D printer, especially for home use.
The build plate is made up of high-quality aviation-grade aluminum that can withstand temperatures of 110 degrees centigrade. With the heat resistant metal platform, you no longer need plastic support which is good. The quality of prints is really impressive as you get smooth outputs with great detail. A few imperfections may be found here and there but overall the prints are amazing. It also has an open filament system so that you can use filaments from third-party manufacturers such as Hatchbox. As the printer has an open framed construction, you can utilize the build volume fully. However, due to its compact size, you will need to break down larger objects into smaller prints first.
You can also print in a wide variety of colors ranging from red, yellow, black, green, gold, etc. The QIDI Print slicing software which you get with this works great with the TECH 1. It's very easy to use and allows you to translate your ideas and bring them to life. Moreover, you also get excellent customer care support to clear any doubts or issues you may have. The QIDI TECH 1 is easily one of the most reliable 3D printers out there that will consistently give you great quality prints.
Who should buy this?
A superb choice for those who are looking for a 3D printer with consistent performance and capability.
It's perfect for people who need a 3D printer for both casual and advanced use.
If you want a 3D printer with an open filament system, then this is the printer for you.
See it on Amazon
One of the Best 3D Printers with Versatile Material Compatibility
Dremel Digilab 3D45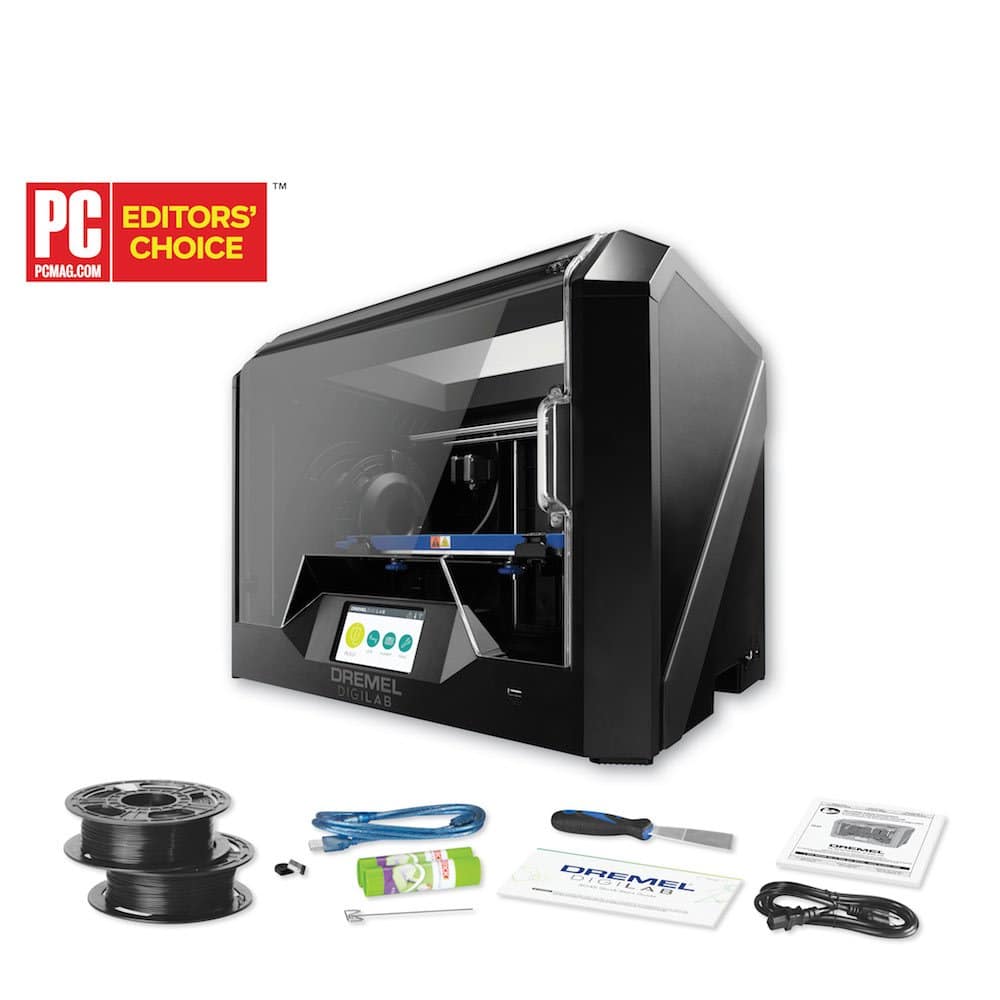 The award-winning Dremel Digilab 3D45 comes with a removable glass build plate, built-in carbon filter, and particulate filter, Wi-Fi connectivity, remote printing via HD camera, and a layer resolution of 50 300 microns. This 3D printer looks very sleek and comes with an awesome and sharp design. The jagged edges and the side ridges along with the matte black finish gives it a great neo-futuristic look and feel. It has a build volume of 6.7 x 10 x 6 inches which is good. The glass plate heats up to 100 degrees Celsius and it comes with semi-automatic leveling. On the touchscreen, you will be able to see the required precision level for leveling the plate to guide you better when it comes to calibrating the printer.
As far as features are concerned, this 3D printer comes with a lot of unique ones. Firstly, it has a built-in HD camera that can capture time-lapse videos of the printing process. This way you will be able to see for yourself how the entire output was created. The printer is also amazingly compatible with several advanced materials such as nylon, eco-ABS, PETG, PLA, etc. for more versatile printing capability. Printing with ABS is a pure joy as you get flawless outputs. You can get all the fine details exceptionally well. When it comes to printing with nylon, it is important to remember that external moisture can spoil the output.
It also comes with carbon filters that will help to protect you against unpleasant odors. With the RFID filament recognition technology, it will automatically update the g-code for the optimal extruder and build plate temperatures as well as print speeds when you use RFID equipped filament rolls. All in all, this is a great high-end 3D printer packed with some cool features and amazing versatility when it comes to printing materials.
Who should buy this?
It's ideal for those who are looking for a 3D printer that can use a wide range of advanced materials for printing.
It's a good choice for those who need a high-end 3D printer for their school or educational institution.
It's the right 3D printer for those who would like to see how their prints are being made in real-time thanks to the amazing in-built 720p camera.
See it on Amazon
One of the Best Affordable 3D Printers for Making Large Prints
HICTOP Creality CR-10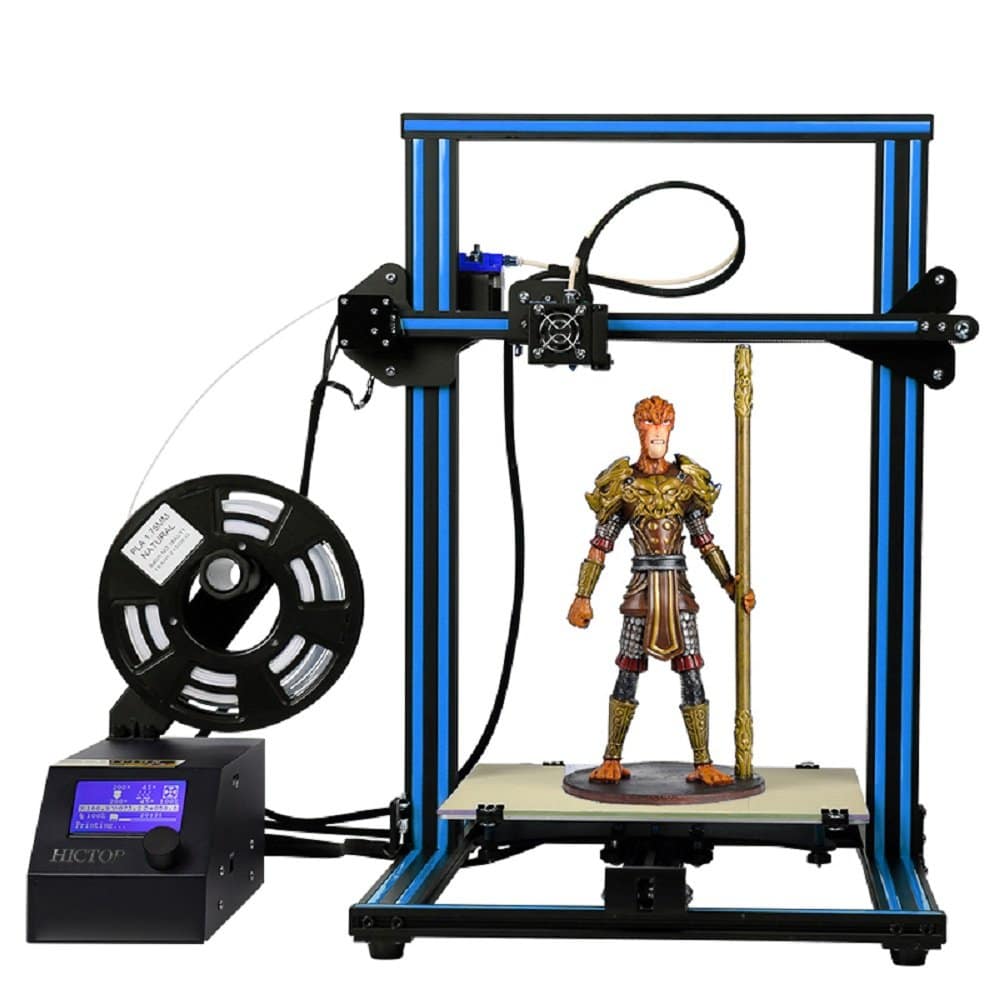 The HICTOP Creality CR-10 comes with imported linear navigation, industrial-grade PCB, aluminum alloy heating bed, 3 mm special tempered glass and a layer thickness of 0.05 mm – 0.4 mm which is adjustable. The design of this 3D printer is very minimal and the main focus is to serve its core functionality which is to allow users to print large objects. With a maximum print size of 300 x 300 x 400 mm which you can upgrade to 500 x 500 x 500 cm, you can hardly complain about its basic design.
The impressively large print capacity is, of course, one of the most significant aspects of this 3D printer.  You can print large useful objects such as a cool looking coat hanger or a stunning lampshade. However, that is not all as it also features an industrial-grade aluminum alloy heating bed which the company claims can withstand up to 200 hours of continuous operation. It's also quite innovative as you can use the machine to produce its parts. Therefore, you do get some very cool community-based mods online.
One aspect where the CR-10 stands apart from the rest is in its setup. While you don't get it fully assembled, you do get all the necessary tools to do so along with some easy-to-follow instructions. It also comes with organized control box cabling which eliminates the normal hassles one faces with the wiring. This is a great 3D printer that allows you to print large objects at a very attractive and affordable price while giving great, consistent quality output.
Who should buy this?
It's perfect for those who are looking for a 3D printer that can create action figure type prints.
It's ideal for people who wish to assemble their 3D printers while at the same time it is easy to do so by following the given instructions.
It's the right 3D printer for those who need to print large objects.
See it on Amazon
Conclusion
There are many things to keep in mind before buying 3D printers. First, of course, will be your budget as it will determine the range of the product. Then you need to clearly define your purpose, i.e. whether you need it for casual use or professional use. The ones designed for professional use will cost a lot more but if you aren't that particular about advanced features you could find a solid mid-range printer. It is also important to consider print compatibility with various materials as it will determine the types of 3D prints you can do. With a little bit of research and prudence, you can easily pick the best one that suits your needs without burning a hole in the pocket.
See also: Best laptops for high school students
---