Homebezz is supported by its audience. We may get a commission from retail offers
TVs are an important part of a home. All of us love to watch movies, cartoons, tv shows, etc. on a big screen.
TVs are an important part of a home. All of us love to watch movies, cartoons, tv shows, etc. on a big screen. Manufacturers have added so many good features to the TV sets that it often gets difficult to select a good one at a budgeted price. We have created the list of the best cheap TVs to buy in 2021.
Read also- Best Laptops For College Students Under $500 2019
Buying Guide
If you are about to buy a cheap TV in 2021, you may want to know what the overall price range is, in the market. You can buy TVs in a very wide range starting from less than $200 to more than $2,000. It is not as if by paying a higher price you are getting a very superior product. There are reasons why some brands or models bear a high price. You can pick up a decent television that offers the latest features at around $400 to $500. If you want to know how to choose the best among them, here are some tips.
Size of the TV: At the price range you are looking at, you should be able to land a 43-inch TV easily of any of the leading brands like Samsung, TCL or LG. If you are lucky, a broader search could get you a 49-inch or 50-inch TV. You should be knowing that the size referred to here is the dimension of the TV screen diagonally. The size of the television is usually considered keeping in view the size of the room where you intend to place it. 43-inch is neither too small nor big. It is a medium size.
Type of Display: Televisions are defined by the type of display they offer. Technology has been rapidly changing in this field and you now have what is known as QLED technology as the norm. However, in the pegging order, a cheap TV can be purchased with Ultra High Definition or UHD displays. These are superior displays with clear picture quality and they don't tire your eyes either.
Smart TV: The word 'smart' used with several gadgets nowadays is very common. The broad sense is to convey that the gadget has an intelligence of its own and can perform certain functions. In the case of smart TV, it can be connected to the internet through Wi-Fi. There are many models within the cheap TV category that are Smart TVs. They offer you the facility to watch streaming channels like Netflix and Amazon Prime and YouTube and the host of other apps that you find on the internet.
Connectivity Options: The latest TVs come with ports that allow you to connect devices to enhance viewing pleasure. There are HDMI ports that can accept media streaming devices like Fire TV or Comcast or Roku. You can add soundbars via Bluetooth as well. All these make your television a more dynamic entertainer.
List of Best Cheap TVs to Buy in 2021
Best Budget 4K Roku Smart TV
TCL 55S405 55-Inch 4K Ultra HD Roku Smart LED TV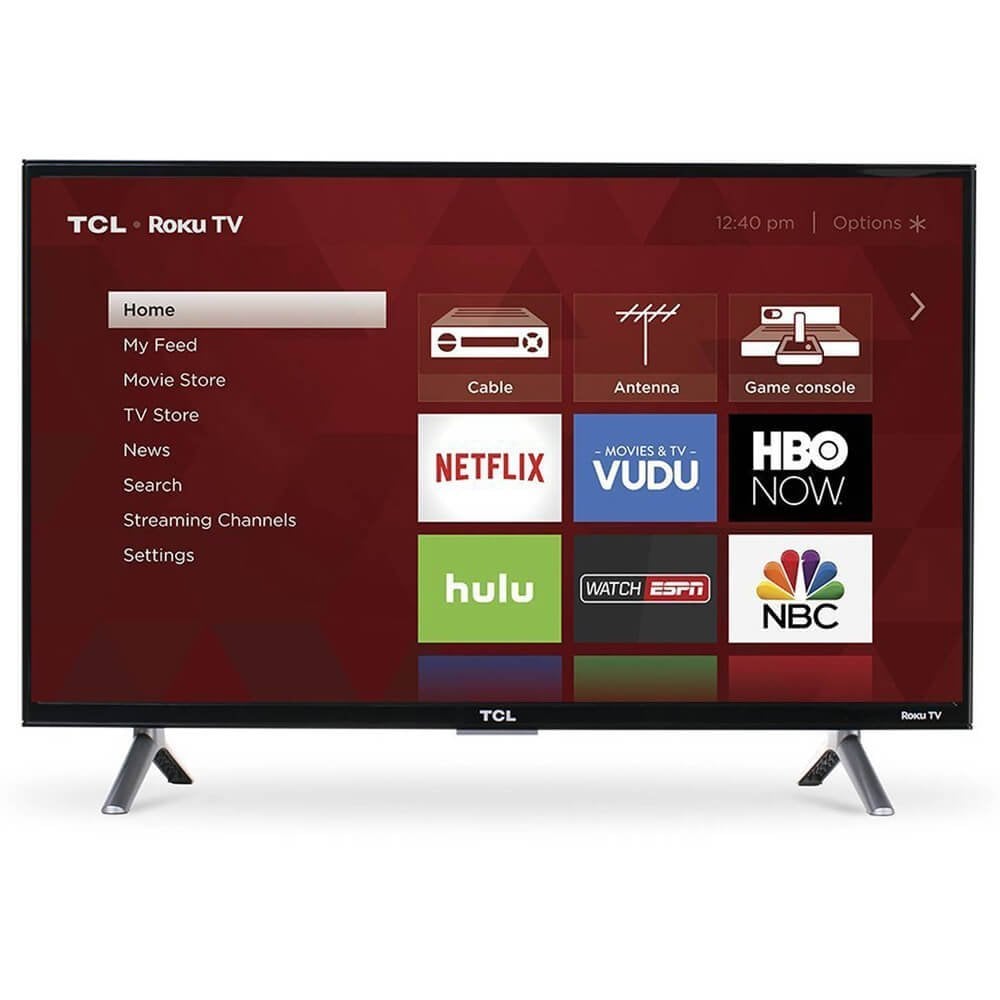 Get access to more than 4,000 channels through this simple intuitive interface. You can play games and connect other devices to it also. The quality of the picture is very high as it features 4K quality UHD performance. You also get Roku TV. The TV remote for Roku is simple to operate and has just 20 buttons. The TV has voice search options too. It can be connected to your smartphone and you can share all your multimedia on it. The refresh rate of this TCL model is 120 Hz.
Why Should You Buy This?
It is a smart TV that comes with more than 4,000 streaming channels which you can access through Roku TV.
It comes with 4K resolution with High Dynamic Range (HDR) support which gives you vivid colors and contrast.
The TV has a refresh rate of 120 Hz which is great for viewing fast-paced action scenes without any motion blur.
Best 4K UHD TV With Vibrant Colors
Samsung Electronics UN55MU6300 43-Inch 4K Ultra HD Smart LED TV
Samsung is a well-known brand and it guarantees vibrant colors and a clear picture on the screen. Samsung Smart Hub keeps all your favorite channels on the first screen. The One Remote detects and controls all the devices that are connected to the TV. You don't need to have different remotes to control each one. The TV is lightweight and can be ported around the house with ease.
Why Should You Buy This?
The TV comes with 4K Color Drives which results in vibrant color reproduction and produces realistic images.
With the 4K HDR Pro technology, it can produce good contrast and a wide range of colors.
The Essential Black Pro technology produces deep shades of black which results in accurate color and detail in the images.
It has a 120 Hz refresh rate which is great for viewing fast-paced content without motion blur.
It comes with One Remote which can automatically control all your connected devices without any manual setup.
Best 1080p Roku Smart TV
TCL 43S305 43-Inch 1080p Roku Smart LED TV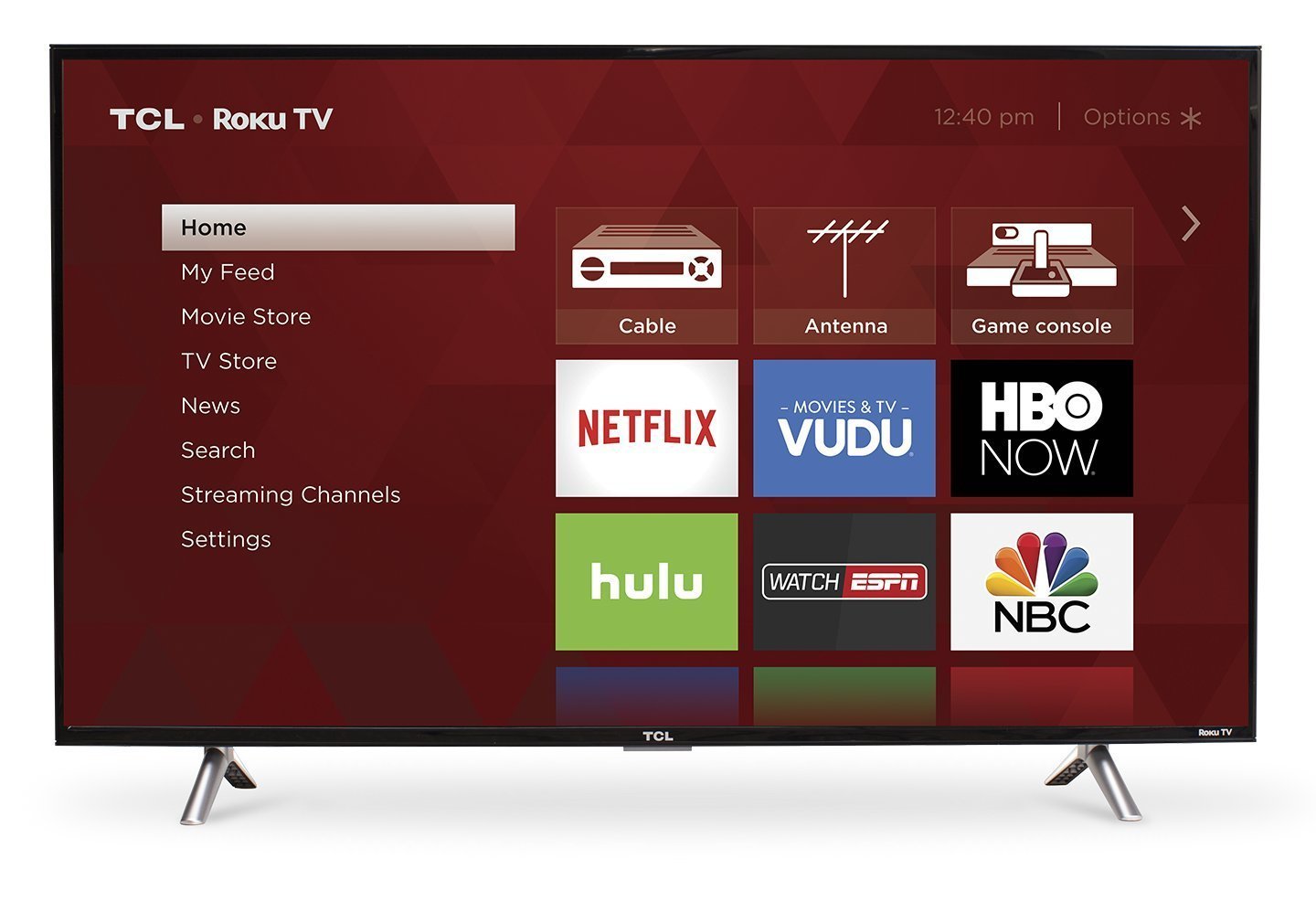 This is a full HD TV that comes with an advanced refresh rate. It has dual-band WiFi that offers stable connectivity. TCL is a great brand that not only offers a great view but also has many other functions that enrich your TV viewing experience. The built-in tuner lets you enjoy many free over the air channels. You also get Roku TV along with it that gives you access to thousands of channels. Since we are so used to using smartphones you can simply connect your smartphone to the TCL TV and use it as a remote.
Why Should You Buy This?
The smart LED TV comes with Roku support which allows you to stream online media content from different sources right to your TV.
It also supports the Roku app which can transform your mobile phone or tablet to a remote for your Roku TV.
It is compatible with voice assistants like Alexa and Google Assistant which can be used to turn on your TV by voice commands.
It has a 120 Hz refresh rate display which makes it a good TV for watching fast-paced content and playing games.
The TV has a good picture quality thanks to the direct-lit LED technology used in it.
Best 120 Hz 4K UHD Smart TV
Samsung Electronics UN43MU6290FXZA 43-Inch 4K Ultra HD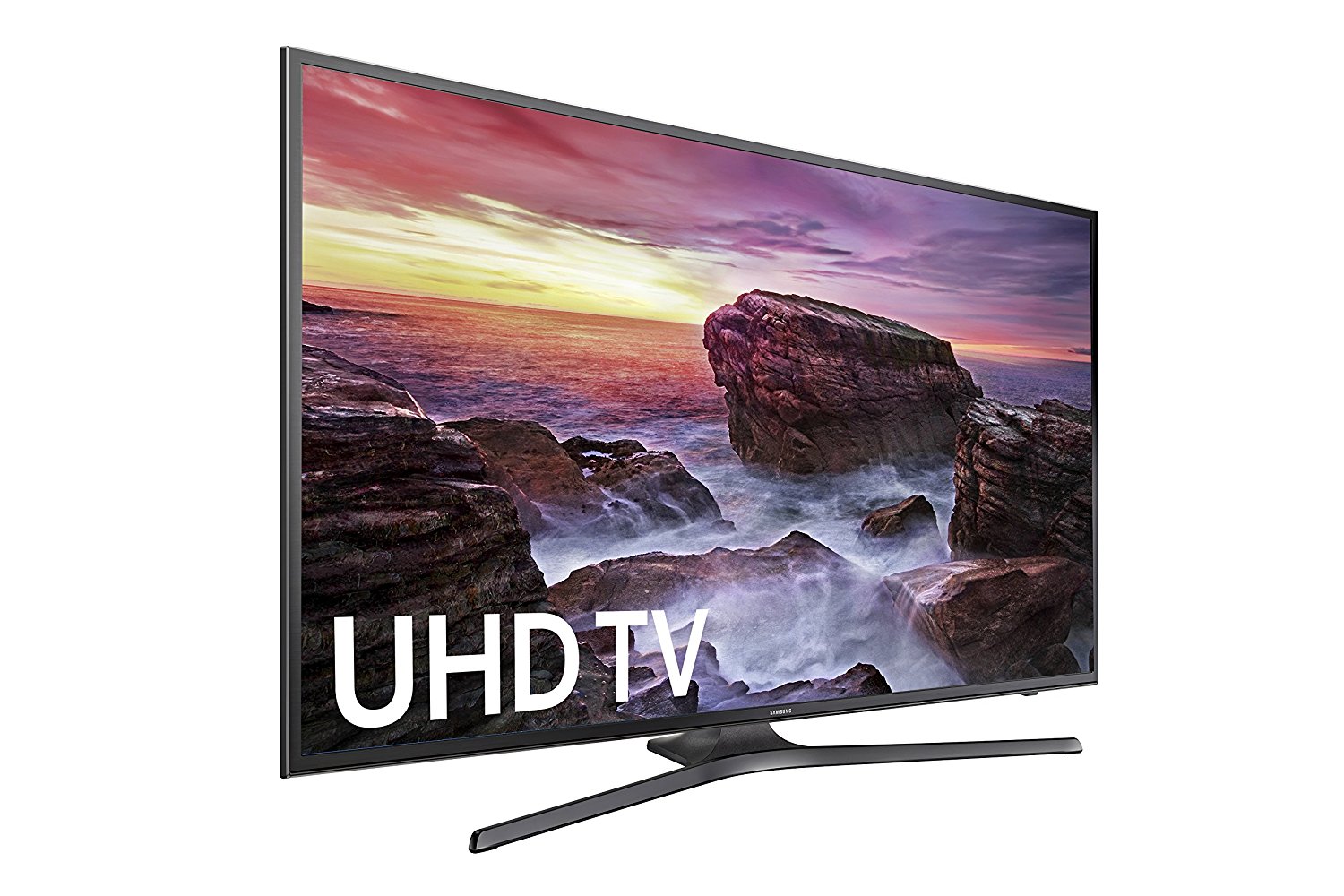 This model from Samsung offers four times better HD clarity in the picture. The colors are vibrant and the experience is exceptional. With a motion rate of 120Hz, you can see all the fast-moving actions clearly. The color, image quality and contrast of the TV set are great. 4K HDR content, when played on channels such as Netflix or Vudu, is mind-blowing. There is clarity in the sound emitted from the speakers. This model from Samsung is one of the best cheap TVs to buy in 2021.
Why Should You Buy This?
The TV has a 4K Ultra HD resolution which gives you a crystal clear image with four times the clarity of a standard Full HD 1080p display.
It produces vibrant and accurate colors using the 4K Color Drive technology that it comes with.
It also has HDR Pro which produces a wide range of colors and also differentiates between dark and light shades.
The TV uses the Essential Black Pro technology that has darker shades of black which results in a more realistic picture.
It comes with the Samsung Smart Hub where you can easily find and play games, movies, TV shows and more. It also has support for OTT streaming services like Netflix, Hulu, Amazon Prime and HBO Now.
4K Smart TV with Good Viewing Angles
LG Electronics 43LJ5500 43-Inch 1080p Smart LED TV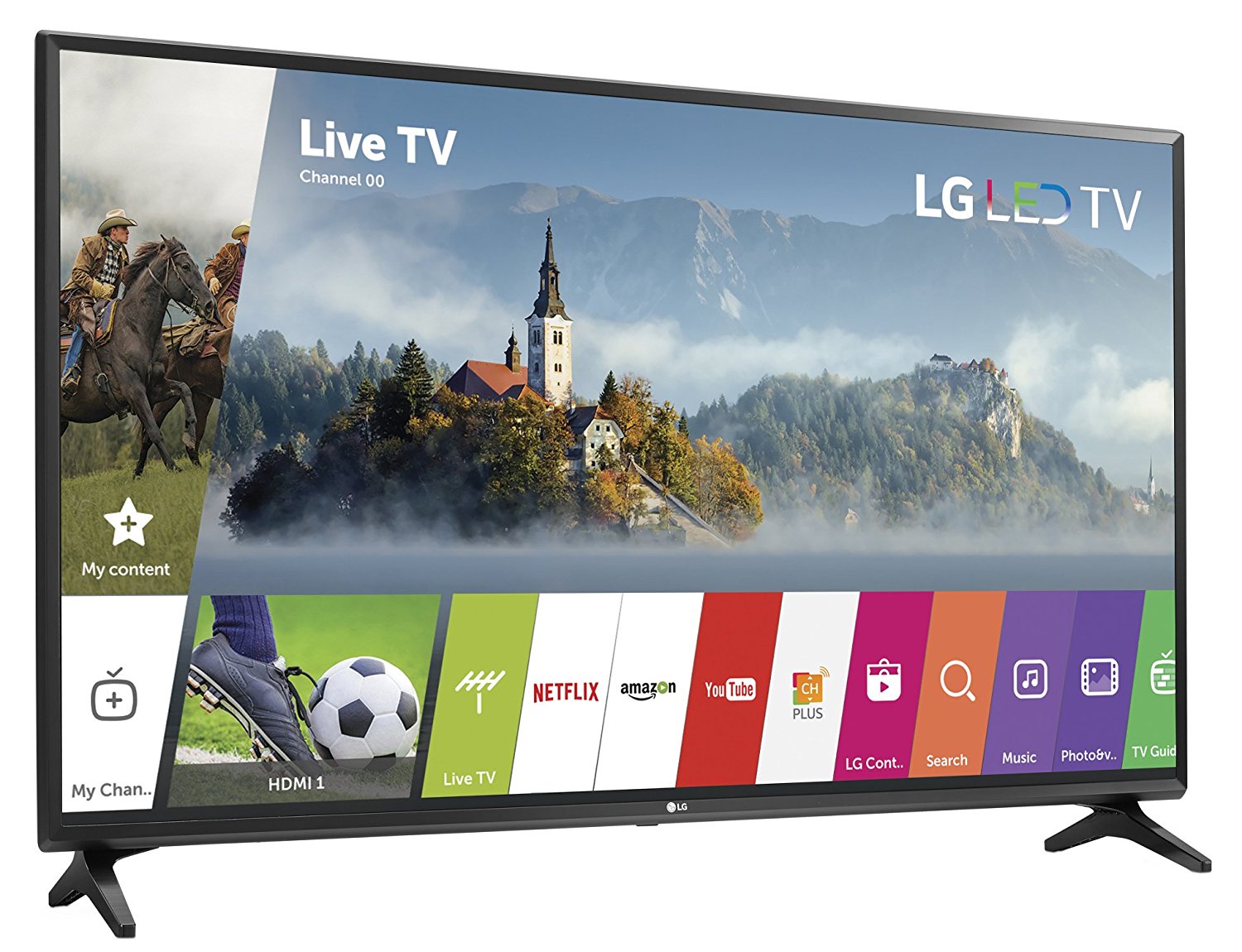 The TV offers full high definition 1080 pixels resolution. The color tones are lifelike and extra brightness to the content giving it a fresh and vibrant look.  WebOS 3.5 Smart TV lets you queue TV shows or movies from various providers. You also have the option to toggle between these programs. There are several apps that are included such as YouTube, Netflix, Amazon, etc. from where you can stream videos. You can download the LG TV Plus on your mobile and share videos, pictures, and even apps from your smartphone to the TV.
Why Should You Buy This?
It comes with WebOS 3.5 which is one of the best smart TV operating systems. You can install a wide array of applications and enjoy the smart features of this TV.
The TV has a virtual surround sound feature which results in an immersive audio output.
The display is direct-lit which produces a good picture quality with accurate colors and good contrast.
It comes with the Color Master Engine which enhances all the colors on the color wheel and results in realistic color reproduction.
High Dynamic Range 4K UHD TV
Samsung Electronics UN49MU7000 40-Inch 4K Ultra HD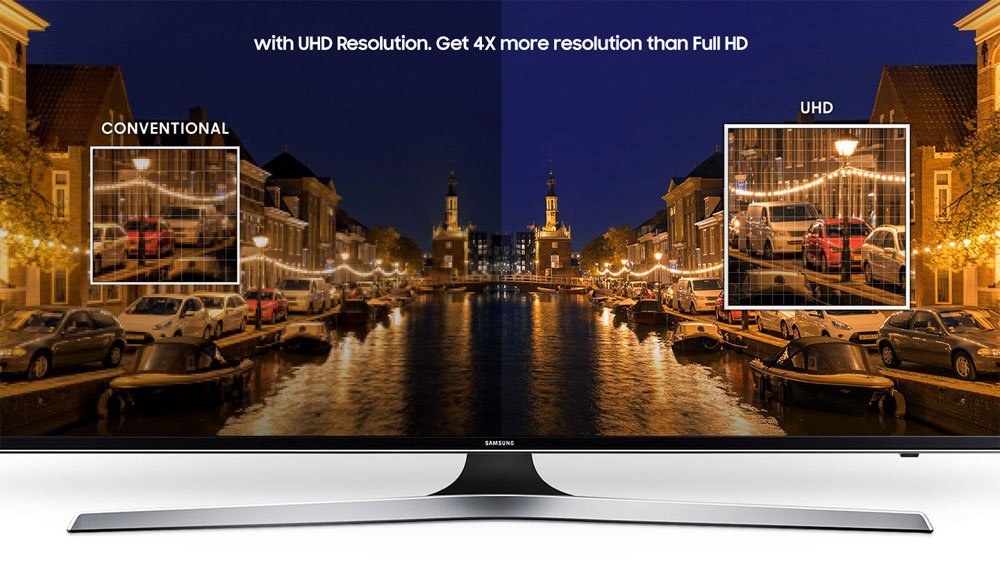 Get immersive viewing on this model of Samsung TV. Even the darkest content also lets you see every minute detail. Ultra high definition offers super clarity in the content. You can easily see the difference in the clarity of pictures between this model of Samsung TV and other TVs. You get OneRemote lets you control all types of devices that are connected with the TV.
Why Should You Buy This?
Due to high refresh rate, fast-moving multimedia content like live racing is smooth with MR120
Samsung Smarthub is quite simple to use and you can easily connect your Netflix account and surf the internet as well.
It is the ideal television to play games like GTA 5 and car racing games.
If you need a TV that's future-proof for the next 5 years, this is a good choice.
Affordable Direct LED Smart TV
VIZIO D32-D1 D-Series 32″ Class Full Array LED Smart TV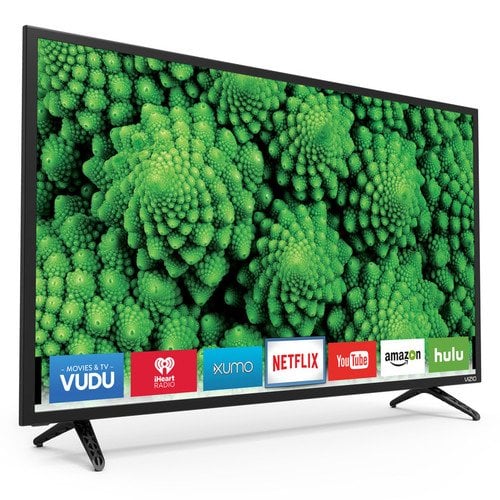 This TV from VIZIO offers incredible picture quality at such a great price. It has a modern look and you can enjoy your entertainment channels at great HD quality. The picture is crystal clear and the level of radiance is superb. The refresh rate is 120 Hz which gives you sharp pictures. Clear Action 240 lets you see fast-moving scenes clearly.
Why should you buy this?
It has a full-array LED which distributes throughout the back of the screen. This can deliver superior light and picture performance.
The inbuilt Clear Action 240 handles fast motion content with high articulated clarity, hence reducing motion blur and ghosting.
The refresh rate can be extended up to 240 Hz producing crystal clear radiance.
Active HDR 4K UHD Smart TV
LG 55UJ6200 55 4K UHD HDR Smart LED TV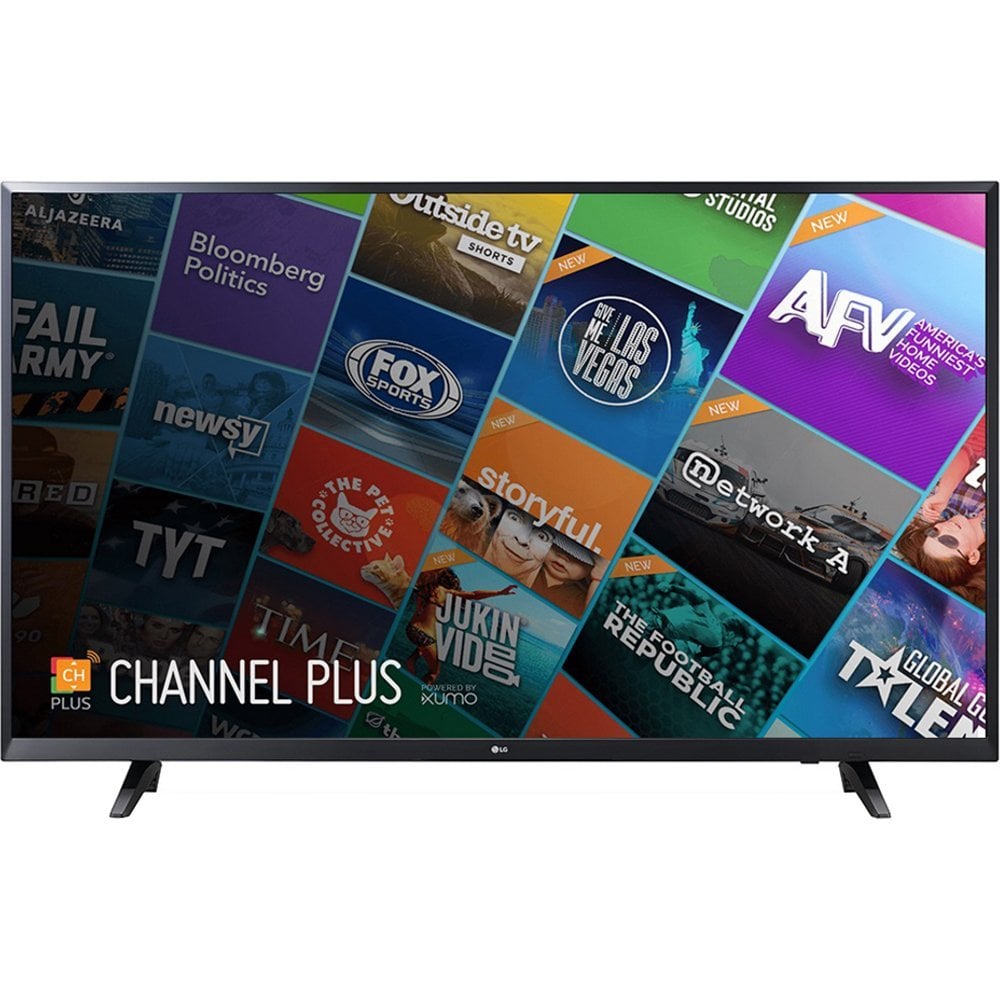 Television sets from LG are a pleasure to the eyes. You get HD quality clear content with bright and vibrant colors. True Color Accuracy gives you access to lively colors that look great on the screen. It features the WebOS 3.5 Smart TV which gives you access to several channels. The interface of the TV is simple.
Why should you buy this?
It fulfills strict criteria adjusted by Netflix which comes with easy app access and all the new updates.
This is the only Smart TV that lets you personalize channel lineup and save.
The presence of Active HDR lets you optimize content scene by scene, hence there is a rich touch to every image.
The LG channel plus provides easy access to over 70 channels for free.
It comes with Universal Full Function Standard Remote which makes the user interface much better.
Budget 1080p HD Smart LED TV
VIZIO 50″ 1080p 120Hz LED Smart HDTV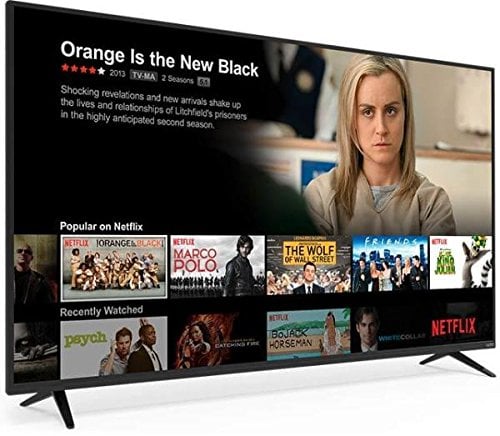 VIZIO has been gaining importance in the world of electronics especially when it comes to television sets. This 50 inch TV has great sound quality. It is an LED smart TV and offers several good functions. You can either mount it on the wall or use the two small stands to place it on a tabletop. The look of the TV is beautiful. You get built-in WiFi that lets you watch live content streamed from the apps. Connect your smartphone to the TV and watch your favorite content on a big screen.
Why should you buy this?
It comes with four times the resolution of 1080p and 8 million pixels.
There is inbuilt hands-free voice control that supports Alexa and Google assistant.
It also includes Vizio Watch Free that has over 100 channels free of cost.
It offers high compatibility with Netflix and Prime videos as well.
4k UHD Smart TV With HDR10 and Dolby Vision
TCL 55C803 55″ 4K Ultra HD Dolby Vision HDR
Next in the list of cheap TVs to buy in 2019 is from TCL. This 55-inch model has a modern design and offers Dolby Vision HDR picture quality. You get access to brighter and clearer content through its screen. Roku TV lets you access content that can be streamed. You can have your favorite channels marked and the buttons on the remote will guide you directly to your channel. You no longer have to browse the menus. The NBP Photon technology covers colors that are nearest to the human vision. Besides the great features that it has to offer such as TCL's design is unique and uplifts the beauty of the room it is placed in.
Why should you buy this?
With both HDR10 and Dolby Vision, the overall color depth, color reproduction and peak brightness get enhanced.
There is spatial contrast enhancement and continuous power reduction.
The hardware is quite powerful and capable of easy handling.
It supports two OS, namely Android OS and Roku OS.
There are two remotes, one is conventional and the other is smart remote.
Budget Flat 4K LED TV
Samsung UN50MU6070FXZA Flat 50″ LED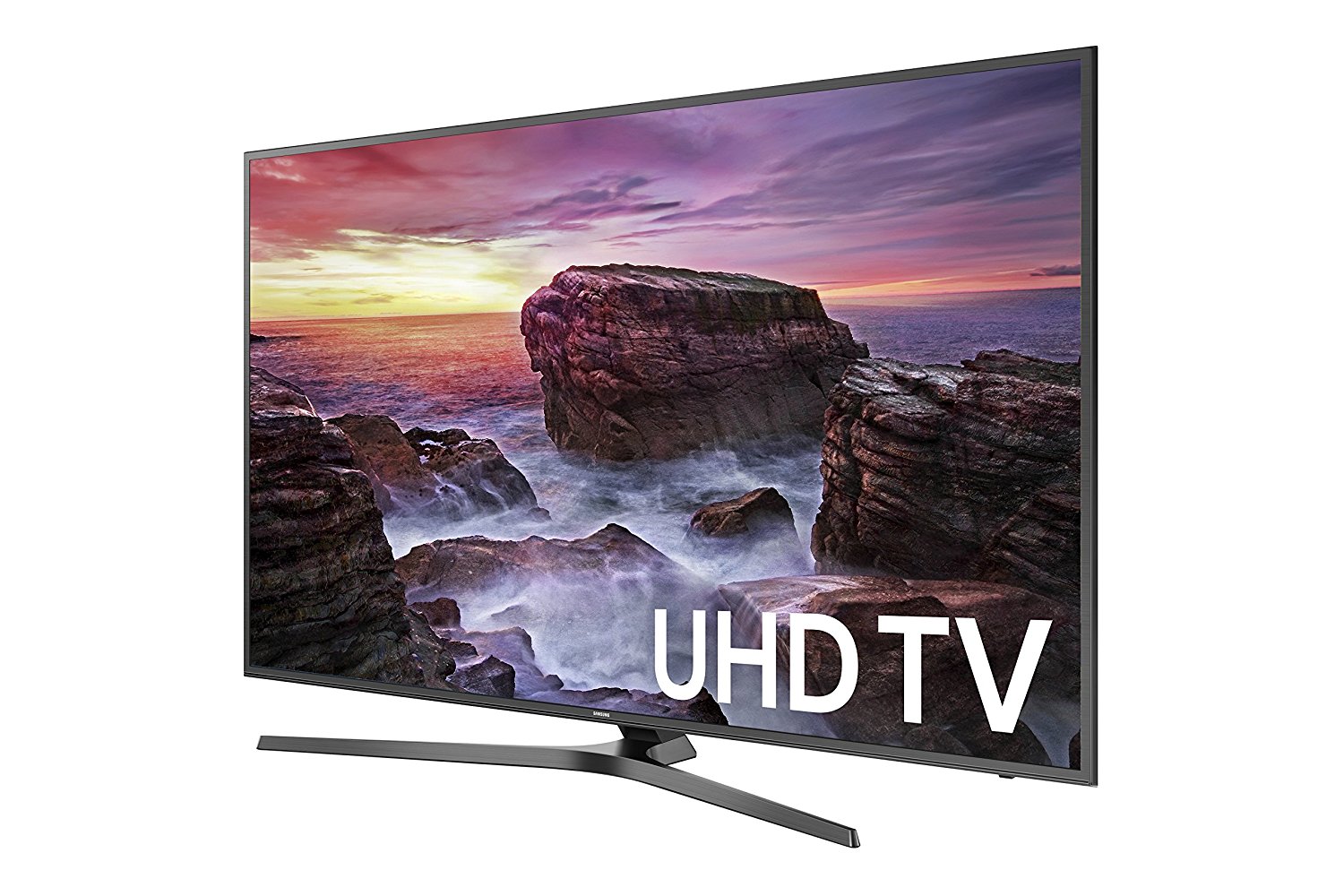 With 1080 pixels the content displayed on this model of Samsung LED TV looks great. Setting up the TV is simple and the quality of audio of this model is also good. You get 4K HD Pro, you get to experience more colors. Viewing blacks offer immersive viewing and the resolution quality of the content is amazing.
Why should you buy this?
It has four times the resolution of the normal HD, that means higher resolution than the 1080p resolution
We get to experience smooth action on fast-moving content with a motion rate of 120Hz.
Easy to locate the content from the setup, highly user interactive and customizable
There is high flexibility in terms of setting and hence it can be personalized to a large extent.
720p Smart LED TV with HD Audio
LG 32LJ550M 32 720p with WebOS 3.5 Smart LED TV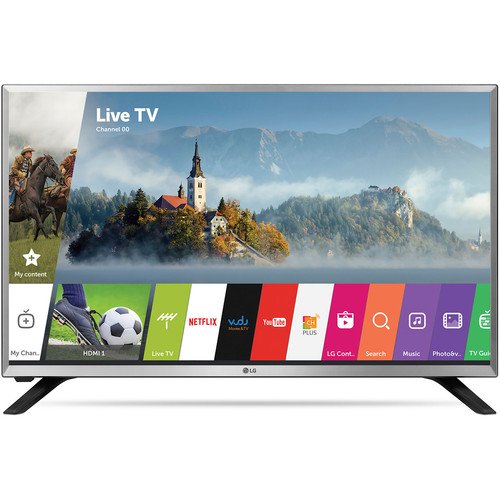 This is a great TV from LG for those who are looking for budgeted television sets. It offers HD viewing through 1366 x 768 panel. The refresh rate is 60Hz which justifies a 32-inch screen. You can access the internet through the built-in WiFi and use it for live streaming. Download the LG Content Store and access as many apps you want.
Why should you buy this?
It comes with a smart TV operating system of webOS 3.5 along with a color master engine and virtual surroundings.
A constant refresh rate of 60 HZ throughout.
The UI is excellent which makes it easy to operate and customize it.
Full HD Android Smart TV with Image Upscaling
Sharp P5000U 43-inch Full HD Smart TV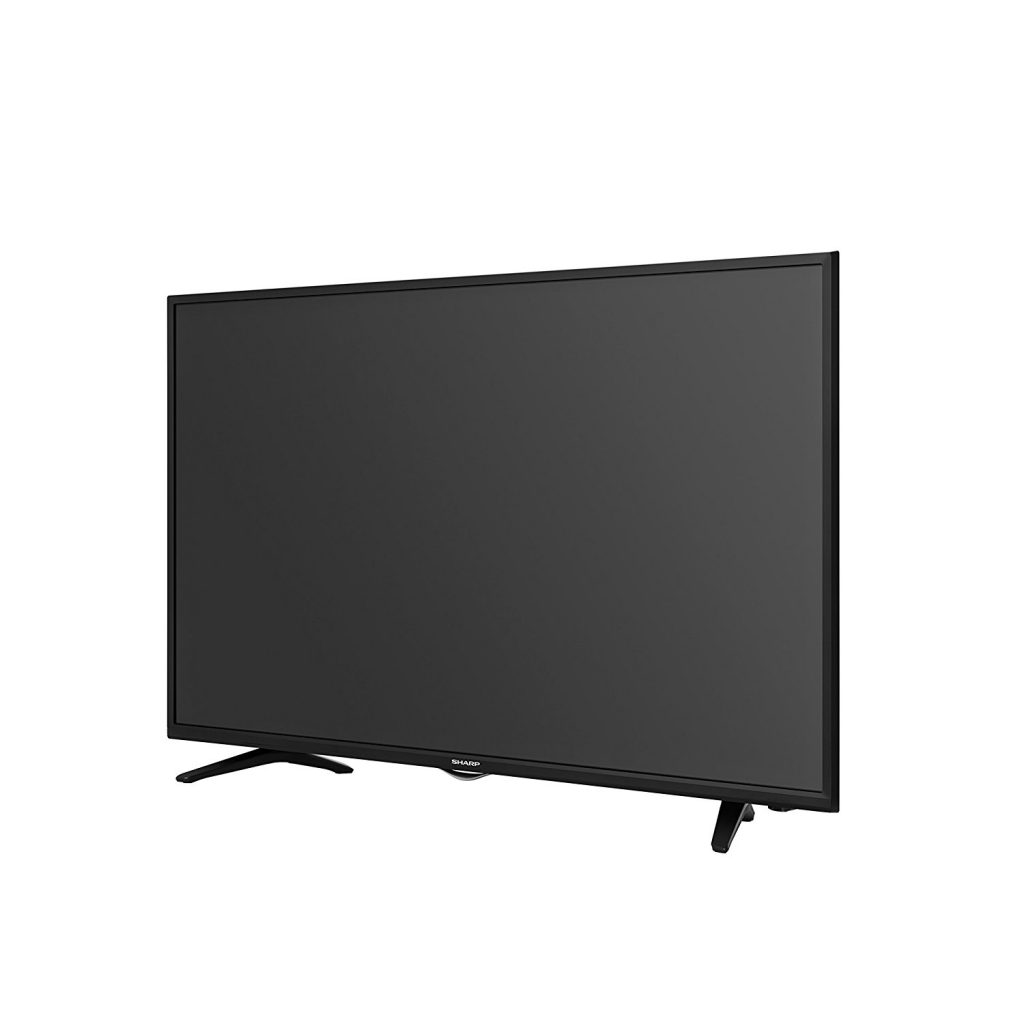 This TV from Sharp has a contemporary look and a sleek design with the option to stand or hang on the wall. The content seen on the 1080 pixels screen is amazing and the level of clarity is very high. There are apps that have been included on the screen – Vudu, Pandora, Netflix etc. The sound offered on the TV is from dbxtv sound technology. The sound is so rich and immersive that you won't need any additional speakers.
Why should you buy this?
There is the upscaler which helps in the modification of non-4K pictures.
It has an Aquo motion feature which makes it fun to watch high motion in case of sports and movies as well.
This offers quality realism and vibrancy, especially under 'THX mode'.
4K UHD TV With XHDR and Good Contrast
VIZIO M50-E1 SmartCast 50″ 4K UHD HDR XLED Plus
This model of VIZIO delivers high-quality picture content. The XLED Plus offers local dimming technology which keeps the colors consistent, makes the content bright and responsive. There are more than one billion colors that make sure you get to view all the tones and hues accurately. The Xtreme Black Engine Plus has 32 local dimming zones which help in achieving extreme levels of black. The XHDR Plus Superior HDR offers Dolby Vision and HDR 10 support for content. All the details that were not visible in the shadows can now be seen clearly.
Why should you buy this?
Xtreme black plus feature automatically adjusts the color intensity from picture to picture which produces incredible black levels.
There are over 8 million 4k UHD pixels for high-quality display.
We get to experience extraordinary color depth with Dolby Vision HDR and high spectrum UHD.
High Refresh Rate 60-inch HD TV
Hisense 60DU6070 60-inch class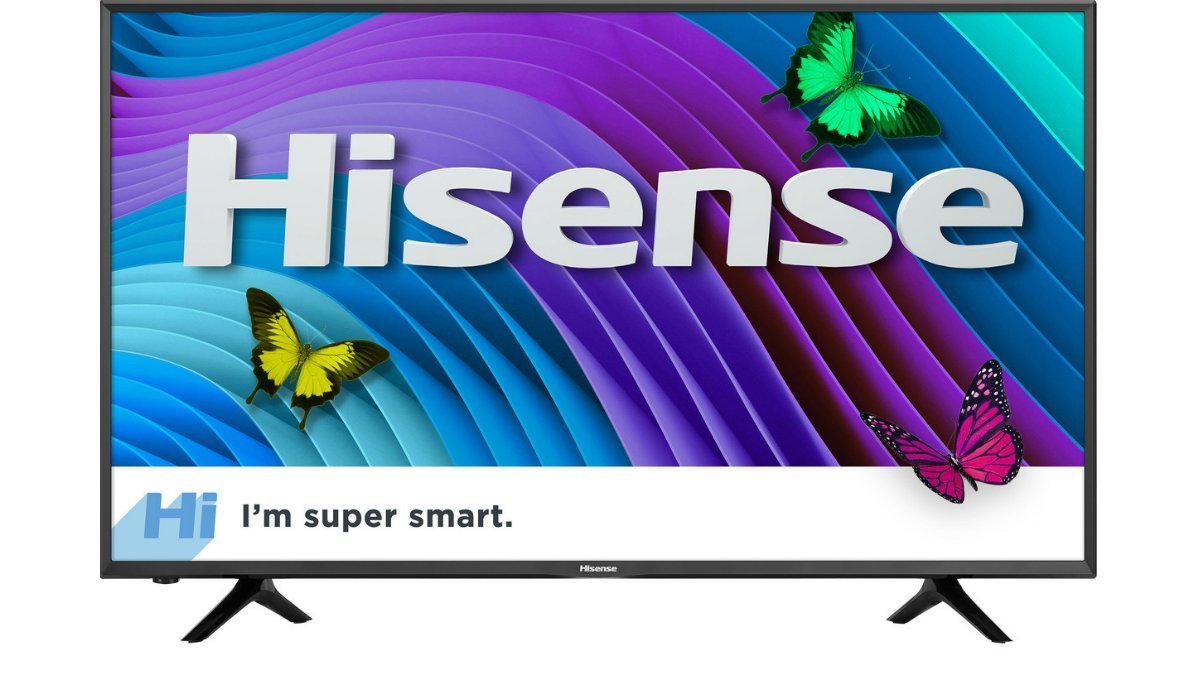 This is an incredibly beautiful TV from Hisense that offer HD quality viewing at such an amazing price. You get direct buttons on your remote that will connect you to your favorite streaming channels such as YouTube, Netflix, Amazon, etc. You also have a special game mode so you can connect your devices and play the games on a big 60-inch screen. It features motion rate 120 for accurate and clear pictures.
Why should you buy this?
High resolution and large screen make it perfect for large rooms and surrounding.
There are multiple ports for USB and HDMI connectivity so multiple products can be connected together.
It has a claimed 120 Hz which reduces motion blur.
Read also- Top Best TVs Under $300 To Buy In 2019
Frequently Asked Questions
Can I get a 4K TV with a cheap budget?
Yes, most TV models even in the lower price brackets are offered as 4K models. If you want to go in for 8K, then the price of the TV will be much higher. That is the latest technology. 4K is very much feasible with low priced TVs.
Will someone come to install the TV?
No. These television sets are very simple to install and operate. You may need some assistance if you decide to mount the TV to the wall. Check at the time of ordering if the wall-mounting kit is included in the pack. Most of these come with clear instructions. If you still have doubts you can check YouTube for videos that demonstrate how it is done.
Do cheap TVs have remotes that accept voice commands?
It depends on the brand and the model. Not all cheap TVs may offer a voice-assisted feature. If you connect a streaming device like Amazon's Fire TV stick, the remote that comes with it will have the Alexa voice assistant built-in. You can make changes to your TV using that remote.
What is the refresh rate on TVs and what is its significance?
Refresh rate refers to the number of times the screen changes per second. It is measured in Hz. So, if the television you are buying says 60Hz in its specifications, it means the change rate is 60 times per second. This feature stayed 60Hz for a very long time. Modern televisions claim they have doubled it now to 120Hz. Your naked eyes may not distinguish between one and the other.
Does a Smart TV have Bluetooth facility by default?
Smart TVs are usually Bluetooth enabled. If you are not sure, check with the seller before you buy the TV to know whether it has Bluetooth. You will need Bluetooth if you plan to connect devices wirelessly to your TV.
Conclusion
Listed above are some of the best cheap TVs to buy in 2021. SmartTV is what one should be looking for, in this generation of OTT platforms. With so many brands offering several TVs with multiple features at different pricing, it can be quite overwhelming to choose one. The above list we have covered in this article has some of the best TVs available in the market. Do your research, know what you need in the TV and based on your requirements, you can make the right choice.
---