Homebezz is supported by its audience. We may get a commission from retail offers
Computer keyboards are available in all shapes and sizes. The best ergonomic keyboard will always reduce strain
Computer keyboards are available in all shapes and sizes. The best ergonomic keyboard will always reduce strain on your hands, allow you to type faster and stay comfortable in a milieu of your choice. Ranging from wireless Bluetooth keyboards to large, gaming keyboards that have fancy RGB LED on them, you have an exciting range of models to choose from. For every need and requirement, we have listed some of the best ergonomic PC keyboards that you could find online, along with a quick highlight of what they are best suited for.
Best Ergonomic Keyboard to buy in 2021
See also: Best keyboards for writers
An Ergonomic Office Keyboard
Microsoft Natural Ergonomic Keyboard 4000 for Business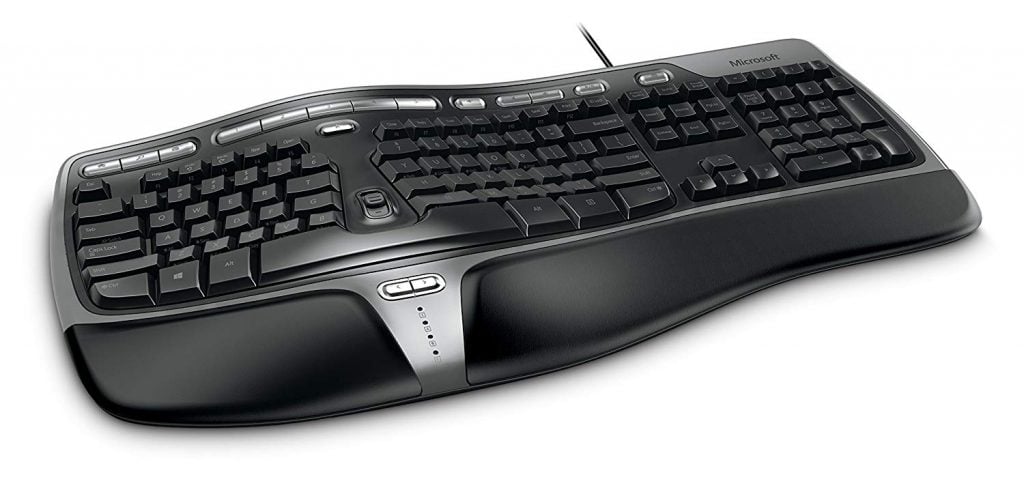 When working in an office environment, most people have no choice but to spend over five hours every day with their hands on the keyboard. You have to type out e-mails, messages and everything else to keep the work going on. Instead of using the typical, straight forward approach to keyboards, Microsoft has come up with an ergonomic solution by splitting up the design to a subtle extent.
Some of the keyboards in the market go way too much by providing you with two different portions, whereas this particular model still has a single layout. The Microsoft Natural Ergonomic Keyboard 4000 for Business is split in the middle but the portion has been brilliantly used to house a couple of buttons for easy access. You will also find the LED lights on the bottom to indicate which is turned on or off.
The entire keyboard layout is curved in such a way that you don't have to force your hands to be kept in a stern position. Instead of using function keys on top, they have provided quick action buttons. Obviously, you can easily find that it is F1, F2 and so on. The palm rest is cushioned for maximum comfort and it also has dedicated media keys for those who would enjoy having things to listen to while working. It also works with Mac OS X.
What Makes the Microsoft Natural Ergonomic Keyboard 4000 a Good Choice?
The keyboard has a very ergonomic design with curves ideal for typing for long hours.
It has dedicated media buttons and wrist pad to reduce strain on your wrists.
Recommended For:
People who spend lots of hours typing content in office or those who need access to a full keyboard that is also ergonomic
See it on Amazon
Comfortable Wrist Rest with Wireless Technology
Logitech K350 2.4GHz Wireless Ergonomic Keyboard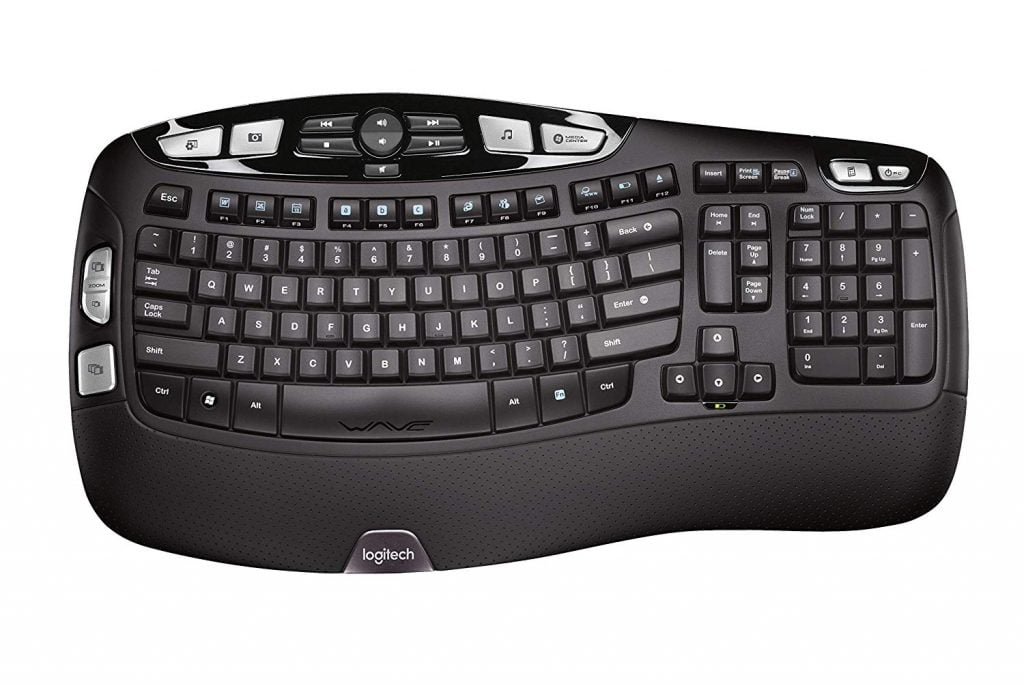 At first look, you will instantly realize the amount of attention the designers put into this Logitech keyboard. The good thing is all the keys that you might need for quick keys are placed on top, ready to be activated whenever needed. The wave design is a unique aspect of this particular model which makes it the most ergonomic solutions out there. The curved layout goes in one flow so that you can seamlessly move your hands from one corner to another and find the position best suited.
The most comfortable part should be the wrist pad and it works well for this Logitech K350 keyboard. The keyboard behind wireless allows you to conveniently place it on your lap or in any position while using your PC. The battery life is quite reliable as the manufacturer promises about three years of usage before it needs to be replaced. The lack of any fancy lights on the keyboard allows users to get maximum battery life without having to replace it constantly.
Besides, being an office keyboard and not a gaming peripheral ensures you don't use any features that might drain out the battery. The cushioned palm rest will ensure no wrist strain when used for long and it is powered by the unifying receiver used by Logitech. In case, you use a Logitech wireless mouse, both the peripherals can connect to the same receiver. The keyboard also has dedicated media keys to allow you to enjoy a relaxing movie or song when not working.
What Makes the Logitech K350 Wireless Keyboard Amazing?
The comfort level is one of the best.
Wireless capability allows you to use it in any position and ensure you don't feel any kind of strain as it is curved.
Recommended For:
Users who love the convenience of wireless keyboards will enjoy this product which is also ergonomically designed.
See it on Amazon
A Keyboard that is Actually Split for Maximum Comfort
Kinesis Freestyle 2 Ergonomic Keyboard with 20-inch Separation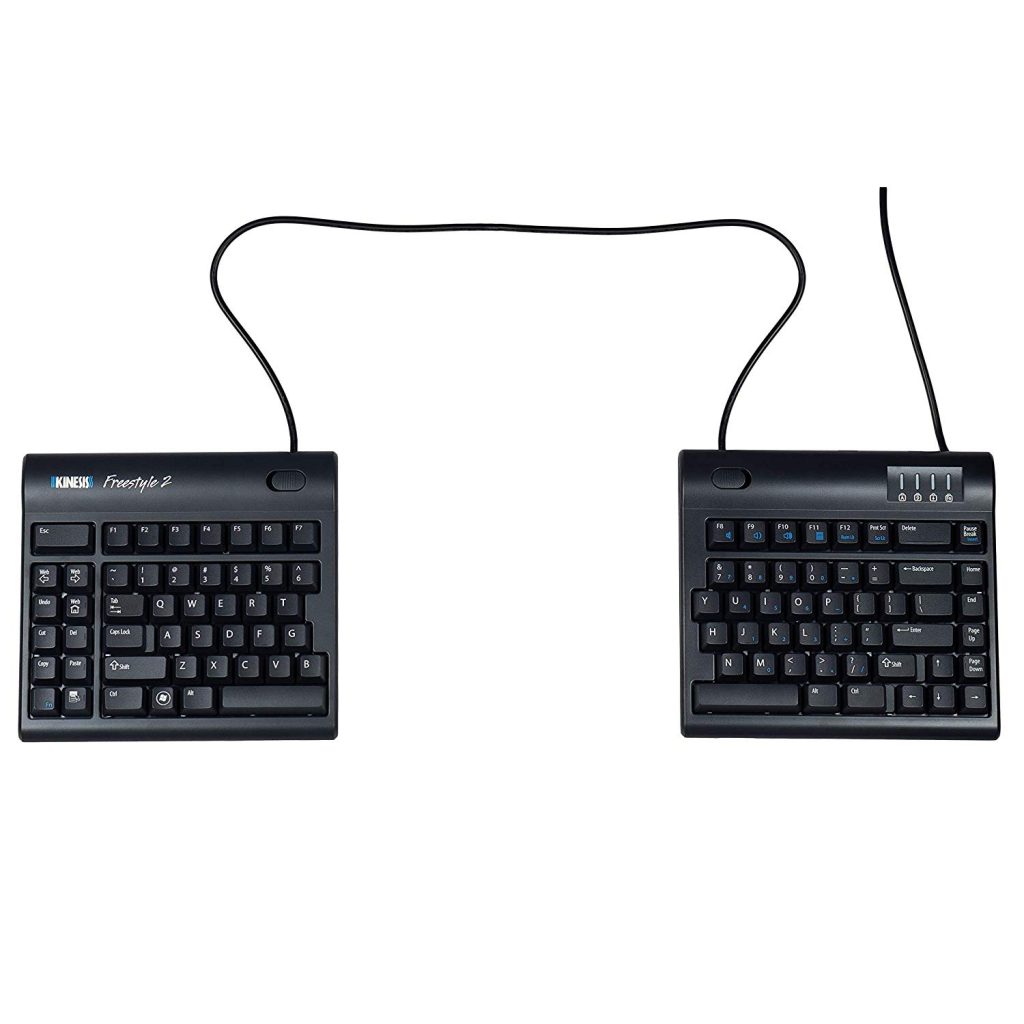 Have you ever come across a keyboard that is actually split? When you look for the best ergonomic keyboard, you will probably come across lots of split designs. After all, your hand is not designed to be crooked into space where you have to type for hours every day. That is when the concept of splitting the keyboard but still keeping it connected by a wire or wireless technology comes into the picture.
The Kinesis Freestyle 2 ergonomic keyboard is one of the popular designs available that doesn't deviate too much from the basic keyboard design. The ergonomic factor is provided with a 20-inch split so that you can space out the alphabet keys and access them much easier. It allows you to rotate the keyboard in any position and place it in the most convenient position of your choice.
It is also equipped with custom membrane switches and the proprietary Freestyle 2 key switches provide tactile feedback. They don't create any noise, but still, it makes it easier to see whenever you activate each of the keys and get a satisfying feel. It helps reduce fatigue on fingers and the keyboard is connected by a thick wire so that you don't fear you might break off the connectivity easily. The slight gap makes all the difference and once you start using it, you will get the idea.
What Makes the Kinesis Freestyle 2 Ergonomic Keyboard a Great Choice?
The ability to split the keyboard to create space is very handy.
It works with all Windows versions and doesn't require any software.
The design is ergonomic and simple to use.
Recommended For:
Office users who need extra space or would like to split the keyboard to easily type for long hours will find this design very handy.
See it on Amazon
See also: Best keyboards for programming
Best Ergonomic Keyboard with a Wave-like Design
Perixx Periboard 512 Ergonomic Split Keyboard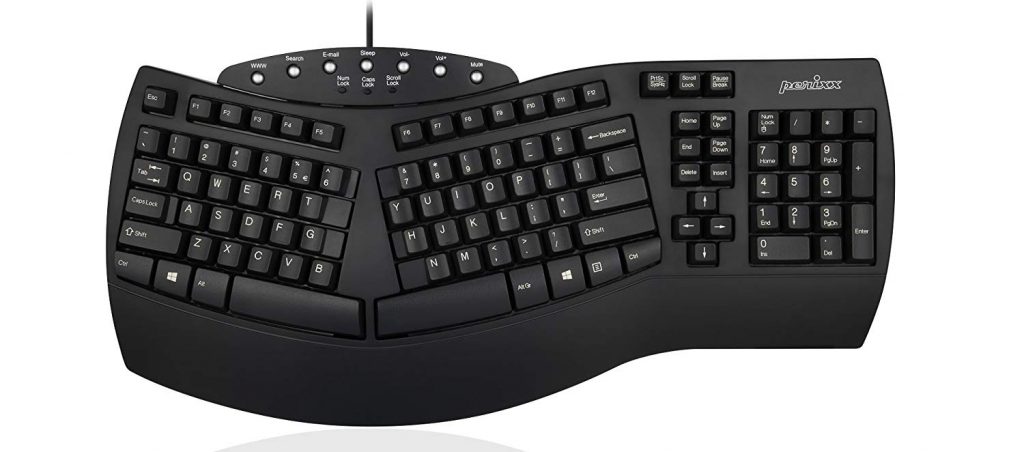 If you have had the chance and probably you would have used the standard layout keyboard all the time. You would have noticed that you have to crank your hands to a very uneasy position in order to keep accessing the alphabet keys. The number lock will be on the far right making it even harder to access unless you move your hands away from a comfortable pose. While adding a keyboard wrist rest should help, the wavy design goes all the way in making your life better.
The Perixx Periboard 512 ergonomic keyboard is definitely designed with comfort in mind. It uses a split-key design which means there is a significant gap in the middle and the keys are all curved so that you don't have to force both your hands to a horizontal pose. The keyboard split paves way for you to find the most comfortable position and type all your emails, messages without straining your wrist area.
The palm rest is designed to keep the joints comfortable. It sports tactile feedback which should allow you to understand every key press and move on to the next key without any additional strain. The plug and play keyboard can be used out of the box without having to install any additional software. It works with all versions of Windows including Windows 7, 8 and 10 making it an ideal companion for office users. The split keyboards are bit different compared to a traditional layout but once you get used to the curvy design, you will definitely won't find the traditional design as convenient as this one is.
What Makes Perixx Periboard 512 ergonomic keyboard a Perfect Model?
The design is very convenient to use with all the keys laid out on top for easy access.
It is a full keyboard yet is very compact in size.
Recommended For:
The wrist pad and the curvy design provide the best ergonomic position for your hands besides being an affordable solution for most.
See it on Amazon
A Three-Way Split Keyboard for Improved Ergonomics
Microsoft Sculpt Ergonomic Keyboard for Business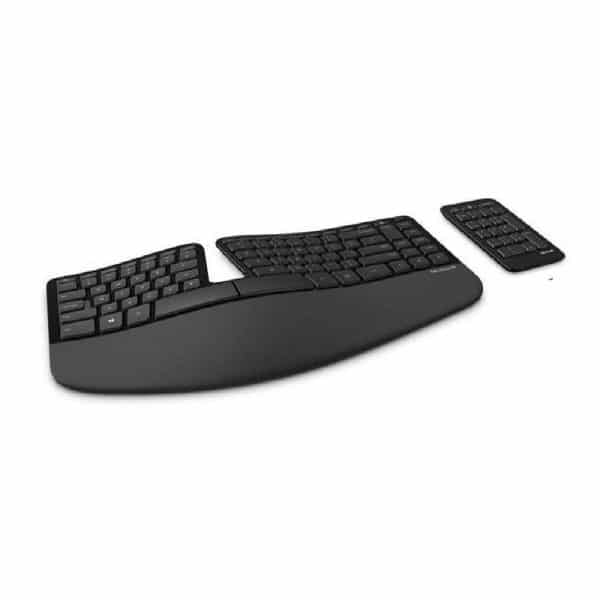 Microsoft has been at the forefront when it comes to creating some of the best keyboards for business use. After all, people spend hours every day in the office and being able to reduce the strain at every point does matter. The Microsoft Sculpt Ergonomic keyboard for business is definitely a completely new take on the design. The keyboard is not just split into two, but rather has different splits so that you can focus on what you are working on at the moment. In case, you don't need the numpad at all, it is individual and can be stored in the desk drawer.
The overall shape of the keyboard has a bulge in the middle while the keys are all slightly curved. While some keyboards focus on complete curves which may force users to understand the aesthetics, this one doesn't have such a learning curve. Instead, if you are used to conventional keyboards you can use it conveniently. The wrist rest on the bottom is just fantastic with a curved, rubberized design providing maximum comfort.
The keys are all slightly curved and have an arc which ensures you can place your hand in the most convenient position without straining it for hours. Besides, the split in the middle provides enough space between the keys and can even help boost up your typing speed without feeling cramped. The palm rest has cushioned design and it is, on the whole, the best ergonomic that you could expect on a business keyboard.
What Makes the Microsoft Sculpt Ergonomic Keyboard the Best?
The keypad is completely split and saves a lot of space.
The cushioned wrist rest is convenient and comfortable to use.
It is split into half and is curved to improve comfort levels while typing for long hours.
Recommended For:
Business users who have a tight table setup and may not require num pad all the time will find this compact keyboard easy to use.
See it on Amazon
Best Ergonomic Bluetooth Keyboard
Jelly Comb Folding Bluetooth Keyboard for PC, Smartphones and Tablets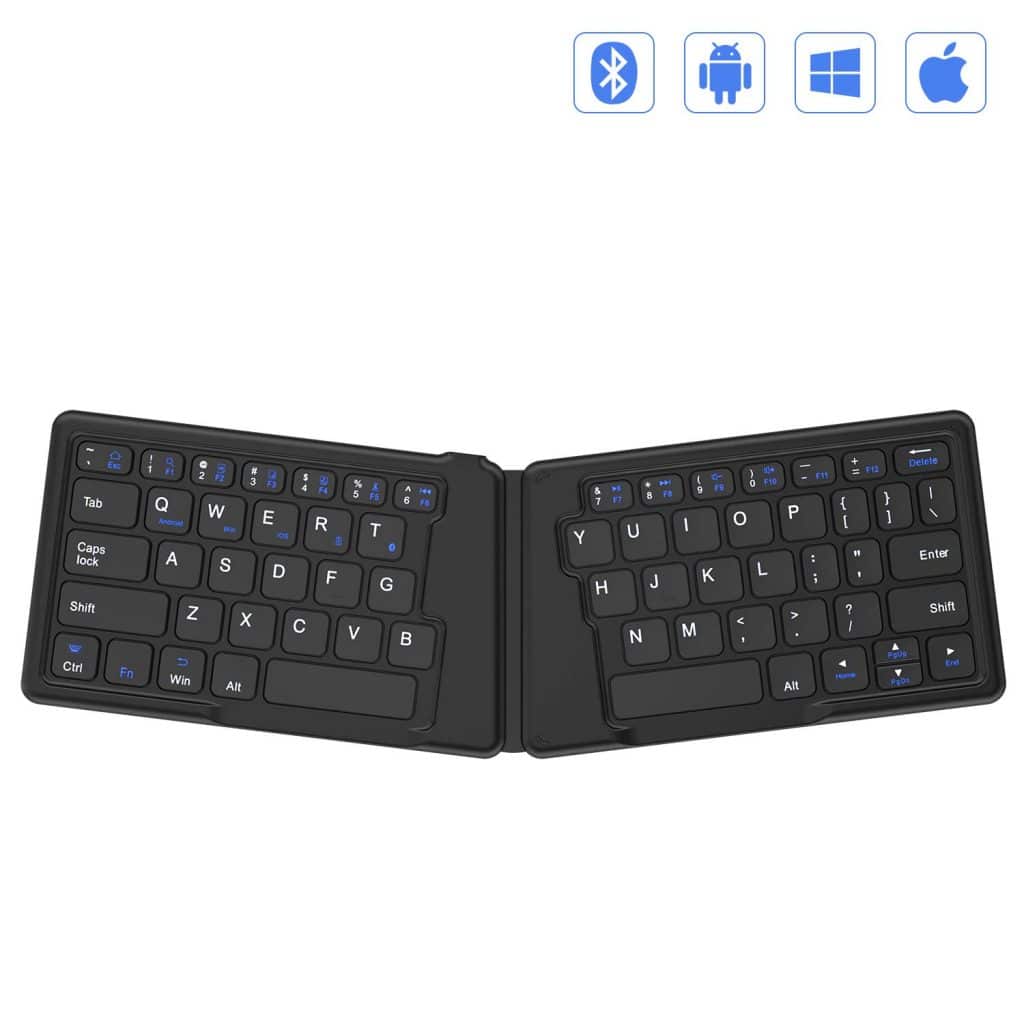 The devices on which you perform a lot of actions these days are not just computers but smartphones and tablets too. These smartphones can be more productive when you can pair them with a Bluetooth keyboard. The only catch is the size of real, conventional products that are too large to carry around. The Jelly Comb folding Bluetooth keyboard gets rid of all the issues that you would face when trying to keep it stored in your backpack or in the office drawer.
Designed to be the best traveling companion, the Jelly Comb product is very compact and lightweight. You can even store it in your sweatshirt pocket when not in use. When you flip it close, it becomes the size of a large wallet and will comfortably stay in your pockets. It is also made using high-quality plastic and the minor split between the keyboard makes it more ergonomic than a conventional design. The gap provides spacing for your hands so that you can type faster and without any wrist strain.
The keyboard is powered using Bluetooth 3.0 technology and also has a built-in battery that you could charge on the go. It delivers a massive standby time of 720 hours in case if you travel a lot and want the product ready to use even when there are no outlets to charge it in remote locations. The BT technology seamlessly works with all operating systems including iOS, Android and Windows. It also has minor tactile feedback to let you know when the keys are activated. The lack of num pad paves way for better design and compact finish. You can even use it with laptops that don't have Bluetooth but make sure to buy a third party compatible adapter.
What Makes the Jelly Comb Folding Bluetooth Keyboard Convenient?
The perfect travel companion and you don't have to keep your laptop at all times. You can get work done easily on your smartphone or tablet on the go.
The powerful built-in battery can be charged and it lasts a long time that should ensure your entire trip is complete when you use it occasionally.
Recommended For:
Business people and those who travel a lot will definitely find this pocket, foldable keyboard a convenient option to have so that they can type freely and handle large files or e-mail messages.
See it on Amazon
Most Ergonomic and Comfortable Gaming Keyboard
Razer Ornata Chroma Gaming Keyboard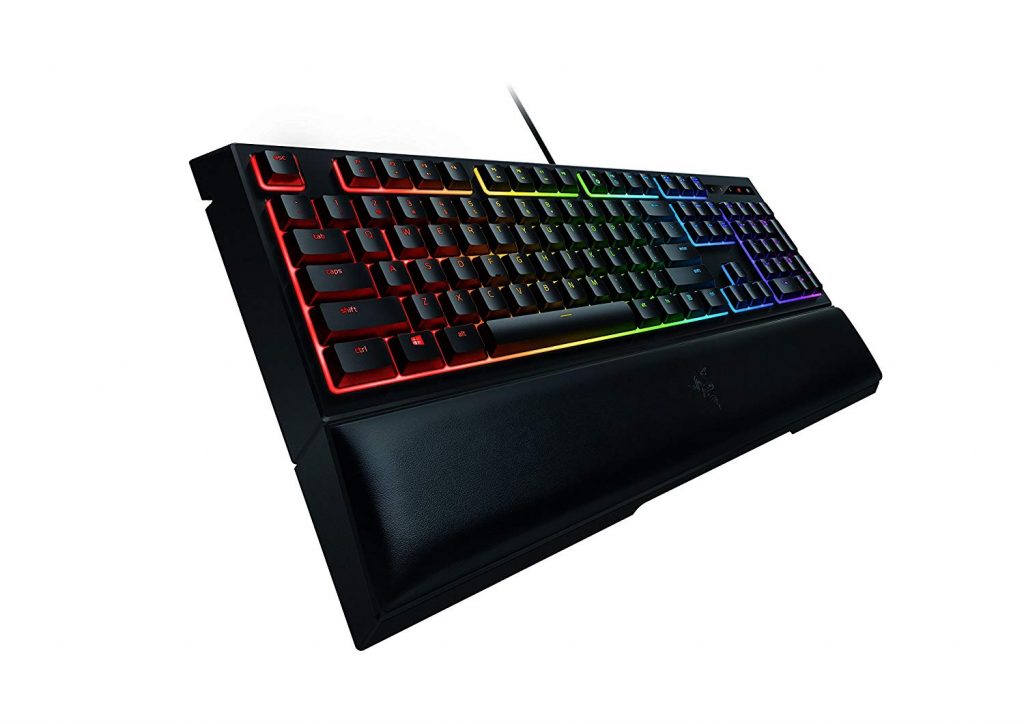 The world of keyboards can never be complete unless you add a bunch of gaming keyboards to the list. After all, they are some of the most popular categories where a lot of mechanical keyboards exist. If you really love to have ergonomic design combined with the most comfortable keyboard out there, the Razer Ornata Chroma Edition is a perfect companion. The keyboard is less expensive because it uses an innovative mech-membrane keyboard which provides tactile feedback but is not as expensive original Cherry switches.
Each key press feels individual and they have a soft cushioned membrane which provides a very soft touch to your fingers. The ergonomic factor kicks in here allowing you to type for hours if needed without any wrist or finger strain. Similarly, the keyboard's bottom area is excellent filled with a long, fully cushioned wrist rest that feels extremely comfortable according to most reviews. Users simply love the comfort level it has to offer.
If you are completely new to the world of gaming keyboards, it is good to know that Razer is one of the famous companies that excel at making gaming peripherals. With the help of their software, you can comfortably customize all the keys, get-game specific or software-specific shortcuts that make your work easier. It is durable and has been rated to withstand about 80 million clicks. The keyboard could be slightly heavy though and is not portable as it is made using military-grade metal at the bottom.
What Makes the Razer Ornata keyboard an Excellent Pick?
It is sturdy and designed for desk use with keys that are very soft to the touch.
The design reduces any strain on the wrists with a comfortable wrist pad and also its keys provide tactile feedback on par with mechanical keys.
Recommended For:
Gamers who love the RGB color and would want the best comfort when they are going to play for long hours. It can also be used in an office if you can switch off the lights and make it more subtle.
See it on Amazon
An Affordable and Lightweight Keyboard
Arteck 2.4G Wireless Ultra Slim Keyboard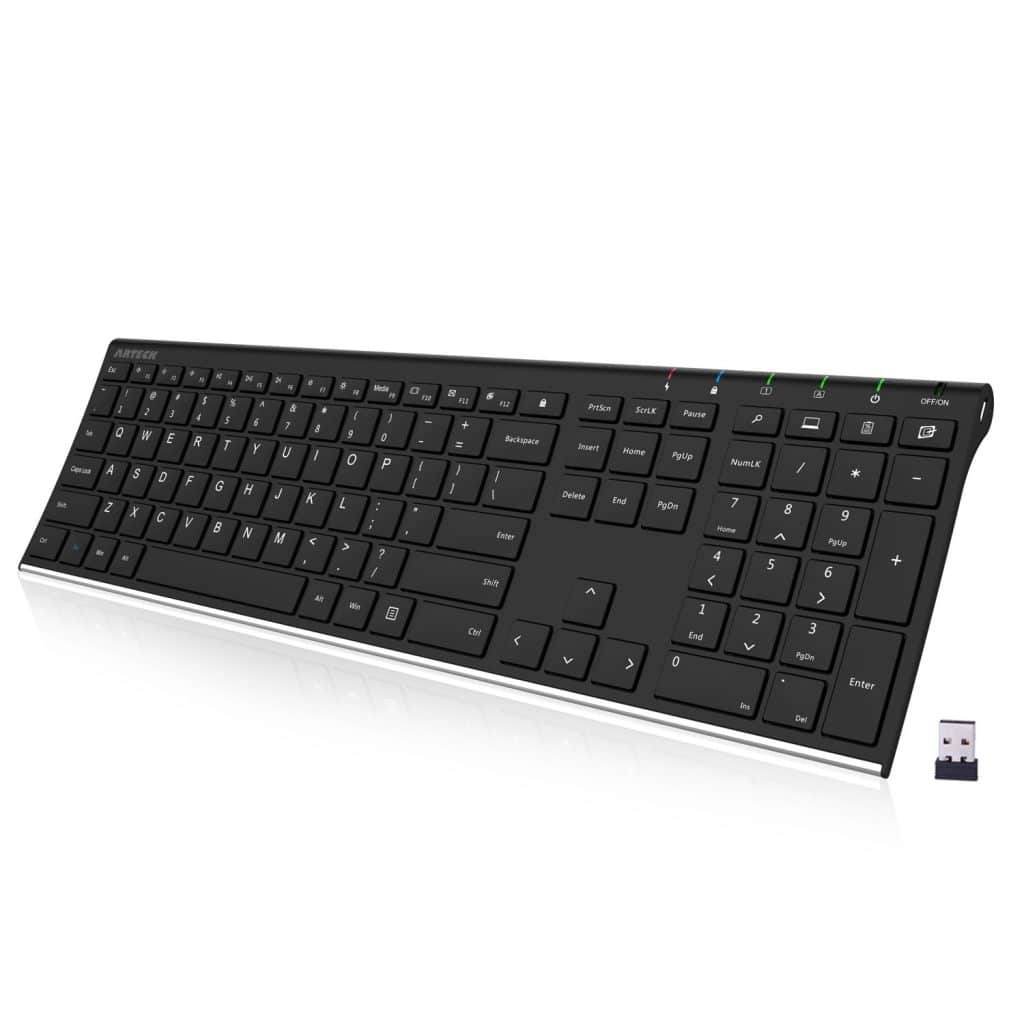 At first look, if you love minimalism you will surely love the Arteck keyboard for what it has to offer. The product might fool you with its looks to be subtle and easy to break keyboard but in reality, it is far away from being a fragile one. The base of the same is made using complete stainless steel material so that you could use it comfortably without the fear of breaking it. It can also be used with a range of products and not just computers, as the 2.4G wireless receiver allows you to connect it to most compatible devices.
The product can be considered as among the best ergonomic keyboards because of its size and compact build. The best part is, even though it has a reduced footprint, the designers have managed to include a full num pad on the right hand side. Office users who spend a lot of time on Microsoft Excel, sheets and other files will find this addition a convenient solution. The USB receiver is literally small in size and you can move it anywhere but make sure you don't lose it by attaching it to the right peripheral.
The Arteck wireless ultra slim keyboard comes with a battery life that is quite impressive. It can last a massive period of 6 months so that you never have to worry about recharging or the product's performance getting affected due to low battery. The latency is almost non-existent and it also has all the keys you would require to get maximum productivity. Pairing it up with a small, wireless mouse could do wonders for those who want an ergonomic solution for their office use that also looks nice.
What Makes the Arteck Wireless Keyboard a Great Choice?
The footprint is minimal as it looks compact, can be used with multiple devices.
Its battery life is excellent and being wireless adds up to its ergonomic factor.
Recommended For:
If you love to declutter your desk without compromising on design, compactness or productivity, this keyboard from Arteck falls right in place.
See it on Amazon
The Most Ergonomic Keyboard for Your Television
Logitech K400 Plus Wireless Touch TV Keyboard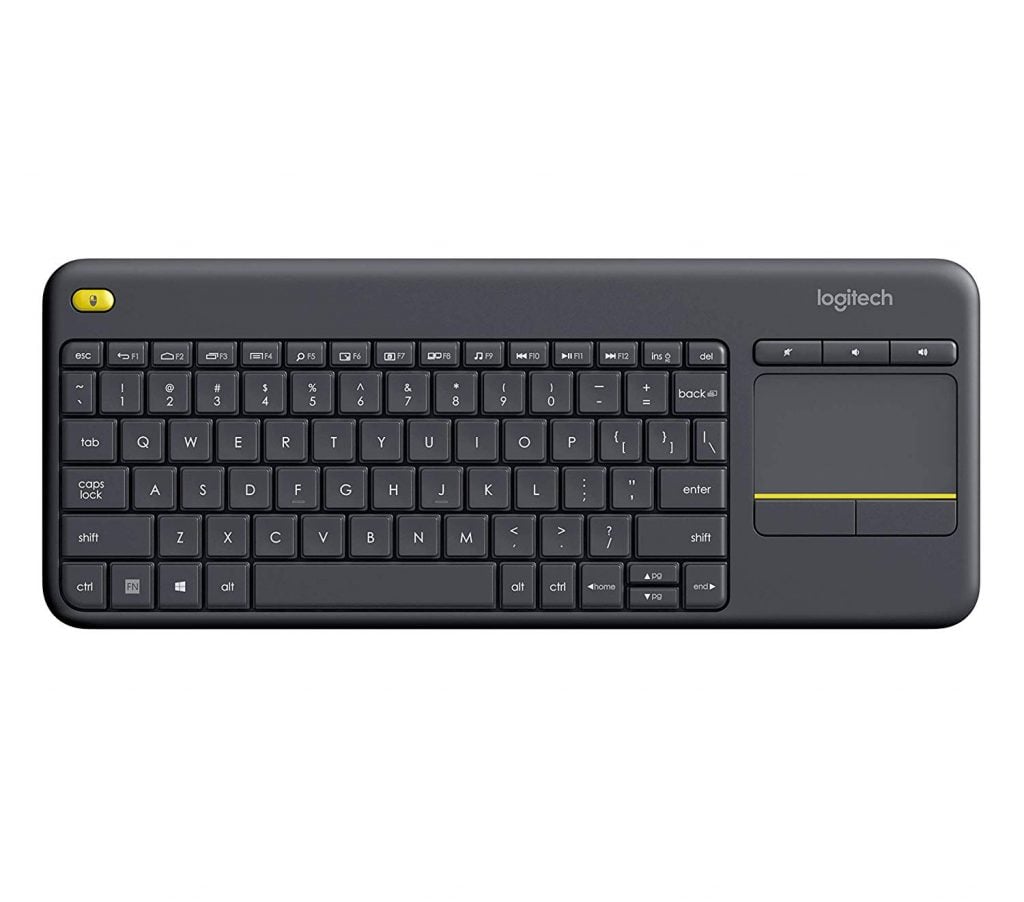 Most televisions are smart these days and they are mini computers on their own. If you need to have a great home entertainment setup, go for the Logitech K400 Plus wireless touch keyboard. The ergonomic keyboard has been made in such a way that you can comfortably use it on a couch to navigate features and options available on your smart TV. Most new models run on Android and have Bluetooth or Wi-Fi enabled on it which allow you to easily pair this keyboard with your couch setup.
Logitech has designed this product for HTPC usage which is when you connect your TV to a computer and want to navigate media, games or controls without leaving that lazy couch. While it may or may not work with all televisions that lack a proper operating system, your HTPC setup would work perfectly. You can also connect your laptop or tablet to your TV while using this keyboard to navigate the mouse as well as type content. It has a 33-feet wireless range and connects even large rooms.
The volume controls are comfortably placed on the side for easy access while the touchpad is similar to how you would use it on a laptop. The small keyboard saves space and is not meant for use on full computers, but rather from the couch. You will find it much easier to type in the search box without using onboard remote controls or on-screen keyboards. It uses a 2.4 GHz receiver which will work on HTPC and compatible devices. The battery can comfortably last about 18 months on a single charge. It is compatible with the latest version of Windows, Android and also Chrome OS.
What Makes the Logitech K400 Plus Wireless Keyboard a Cool Choice?
The compact size makes it the best ergonomic keyboard that you can use from a couch when navigating HTPCs.
It connects seamlessly and has great battery life.
Recommended For:
Movie buffs and those who have dedicated HTPC setup or like to connect their Chromebooks for entertainment will find this wireless keyboard from Logitech a perfect entertainment companion.
See it on Amazon
Get Mechanical Keyboard Experience in an Ergonomic and Affordable Package
Havit RGB Mechanical Gaming Keyboard with Blue Switches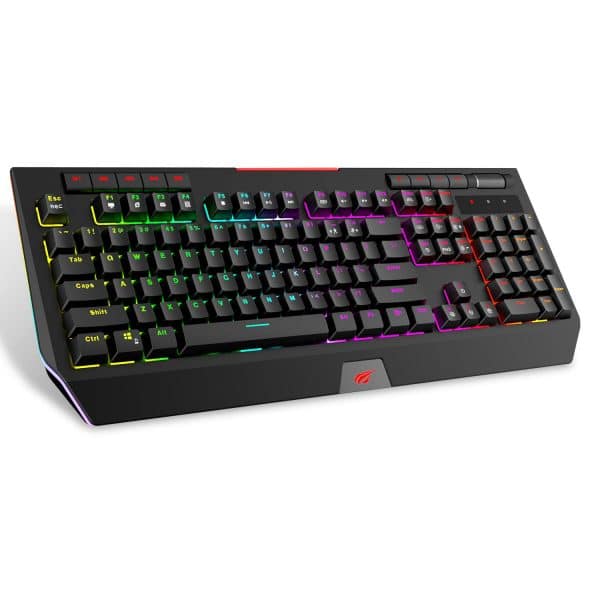 Before you switch to a mechanical keyboard, you should know that the amount of force you need to provide on it is much higher compared to a typical membrane keyboard. However, they provide tactile feedback and feels great every time you type something meaningful. It could be a long e-mail or a message to your colleagues. The Havit RGB mechanical gaming keyboard is an excellent entry-level product which costs less but gives you blue switches that are loud and provide great feedback.
Apart from being a sturdy keyboard, it also has RGB backlighting for those who like to have a colorful desktop setup. If you plan to use it in office, make sure you can handle the lighting as well as the loud noise the blue switches would make. For personal use and for gaming, it wouldn't be a problem if you have your own computer room. The keyboard has dedicated media controls which make it even better. You can switch songs, control volume using a dedicated knob and so on which all feels satisfying while reducing any hand strain.
While media keys make it easy to control your entertainment, it also has dedicated keys on top to adjust the brightness of the RGB lights and also customize the kind of color palette you want on your keyboard. The mechanical keys combined with the widespread keyboard design will allow you to type easily. It is a great pick for situations where you don't mind the noise but would like to have that tactile feedback.
What Makes the Havit RGB Mechanical Keyboard an Appropriate Choice?
The keyboard offers an affordable entry into the world of mechanical keys and tactile feedback.
The RGB lights and media keys make life easier for those who like to be more productive.
Recommended For:
Professional users and gamers who like to have keys ergonomically placed for easy access along with mechanical switches will find this to be the perfect bundle.
See it on Amazon
Best Ergonomic Keyboard with a Curve
Microsoft Comfort Curve Desktop 3000 for Business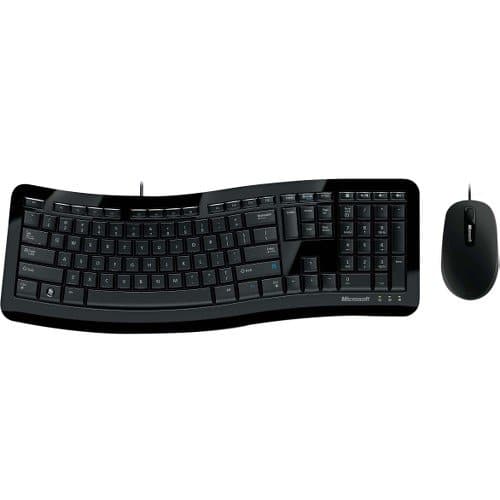 The keyboard literally curves on all sides and if you mistake it for a fashion product, you are definitely not wrong. The ergonomic keyboard is designed to be as comfortable as it could get. However, for new users, it could be slightly difficult to get used to the shape and start typing at their maximum speed. The model uses a curved design which flows seamlessly from one end to another. It provides a slightly curved style so that you don't have to force both your hands to be in an awkward position which is one of the key reasons that leads to strain.
The Microsoft Comfort Curve Desktop 3000 for Business is familiar because unlike some keyboards that use a split design or very unique changes that are uncomfortable, this one is more familiar. It even managed to retain the num pad so that it is easier to type a large collection of numbers or maintain documents in Excel sheets. These features make it a keyboard ideal for office purpose.
An additional feature is that the keyboard has been designed to be ambidextrous. People who use their right or left hand can use it as the waves are in such a way that they don't obstruct your access to a mouse placed nearby. It is a wired keyboard and you don't have to worry about battery life but just keep using it in the long run.
What Makes the Microsoft Comfort Curve Desktop 3000 a Perfect Keyboard?
It balances the concept of ergonomic curved design with a conventional keyboard layout.
The design is easy to learn and also reduces hand strain.
Recommended For:
Office and business users who need a curved design for improved comfort but would like to retain its original layout to reduce learning time
See it on Amazon
Conclusion
The best ergonomic keyboard is the one that helps reduce strain on your hands and wrist but should also be able to get work done more effectively. You can either go all the way by choosing completely split keyboards, modular design or simply opt for one with a good wrist rest. The mechanical keyboards are comfortable too, for those who enjoy it, but in the end, it's your personal preference. Make your typing easier by opting for an ergonomic keyboard of your choice.
See also: Best keyboards for better typing experience with iPad
---