Homebezz is supported by its audience. We may get a commission from retail offers
With high-speed internet, the average user can do almost everything online, like watching movies, playing games
With high-speed internet, the average user can do almost everything online, like watching movies, playing games and listening to music. Big technology firms like Microsoft, Google and Apple want to make streaming the next big thing and Gigabit internet will make it possible.
Despite all these massive improvements, your trusted hard drives, be it an internal 2 TB or an external SSD to carry your data around, they are the most reliable solution wherever you go. These are the best hard drives to buy in 2019 and they should make your life easier, as you can store tons of data in local storage. They are reliable for years to come, work even without internet and for privacy-nerds, storing local content in a NAS setup away from the internet is a great option.
See also: Best computer for AutoCAD
Best hard drives
Best Limited Space Hard Drive for Casual Users
Western Digital Blue 1 TB 7200 RPM SATA 6 Gb/s Internal Hard Drive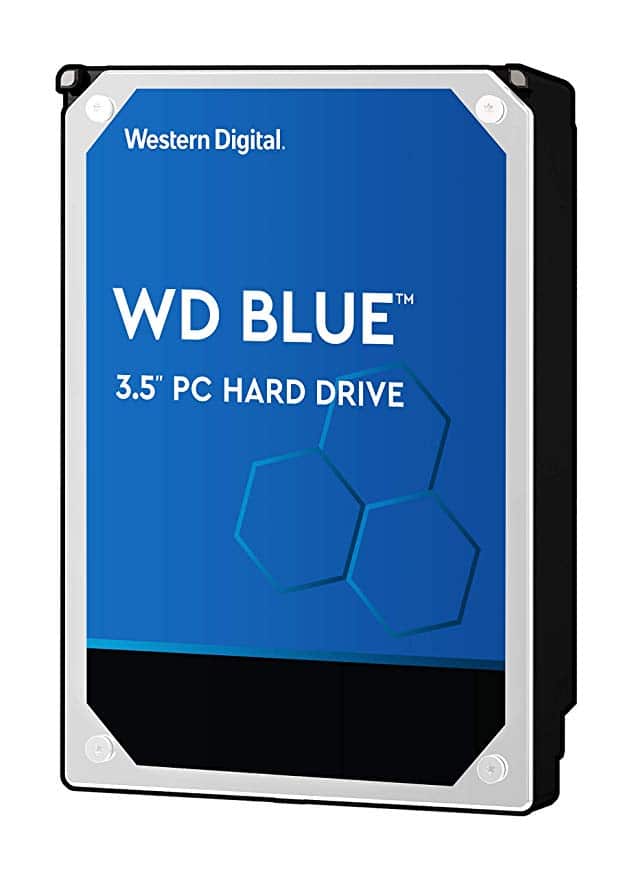 Choosing the best hard drive can always be difficult because you will be wondering whether you should go all out and get a 4 TB drive or just stick to the basics. If you are a casual user, know the fact that you will never use so many terabytes of data. With all your movies and music on the cloud, and if you are not a gamer who is going to install 100 gigabytes of new AAA titles, there is no need to invest in a massive hard drive.
The WD Blue 1 TB is a perfect solution for most casual users. You will probably need the space to install your Windows 10 operating system and keep all your files safe. Besides, even if you are going to rip your Blu-rays and download movies from the web, this space should be more than enough. The 7200 RPM hard drive is a typical disc drive which is the fastest in this category. The Blue rating from Western Digital stands proof of the quality of the product and what it can deliver.
It uses 64 MB Cache, with SATA 6 Gb/s transfer speed that is ideal for moving all kinds of large files around your device. Besides, if you have a laptop or a Mac with limited SSD space, you can always use this on a desktop PC and store all your backup files to retrieve them any time. The product comes bundled with Acronis True Image WD Edition cloning software so that you can take a backup of your existing HD and move it. It also comes with a reliable 2-year warranty period in case there are some technical issues.
What Makes the WD Blue 1 TB Internal hard disk the best choice?
The two year warranty period will come in handy when you need a replacement.
Western Digital excels at making some of the best hard drives in terms of build quality.
It has 6 Gb/s transfer rate ideal to transfer large files.
Recommended For :
Casual users who have a couple of movies, music and other office files that they like to store from their desktop PC setup
Best Hard Disk with Massive Storage Space for Personal Use
Seagate BarraCuda 3 TB Internal Hard Drive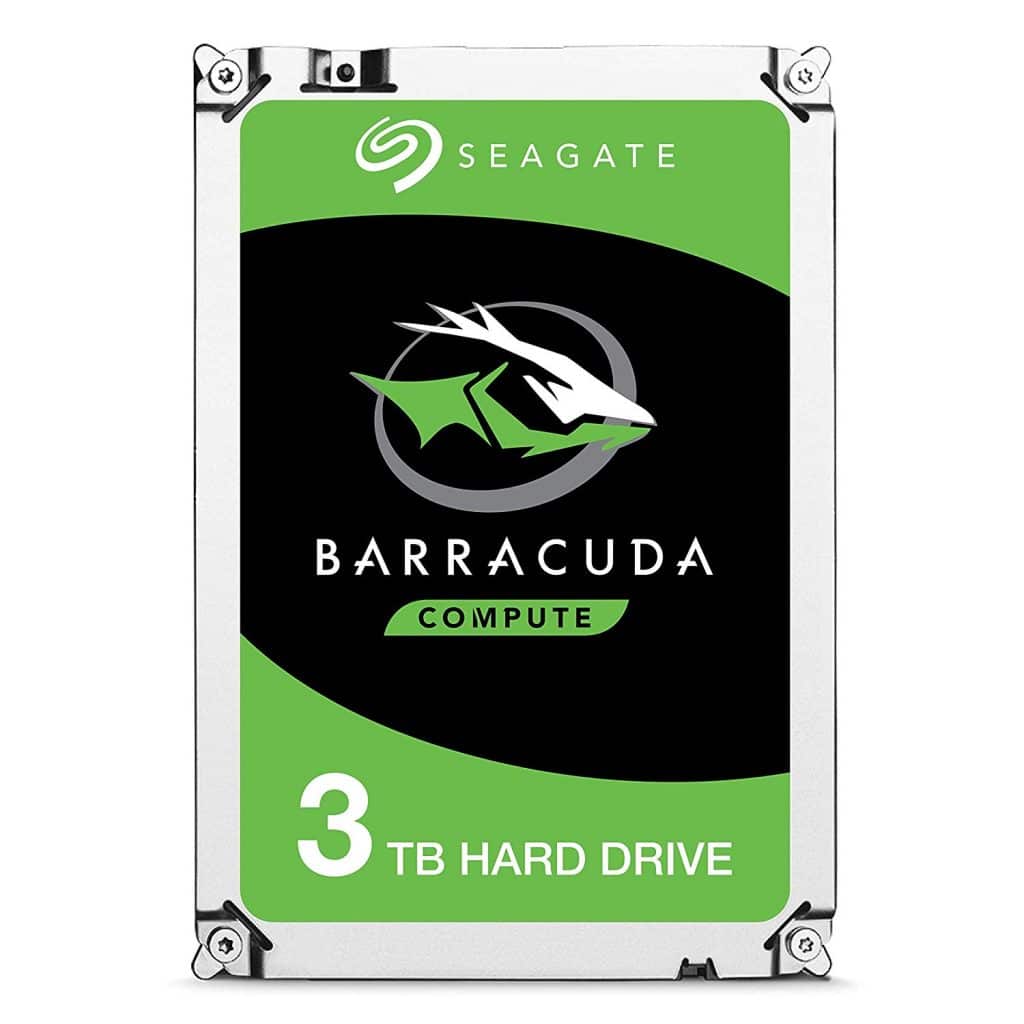 The Seagate BarraCuda series is one of the fastest hard drives the company manufactures and they have been continuously pushing the barrier to make the fastest drive for all your storage needs. The 3.5-inch internal hard drive is an ideal solution for personal use when you have lots of files to store. The scenario could be any ranging from storing lots of movies or large music files like FLAC that serious audiophiles love to own. People who work in the media and use large audio or video files would obviously want terabytes of space that they could use for their storage needs.
It is an internal SATA drive which has a read and write speed of 6 Gb/s which is adequate for transferring large files and any other between the partitions in your drive. The 3.5-inch hard disk is easy to mount especially if you have already invested in a large PC case and have multiple drives there. You can easily buy two or three them to create a NAS setup.
When moving to large storage solutions, it is wise to buy multiple 3 TB or 4 TB hard disks than pushing the limits with two 8 TB drives. They are prone to massively large data getting corrupted or lost if something happens to the disc drive. However, when you split the data into multiple hard disks and also take proper backups, it is much easier to maintain in the long run. BarraCuda series works with DAS setup, uses 7200 RPM speed and comes with a 2-year limited manufacturer warranty.
What Makes the Seagate 3 TB Internal BarraCuda a Great Fit for Large Files?
The hard disk is affordable and can be used for a number of applications to store movies, music or large media editing files.
It is easy to connect to other devices as external storage drive as DAS setup and works as a home server, desktop PCs or to have multiple copies of the same files as a backup.
Recommended For :
The Seagate BarraCuda series is one of the best and comes with a recovery option;it is ideal for home users who don't want to get too technical and it can also be used in multiple quantities as a backup.
Robust External Drive to Carry Data on the Go
Toshiba Canvio Basics 1 TB Portable External Hard Drive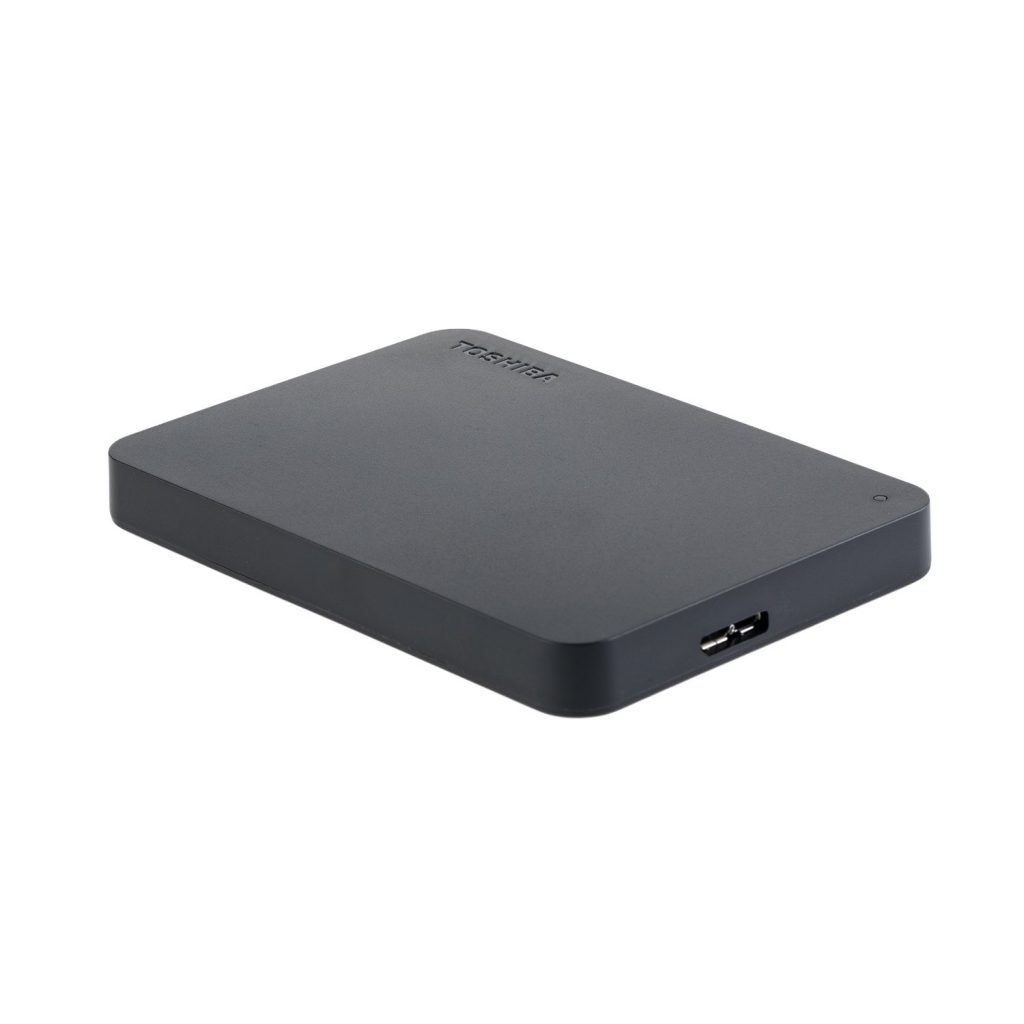 An external hard drive will come in handy whenever you travel or move within the city with large quantities of data to be transferred from one PC to another. While the internet has evolved so much with 4G connection and blazing fast ethernet speeds, you still can't keep on downloading files from the cloud services. Besides, when working on confidential projects, you have to move those manually rather than risking uploading those files to the web
The Toshiba Canvio Basics 1 TB is a perfect solution and is priced under $50 which makes it all the better. You can just buy one and throw all your important files in it, take it anywhere. The hard disk sports a very stylish design with a matte outer layer. The finish allows you to hold it with bare hands without any smudges on top of it and maintains the aesthetics of the product. The hard drive works out of the box and there is no need to install any software to get it to work.
Canivo Basics work USB 3.0 and 2.0 ports. There is no need to connect an external power source which is an important aspect of the product. You can immediately connect it to any laptop and start transferring files with relative ease. The product comes with a reliable 1-year warranty period and you can get it completely replaced or repaired in case the drive fails to work as intended within this period.
What Makes the Toshiba Canvio Basics 1 TB External Drive a Good Choice?
The design is contemporary and looks great especially when you are going to carry your hard disk around
1 TB of storage space is ideal for most files and the portability allows you to take your files wherever you go
Recommended For :
People who have some large files that need to be accessed on the go, at the office and then at home can go for the Toshiba model
Best Hard Disk for PS4 Gamers to Store Game Files
Seagate Game Drive 2 TB Portable External Drive PlayStation Officially Licensed Product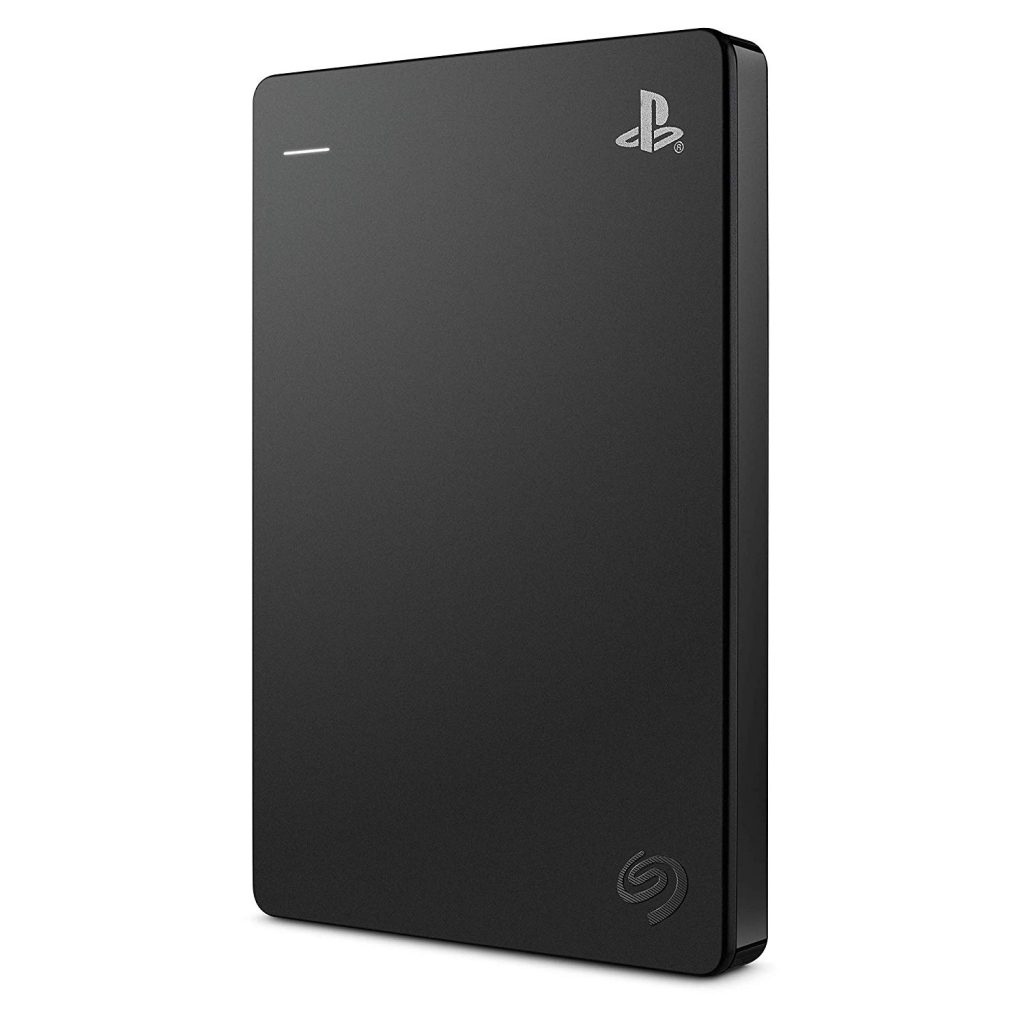 Are you a big-time gamer and spend most of your time on your PlayStation 4 console? If you do, you would probably want some additional space to install all those AAA titles and be able to play them whenever you please. Games are rather large these days and could even go as big as 100 GB with all the DLC's installed. Seagate has a solution for all those ardent gamers with the portable 2 TB external drive which has been certified for use with the PlayStation 4 console.
This particular hard drive was made in association with Sony and the company's executives worked with Seagate to ensure it works well with your PS4 console. The product uses the same firmware as the gaming console which makes it easier for the device to instantly detect the additional storage space and allow you to transfer your games to it so that you can play them at a later date.
The drive uses USB 3.0 technology for high-speed file transfers and the entire setup can be completed in less than three minutes. Just plug the hard drive to your PS4 console's USB port and it will instantly detect it. The automated software installation will be triggered which will get the job done and make sure your console is connected to the internet to finish the process smoothly. The product also comes with a three-year warranty making it the best bang for your buck.
What Makes the Seagate Game Drive 2 TB PS4 Edition a Great Pick for Gamers?
The product is officially licensed by Sony and works seamlessly with the PS4 console.
It comes with a three-year warranty period.
Recommended For :
PlayStation 4 owners who are keen on installing all AAA titles at once and require a backup hard disk to keep their game files intact to play them anytime
Best External Drive to Backup Your Files
WD 6 TB My Book Desktop External Hard Drive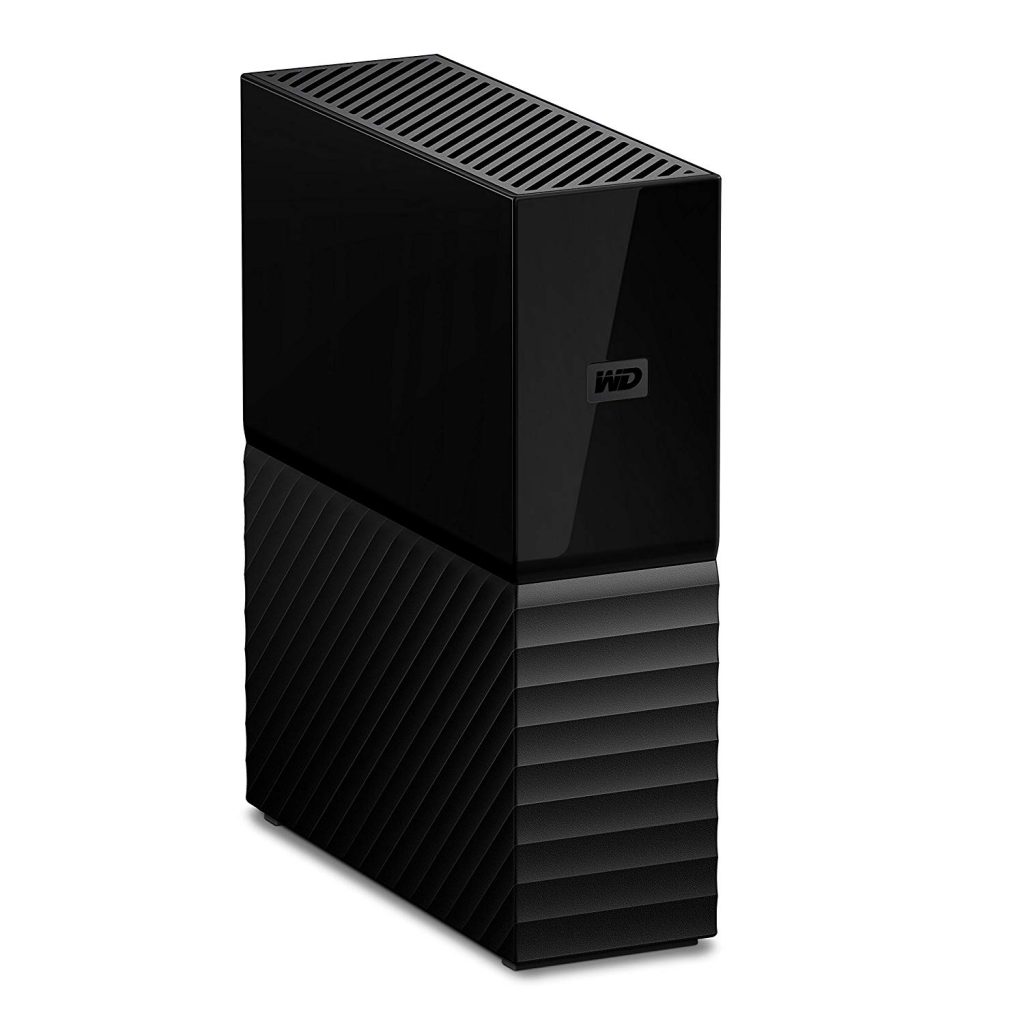 Having a large external drive that you can keep in one place at home or office will make it easier to store all your files. After all, file sizes have drastically increased in the past few years. Be it movies, music or games, everything is much larger now even though companies are trying to move everything over the cloud. For old school people and those working with multimedia documents, having a large local storage solution is mandatory.
The WD 6 TB My Book desktop external hard drive is the perfect solution for all your files. The device is powered by USB 3.0 which ensures all your files can be transferred in the maximum possible speed. It comes in handy when there is a large number of files to be moved around between your computer's hard drive and to your external storage. The unique feature of this product is that it supports auto backup made possible by the Western Digital backup software.
When you store large files and lots of different files on external storage, you would want to have a backup handy in case something goes wrong. The software simplifies the entire process and it also has a feature named the Time Machine to see or retrieve files from the past. The files are all safe and private as the hard disk uses encryption and password protection to restrict access. It is also compatible with USB 2.0 devices and comes with a highly reliable three-year warranty period. You can not only take an easy backup of files but also get your hardware replaced in case it malfunctions during this period.
What Makes the WD 6 TB My Book External Drive a Great Pick?
The 6 terabytes of storage space is useful and easy to store large quantities or big files that you might want to access later on.
Easy to take backups with the help of the WD software.
Uses hardware encryption and password protection to maintain privacy.
Recommended For :
Users who have large files that need to be stored in an office or home office environment can make use of this large hard disk that has an easy on the pocket price tag.
Best Internal SSD to Make Your Windows 10 OS Faster
Samsung 860 EVO 500 GB 2.5-inch SATA III SSD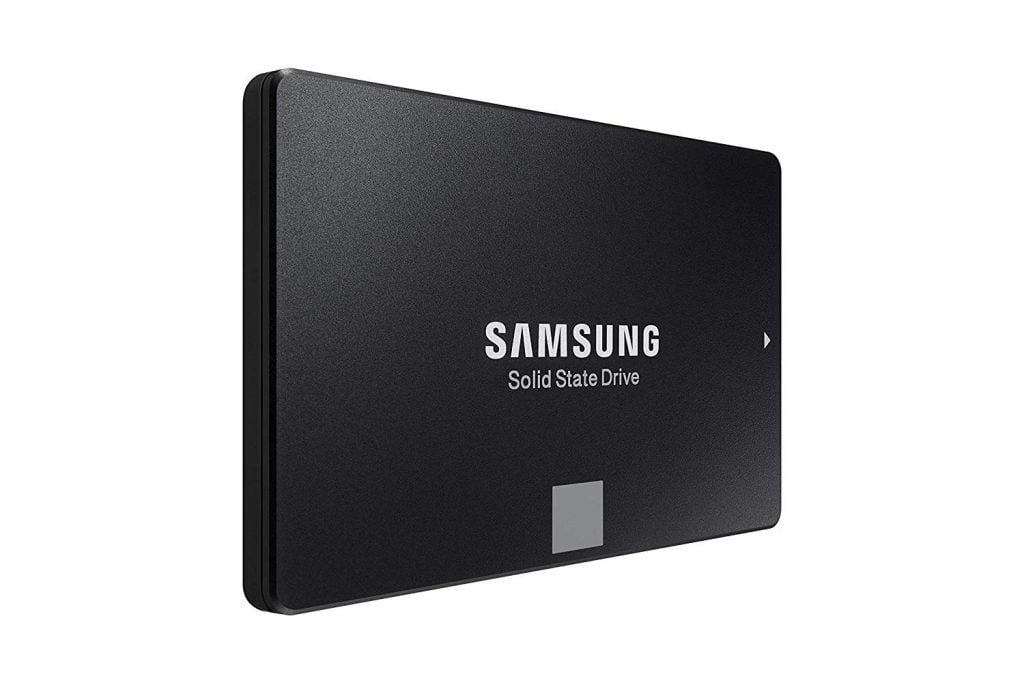 Solid state drives are all the rage now as manufacturers are working hard to push the boundaries and make them more affordable. The SATA based SSD's are the best and the cheapest internal storage solution that you would be able to find. It all started off as 32 GB and 64 GB but things have changed and now you can actually buy even 2 TB solid state drives that are more expensive than conventional hard drives, but much faster than everything else.
The Samsung 860 EVO 500 GB 2.5-inch SATA III solid state drive is an ideal solution which will bring about significant changes in your Windows 10 boot up speed and overall performance of the operating system. When you use it as your primary solution, the SSD will make your computer faster to respond. Installing your OS as well as your browsers and other quick access files like Microsoft Office, Adobe Photoshop will allow you to access them with very minimal loading times.
In some cases, gamer's install large games like Overwatch or Dota 2 that they play regularly on their SSD storage devices. The drive is powered by Samsung's exclusive V-NAND technology. It has a read speed of up to 550 MB/s and 520 MB/s for write speed. The storage solution is ideal for all types of purposes including storing multimedia files, games and installing software that you need quick access to. The product comes with an excellent 5-year warranty period and Samsung is one of the leading manufacturers in the SSD segment which assures you the best product quality.
What Makes Samsung EVO 500 GB Internal Drive Ideal for All Purposes?
The SSD drives are fast and it has a read speed of 550 MB per second and a write speed of 520 MB per second.
It is fast to respond and you can boost your Windows 10 boot up time by adopting this newer storage technology.
Recommended For :
Users who need their computers to be really fast and responsive should definitely move to SSD drives for their OS as well as other important software. Samsung does it best!
Best Large Hard Drive for Massive Office/ Home Backups
Seagate Expansion 8 TB Desktop External Hard Drive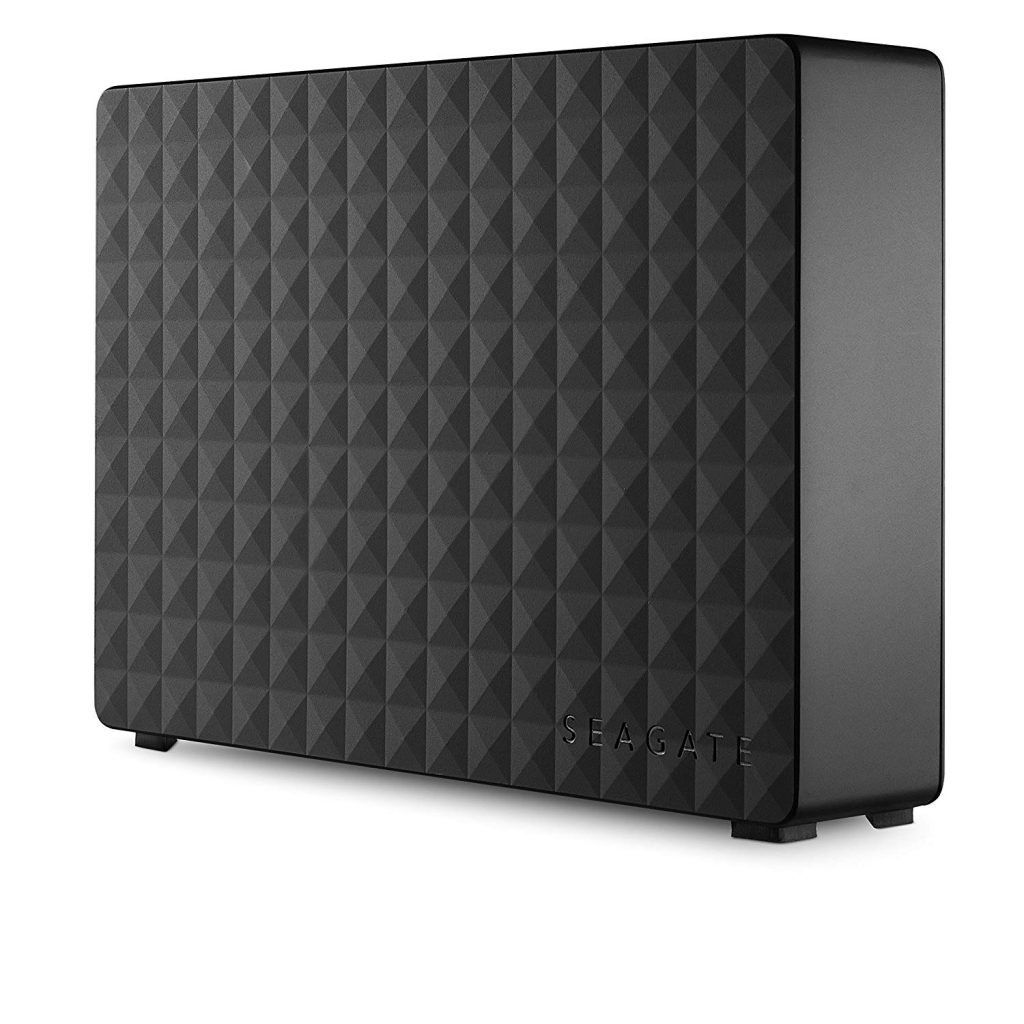 For the average user, having 8 terabytes of storage might sound overkill but it is pretty much a necessity in an office environment. People store terabytes of storage in their local drives because they are easier to access and more private than depending on other companies for their cloud storage solution. The servers can be set up in the same venue where you can buy just one of these or multiple hard disks so as to take a backup of the same files in multiple copies. It comes in useful when one of the drives gets corrupted or retrieval issues years later.
The Seagate Expansion 8 TB desktop external hard drive is primarily designed for this purpose. You can easily save all your files on the drive and keep it accessible to everyone in the office or just use it as a way to backup important files at home. The drive works out of the box. Just plug it into the power adapter and connect the USB cable to your computer. You can immediately start transferring files making use of the USB 3.0 port and it also supports USB 2.0 ports, but the same files will be transferred in slightly slower speeds taking more time than when using USB 3.0 ports.
Once you connect it to your PC using the USB drive, you can conveniently transfer files without having to install additional software. The drive can also be used with an Apple Macintosh PC but in order to do so you have to reformat the drive to make it compatible. Most large hard disks are used with Windows PCs and it shouldn't be a problem if you have a laptop or a desktop setup. Just connect and start using it. Besides, it also comes with a guideline book to make use of and format it to make it Mac compatible.
What Makes the Seagate Expansion 8 TB Desktop External Hard Drive Ideal for Backups?
The Seagate Expansion series is focused on helping you improve your storage space and 8 TB is more than ample for even enterprise users.
You can always buy multiple hard disks and expand the storage.
It works seamlessly with Windows PCs.
Recommended For :
Companies and power users at home can expand their storage with this 8 TB external drive that works out of the box without any additional software installation.
Best Hard Drives to Buy in 2019 with a Compact Design
Western Digital 2 TB Elements Portable External Hard Drive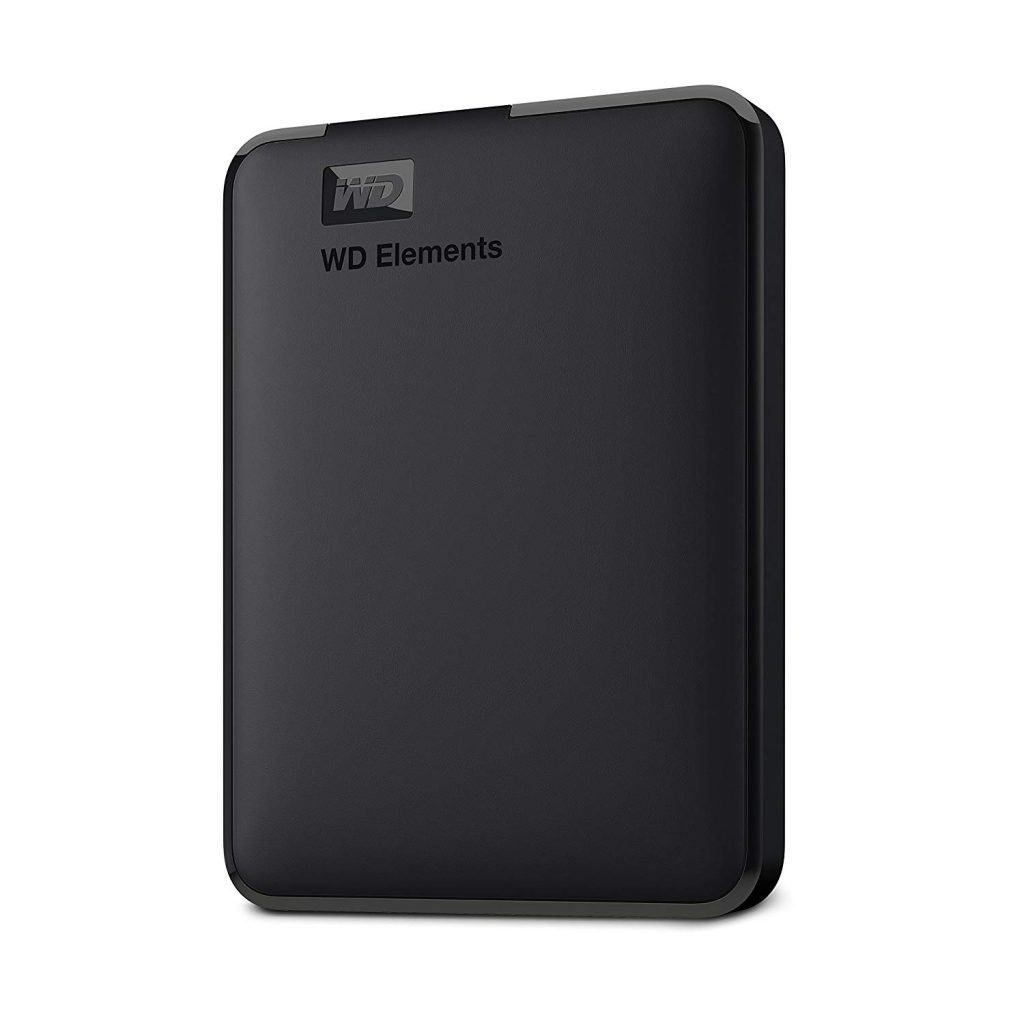 People love to carry their hard disks in their hands or just slip one into their pockets while on the move. Such a level of comfort can also be found in the portable drives made by companies like Seagate, Western Digital and Kingston. All these brands specialize in storage devices and they provide so many choices that you will be spoilt for choice when choosing the right size for your storage needs. The more size you need, the bigger the hard disk will be unless you are planning to go for an SSD storage solution.
The Western Digital 2 TB Elements Portable is an external hard drive and one of the best hard drives to buy in 2019. The stylish curved finish on the top combined with the matte black looks makes it a perfect passport device that you would love to take out. It is also available in different storage sizes ranging from a simple 1 TB all the way up to a large 4 TB device. For the portable purpose, 4 terabytes of data do sound like overkill as carrying the device all the time may reduce its lifetime while the 2 TB finds the perfect sweet spot in the range of solutions offered by WD.
The WD hard disk is compatible with both USB 3.0 and USB 2.0 ports. The HDD has been certified to offer the fastest file read and write speeds, even though it is not an SSD; it delivers the best speeds on a conventional hard drive. The high capacity solution allows you to conveniently transfer large files from your PC to other devices. WD has been in the storage solutions space for many years now and they deliver excellent build quality along with a reliable two-year warranty period that you could avail if needed.
What Makes the WD 2 TB Elements Portable a Great Choice on the Go?
It has a compact and stylish finish allowing you to carry it around easily.
The 2 TB of space will make it convenient for you to store all your files in one place as well as transfer them to a different device when needed.
Recommended For :
If you need a portable solution that is easy to carry around and offers ample space for large files, the WD Elements Portable sounds like the perfect choice for on the go users.
Fastest Portable SSD that Falls in the Premium Category
SanDisk Extreme 900 Portable SSD 480 GB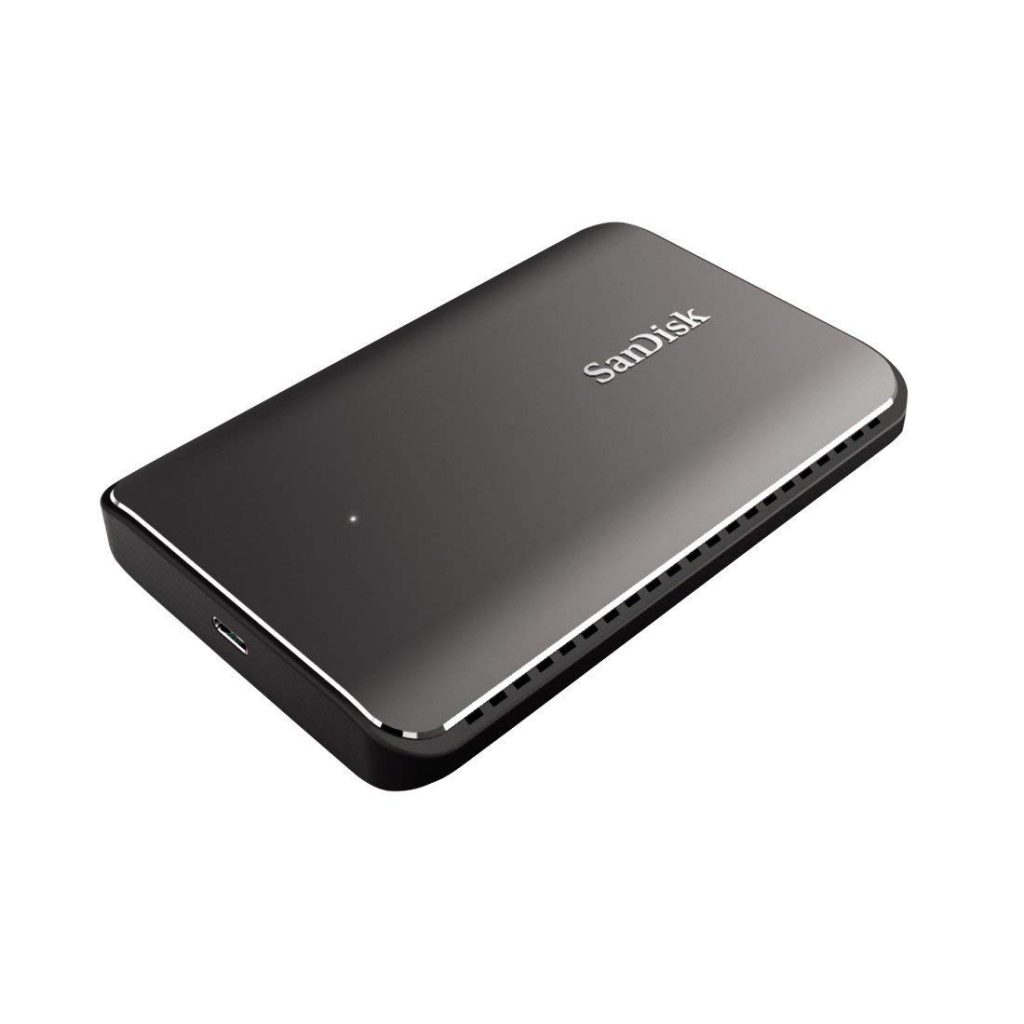 SSD's are fast and most technically savvy people are aware of this fact. However, SanDisk has set a new benchmark in this regard with its newest product. The manufacturers probably wanted to make the fastest solution in the market and it is with confidence, we can say that they have achieved it. The device is not only fast, but it is blazing fast and provides stiff competition to the popular Samsung models in the same external storage solutions category.
The SanDisk Extreme 900 portable SSD offers 480 GB of storage space. In the Solid State Drive world, 500 GB of space is ample and when you get impressively good read and write speeds, you won't have to think twice when transferring large files even if they are like 100 GB each. This particular model delivers an amazing read speed of 850 mb per second and the same 850 mb per second speed when writing files onto the disk. If your computer supports the speeds through the latest USB ports, you can make the most out of your purchase.
The product delivers it maximum speeds when you attach the external SSD to a computer using USB 3.1 ports even though it also supports USB 2.0 with lower speeds. The device has a decent finish on top and delivers excellent build quality. Just buy a carry pouch and wrap it around so that you can keep it safe against accidental drops. The power of solid state drive lies in the fact that they can be used for years without data corruption issues and are the perfect companion if you are going to travel a lot with it.
What Makes the SanDisk Extreme 900 480 GB SSD the Perfect Portable Solution?
SSD's are always the best solution when you are going to travel a lot with your hard disk and want the data to be safe in the long run.
500 GB of storage is more than enough for most people on the go.
The read and write speed of the SanDisk product is phenomenal as it delivers 850 mb/s.
Recommended For :
Any user who lovers to enjoy the fastest speed on their SSD drives and want a quick to use portable solution would find the SanDisk product a perfect choice.
Cheapest High Storage Space HDD with USB-C Port
G-Technology 1 TB G-Drive External Hard Drive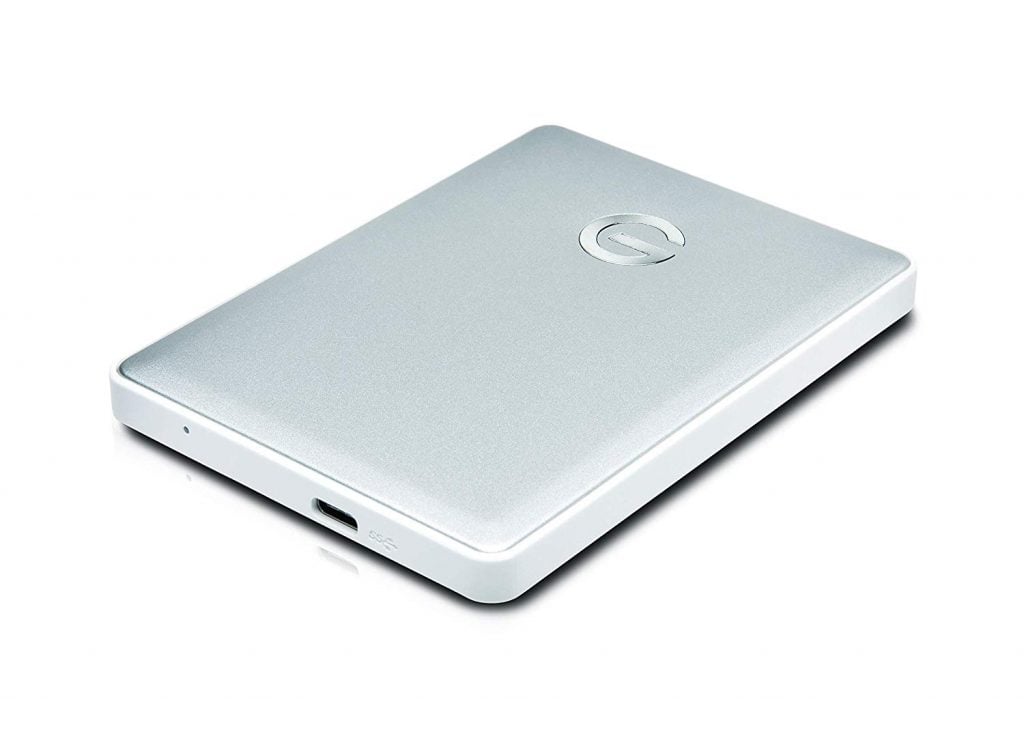 Compared to so many other popular brands in the market, G-Technology is relatively a new one, but going by the amazing reviews the product received and it's easy to own pricing, we can't help but recommend it. After all, most people want to keep their expenses low and just buy a new external drive that will save them time as well as make files easy to transfer on the go.
The G-Technology G-Drive sports 1 TB of space and is a very compact, external hard drive. It is one of the best hard drives to buy in 2019, especially if you are looking for an affordable yet reliable solution. The HDD looks stylish with a matte, silver finish and the G logo which looks a lot like the Google logo. Powered by the latest USB-C port, it should be easier for modern day users instead of using the classic USB ports that always annoy you when you try to find the right side to plug it into your computer.
The 1 TB hard drive has a couple of surprises hidden under its great looks. The product is compatible with Thunderbolt 3 port allowing you to easily connect it with Apple devices and transfer files whenever needed. It is ready for Mac and can also be formatted to be used with Windows PCs. Apart from all this, the warranty period is excellent as G-Technology offers three-years for the hard disk similar to many other popular brands. You are investing your money on the right product with this hard disk.
What Makes the G-Technology 1 TB External Drive an Affordable yet Best Choice?
You don't have to spend over a hundred dollar to get the best hard disk in the market.
It works right out of the box with Mac and is made for Apple users.
The 3-year limited warranty period
Recommended For :
Apple Mac users and anyone who is already in the Apple ecosystem can expand their storage space by opting for the G-Technology product.
Bottomline
The best hard drives to buy in 2019 could be any ranging from internal hard disks to external, expansion storage solutions. SSD's are definitely the best of the lot because they are quick to respond, have great read and write speeds but are still on the expensive side if you are planning to expand it with 2 TB or 4 TB solutions. The right way to set up your PC or laptop is to buy a smaller SSD for your operating system and use Seagate, Samsung or SanDisk expansion solutions to get terabytes of storage for all your large files.
See also: Best laptops for teachers
---