Homebezz is supported by its audience. We may get a commission from retail offers
If you purchase one of these HDTV antennae, you can access more channels as compared to the basic cable, without
If you purchase one of these HDTV antennae, you can access more channels as compared to the basic cable, without incurring any additional monthly bills. It gives you an option to completely cut out the cable or just access local channels when the cable is out. Here are some high-end options as well as budget-friendly ones. Some of these are discreet and amplified that you can set up on your shelf. They can also be placed indoors or outdoors or also on stationary vehicles. Some others are heavy-duty outdoor models that you need to mount on the roof. Check them out to find which one suits your purpose for the best HDTV antenna.
See also: Top best 4K TVs
Best HDTV Antenna
A Top-Notch Indoor HDTV Antenna in Eco Design
Mohu ReLeaf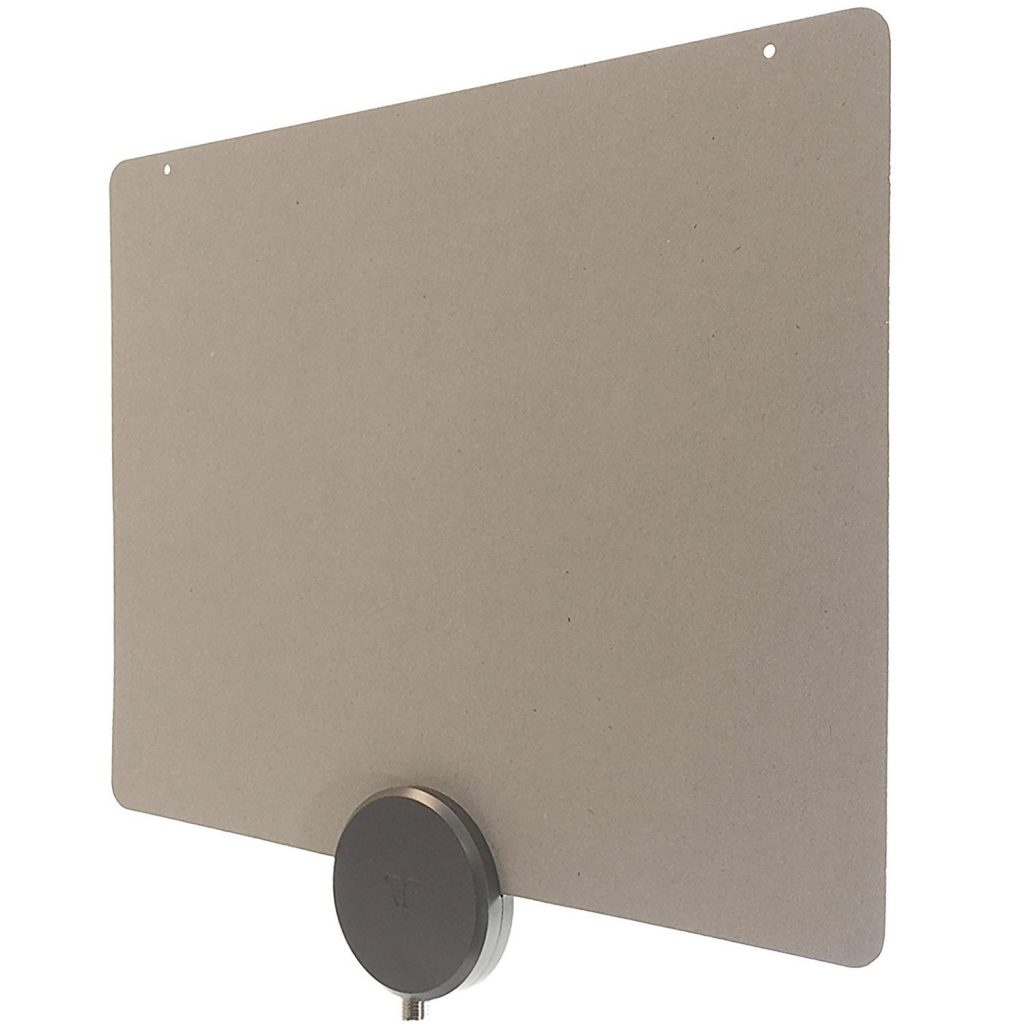 The Mohu ReLeaf is ideal if you want to go green. It is made of recycled material and can give you an excellent reception, though it is unamplified. The antenna is flat and has dimensions of 11.5 x 1.8 x 12.4 inches and weighs only 10.6 ounces. It is made of cardboard. You can attach it to the wall using push pins. The coaxial cable is made of crushed cable boxes, and the box in which it comes is made of recycled paper. All instructions are printed on the box's inside cover. The design is simple and it's probably the first recycled HDTV antenna in the world. Though it is made of recyclable and specialized materials, it costs nearly the same as antennae made of plastic but offers good performance.
This is a multi-directional as well as a reversible HDTV antenna, which can blend with your home colors. You can place it anywhere, without any specific pointing required.
It is non-amplified and is rated for pulling stations at a radius of 30 miles, so you can access HD OTA TV channels up to this distance without cables and payment of satellite subscription or getting access to ABC, NBC, CBS, and Fox Univision among other channels. It comes with a 10 feet cable for connecting to your TV. The cable is detachable and this offers it the flexibility of placing it anywhere. The reception is good and plenty of channels are accessible with this antenna.
Who should buy this?
Those looking for a high-end, top-notch antenna offering excellent reception in a simple and eco-friendly make and design.
Those looking for an opportunity to go green without making any compromises on performance.
Those looking for a mid-range priced indoor antenna.
See it on Amazon
Unobtrusive and Budget-Friendly HDTV Antenna
Mohu Leaf Metro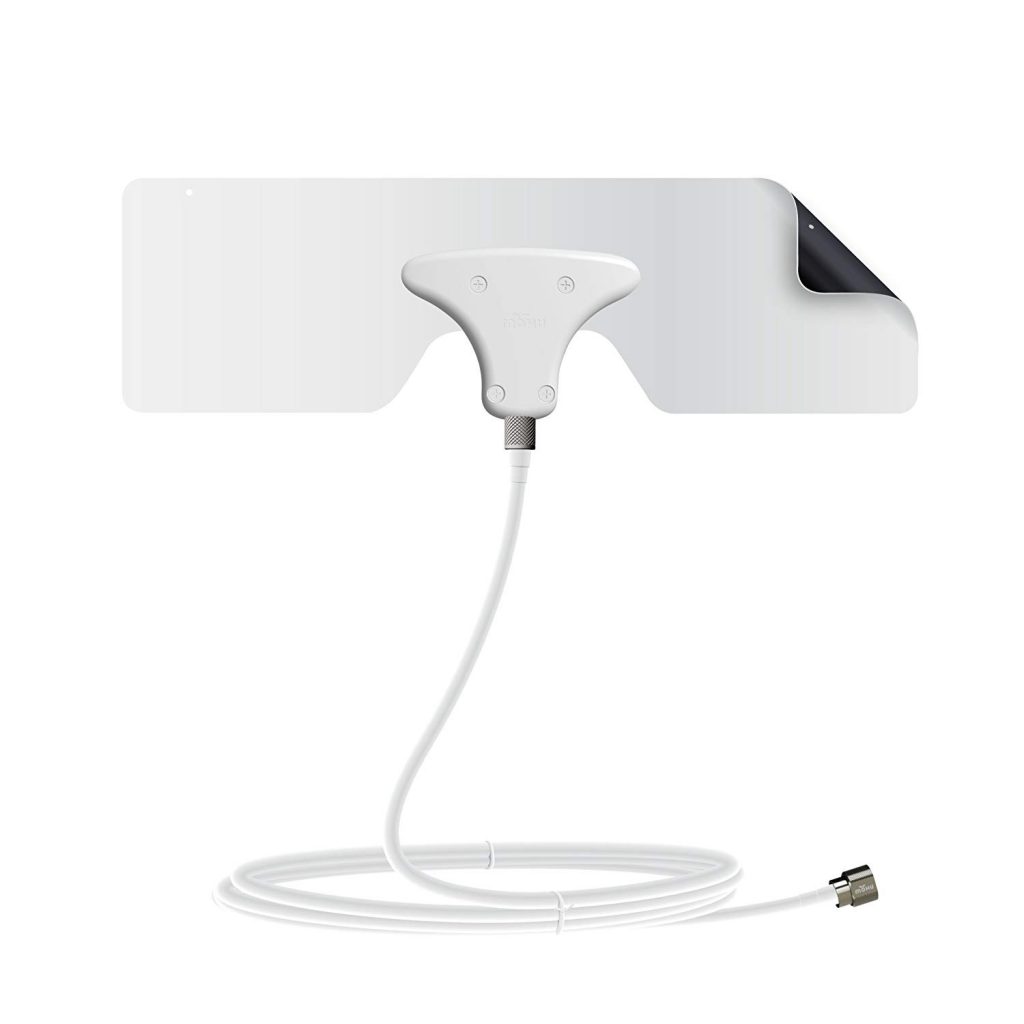 This is a small and budget-friendly option that you can easily move from one location to another. It just needs a few push pins for tacking it to the wall or the board. The dimensions are small at 11.5 x 3.5 x 0.04 inches. It also comes with a coaxial cable of 10 feet for connecting to the TV. You can place it anywhere, as there is no need for pointing the antenna.
The antenna has a reception range of only 25 miles or 40 kilometers, as the HDTV antenna is not amplified. However, it is good enough to access High Definition OTA TV channels without the use of cables or subscriptions. You can access channels like ABC, CBS, NBC, PBS, and Fox Univision among others. It has a compact size that allows you to easily hide it away in a small space.
It is a very popular and well-rated indoor antenna that has been developed using US Military technology. It is reversible and you can also paint it to match the decor of your living room. It can complement several streaming devices and offer you the maximum viewing options. It is paper-thin and offers a good range in a compact package.
Who should buy this?
Those who are looking for a simple, inexpensive, easy to set up, compact HDTV antenna, which offers a solid and dependable reception.
Those who are willing to adjust with an unamplified HDTV antenna having a limited range and limited selection of channels.
Those who want a portable antenna that they can easily pack in a briefcase for a brief getaway or a tailgating get-together.
Suitable for city dwellers who want a compact-sized HDTV antenna for a small space, dorm room, a workshop, or a stationary RV.
See it on Amazon
Blend of Performance and Design
Mohu Leaf 50 Amplified Designer Edition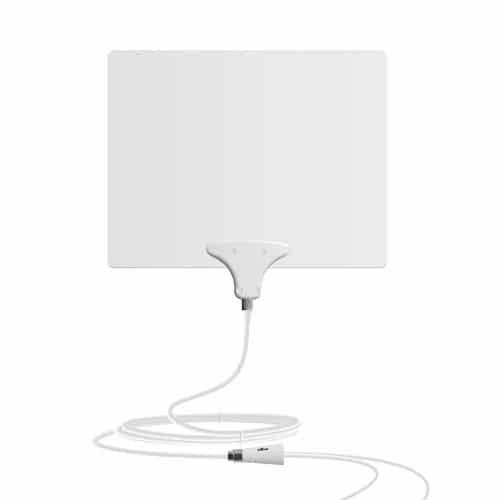 The Mohu Leaf 50 is capable of scanning a radius of 50 miles for TV signals. This is a flat and rather lightweight antenna and has sticky mounts that can be used for sticking it to the wall or anywhere else, even behind your TV. As it is amplified, it has a dedicated power source that has to be plugged on to the wall. It also comes included with a detachable coaxial cable of 16 feet which is sufficiently long and can be used to place the antenna in the best spot in your house.
The antenna is black on one side and white on the other. You can even paint it to blend seamlessly with your home decor. The reception has been optimized for UHF stations, so you can also tune it to VHF or Hi-V stations. The technology used is a defense-based one that has been modified for consumer electronics. It can filter out signals from mobiles and FM, resulting in a clearer picture. You can access several free HDTV channels with 1080 HD resolution. You also get a user manual along with a troubleshooting video that offers a detailed guide for assisting you in the setup and access of channels.
Who should buy this?
Most suitable for users in rural areas and suburban usage.
Those looking for an indoor antenna.
See it on Amazon
Small HDTV Antenna for a Strong Signal
ClearStream ECLIPSE Amplified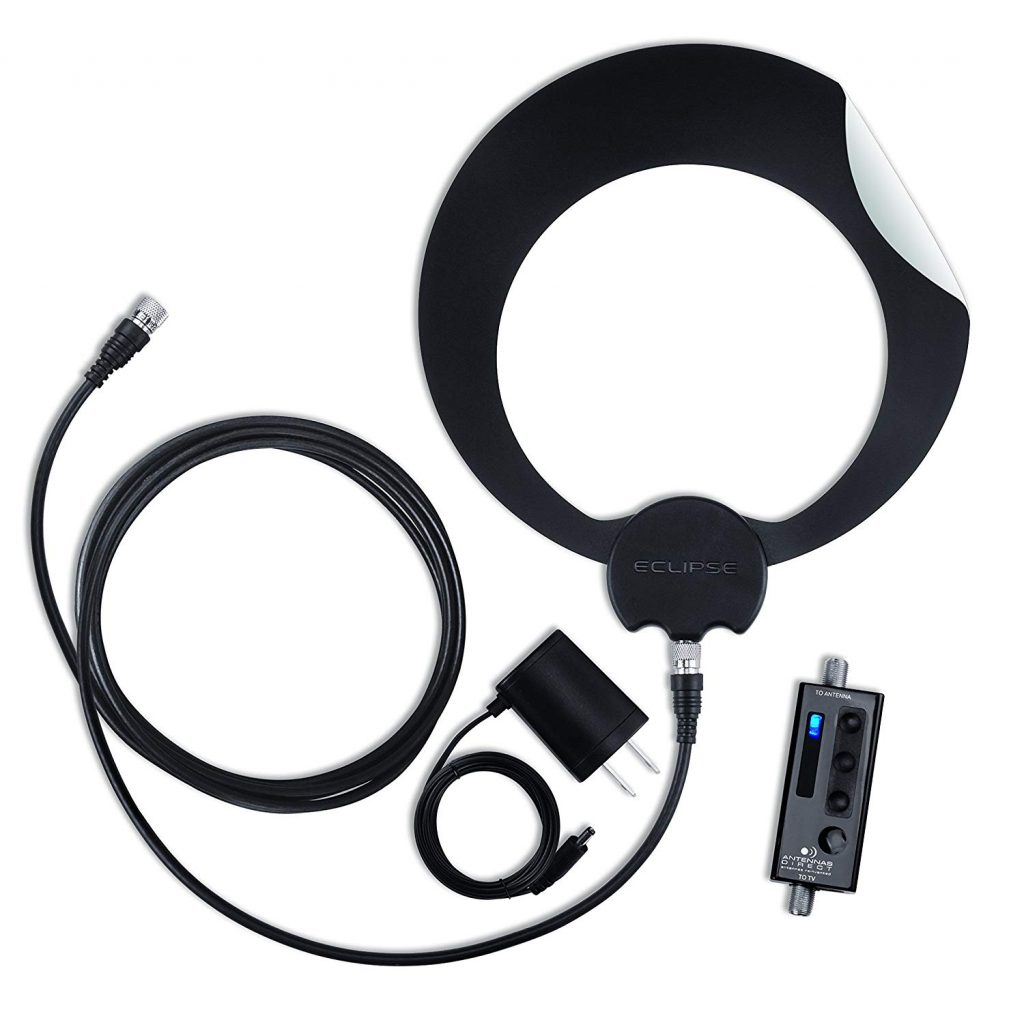 This is a circular indoor antenna, which is compact and flat in structure. You can stick it against a window or on the wall. If you want a really good reception, try placing it as high as you can on a window that faces the TV broadcast tower direction in your locality. It has been designed for receiving only UHF signals and therefore does not receive VHF.
The ClearStream ECLIPSE comes with a coaxial cable of 12 feet and an amplifier. It also includes a sticky adhesive strip for attaching the antenna to the window or wall. An extra 3 feet coaxial cable is included in the package for connecting the amplifier to the TV. USB power can be used for the amplifier, so you can plug the amplifier to your TV USB socket. The in-line amplifier offers a good range and optimum signal reception for multiple channels.
It offers one of the best performances among HDTV antennas covering a 50 miles radius. The SureGrip adhesive strips offer a simple means of installing the indoor antenna, as it easily grips to the wall or on the window. The ClearStream ECLIPSE comes in a double-side design of black and white, with a surface that can be painted to match your home decor.
Who should buy this?
Those looking for a small antenna for receiving signals ranging from strong to very strong. Suitable for locations that are about 50 miles from TV transmitters.
Since the antenna size is small, it is not suitable for pulling signals from distant stations.
Suitable for those living in a city that does not have VHF stations.
Ideal for locations that are near a transmitter.
Perfectly suitable for dormitory-type rooms and to take with you while on the go.
See it on Amazon
A Balance between Reception and Price
Antop AT-402B Flat Panel SmartPass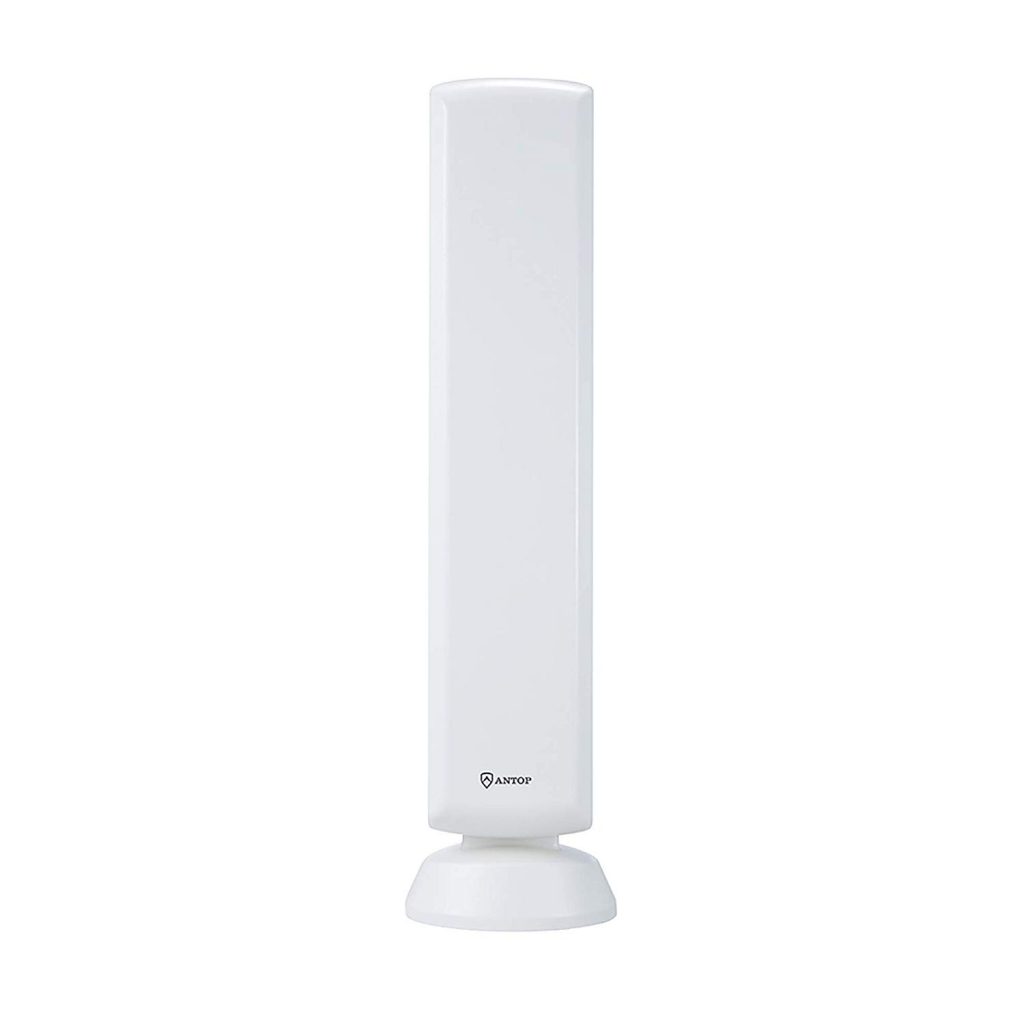 The Antop AT-402B is a simple and predictable HDTV antenna that you can use outdoors as well as indoors. It comes in an ivory tower design, which is a white glossy plastic tower at 24 inches height. It includes a plastic pedestal on which it can stand, placed on your TV cabinet or a shelf. You also get the necessary hardware for installing it outside if you wish.
The antenna has an amplifier that can be detached. It has a switch for on and off and is useful for capturing OTA broadcasts. It includes a Smartpass amplifier, which balances short and long-range receptions. Along with these, there is a 4G LTE filter for reducing cell tower noise. There is enough cable for installing outdoors, such as the wall, roof, or balcony, along with a rubber cover for the coaxial cable to ensure dryness. You can also use the clamping kit, metal brackets, screws, etc. for attaching it to a mast pole.
It would be ideal to install the Antop AT-402B in the attic, where it will remain protected and also be able to access the good reception of TV channels. It is not sleek looking, but it offers respectable performance and the price is decent.
Who should buy this?
Those who want the perfect balance between reception of TV channels and price.
For those who are not sure about where they might get a good channel reception, indoors or outdoors.
Those who would like a reliable indoor/outdoor antenna, and don't mind the larger size.
See it on Amazon
Strong, Flexible Indoor and Outdoor HDTV Antenna
ClearStream 2Max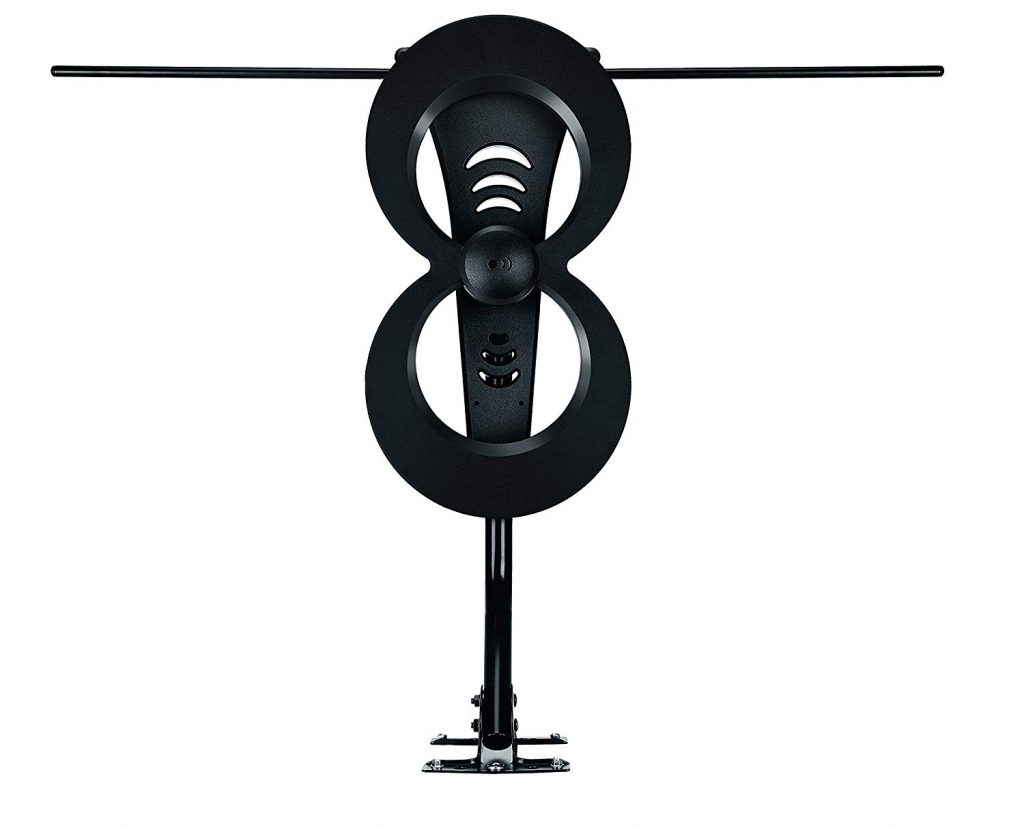 The ClearStream 2Max is an antenna that can be relied upon for pulling in a variety of broadcasting channels with steady signal reception. You can place it indoors or outdoors. It has a rather large build but it is built to be tough enough to survive outdoor conditions. It is rather conspicuous in the shape of an upright 8 with dipole bars at the back swinging out at the sides and snapping into place. It can pull in broadcasting stations from a 60 miles radius. It is also non-amplified, so there is no necessity to place it near a power source.
The antenna comes included with a tabletop stand, a J-mount mast along with brackets, nuts, bolts, etc. for installing it outdoors. However, there is no coaxial cable for connecting with the TV. You have to purchase this additionally. It can receive all the major networks clearly at 1080i resolutions. It may not be aesthetically appealing, but can be used outdoors with confidence. You can receive channels like ABC, CBS, and NBC as well as Fox, CW, etc. where these channels are available. The product dimensions are 3.8 x 31.3 x 17 inches and it weighs 1.7 pounds.
Who should buy this?
Those looking for a strong and flexible HDTV antenna that can pull in several stations.
Option to place indoors or outdoors.
See it on Amazon
Indoor/Outdoor Compact HDTV Antenna
Chaowei DVB66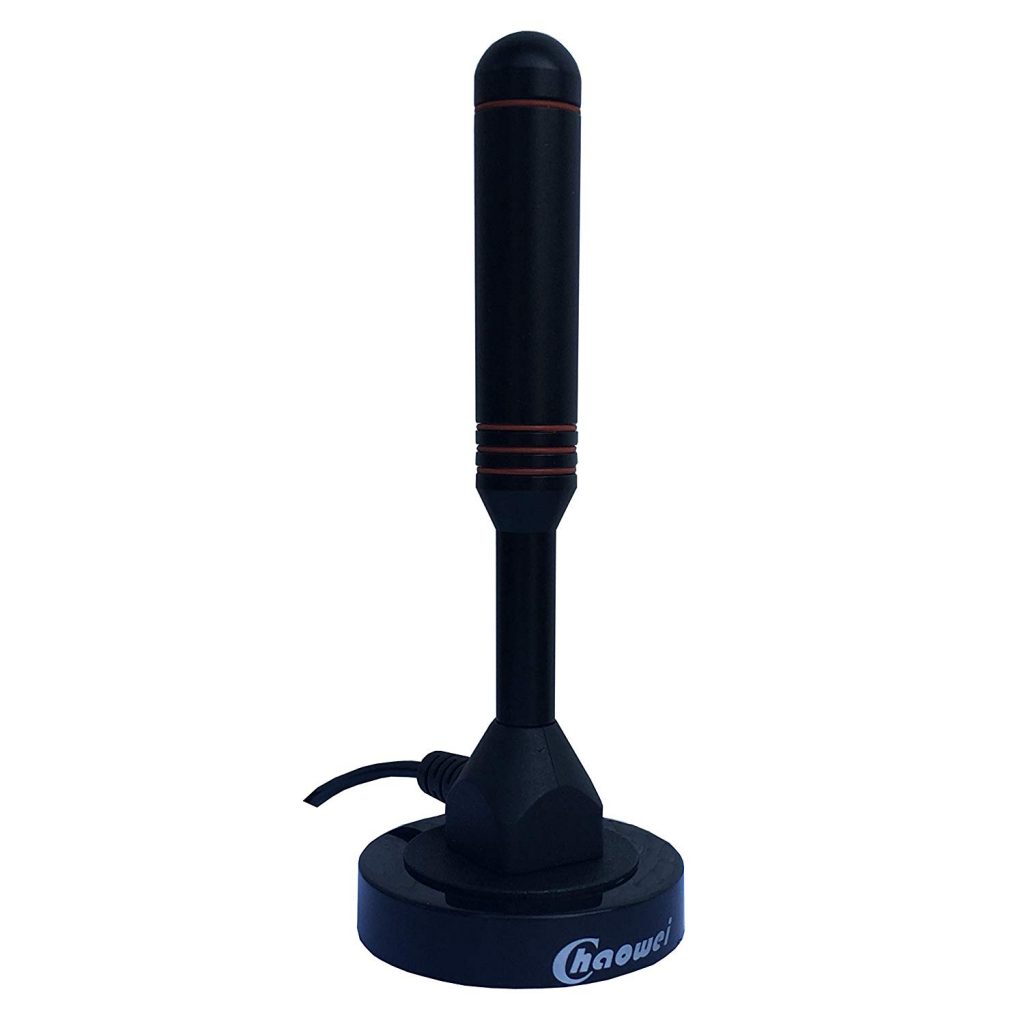 Chaowei DVB66 comes in a compact, vehicle-friendly design, which can be used both indoors and outdoors. The installation is simple, the performance is good and it is sturdy and easy to add to your living room. It is small at 5 inches in height with a thumb-shaped, discreet, black antenna having a solid base. It includes a slim black coaxial cable that is permanently attached to it. There is no in-line amplifier in this antenna, so you don't have to worry about a power switch for it.
The base is heavy and helps it stand upright on any level surface. Besides, the base is also slightly magnetized so that it is easy to locate it in a convenient spot to access more channels. Ensure that you attach the base to a metallic surface for better receptivity. You can use the magnetic base for attaching it to the roof of a car or an RV, though not while mobile. You can easily install this HDTV antenna by just screwing it to the base and plugging the cable to your TV. It offers a reception range of 35 miles.
The dimensions are 3.5 x 1.9 x 5.3 inches and it includes a cable of length 16.5 feet. You can watch all the mainstays such as CBS and ABC, NBC, etc. The construction is of good quality and the design is smooth. It also shows good reception sensitivity indoors as well as outdoors. The design is a durable and low profile one with omnidirectional signal receivers that covers 360 degrees which is suitable for optimal reception.
Who should buy this?
Those looking for a compact design.
Suitable for campers and those on the move or traveling.
A good HDTV antenna for people who want a double-duty option, both indoor and outdoor.
See it on Amazon
Compact Great Performing Indoor/Outdoor HDTV Antenna
Winegard Elite 7550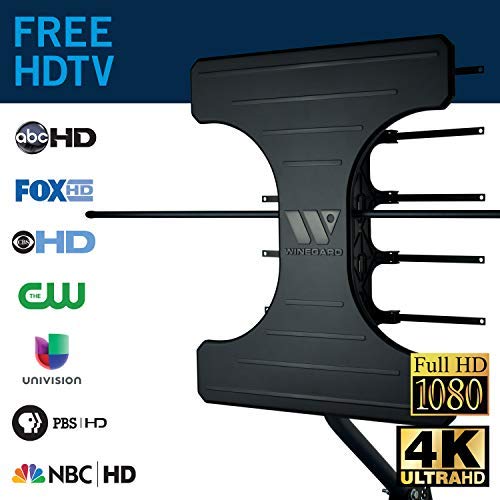 The Winegard Elite 7550 is a compact HDTV antenna that you can mount indoors or outdoors. It is suitable for both VHF and UHF bands, so it can be used for the majority of the broadcasting stations in the US. It also has an amplifier included in it, which boosts the weak signals.
The antenna also has some reflector elements behind it. There are six such elements placed behind the antenna helping to reflect signals to the body. This results in giving more direction to the antenna so that it accesses the signals in the direction of the pointing, rather than all around. As for UHF reception, there is an antenna within the plastic body. A dipole one placed behind the body takes care of VHF reception.
The amplifier within the antenna body boosts signals and the LTE filter cuts out other disturbances, such as 4G mobile signals that may be present near the TV stations.
You get a J-pole included in the pack, which is the mounting tube along with brackets. You can install it inside the house or on the roof. Additionally, there is a power inserter along with an adapter for feeding the built-in amplifier. There is no coaxial cable.
Who should buy this?
Those who are looking for an HDTV antenna that can be used both indoors and outdoors.
It is suitable for locations that have broadcast signals ranging from medium to weak.
It is suitable for UHF as well as VHF broadcasting bands.
See it on Amazon
State of the Art Outdoor HDTV Antenna
Winegard FlatWave Air FL6550A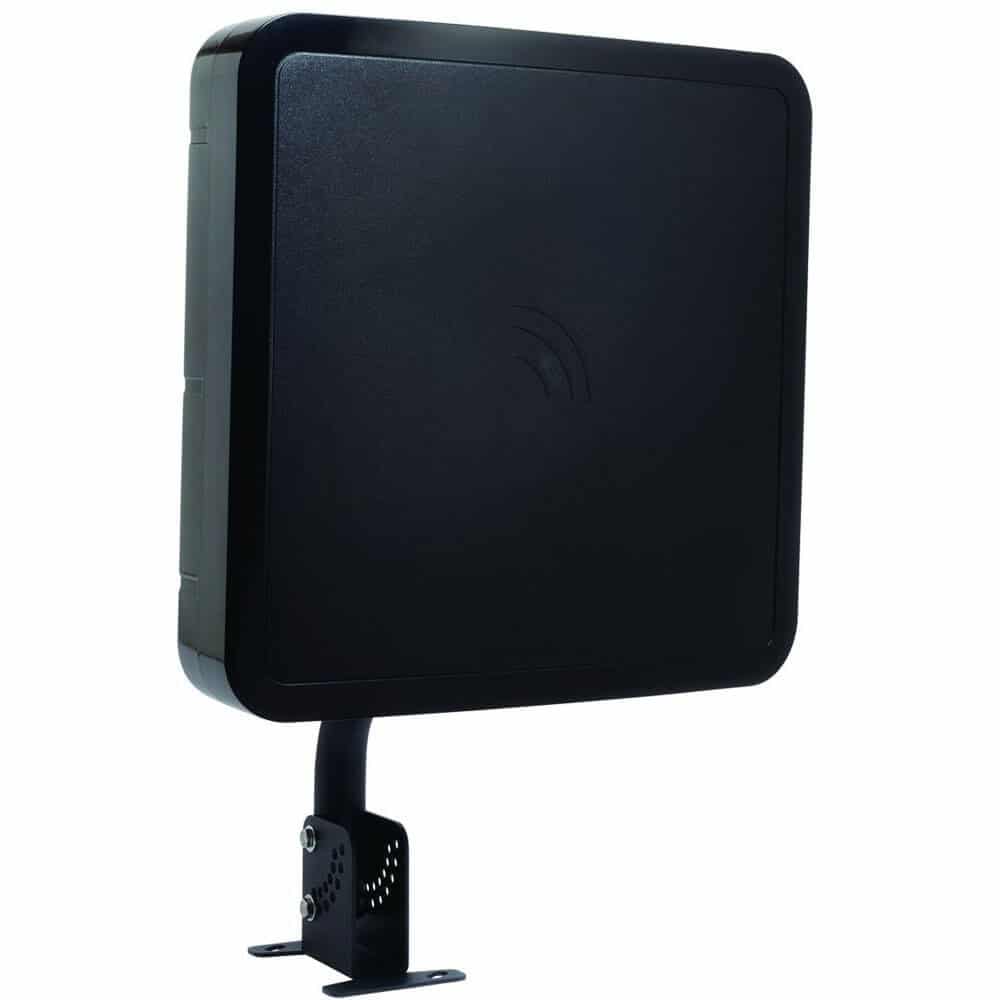 Winegard is one of the oldest names in the world of TV antennae. The FlatWave AIR FL6550A is an updated version with a box-like housing of 14 x 14 x 4 inches, which can be clamped to a TV mast of 1.5 inches. You can use an angled bracket for fastening to the roof, a deck railing, or even in your home attic, etc. It also includes an in-line amplifier for boosting the strength of the signals. It is aesthetically appealing, in a compact and sleek design, having a flex mount system for erecting.
It can pull in both UHF and VHF stations and provide channels 14 to 51 in the 470 to 698 MHz range. It is compatible with all the streaming devices for OTA integration, such as TVs, DVRs, and computers. The element in it is dual-band driven and contains an integrated reflector as well.
It offers a range of 60 plus miles, with the reception in crystal clear HD, so that you can watch channels from a distance of 60 miles from the broadcasting signal. The amplification uses the revolutionary Clear Circuit technology offering a reduced noise figure of 1.0 dB.
The box includes the antenna along with a flex mounting system of pipe, foot, and connecting hardware for the antenna. There is also a USB power inserter along with a 3 feet USB cable and a 110V wall adapter.
Who should buy this?
Those who want an outdoor antenna and live far from television towers, without much spectral noise in the area.
Those who want a simple indoor or outdoor antenna that can be set up easily.
See it on Amazon
Sturdy Amplified HDTV Antenna
1byone Amplified HDTV Antenna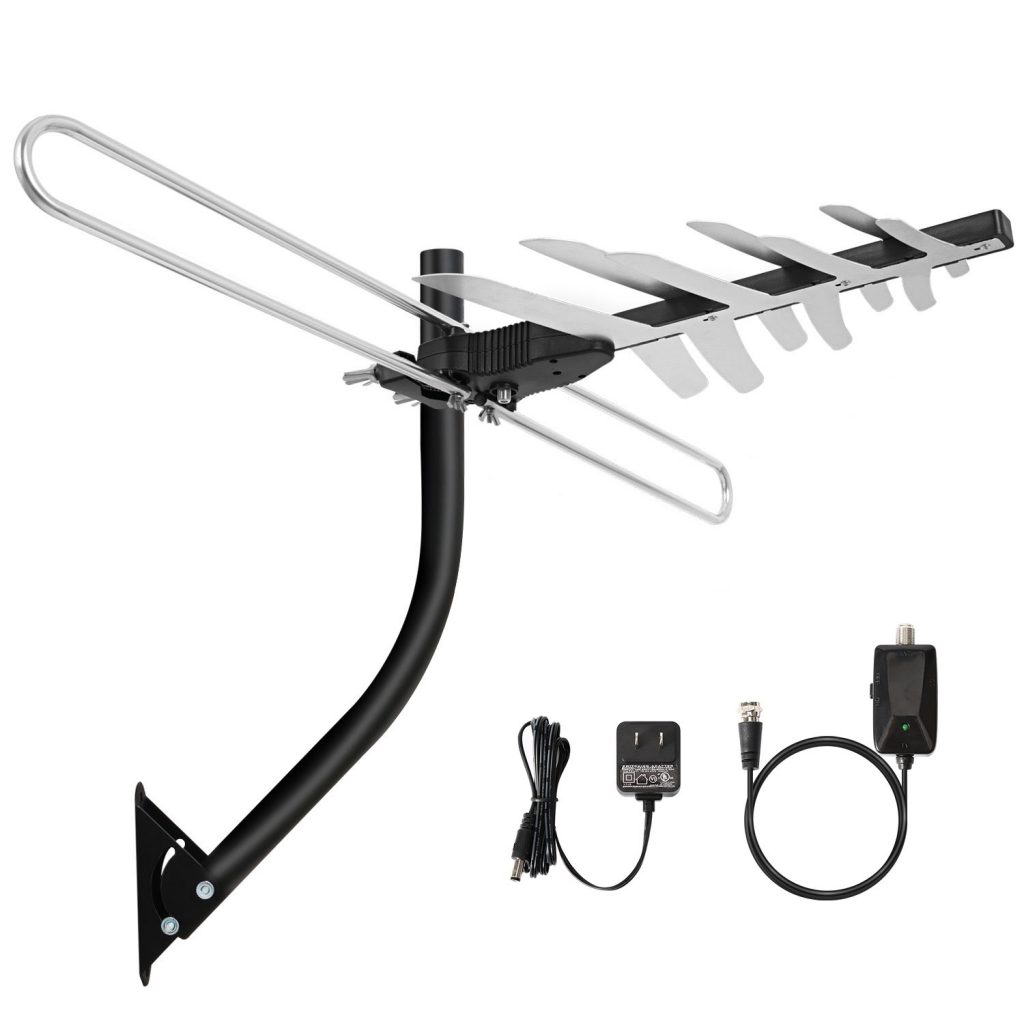 The 1byone is a sturdy HDTV antenna that comes with a long coaxial cable. It is not made of the usual flimsy paper material, as is the case with most of the other HDTV antenna. It is, instead, constructed of thin but hard plastic that is not flexible. It includes a 20 feet cable, so you have plenty of space to maneuver and find the most suitable place to keep the antenna in your home.
The package includes all the essential components, so it is easy to set up. It also brings in several channels, thereby making it an excellent option for cutting the cable. The design is flat and rectangular with dimensions of 13.25 x 9.25 inches. It is black and you can stick it to a wall or a window with adhesive pads. Also, it has a USB cable of 5 feet to connect the antenna to the amplifier, along with a USB power adapter.
The 1byone amplified HDTV antenna can pull in broadcasting stations from a radius of 50 miles, with most of the major networks, such as CBS, NBC, and Fox at a resolution of 1080i.
Who should buy this?
Those looking for a simple, powered, amplified HDTV antenna for indoor use.
Those who want an inexpensive and easy-to-use HDTV antenna having all the necessary components.
See it on Amazon
Tough and Weather Resistant Outdoor HDTV Antenna
McDuory Outdoor 150 Miles
This outdoor HDTV antenna offers support for a range of 150 miles radius and has a 360 degrees rotation as well. It can receive VHF TV signals from 40 to 300 MHz and UHF signals from 470 to 890 MHz with good clarity of pictures. It also has built-in features for reducing noise and a high-gain amplifier. The built-in motor can rotate it 360 degrees and it can be turned in both directions, thereby avoiding tangles to the cable. The package includes a wireless remote to operate the antenna. It is recommended that this antenna be placed 30 feet from the ground.
The McDuory can also offer support for two TVs at the same time, without stuttering. It is simple and easy to install using the snap-on materials and by following the user manual. There is a pole included in the kit. The remote controller is an infrared one. It also has a 40 feet coaxial cable that can be used outdoors. The antenna is protected against harm from lightning and it is also weather resistant. The design is sturdy and durable and the construction is superior so that it can withstand the tough outdoor weather conditions.
The product dimensions are 17.5 x 12.1 x 4.5 inches and it weighs 7.35 pounds.
Who should buy this?
Suitable for those who want a tough and weather-resistant HDTV antenna that they can use outdoors.
Those looking for a powerful outdoor antenna.
See it on Amazon
Multi-directional Remote Control HDTV Antenna
Pingbingding Indoor/Outdoor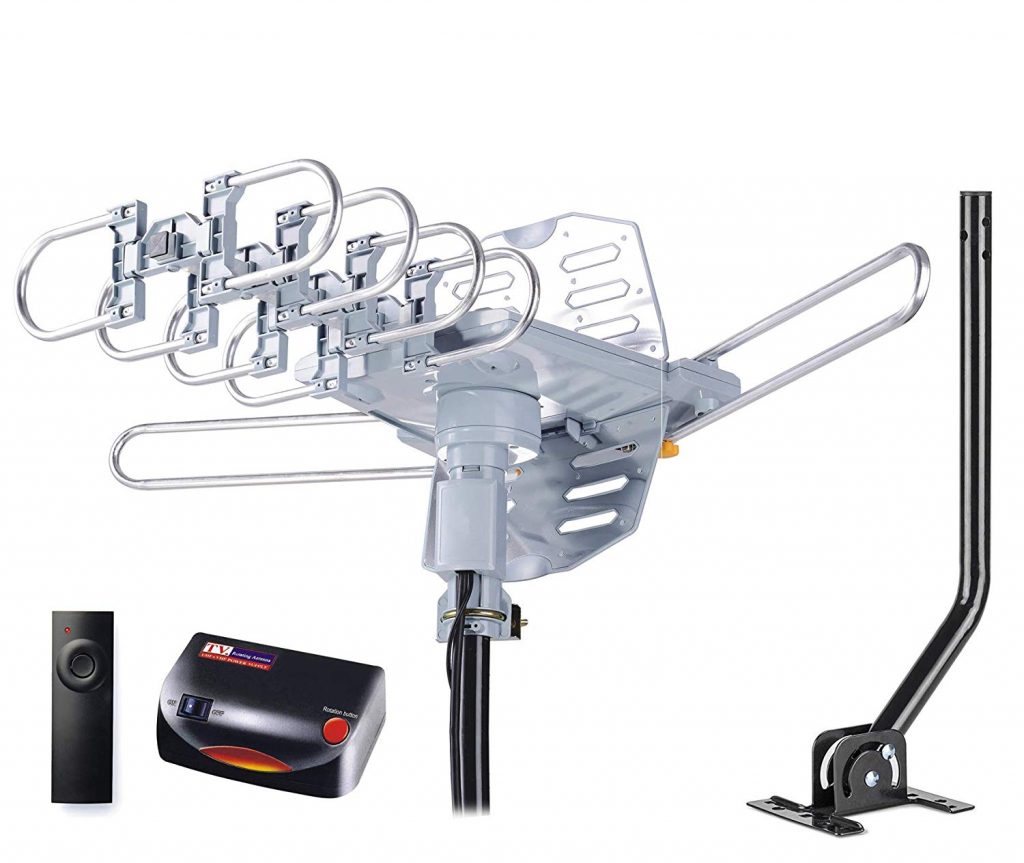 The Pingbingding is a multi-directional HDTV antenna capable of 360 degrees rotation, offering coverage of 150 miles radius. You can install it within minutes, using the snap-on fixtures included in the package. It is also capable of supporting two TVs at the same time, without any disturbance. The Pingbingding package also includes a coaxial cable of 40 feet along with a mounting pole and power supply adapter. The length of the coaxial cable makes it easy for you to place the antenna wherever the reception is best in the house.
The major advantage of this antenna is that it works much better than many other more expensive options. The installation is simple and the wireless remote offered with the kit is user-friendly. It offers support for full HD 720 pixels as well as 1080i and 1080 pixels. The working frequency is 170 to 230 MHz for VHF and 470 to 860 for UHF. It also has a built-in motor rotor for 360 degrees rotation and a built-in amplifier for super high gain and low noise.
Since it is meant for outdoor use as well, this antenna is weather resistant. It is lightning protected and comes in a sturdy and durable design with a grounding so that it does not get struck out by lightning in bad weather. The dimensions of this antenna are 17.5 x 13 x 4.5 inches and it weighs 6.4 pounds.
Who should buy this?
Those who are looking for a sturdy, weather-resistant outdoor HDTV antenna offering a good reception of channels.
See it on Amazon
Simple Set-Up HDTV Antenna
Vansky Outdoor Amplified HDTV Antenna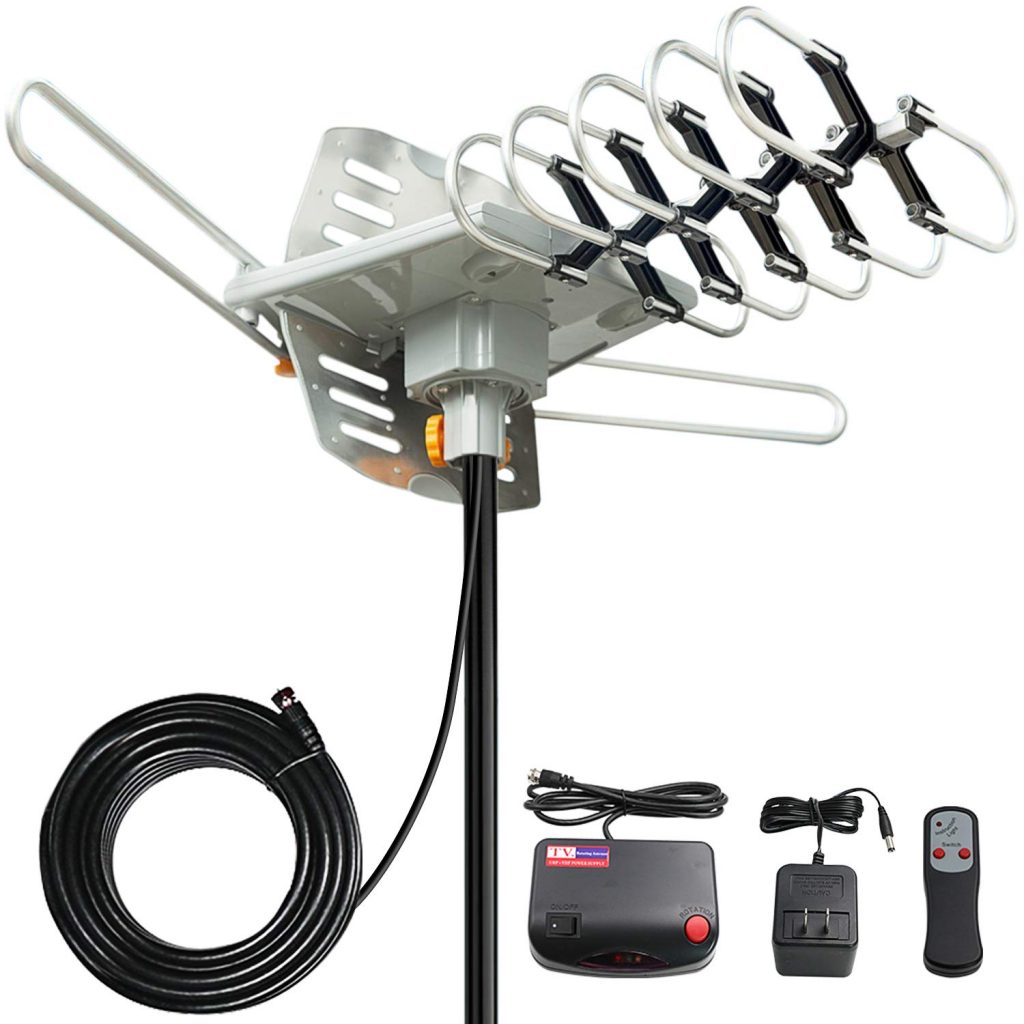 The Vansky Outdoor package includes everything you will need to set up the antenna and start receiving channel signals. There is a pre-amplifier included, along with a coaxial cable of 32.8 feet length. It also has a motorized rotator, which enables the antenna to rotate 360 degrees, using the included remote control. There is also a mounting clamp supplied with the kit, for easy mounting in different places, such as the side of the house, or fixing it to a pole. The Vansky Outdoor can offer support for two television sets at the time, as it comes with a built-in splitter.
It is a long-range outdoor antenna, which means that under ideal weather conditions, it should be able to receive signals from 150 miles away. The built-in rotor enables the changing of channels on the TV, just by changing the antenna orientation or direction. You can make these adjustments to the antenna with the remote. You will not need any additional cables for the rotator, as it gets powered with the coaxial cable, which has to be connected with the control box. The coaxial cable, in this case, carries television signals as well as electric current.
It is capable of receiving UHF as well as VHF signals and can receive images up to 1080p or full HD. It is also very simple to set up. All you need is a screwdriver. You have to just insert the UHF, VHF, the reflector elements, the motorized rotor, and the cable. It should be mounted at least 30 feet from the ground to get the best reception. The control box that comes included has outputs for connecting two TVs. It also contains the pre-amplifier and the rotor. Though it is meant for outdoors, you can also install it in your house in the attic to get a good reception.
Who should buy this?
Those who are looking for an effective, long-range outdoor HDTV antenna.
Those who want an outdoor or indoor antenna that can be easily set up and offers a long-range and good reception.
See it on Amazon
Impressive Outdoor HDTV Antenna for Cutting the Cord
RCA Outdoor Yagi Satellite HDTV Antenna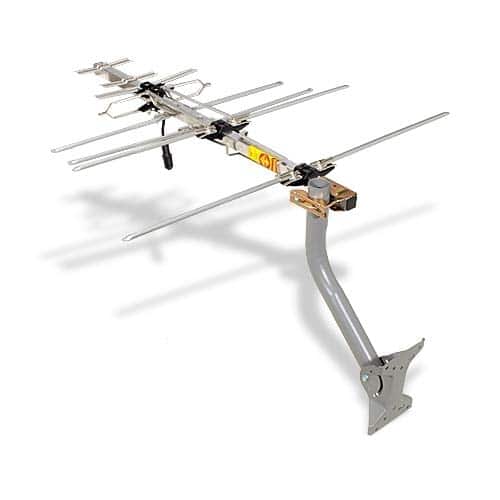 The RCA Outdoor Yagi Satellite works best when you point it directly towards a TV tower. This is not an omnidirectional antenna, but one that needs to be pointed straight towards the source or TV tower, but it is very powerful due to this factor.
It comes as parts that need to be assembled. You can then use the mounting bracket for fixing it on a pole or a wall. Installation is simplified with an easy lock and fold-out UHF reflector combined with elements that simply have to be snap-locked. This antenna can offer you top-rated TV network programs so that you can enjoy all your favorite shows for free. You can also use the RCA Signal Finder Application, in order to search for the best broadcast in your area and locate the best placement for the antenna.
The RCA Outdoor Yagi antenna supports 1080i HDTV channel broadcast offering high-quality pictures in a 150-mile range and up to 70 miles from broadcasting towers. The dimensions are 34.5 x 33.1 x 24.2 inches and the weight is 2 pounds.
Who should buy this?
Those who want an outdoor HDTV antenna capable of picking signals that are close as well as from a distance.
Yagi antenna is useful for those who want an antenna at home, rather than for camping or on a vehicle.
Those who want a tough antenna that can withstand outdoor conditions and can be used outdoors as well as indoors, like in an attic.
See it on Amazon
Conclusion
After comparing the features of the above HDTV antennae, you will find that each of these has their unique strengths. All these antennae can be installed just about anywhere and it enables you to watch local HDTV channels that are free in that area. The important aspect is to know whether you want an indoor or an outdoor one. Also, check the range, the ease of installation, the mounting flexibility, etc. Television networks send their signals over the air digitally in HDTV format, so you only need one of these antennae to receive these signals and view the HD content. You can stop paying for cable and find freedom just by cutting the cord and using the best HDTV antenna.
---