In my home town, there are many places offering a language courses with various programs, methods, and prices.
In my home town, there are many places offering a language courses with various programs, methods, and prices. But, sometimes the problem isn't the money, but the time. Especially, if you have a full time job or if you are a busy person who's difficult to adjust it with course schedule. Alternatively, you can buy a book, CD, and learn by yourself anytime, anywhere. However, the other problem is, it will take more time to learn and to learn without any help can be more challenging.
In today's era, where the technology becomes more sophisticated and helpful in making the distance no longer being a big deal, we can learn anything remotely, including a new language. All you need is to find the perfect learning site or app and a good Internet connection.
One of the recommended sites for language learning is Busuu.com. Of course, you will find many of them, but Busuu is a great one for me. Why so? Well, here you will be able to learn 12 languages from the beginning level to the business course. What if you don't have any basic knowledge? Don't worry, you will be directed well from zero level to advanced level without any hassle, because they will teach you how to pronounce the words as well. Their flashcard exercise will help you to build the vocabularies easier.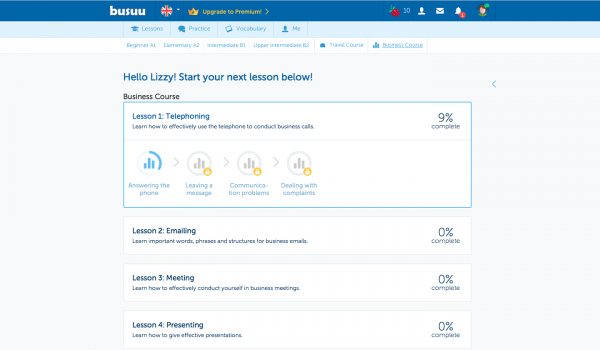 Busuu is designed with a delightful illustration and animation, and you will feel more like playing than learning, so your language ability can increase faster. Their most interesting feature is the conversational practice and live chatting with native speakers, who will help you in correcting your writing and speaking mistakes. If you upgrade your membership to Premium, you will get more advantages. With only EUR 14.99/month or EUR 59.99/ 6 months, you will get a full access to all their premium features. They also offer a yearly payment package and 24-month package, which is cheaper. Busuu has 12 languages course for you: English, German, French, Spanish, Italian, Japanese, Portuguese, Russian, Turkish, Arabic, Chinese, and Polish.
What are the differences between free and premium membership? You can take a look at this table to see the difference.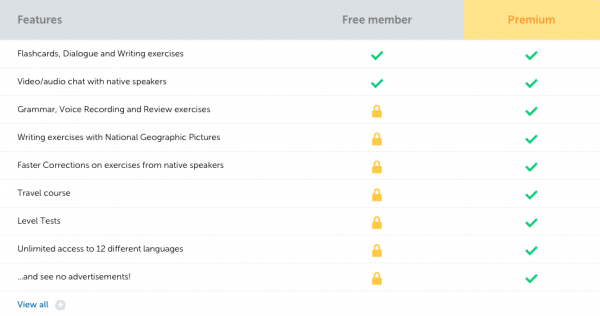 ---