Google Pixel 2 is getting more and more popularity. Ranging from elegant functioning to Pixel Launcher, Google
Google Pixel 2 is getting more and more popularity. Ranging from elegant functioning to Pixel Launcher, Google Pixel 2 has a lot to offer. It is cool, trendy, and sophisticated, and for some, it is the main reason to pay hundreds of dollars to get one. Similar to its stylish appearance, Android on the Pixel 2 is just as effective and customizable as on any other new and powerful phone. The Pixel 2 comes equipped with all sorts of features with little twists and overhauls. Given below are a few Google Pixel 2 tips and tricks so that you can make the most out of your phone.
Read also- Best Features Of Google Pixel 2
Google Pixel 2 Tips
Photo storage
You can save as many original resolution photos as you want in unlimited cloud photo storage on Google Photos till 2020. At the end of 2020, Google will reduce the photos to 'high-quality' resolution. Google Pixel also has new Android Oreo setting, which saves storage capacity on your phone. It allows you to automatically erase the photos and videos once they have been transferred to your Google Photos cloud account.
Desktop Customization
Open the home screen of your phone, then tap and hold on an empty spot without any icon. At this, three options will appear – change the wallpaper, add widgets and desktop settings. The first two are no doubt useful and third one allows you to turn off Google apps and make other changes.
Night Light
If you are disturbed by the blue light of the phone while working on your phone late at night, you can go to 'Settings', choose 'Display', and then select 'Night Light'. There you can turn the light on or off, adjust the intensity of light, or set it to turn on automatically at certain hours of the day.
Dark theme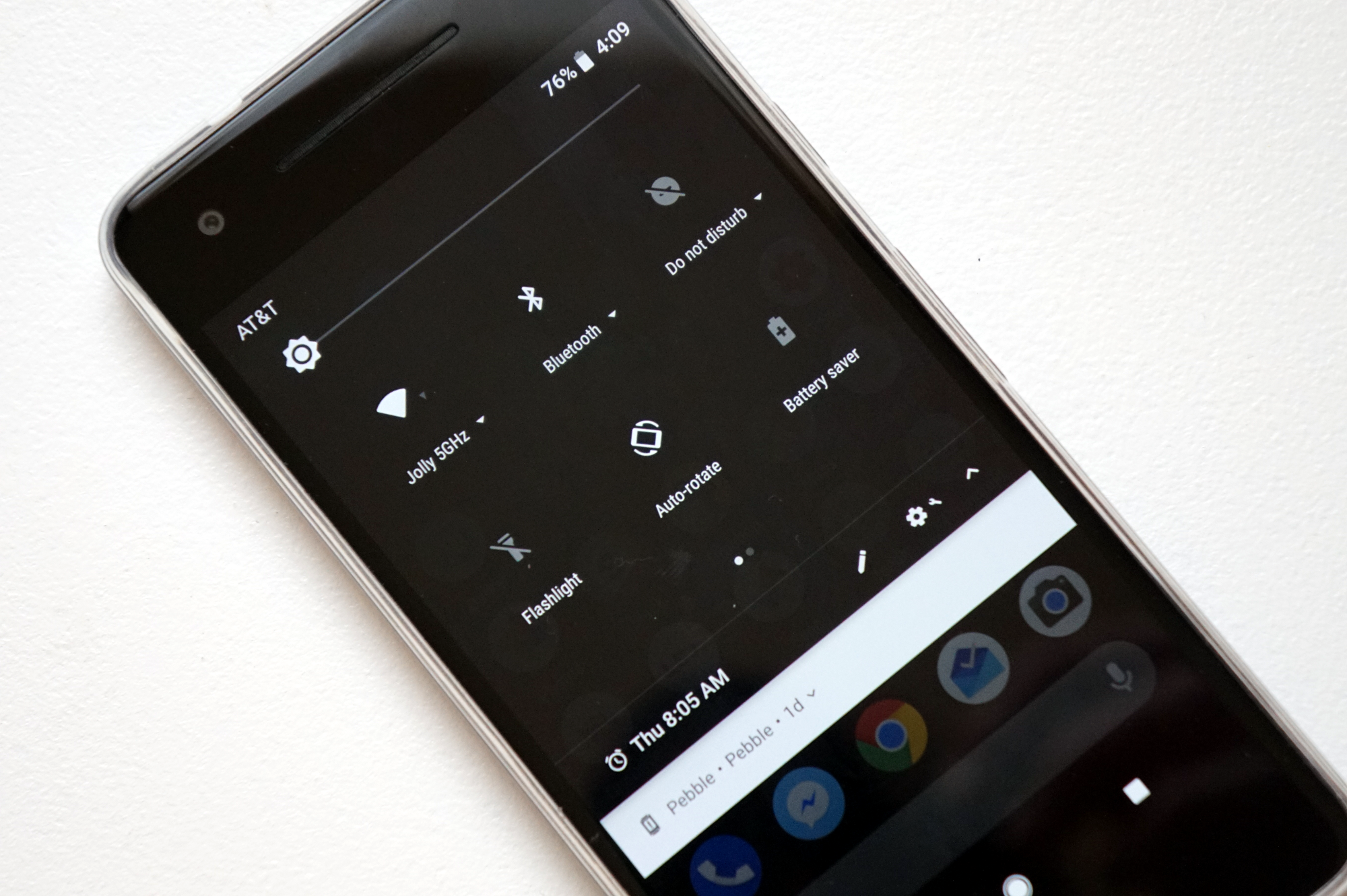 If you want you can pick any dark wallpaper and your apps drawer and shortcuts will convert dark to match the theme.
Now Playing Music Recognition Feature
This feature recognizes the song or tune playing close to the device and shows the name of the song and artist at the bottom of the display and it also works offline. Swap the Google Assistant – Google Pixel 2 comes equipped with Google Assistant and you can launch this app with a press on the sides of the device or make a long press on the Home button. You can also change the assistant if you want, especially Cortana.
Google Pixel 2 Tricks
Google Lens
Google Lens shows the details about the things in your photos. Just open a photo in the Photos app, then tap on the Google lens logo to see information about objects in the photo.
Motion Photos Feature
When you are capturing a photo of something that is in motion, your Pixel 2 camera will also record a short video. If you want to see the video, you can open the photo and save it as a still image or a Motion photo. However, after that, you will lose the video. In order to turn this feature on or off, you have to tap the Motion button available at the top of the screen of the camera app.
Play With Android Oreo Easter Egg
This is a peculiar octopus-shaped thing which you can move all over the screen. It does not have any specific function, but if you want to get access to it, go to 'Settings' and select 'About phone'. After that, tap the Android form continually up until it turns to the Oreo screen. Then tap on the 'O' shaped symbol a couple of times, press and hold and you will be immersed in water with the Octopus.
Float Your Google Maps
On Google Pixel 2, Google Maps can provide you with floating navigation map. That means you can browse your social media account while following the walking directions from the map. It will save your time and you will not have to switch the apps to see the map. All you have to do is start your direction-finding process on Google Maps and then press the home button and your Maps will reduce into a floating operating window that can position anywhere you want on the screen.
Get Access to Developer Settings
To enable the developer settings, go to 'Settings' on the main menu, then select 'About Phone', then scroll down the screen to the bottom and constantly tap on the Build number. After a few number of taps, you will be able to unlock the developer settings.
Receive Your Calendar And Travel Information at Top of Your Home Screen
Google Pixel 2 is equipped with a new feature, 'At a Glance'. This feature will allow you to receive your calendar entries and travel related details from Google on top of your home screen so that you can easily access them. Press and hold the wallpaper on your home screen and then tap on the 'Home Screen Settings'. There you will see the option to turn on the information you want.
---