You may be fascinated or inspired on seeing a beautiful post on Instagram and would like to share it with your
You may be fascinated or inspired on seeing a beautiful post on Instagram and would like to share it with your friends and family. Let me tell you that there is more than just one way of reporting. Here are some easy ways on how to repost on Instagram.
Read also- How To Enable Two-Factor Authentication On Instagram
Methods to Repost on Instagram
Use an App to Repost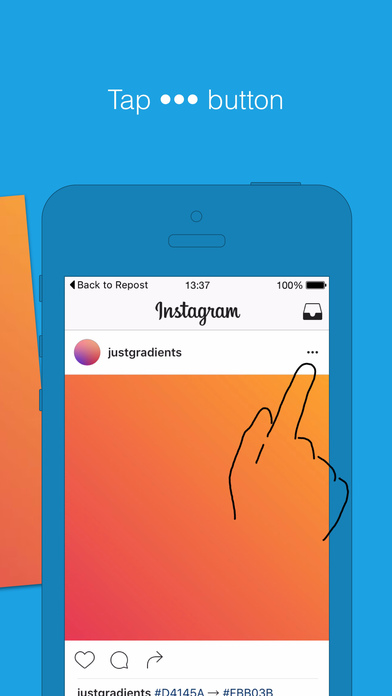 Apps make your life easy and there are some useful apps such as Repost for Instagram, InstaRepost etc. which let you repost Instagram photos and videos easily. You just have to follow some simple steps and you are good to go:
Click the three dots icon in the top right corner of the post you would like to share and then you will have to select the option reading 'Copy Share URL'.
The repost app that you have installed detects the URL and prompts to repost or save it to be shared later.
Reposting apps keep the originality of the post – the caption or author's name etc. is preserved so it is easy for you to give credit if required.
Download Repost for Instagram for Android
Download Repost for Instagram for iOS
Use Embed Code of the Post
For those who wish to repost an Instagram post on their websites or blog can do it with the embed code of a post.
Select the post you wish to repost and click on the icon with three dots towards the bottom right corner and pick embed.
You will be prompted to include the original caption in the Instagram repost which can be unchecked. Click on 'Copy Embed Code' and proceed to the blog or website and paste it where HTML is accepted.
Once you switch to visual mode the placeholder will populate itself.
Use Screenshot to Repost
Yet another easy way to repost is through screenshots.
For the Android users pressing the Volume down and power buttons together gets you the screenshot, some Samsung devices can also do it by swiping one palm over the screen.
iOS users can press the Lock button and the Home button at the same time and then leave when the screen flashes.
Tapping the button which is located at the bottom center of the Instagram screen will let you resize the picture and add your own filters.
There won't be any reference mentioned so you can add the original caption and authors name but add your username and then repost on Instagram.
Remember this way of reposting can be done only for pictures and not videos.
Copy Paste Share URL of a Post
You wouldn't want to limit your repost or sharing to be on Instagram only. This option lets you repost videos and pictures on other social media websites.
Go to the post that you desire to share and click on the three grey dots icon on the top right-hand corner and copy the Share URL.
Head to the desired social media platform and paste your link.
Taking the help of an app is the easiest way to do it. It retains the ingenuity of the post. Although other apps perform well, Repost for Instagram app happens to be the most popular one and is totally recommended by us for the ease of its use and simplicity to handle it.
Read also- How to secure your Instagram account
---