Snapchat is among the most popular apps on both platforms – iOS and Android. Millions of people using
Snapchat is among the most popular apps on both platforms iOS and Android. Millions of people using it daily to send snaps (photos and videos). What makes Snapchat different from other apps, is the self-destruction feature of snaps. After you post a photo or video, the snap will self-destroy after a short period of time. If someone takes a screenshot of your snap, you'll be notified about that. But, there are many third-party apps out there designed with the purpose of saving snaps. Thankfully, Snapchat comes with many options that you can enable and avoid security and privacy issues. Here, we are going to show you how to secure your Snapchat account.
See also: How To Delete Your Snapchat Account
How to secure your Snapchat: Friends only
Snapchat comes with a friends-only feature. This means that only the people that you've added and who added you back can see your snaps. Plus, strangers won't be able to send you their snaps. If you are new to Snapchat, don't worry as the app sets Friends-only feature by default.
Even though you can change this and enable the option that everybody can see your snaps, we strongly advise you not to do so. If you decide to change it anyway, keep in mind that any person out there can save your snaps and send their own, and that's exactly what you want to avoid.
How to secure your Snapchat: Disable Quick Add
You know that Facebook has a feature called People you may know. Snapchat has a similar one called Quick Add. With this feature on, friends of friends will be able to find you and add you on Snapchat.
By disabling this option, you will keep your account and your snaps away from prying eyes. Turning it off is very simple. Here is how to do it:
Open Snapchat
Tap on the ghost icon to access the Settings
Scroll down and select Who Can…
Tap See me in Quick add
Unchek the box next to it
How to secure your Snapchat: Strong password
If you want to keep your Snapchat secured, you should have a strong and unique password. This goes for every single account you have, not just Snapchat. Week password makes your account vulnerable and prone to hacking.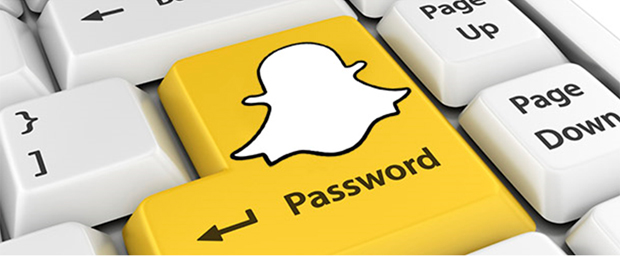 Use a combination of letters and numbers. Don't use your name, last name, birthdate or any other info of that kind when creating a password.
Make sure that you not only have a strong password but unique one as well. Avoid using the same password for all the accounts you have.
How to secure your Snapchat: Login verification
You can secure your Snapchat by enabling login verification, which is the app's version of two-factor authentication (2FA). A person who tries to log in to your account will have to add your username, password and in addition to that, to provide a generated code sent via SMS or authentication app. So, even if someone knows your Snapchat login details, the login will be impossible without the code. Make sure to enable this feature. Here is how:
Open Snapchat
Now tap on the Ghost icon at the top
Tap the gear icon to access the Settings
Select Login verification
Now tap Continue
Choose how you want to receive your verification code (text message or authentication app)
When you get the code enter it.
How to secure your Snapchat: Post carefully
Last but not least, post carefully. You are responsible for your snaps. So if you are not comfortable with something, not sure if you want to post it, or don't want something to see the light of the day, don't put it out there. Some of your snaps may go viral and not in a pleasant way.
As I've mentioned at the beginning, snaps self-destroy after some period of time. But, there are many third-party apps others can use to save your snaps. You choose what you are going to share, so choose carefully.
These are some of the Snapchat security tips. No matter if you are completely new to this or an experienced Snapchat user, try implementing those tips. After all, privacy and security are the most important things that go far beyond the Snapchat fun.
---