Switching cell phone carriers may seem like a daunting task, especially when you need to deal with contracts
Switching cell phone carriers may seem like a daunting task, especially when you need to deal with contracts and want to keep your old phone number. Luckily, the process became easier over the years, and now you can keep the old phone number in almost every case. T-Mobile, one of the popular carriers in the U.S. announced in January 2014 that the subscribers of AT&T, Sprint and Verizon will get paid up to $650 for dropping their current provider and switch to T-Mobile. US cellular and Sprint also promised similar deals saying to pay an early termination fee (etf) to the switch to their network by dropping the current provider.
Verizon early termination fee, at&t early termination fee, t-mobile etf, sprint early termination fee, all these may sound very interesting to many users, especially to those who are not satisfied with their current providers. However, these at&t early termination fee, t-mobile etf, etc. are engaging in a contract race for your cell phone subscription. So the question is, how to switch phone carriers and how to take advantages of these cash incentives (early termination fee)?
Here, we will discuss on how to switch phone carriers keeping your old phone number.
If you want to block text messages from a specific number, or if you want to block the spam messages, check this article out. You will find the solutions.
Best way to switch cell phone providers
Before you proceed, our recommendation is to backup your important data.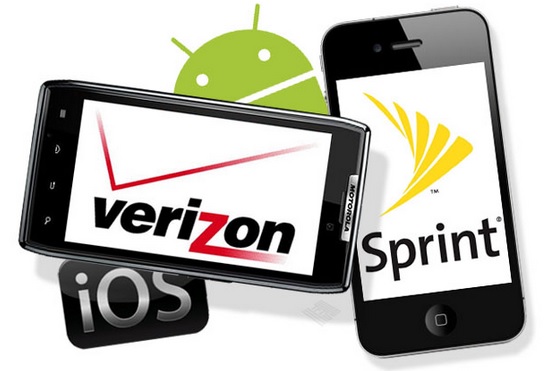 Compare among the providers
Before making any decision, first compare the plans of all major carriers. The main things to consider here are cost, network, contract, and phone selection.
Cost includes messages, data and minutes and also the overage charges. Among many, T-mobile is the cheapest one, and they also do not have overage charges.
The next thing is the network; consider what kind of coverage you can expect from each carrier. From this point, Verizon is the best and T-mobile is behind the race because of its shortcomings in rural areas.
When it comes to contract, some carriers offer contract of 2-years and also there is no contract plan for which you have to pay monthly.
See also- How to unlock an iPhone
Get a quote from every service provider
Switching cell phone carriers involve many things, so the best way to approach this is by getting a quote from each carrier as it takes only a few minutes. You can get a quote from the service providers' web page by simply shopping for a phone. After selecting a phone, a menu will appear showing the prices for different plans. You will get a monthly estimate, but make sure that you read the overage charges and any hidden fees.
Research on phones
Decide what type of phone you want? Many expect a phone with large screen, high-quality camera, new operating system, etc. So first compare the phones of different providers.
Buy a phone and deal with your old one
Many of you may have to trade in the old phone in order to buy a new phone from the new carrier. If you want to keep your old phone, consider unlocking it.
Keep the old account active
In most cases, your account has to be active in order to switch the number to the new carrier. This process is called "port-in" by the Carriers, and it means your contact information, and phone number will be transferred to the new provider from the old provider.
Get out from the old plan
Cancel the existing plan after you have activated the new phone. To cancel the existing plan, you have to bring your old phone to the carrier's store and terminate the contract. You will be given a final bill, and the early termination fee has to be paid.
So the best way to switch cell phone providers is considering all these steps above and going for the one that suits you the best.
---