RocketVPN offers a service with all the advantages of VPN technology to make your Internet activities safer
RocketVPN offers a service with all the advantages of VPN technology to make your Internet activities safer and more private. Through this app, you will get at least 3 important things, i.e secured connection, virtual location, and data encryption. It's important to achieve the slogan of "Internet freedom".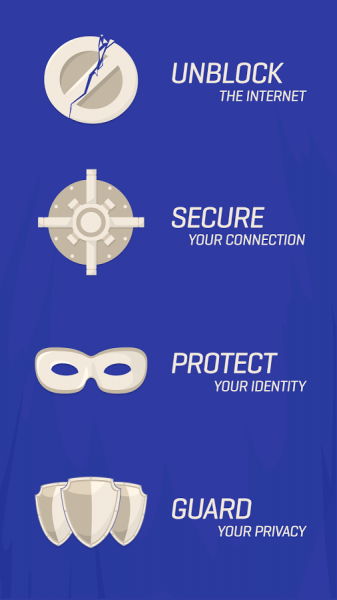 Anonymize and lock down your security is the part of the secured connection offered by RocketVPN. It is needed, so that the third parties cannot find your identity, location, spying your activities. It also  prevents the Internet crimes. One of the common crimes associated with unprotected private data is stealing of your credit card identity, and it can be a nightmare.
RocketVPN also allows you to be connected to their server in many countries and make a virtual location depends on the server you choose, so that you can enjoy the contents in certain countries. For example, the Spotify or Netflix services offer different contents in different countries. If you are interested in Netflix's contents in certain countries, RocketVPN can help you to get it. The virtual location will unblock geographically restricted content wherever you are.
The other thing offered by RocketVPN is the encryption of all data (in and out) when you are doing an online activity. It is useful, especially if you are connected to a public WiFi, which is not configured safely. This feature can prevent data leaking during an online activity.
RocketVPN has a simple UI material design. The color combination on it, makes you are able to read and see it easily. On the first page, when you launch the app for the first time, you will see one of the nearest and the best servers at your location. You can choose it as you want according to your needs. You can see the signal bar for every country, which shows the server quality relatively toward your location.
If you tap the connect button in orange color, the progress page and rocket will appear. If you succeed, you will see the 3 main information color changes from gray to black. These 3 information shows the VPN service has been activated: connection secured, data not encrypted, and your virtual location.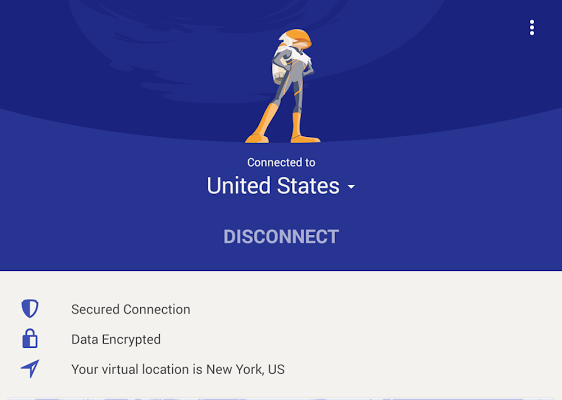 You can add certain applications to be connected to different servers specifically. Maybe Netflix application will be connected to the server in the U.S, while Spotify is connected to a server in Germany. The control is in your hand.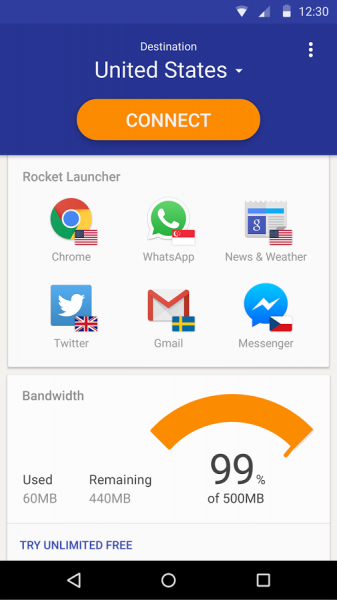 This app offers a 500MB free access every 30 days, and it gives the user chance to try it first. You can check your free access through a digital meter in the bottom of the app page. RocketVPN gives you a great service and easiness in integration. Their fast response can help you if you find any problem when you are using their service.  One of the issues that I found is, the expired notification of my 500MB free access when I used it for the first time. The RocketVPN support responded it fast, and they suggest me to try clearing the app data and try again. So, I try to clearing the data app using The Cleaner and I relaunched the app. After that the issue was gone.
You can download RocketVPN for free in the Play Store and get a 500MB free access monthly data. For the unlimited monthly data, you'll need to create an account and pay either $2.99 a month or $29.99 a year (save 16%).
---