The idea of uninterrupted recording physics and our Internet activity is a topic connected to
The idea of uninterrupted recording physics and our Internet activity is a topic connected to Sony Mobile electronics fair CES 2014. Sony has demonstrated that wearing a wristband  we will record how active we are, how we sleep, where we went, what pictures we took, what messages exchanged and with whom-including social networking via Twitter and Facebook-, what music we heard or what games we played.
Kunimasa Suzuki tested the system and announced the results in mere punctuality: "Today, I kept 10 bookmark, burned 1772 calories, I recorded a video of 8 minutes, walked 1 hour and 31 minutes, ran 48 minutes, listening to music for 3 hours and 53 minutes, bike for 52 minutes, drove about half an hour, slept 6 hours 20 minutes and variously contacted for 1 hour and 16 minutes. All these amount to 1,588 "points". The details that will give meaning to all these measurements are expected to report Mobile World Congress 2014 in Barcelona in March.
The president and CEO of Sony Mobile Communications wore the wrist of a plastic bracelet, which is called the SmartBand based chip Sony Core. This cuff captures all human activity and movement, which is collected on a mobile phone application called LifeLog app.
Sony Smartband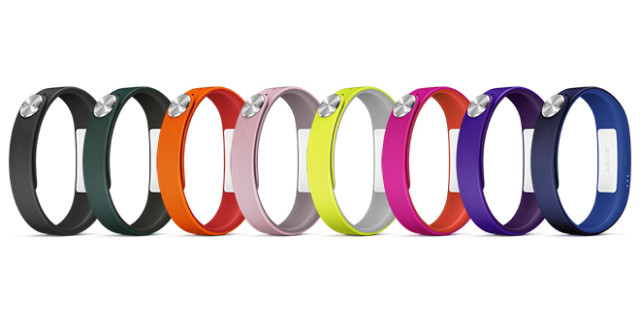 The Sony refers to "experience SmartWear», which starts with the recording of all of these activities / events leading to collection points, in order to call to reach the daily goals set at the discretion of the user. The application Lifelog can distinguish whether walking, running, cycling or using the train and how you sleep. The logic behind this incessant and automated recording is that from now on we can see "how we live" and thus to set goals to improve our physical (or social) status. The wristband will also have a key for keeping «bookmark life" with the push of which the milestone will be observed in detail (without clarifying exactly what the company will be recorded, although this probably refers to the recording position or sound).
The gadget has not yet been released, but is expected in the spring of 2014 is designed to be worn all day and all hours and is waterproof in case of SmartBand SWR10 the "heart" of the Core. The SmartBand communicates with the smartphone user and notifies minor tremors that have received call, message or other notification. It also  has LED lights that illuminate when the SmartBand is active and has invisible buttons that allow the management of music playback (play, pause and skip) from SmartBand.
The idea is treated with prejudice as to the utility and to risk possibly hiding on privacy. Sony received a question from the BBC on the privacy of the connected users, and the answer was that the gadget may process the data collected from Lifelog app to optimize the user experience and distinguish defects in its software, but it will definitely do this all anonymously.
The 'smart' wristbands are made to improve our physical condition. Intel also mentioned  their tiny Quark, which will be incorporated into wristbands and smart watches to record physical activity and build their measurements for improving health in potential of Intel recently added engineers who worked  for Nike its own Fuelband-, or medical accessories that help treat or monitor the physical condition of the patient. Should we feel lucky that experiments will be done to other humans prior to our turn?
---