Mozilla Firefox is one of the most popular browsers. And like the competitors, it has some drawbacks. Over the
Mozilla Firefox is one of the most popular browsers. And like the competitors, it has some drawbacks. Over the time, Firefox starts to slow down and then it is impossible to work in the browser. In most cases, Mozilla slowdown is associated with the installation of a large number of plug-ins and extensions, as well as with the increasing number of entries in the history of visited pages. Let's see what to do if Mozilla Firefox is slow.
You may also read: How To Change Download Folder In Mozilla Firefox
What To Do If Mozilla Firefox Is Slow
If you want to fix this Mozilla Firefox problem, follow these instructions:
Disable plugins
The plug-ins can improve the functionality of displayed web pages in the browser. But, for normal work of the program, it is enough to have one or two and the most important ones. Deactivate the others. To do this, follow these steps:
Open the browser, click the Menu button (icon in the form of three horizontal lines), click on "Add-ons" and in the opened window select Plugins.
Find the unnecessary plugin. Just choose "Never activate" on the drop-down menu on the right of the screen, and the plugin will be deactivated.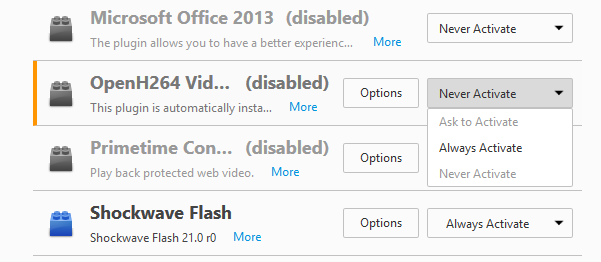 After you disable the selected plugins, they will became gray and the next time you open the plugin management, plug-ins will be disabled and displayed at the bottom of the list.
In the most cases, it is enough to enable only "Shockwave Flash", which is used on many websites.
Disable add-ons
Firefox add-ons allow you to download videos from sites, block ads, and so on. But, if you have a large number of add-ons, you will be faced with many Mozilla Firefox crashes. To disable the add-ons, follow these steps:
Open Mozilla Firefox, open the menu, click on "Add-ons" and choose the "Extensions" section.
Click Disable or Remove next to the appropriate add-on in the list.
Then, restart the browser with Restart now button.
Clear history
The browser keeps a history of pages that you visited, download history, passwords, images, and more. Many of these data are stored in the cache that allows the previously visited pages to load faster. But on the other hand, browsing database accumulates which is why the browser may slow down. To delete the history, just follow these steps:
Open Firefox browser, open the menu and click on "History".
Click on "Clear recent history".
In the opened window, from the drop-down menu select "Everything" and click on "Clear now".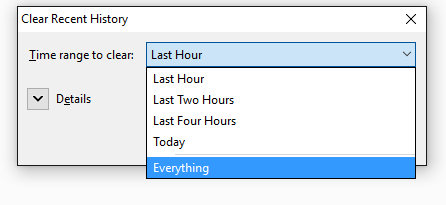 After these actions, Mozilla Firefox will run much faster.
Image Source: www.hdwallpapersdesktopbackground.blogspot.com
You may also read: How To Lock Mozilla Firefox With Password
---