Have you ever tried using a note app on the smartphone to create a to-do list, but failed because you kept forgetting
This is a sponsored post. Opinions expressed by sponsors are their own.
Have you ever tried using a note app on the smartphone to create a to-do list, but failed because you kept forgetting to open the app? Sometimes, using an old method like a sticky note to make a work to-do list is much more effective. However, in a certain case, it may also fail. Have you ever found an important memo on your desk from your colleague, but you failed to read it because the handwriting was awful? The solution for those cases is Nemonic inkless printer. The product merges the traditional method and digital technology in one place. Find out more here.
What Is Nemonic Inkless Printer?
Nemonic is an innovative product from Mangoslab that combines an analog experience and digital technology in creating sticky notes. It's a 4.4 x 4.4 x 3.6-inch printer and it works without ink. Yes, this tiny printer doesn't need ink or toner to print a memo. How amazing is that?
Moreover, you can print any memo you like from a smartphone, tablet, or computer with ease. You can even print photos, ideas, school math formula or logo, in seconds. Nemonic inkless printer is also a hand-carry product. Its simple and compact design can be placed anywhere, no matter how small the desk is. No wonder that this innovative product received CES 2017 Best of Innovation Award in the Computer Accessories category.
The Reasons You Will Love Nemonic Inkless Printer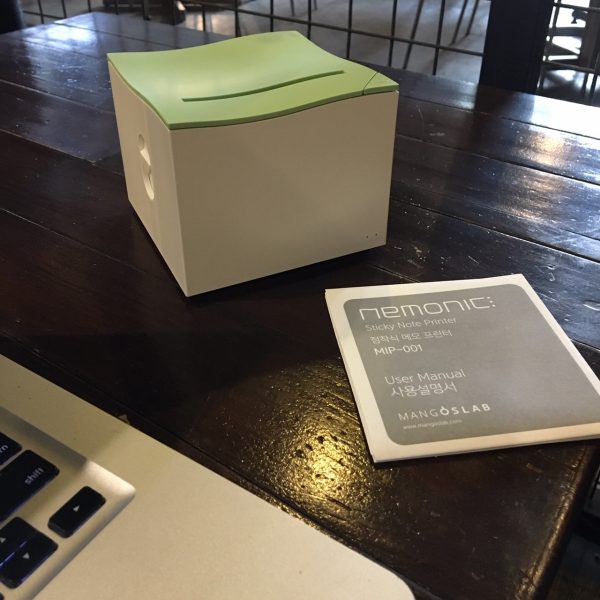 No Ink Or Toner needed 
A printer without ink or toner? How is that possible? This question may appear the first time you meet Nemonic Inkless printer. Nemonic uses special thermal paper so it doesn't need ink or toners. The cartridge protects the adhesive of the paper and the De-curl apparatus prevents the printout from being rolled up.
Stylish Design And Hand-Carry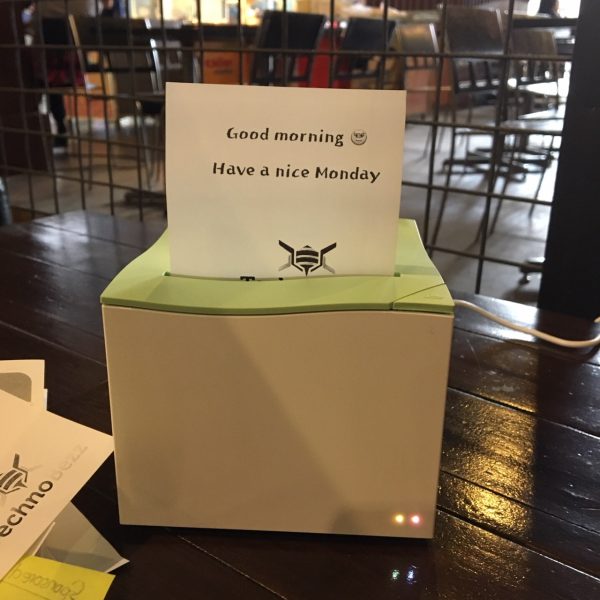 You won't be disappointed by its appearance. Its minimalistic cube shape and color will match any other accessories on your desk. Nemonic can stay on your working desk as a decoration when it's not used. It can be simply moved from one place to another. For example, you can bring it to the office and take it back home.
Easy Connection
The company claims that Nemonic inkless printer can be connected easily to smartphones, tablets, and PCs via Bluetooth 4.1 connection or USB type A, up to 20 people. I have tried to connect the printer to my iPhone, iPad Air, and MacBook Pro at the same time. It worked perfectly. First, I printed out a memo from my iPhone. Right after, I printed a photo from the iPad Air, followed by printing an image from my MacBook Pro. Amazing!
Easy To Use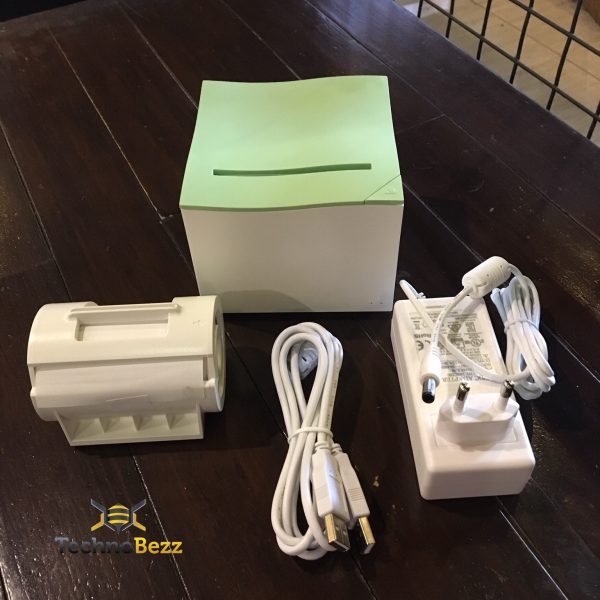 The first time I saw this mini printer, I thought it should work with ease. You know what? It is super easy to use.
Once you open the box, you will get 1 Nemonic printer, 1 white cartridge with the paper inside, 1 USB to USB cable, and 1 power adapter. Open the printer by pressing down the side button and place the cartridge properly. Please read the instruction book for more details.
How To Use Nemonic Inkless Printer:
After the setting up process is done, connect the power adapter to the wall socket and the printer. Press the power button to turn it on.
Go to App Store or Play Store and download the Nemonic app on your device. If you are a Mac or Windows computer user, you can download the app below.
Connect the Nemonic printer to your device.
Launch Nemonic app on your device and create a memo, then print it. Wait for a few seconds and your sticky note is ready to use.
---