Netflix is one of the most popular streaming services that is presently used by a large part of the people across
When we fall in love, it's easy to see the good side of our partner. We imagine how smooth life will be with them. How easy things will be. How we'll finally be happy.
The truth is, everyone has flaws. This goes double for partners in relationships. Sometimes, it can be difficult to see the good in your partner. It's easy to focus on the bad instead. It's easy to doubt the love you have for your partner.
This difficulty comes from the fact that love isn't always easy. It's rocky and filled with pitfalls. But that doesn't mean you should give up on your partner. It doesn't mean you should stop loving them. It just means that you need to learn how to love, even when it's hard.
If you are looking for tips on how to love, even when it's hard, keep reading. You'll learn how to deal with difficult people, how to accept your partner's flaws, and how to understand when to walk away.
Netflix is one of the most popular streaming services that is presently used by a large part of the people across the globe. This has come to offer all kind of high-quality contents seamlessly. But thankfully there are several ways to improvise the experience of Netflix. All you need to know is some helpful Netflix tips and tricks and this service will become even more enjoyable to you. So, if you are a loyal user of Netflix and looking for some powerful Netflix tips, read this article thoroughly.
See also: How to download Netflix movies and TV shows on Windows 10
13 Netflix Tips And Tricks
Eliminate buffering through the secret menu
By default, the Netflix automatically calibrate the streaming and this depends completely on your network connection. But thankfully, there are ways to eliminate that option. The first option is available from a secret menu that can be brought by pressing on any video on your computer while pressing the Shift+Alt. It will get a Stream Manager which allows you to adjust the bandwidth usage. However, you can do something more from this setting, such as the synchronization of video and audio as well.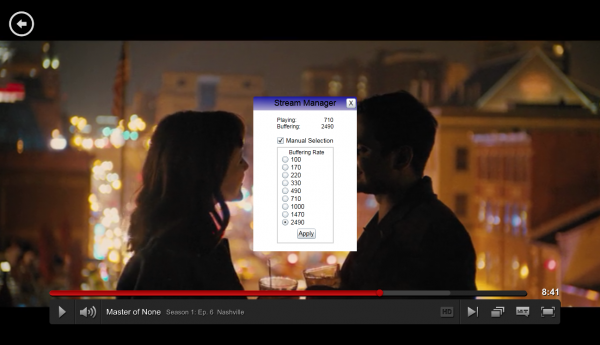 Another secret way to eliminate the buffering is by bringing up the debug menu. But it requires you to know a secret code. Just press the following from your remote or controller and you will be able to tweak the settings including the buffering elimination. The code is 'Up, Up, Down, Down, Left, Right, Left, Right, Up, Up, Up, Up'.
Get rid of the spoilers
Spoilers such as movie posters, trailers in the mid of any movie or show are really irritating which sometimes kill the interest. But thanks to the developer who has created the Chrome plugin Flixplus. This plugin is intended to remove all kind of spoilers in Netflix so that users can enjoy a hassle-free streaming. Anyways, not just removing the spoilers rather this plugin is designed to do something more which includes hiding the spoiler text snippets and images, much annoyed Facebook integration prompt and that so-called Rotten Tomatoes ratings and IMDB. So, why not get that plugin?
Add the Rotten Tomatoes and IMDB ratings
If you love to watch a movie seeing the rate of it, adding this rating to the Netflix profile is vital. In order to do so, go ahead to download the Netflix Enhancer Extension. This is a plugin for the Google Chrome users. It will allow you to add the Rotten Tomatoes and IMDB ratings, and you can also have a quick glance at the trailer of a movie before selecting it. Anyways, these features are available to the PC users only.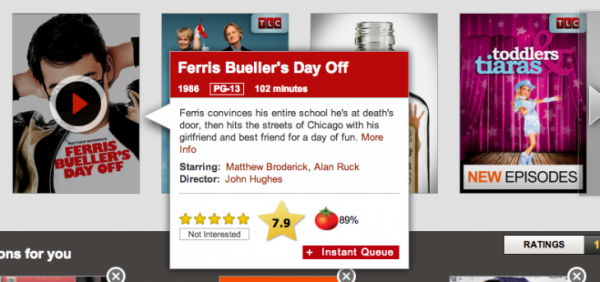 Access Netflix in other countries
There are many more hidden features of Netflix that will allow you enjoy the content highly. Do you know that you can access the Netflix service of other countries as well which will widen the stock of contents. But this is to mention beforehand that this is against the law of Netflix service. While Media Hint is a powerful service for that the Hola Unblocker is another great plugin to use in Chrome, Firefox and on the Android device for the same purpose.
However, if you wish to access the Netflix in the US, then the DNS settings are to be changed by going to settings>general>Network>Select the network name> Configure DNS> Manual. You can then go ahead to access the service in the US.
Easy Keyword shortcuts
This Netflix trick is applicable for all those who all are enjoying the streaming on their laptop or PC. While working on a PC, using the fingers make the job easy rather than using the mouse. Here are some easy keyword strokes to boost up your Netflix streaming service.
M-Mute
Up/Down- change the volume
Pg dn- Pause the video
Pg up- Start playing the video
Spacebar/Enter- Pause and play
F-Full screen
Esc- escape from the full screen
Shift+ Left arrow- Rewind
Shift+ Right arrow- Fast forward
Setup multiple profiles
One Netflix account allows setting five different profiles and we suggest you set up the all the profiles. This becomes helpful in case your Netflix account is being used by several members of your family. While different profiles are set for a single account, Netflix keeps the ratings and preferences separate for every profile and suggest the content according to that.
Set Manual ordering
Netflix service is designed to help us the best possible ways and fortunately, there are several options as well through which we can make it work our way. The Recommendation section in the Libray> My section is really helpful but this can be designed to work as per your wish also. Yes, go to the My account tab at the upper right corner and then choose My profile. Next got to 'Order in my list Link'. Here choose the option 'Manual ordering' to hand sort the My List option rather than allowing it to do by the computer.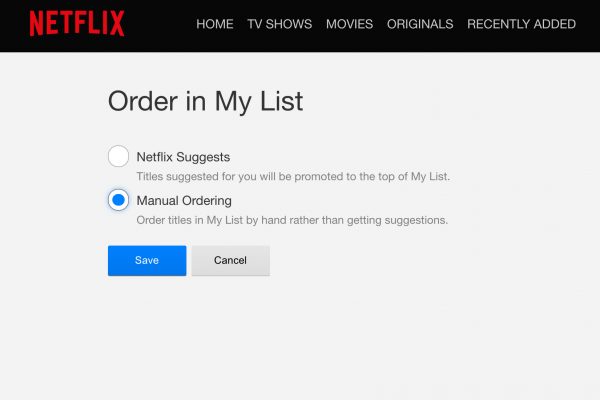 Customize the subtitles
Subtitles are great which help us to understand the movie seamlessly and this come to work especially when you enjoy watching a foreign movie. But if you are not happy with the appearance of the subtitle, then learn here the process to customize them. This is a simple step that requires you to go to Account> Subtitle appearance and from here you can do everything such as changing the size, color, and font of the subtitle.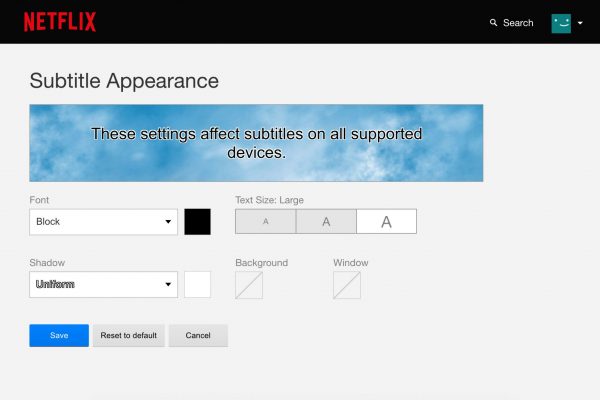 Also, in case you are looking for a language which is not available in the Netflix account, the SubFlicks is the option for you. This is a website containing subtitles files and you can search here the required one after which that can be integrated into the Netflix through the Super Netflix app in Chrome. So, get your language from here and enjoy the foreign movies and videos at your best.
Search the content by language
Do you love watching the shows and movies of your region especially? Well, not to worry anymore as Netflix has all type of contents in different languages. What you do is the right Netflix tips to find them easily and that's it. When you get a show and go to the Detail section of it, it will show a selection of subtitle language. Click on the language link of your and you will be redirected to a page that has several, shows, movies and other content in that language only. Those listing then can be sorted by rating and suggestions for you.
Set limitation on data usage
Netflix uses a great amount of data to stream the HD content. But what if you have some limitation on the amount of data to be used in a month? The best way is to set a limitation on Netflix data usage. Here is how to do that. If you are using a mobile then the process is much simpler. Just go to the settings on your Smartphone, and then choose Data usage. Here you can set the limitation of data usage by Netflix.
Get new features before it arrives at the masses
Do you want to enjoy all the updated features of Netflix before it arrives at the mass? Well, there is a simple way for that and you will be able to enjoy the upcoming features of Netflix beforehand. Go to My account>Test Participation and toggle that feature to make it ON. While this feature is made on, you will be selected as a member to participate in the test. So, when you can impress your mates this way, also you can be able to witness the potential changes before the masses can see it.
Keep the stealers at bay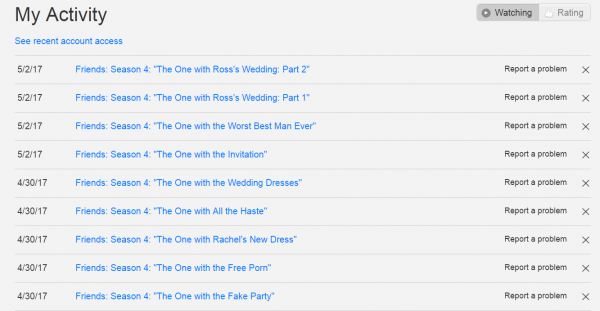 There are some situations when you are doubtful that someone else is using your account. Well, if this is the case then first check if someone has actually accessed it from somewhere. This can be checked by going to Account> Viewing activity> Recent account access. In case you notice some of the users are not familiar with you or else the place of access your account is odd then just sign out all the devices from under the settings menu and the users will not be able to access your account.
Pick wired timing for smoother viewing
Want to enjoy a TV show at just one sitting from Netflix? Well, the suggestion is to sit at the weird time when there will be fewer crowds on the Netflix. This will ensure that you will be able to enjoy smoother viewing. For example, timing such as early morning or late night is considered the best time. So, if you are a late sleeper or else early riser, pick that time for showing the videos at Netflix seamlessly.
So, these are the 13 best Netflix Tips and tricks using which you can get the best of your Netflix service.
See Also: Advantages and disadvantages of Netflix
---