Google Nexus is a smartphone brand from Google. Google cooperates with the other smartphone Original Equipment
Google Nexus is a smartphone brand from Google. Google cooperates with the other smartphone Original Equipment Manufactures (OEMs), and Google manages the design, development, marketing, and support of these devices, but some development and all manufacturing are carried out by partnering OEMs. Google chooses the same or different smartphone OEM every year to create the Google Nexus device with the latest hardware technology inside. The first generation of Google Nexus smartphone was launched in 2010. It was the cooperation between Google and HTC. The latest one was launched back in 2014, cooperation between Google and Motorola. The Google Nexus smartphone is the first Android smartphone, which always uses the new version of Android OS every year. This is an effort from Google to introduce their new Android OS to public. This year, the upcoming Google Nexus smartphone will be powered by the new Android OS version 6.0, named Marshmallow.

The rumor related to Google Nexus smartphone has attracted people's attention, because there are leaked images of Google Nexus smartphones from 2 different OEMs: LG and Huawei. This is unusual, whereas previously Google only released one Nexus smartphone every year. This year, for the first time Google Nexus smartphone will be made by Chinese vendor, Huawei. It's one of the big player smartphone companies in China and in the world.
Today, the rumor will become clearer with the specification from the slide presentation leaked. From that slide presentation we know the official name for the Nexus from Huawei: Nexus 6P. On that slide, there are some info about Nexus 6P specification and a short explanation of the features, such as camera, fingerprint sensor, and the Android Marshmallow inside.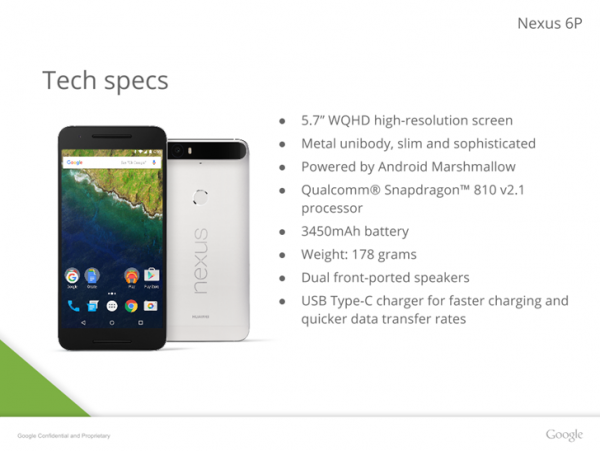 From the slide it is also seen that Nexus 6P uses Qualcomm Snapdragon 810 v2.1 processor. Processor Qualcomm snapdragon 810 v2.1 is different with its predecessor Snapdragon 810 v2.0 in terms of clock GPU in which it raises from 600MHz to 630MHz to increase the render graphic performance. The other difference is more bandwidth memory, where the memory latency improves on an average of 15%. The processor Qualcomm Snapdragon 810 v2.1 is the same processor used on Mi Note Pro, and the Antutu benchmark for this processor on Mi Note Pro reached 63,434. This score will not be too different with the upcoming Nexus 6P, but this performance score is lower than the new fastest flagship we have discussed before: Meizu Pro 5 with its Antutu score reached 76,244.
According to the slide presentation, Nexus 6P will have WQHD (2560 x 1440 resolution), 5.7-inch display with Gorilla Glass 4. Unfortunately, they didn't mention the display technology. Nexus 6P has the same display size and resolution as Galaxy Note 5. It also has a metal body with 178 grams of weight, lighter than iPhone 6s (192 gram). There will be 4 color options: aluminum, graphite, frost, and gold (gold is only available in Japan, for now), and 3 internal storage variants: 32GB, 64GB, and 128GB. Also, you will get the latest connector technology: USB type-C.
From the slide presentation leaked, we cannot give you the complete specification and information about the camera, display technology, RAM, and more. So far we can only see the high-end specs from Nexus 6P and the design quality from Huawei as the producing OEM. Everything will be clear at Google event on September 29th in San Francisco.
Source: androidpolice, anandtech, phonearena, techgrapple
Read also: The Retail Name Of Blackberry Venice Is … And The Price Isn't Cheap
---