Apple is a super secret company in term of the products that they are going to launch. They ever given any hints
Apple is a super secret company in term of the products that they are going to launch. They ever given any hints about their upcoming product before its official announcement. That is Apple's tradition since Steve job back to Apple. To make public surprised is a pleasant thing for this company. The leak part hunt and rumor related to to their next product can become an expensive news in which all Apple fans (at least) will read it. Recently, Apple is getting careless in terms of the beta software that they provide for developers. A critical developer may see an unusual thing and they can peek what is being done by Apple. One of those developers is Pierre Dandumont.
Reference of resolution makes Pierre Dandumont thinks that there might will be a new iMac with new resolution. He found a Retina display panel with a 4096×2304 resolution while what he knew the 5K 27 inch iMac features has a resolution of 5120×2880 and this 4K resolution seems to be fit with 21.5 inch iMac.

The second thing which strength his opinion is a new reference graphics cards. He wrote:
"First, Iris Pro Intel Graphics 6200 GPU for CPU Broadwell recently announced. A GPU perfect for 21-inch iMac entry. The second reference, it is the AMD Radeon R9 M380, M390, M395 and M395X. Nothing new under the sun, they are simply R9 M2xx (already used in the iMac ) renamed with a possible slight increase in the frequency."

Even though it's not clear yet, but might it be just an option for some types of new iMac? Another thing found by Pierre Dandumont is references about Apple Bluetooth remote that seems will become a mate for new Apple TV. He also wrote:
"There are references to the audio, buttons, touch, sensors, management of proximity and infrared, we can assume that the remote work in part with older systems. The pilot gives consistent values ​​for an Apple product (Vendor ID 76 / 0x4C , Product ID 614 / 0x266 ). No reference to the web, anywhere, I'm obviously the first to find it."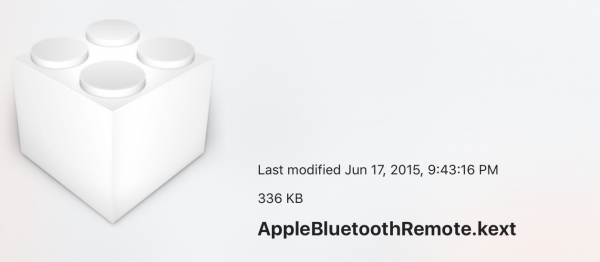 Of course if it's true, it can be one of selling points for new Apple TV. The current Apple TV's remote is too simple with Apple TV UI which might will develop. But, if Apple's remote adopts bluetooth and multitouch, it will give more space in better development for Apple TV, wherein Apple TV's UI and paired new Apple's remote will adjust for further needs.
We can see new Apple products in fall season this year which might be flooded by most waited product by us such as iPhone 6s, iPad Pro, new Apple TV and 21.5 inch iMac 4K and remote multitouch bluetooth.
source: iClarified
Read also: How to full untethered Jailbreak iPhone iOS 8.3 Safely [Windows
---