In this article, we will be discussing  Pros and Cons of Sony Xperia Z1 Compact. The phone has been given almost
In this article, we will be discussing  Pros and Cons of Sony Xperia Z1 Compact. The phone has been given almost all the specifications as its older counterpart thus making it very difficult for the reviewers to pinpoint the cons or disadvantages of Sony Xperia Z1 Compact.
Advantage and Disadvantage of Sony Xperia Z1 Compact
PROS of Sony Xperia Z1 Compact
These are all the advantages of the Sony Xperia Z10 Compact :
Size and Form Factor
The screen size of 4.3 inch makes this phone smaller than most of the phones available in today's market. Though we have a few phones that are almost of the same size as that of Sony Xperia Z1 Compact but none of them is as powerful as this device which comes with a  quad-core Qualcomm Snapdragon 800 SoC processor and  Adreno 330 graphics. With a form factor such as this, it makes the phone more suitably sized compared to the large phones.
Processor
With a powerful 2,2 GHz processor and 2 GB RAM, you would hardly see a lag in your phone during any of the tasks and the performance of the phone is outstanding. Also due to its super fast processor and crisp performance, Z1 Compact is PlayStation Mobile Certified which adds to the laurel that this phone has achieved and also inspires the Gaming Geeks to check out this phone.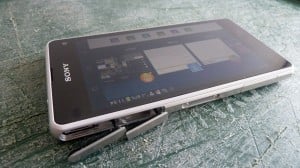 IP Rating
What is IP Rating? IP stands for Ingress Protection and is a rating system develop for electronic items to judge their degree of protection against intrusion or immersion. In simple words, if a phone manufacturer says that a phone is dustproof and waterproof, IP Rating will tell you how efficiently will the phone be guarded against dust or water.
Sony Xperia Z1 Compact comes with IP 55 and 58 Ratings for waterproof and IP 55 Rating for dust-resistant. This phone can be submerged in water to a depth of 1.5 meters for 30 minutes and it will still work fine.
Note- For doing the above, make sure all port covers are closed and the phone is submerged in fresh water.
Camera 
Sony comes with a 20.7-megapixel camera assisted by Sony G Lens which lets you capture amazing, rich shots in both light and dark conditions. You can zoom into the image to get more details which are much high compared to all its competitors.
Expansion Slot
With a 16 GB internal memory, the phone also gives you an option to upgrade your memory up to 64 GB with Micro SD card, You could also you Cloud to backup and store your data using either 4G connection or Wifi.
Battery
The phone comes with a battery of total capacity 2300 mAh and it could last for almost 1 day for an average user depending on the usage and if you use Sony's STAMINA mode the battery could last for almost 2-3 days again depending on the usage.
MHL/Miracast
Miracast is a wireless peer to peer screen sharing standard using Wifi connection, Using this feature you can show movies, pictures or presentation to your friend or colleague.
CONS  of Sony Xperia Z1 Compact
These are all the disadvantages of the Sony Xperia Z10 Compact
The phone does not have a lot of cons but here are a few that we could think of.
Price
The Xperia Z1 Compact is slightly expensive than the other phones which come in its league. Sony promises a lot of added features and cutting-edge performance that can clearly put it to the top of the table. Now it totally depends on you if you are convinced of the price and features you could definitely go for this product.
Display
Compact does not have high screen resolution at 720p just like its rivals Samsung S4 or the Note 3. Although the image quality on the screen is good you will be able to notice a considerable difference once you put it on the 1080p display.
Size and Weight
The phone feels solid and bulky in hand which is due to the aluminum frame and glass front & rear panels that add an additional weight. The phone weighs 137 grams which are not very heavy but its plastic body competitors weigh much less.
You have just read the pros and cons of  Sony Xperia Z1 Compact.
---