We often think about things we wish we could tell our younger selves. Yeah, we can't change the past,
We often think about things we wish we could tell our younger selves. Yeah, we can't change the past, but we can change the future. There are many things our younger selves could teach us, and they could also remind us about some great stuff we used to do when we were just kids. Writing a diary is one of them. Have you ever wondered what your 13-year-old self would tell you if you said that you want to start writing a diary? That kid would tell you GO FOR IT!
Many adults think writing a diary is childish. You know the story… You are not Bridget Jones and your life is not a movie. We are busy, we have more important things to do, and so on. I am not in that group. I won't tell you that. Actually, both of us, my 32-year-old self, and my 13-year-old self will point out the reasons why you should start writing a diary.
See also: 5 Ways To Wake Up Happy And Feel Awesome 
How to start a diary?
These days, blogs are pretty popular, but blogs are not diaries. What you need to do here is have a journal for yourself. There are things you want to keep private and simply write to yourself. Nothing can't replace good old pen and paper, so go and get a nice notebook. If you have never done this before, you may be wondering what to write in a diary to start. That is the best part write whatever you want. There are no rules. You don't have to fill 10 pages if you don't feel like it.
Write date and place. You may start with some things that happened that day, or the fact you decided to write a diary. Do you feel weird because you are writing about yourself and your experiences? Write about that! With every written page you will feel more comfortable, and after a while, you will find that writing goes smoothly and that you enjoy it.
Reasons to start writing a diary
Have your own book of memories
Memories fade, and while there are things we wish to erase, there are so many amazing ones we don't want to forget. That is why writing diaries is such a good idea. When I open one of my old journals that I wrote when I was a teenager, and read the entries on my first crush, how and where we met, what we have been telling to each other, and how I've felt about it, entries about my first pet, old friends, it feels fantastic. Not every part is bright and sunny, but it was my path to who I am today and I don't ever want to forget that. And thanks to my old diaries, I won't. Now just think about all the great things that will happen. Maybe you will meet a best friend for life tomorrow, or you will find your dream job. By writing all those experiences down, you will never ever forget them and each time you read the lines you'll feel amazing. Remember, your diary is your own book of memories.
Let it all out
Is there something that bothers you? Are you angry, frustrated, or just tired? Open your diary and let it all out. Sometimes we don't feel comfortable sharing all of our thoughts and experiences with friends or family, and we end up building up all that anger and frustration. What often happens is that we take all of it out on someone else. You can avoid this by keeping a diary. If you had a bad day at work, or a misunderstanding with your partner, put it all on paper. Just release your thoughts and as soon as you do that you will calm down and you will feel much better. No piling up of all those things and feelings you don't want to keep. It's liberating.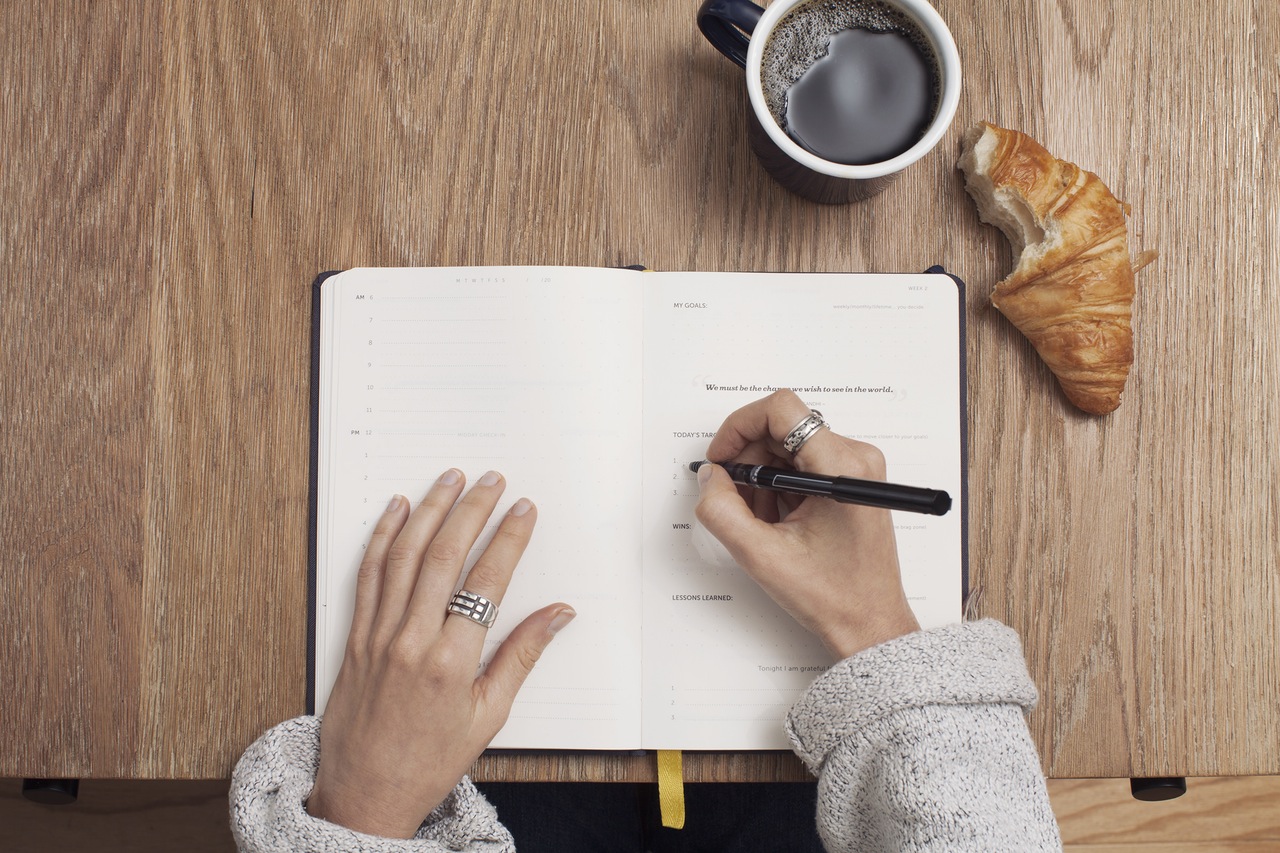 Express yourself – Your diary won't judge
We tend to present ourselves to other people in the best light possible because we don't want others to judge. But no matter how great we are, we may do something we are not so proud of. Don't worry about that too much, we are all humans. You want to share what you did, but at the same time, you don't want to be judged. When writing a diary, there is no fear. Your diary won't judge, so you can share it all. Whatever is that you feel or think about, and don't feel comfortable sharing it with others but have the urge to release it somehow, remember that you have a journal. As I've said, writing a diary is liberating, and no, it won't judge. I've built some wonderful friendships over the years and I am lucky enough to have a loving family and amazing friends, nonjudgmental ones. I can tell them everything, but I still write things down as this helps me to express myself.
Learn more about yourself
Life is learning, and there is no better thing in the whole world than to learn more about yourself. We all want to discover who we really are. You will write about your experiences and you'll express your emotions. This can be really helpful especially if you are the type of person who finds it hard to share emotions with others. You will practice and you will find that you are becoming more open towards people in your life. I've said it before, but I will say it again. Let it all out and remember, your diary won't judge. Be open and honest. When reading old journals, you will see how far you've come, and while reflecting on your journey you'll feel so proud of who you are today.
Come up with new ideas
Looking for new ideas or ways to boost your creativity? You can get some astonishing ideas in the middle of writing. Sometimes, we pressure ourselves in order to brainstorm an idea. Ending result? No ideas whatsoever. How can a diary help you? The thing is, when writing an entry, you are writing without pressure. Once you put a date and place, you start writing about your daily experiences. You are relaxed and you are letting all your thoughts out. In such moments, you may come up with new ideas, welcome them and develop them. If you are an aspiring writer, you will practice daily, again, with no pressure. You know that practice makes it perfect.
---