Mac mini, the cheapest Mac that was updated by apple in October 2014, is the small desktop computer and it comes
Mac mini, the cheapest Mac that was updated by apple in October 2014, is the small desktop computer and it comes in a very affordable range. Mac mini made its way back in 2005 and it was rated as $499 by that time. But with time Apple has included many features and the prices also kept on increasing along with that. But, finally, after a long period of wait, Apple is offering the newly updated Mac mini at the starting price. It is right that we have got a new iMac mini at a very affordable price, but the question is, is it really worth having? Though some might be happy with the features and capabilities of this new iMac mini but there are reasons that describe why you shouldn't buy a Mac mini.
If you want to know the procedure of file sharing between Mac and iPhone using Airdrop, click here.
Read also: How to stop game crashing on Mac
The points are explained here
Quad-core is not offered anymore:
The 2012 Mac mini was equipped with Ivy-bridge generation Intel core processor, but there was an option to choose the quad-core processor in case anyone requires. But, unfortunately this 2014 iMac mini does not include any option of quad-core processor. So, actually what is a mac mini offering, dual-core i5 chip. Also, there is an option to choose the 3.0 GHz dual-core i5 processor. Though the performance is speedy enough in this Mac mini, but all expected to have the latest update with at least a quad-core processor and this point disappointed many Mac mini lovers.
RAM is not upgradable:
The 2012 model of a Mac mini is better than the 2014 version if all the points are considered altogether. Yes, it lets the users upgrade the RAM if they want. But if you are looking for the same feature in this Mac mini 2014 version might hurt you again. RAM is not upgradable easily. It would be wrong to say that this is not all possible. Yes, you can boost the RAM memory, but it requires great effort. So, if you decide to purchase a Mac mini, the best thing suggested is to determine beforehand the amount of RAM needed and place the order according to that.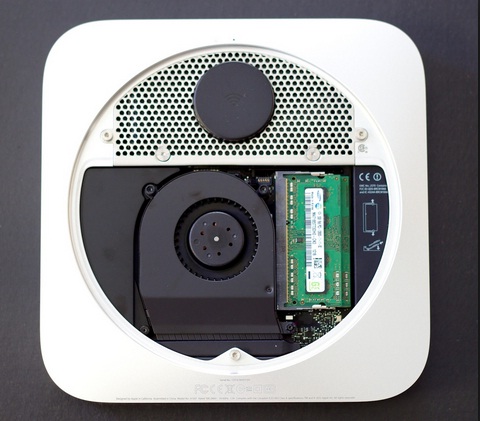 The graphics is not up to the mark:
Those who are deciding to have the Mac mini especially to play games, do not mind, but this is not the one you are looking for. Packed with Intel HD graphics 5000, you can play some of the games at 31 frames per second. For example, you could play the game batsman: Akram city at the above mentioned fps but when tried at the full-HD resolution, this Mac mini could not afford to reach at 15fps which is really a very slow speed for smooth playing. It's less than what a Mac mini of 2012 offered.
Do not include a disc drive:
This is not much a surprise that this Mac mini is not offering the external hard disc. Only the non-retina MacBook pro is the Mac from Apple that came with an optical drive. Though some did not expect to have this Mac mini to come along with an external disc drive, but many Mac lovers had an expectation of that. The point is, if you consider buying a Mac mini, get ready to buy an external disc drive along with that which requires you to spend some more amount of money.

Monitor not included:
When Mac mini was updated in October 2014, many had the question what is a Mac mini offering as additional features. But when the fact came to light that this Mac mini is not even offering a monitor, mouse and keyboard, many withdrawn their decision of buying the recent version of the Mac mini. So, you need to buy all the accessories such as monitor, mouse and keyboard separately if you are planning to get the Mac mini, which means you will have to spend some extra money, again.
So, the suggestion is – if you have a plan to buy a Mac mini, think twice before going ahead and if you found that the above options are manageable at this price, you can have it as the performance is not that bad with a standard speed rate.
---