Now rooting your Nexus 5 is the easier job than ever. The previous rooting method needed you to connect your
Now rooting your Nexus 5 is the easier job than ever. The previous rooting method needed you to connect your phone to your PC and use of some commands, but now it's as simple as downloading an app on your phone.
For this, we should be thankful to George Hotz, the famous hacker for jailbreaking iOS. He has made the rooting job easier with Towelroot. Now you do not require any PC, ADB commands or special rooting programs, all you need to do is just follow the below step by step guide and Root Nexus 5 with Towelroot in two minutes.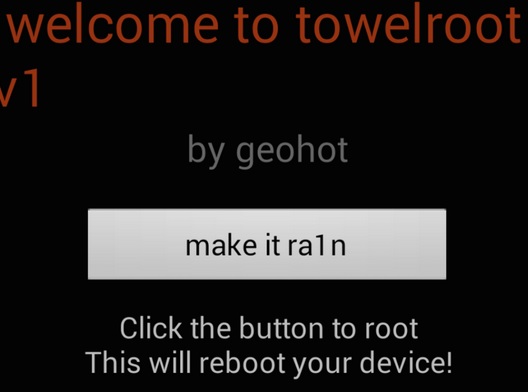 See also- How to fix Nexus 6 not charging or slow charging problem
Steps

to

Root

Nexus

5

with

Towelroot
Step 1: Enable unknown sources
As you will not find the Towelroot app on the Play Store, side loading needs to be enabled on your phone. To do this, go to Settings > Security > mark the checkbox next to Unknown Sources > Ok.
Step 2: Download Towelroot
The Towelroot app is available at towelroot.com. So open a web browser on your Nexus 5 and go to this website to start with. On the website, you will get to see a Lambda symbol, tap on that to start the download. If any warning message pops up, press Ok. Touch the notification in order to launch the installation process after the download is completed. Press Install on the next screen and hit Open when the installation is finished.
Step 3: Root your Nexus 5
There is only one button on the Towelroot app named, make it ra1n. Just tap the button and the magic will start. After tapping the button, the app will take maximum 10-15 seconds to copy the necessary root files and then the phone will reboot automatically. The phone will be rebooted when you are backed up. It will take less than a minute to root the phone.
Step 4: Verify root
When your phone comes back after the automatic reboot with Towelroot app, it can be checked if the root was done perfectly by getting Root Checker which is available on the Play Store. All you need to do is Open the Root Checker and touch Verify Root to observe the results.
But the problem is Root Checker does not ask for any root permission because Towelroot does not install a root management app, so there could be some security risks as some mal ware apps could damage your Nexus 5 internal components if they get root permissions. But nothing to worry as some ways are there to stop this vulnerability.
Step 5: Install a root management application
One of the leading root management apps of these days is Chainfire's SuperSU. It is compatible with almost all root apps and android latest versions. So you need not to worry about mal ware apps cleverly getting permission to access your data with SuperSU installed. The app is available on the Play Store, download and install it on your Nexus device.
Step 6: Update SuperSU binaries
When you launch SuperSU for the first time, it will ask you to update SuperSU binaries. Touch Continue, then choose Normal as method of installation.
After the process is completed, a message will tell you that the installation was successful. Reboot your phone and it have now an excellent root management app which will keep mal ware apps away.
With a root app that you installed and know its developer, touch Grant on the first run, but for a root app about which you don't know much, hit Deny. Then it will not be able to access your phone's components or partition.
These are the simple steps to Root Nexus 5 with Towelroot.
---