There are some times when we just want to disconnect ourselves from the digital world, and embrace the things
There are some times when we just want to disconnect ourselves from the digital world, and embrace the things around us. But then suddenly that LED lights starts flashing, urging you to check the latest Facebook status update that one of your friends have made. You get annoyed, and start searching for ways that your smartphone cannot disturb you. That's when you find that 'do not disturb' mode that just gives you exactly what you want.
It is nice to have a feeling of control of how and when we want our smartphones to notify us about the things happening in the world, and when we want it to just shut up and let us connect with the nature around us. This mode can be found in almost every smartphone. Here's how you can do it on the Moto X through the Moto app.
How To Set Do Not Disturb On The Moto X
Once you open the Moto app, you will find that the first item is the "Sleeping" item with that cutest little blue moon that we will never have the opportunity to see in real life. Tap on it to get inside. This is the area where we tell our Moto X what it should do when we are sleeping (to ensure a sound sleep). The "Keep my screen off" does exactly what it says – it will not allow those notifications to fire up your display when you are sleeping.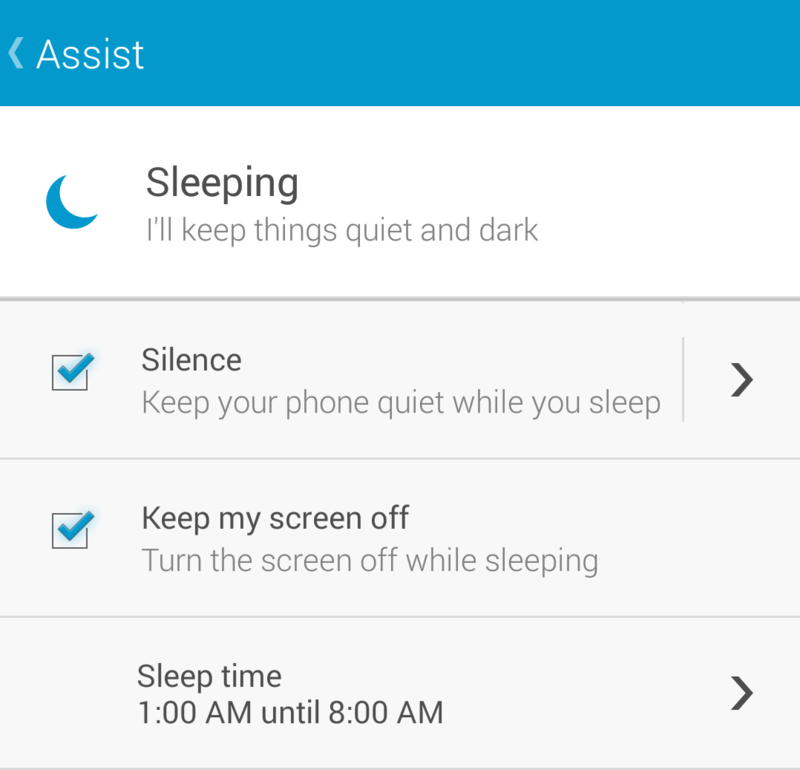 The "Silence" will silent all the notifications and calls so that you are not annoyed by your baddest friends who just won't stop calling you at 3am. But you can select the option to ring your phone when someone calls twice within 5 minutes, if you think someone might be in an emergency (if your friends are that sincere. Mine are not, I have blocked all the calls). Another option is to choose your phone to ring when someone from your favorite contacts (or starred contacts) calls you.
See also How To Fix Moto X Freezing Problem
Both of these options clear the spams calls, and will only allow calls that are super important.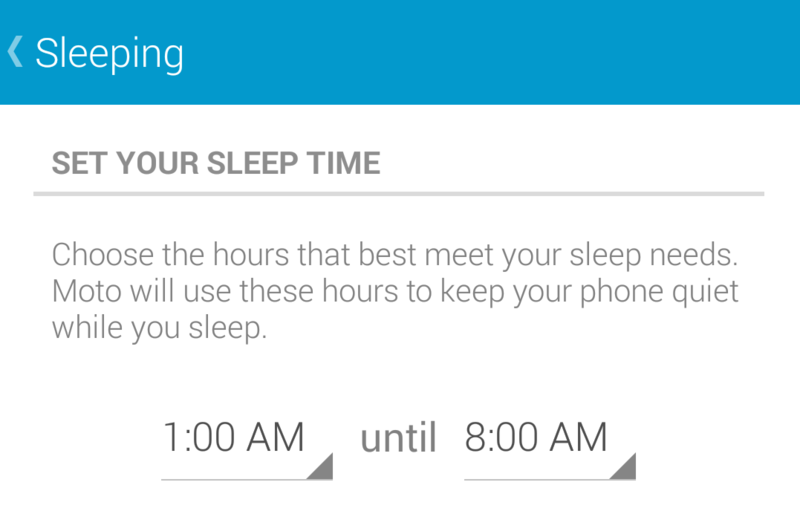 The most important setting here, is the "Sleep Time", because it lets you set the time when you definitely do not want to be disturbed by anyone (even if it is your president). This is the one setting that I love the most, because it is like, set and forget. It will get rid of all the notifications during that time frame. So it will get you rid from everything, whether it is your ex who just felt like they want to talk to you in the middle of the night, or your friends who just don't want you to have a good night's sleep.
Also, if you are curious whether your alarm will go off or not when these settings are on. Don't worry, your alarm and media volumes are not affected by it. Only your notification volumes are shut down so that they can bypass it and not disturb you.
This is exceptionally beneficial when you are just annoyed when you receive a phone call just 10 minutes before your alarm was about go off.
Give this a try, and you will keep thanking me. And remember, no matter how geek you are, every now and then, we all have to need to connect back with the nature to ensure our sanity.
---