The best part of Google Home is that it is able to recognize as many as 6 different Google accounts. Thus, it
The best part of Google Home is that it is able to recognize as many as 6 different Google accounts. Thus, it makes it a whole lot easier for the entire house to use the same. After the latest update, Google Home is now able to support multiple accounts that can be personalized and can also support neural networks voice recognition. To top it all, it is capable of recognizing who exactly is talking and it also responds with some account information. With its ability to distinguish between multiple voices, Google Home is now able to allow each user to access their own calendars, personal music players, and schedules. It, thus, solves a major problem for the typical busy households.
If these features might entice you, then you must know about how to set up multiple users on Google Home. Here, we will discuss the steps to set up multiple users on Google Home.
Read also- How To Set Up Google Home
Adding a New Account to Google Home
The first step towards setting up multiple accounts on Google Home would be to set up a second account other than your account on Google Home. This can be easily set up by following a series of some simple steps as:
Step 1:
Open Google Home. Here, you will come across a notification which goes as "Multi-user is now available". You need to tap on this icon to start the process.
In case you are not able to view the notification, then you can click on devices button (resembling a TV or speaker icon) present in the top right side of the screen. Here, you can click on the particular "action overflow icon" present in the top right side of Google Home. Then, you can select the option "Settings". You will come across a notification here that displays "Multi-user is now available".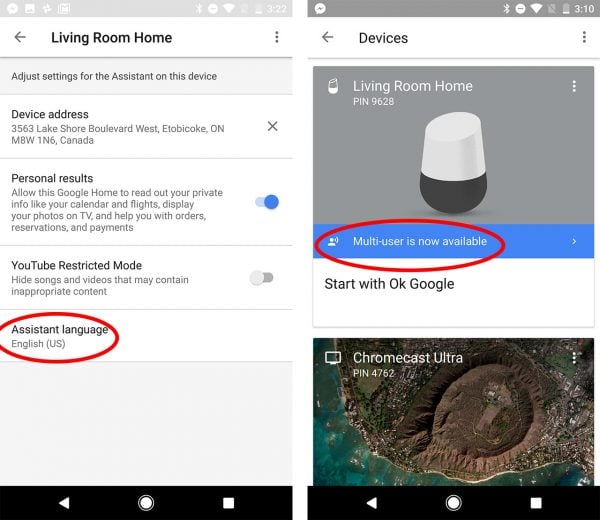 Step 2:
You can enable the setup of voice recognition as well by advancing to Devices > Settings > More > Shared Devices. Here, you can click on the "+" sign present in the right bottom corner of the page for starting the multiuser setup.
When you tap on one of the mentioned notifications, you can begin the teaching process of your voice to the Assistant. You will have to say the phrase "Hey, Google" & "Ok, Google" each twice. Click on the icon "Continue". Then, select the option "invite" in case you wish to include someone more to Google Home.
The users who have been added more will have to go through this similar process of Google Home setup after downloading Google Home. However, as their accounts could not have been connected already, they might have to do the linking of their music accounts along with personalizing the preferences page of Google Home to their use by the customization of the news sources, tweaking the updates of "My Day", and by linking the respective Netflix accounts. This also implies that the new users will have to add their smart home appliances to the assistant accounts. This will ensure that just no one will join your personalized Google Home and get control over your home's smart appliances.
Managing Multiple Accounts on Google Home
Once you setup multiple users on Google Home successfully, you must also know about managing these properly. As you already know, as many as 6 different accounts could be set up on Google Home. In case you wish to add several accounts from a similar device, then you will have to open the main page of Google Home. Here, you can tap on the "hamburger icon" present in the upper left corner for revealing the leftmost menu. Here, you can click on anyone of linked or additional accounts. You can also click on the given drop-down icon. From here, you need to select the option "Manage accounts" for adding a new account.
Once you have selected or added a fresh account, you can repeat the same process of setup of Google Home accounts. You must note that in case you teach the Assistant a similar voice for 3 or more different accounts, then as per the observation, Google Home will respond by using the 1st account that had been added to the particular voice.
You also can view all the current active accounts upon your Google Home app by heading to Devices > Settings > Linked Account(s). From here, you can remove your own account. However, you will not be able to remove any other account.
Ensuring Multiuser Support
As you have set up more than a single user in the speaker of Google Home, you need not do anything while switching between multiple accounts. This is because the Assistant has already learned the voice of each of the Google Home users.
When any one of the users would say "Hello Google, Tell about my entire day"; you will be referenced your personal traffic report and calendar. Similarly, when you will ask for playing your favorite music, your top preferences in music will start playing by default. Moreover, you will also gain access to the personal Google Play Music playlists, Spotify, and Pandora.
When you consider comparing the provision to add multiple users to Google Home and that to Alexa Speakers of Amazon; you will observe major points of differences. The addition of multiple users to the Alexa speaker does not offer the users the freedom towards controlling their personalized calendars. It also does not give them the liberty to play the music of their choice from their own preferred music library or service. On the other hand, the Alexa speakers only allow the users towards sharing some purchased content like the audiobooks and music, between the multiple connected accounts.
Therefore, it can be said that Google Home has surpassed all technological advancements when it comes to offering the ease of connecting multiple accounts on Google home with much ease. With this unique feature, the users are given the ability to stream their own favorite music, personalize the overall Google Home experience, and even allow their family members to access the same quite easily. Have fun using Google Home!
Read also- 10 Popular Search Engines Other Than Google
---