Kudos to the amazingly built and well balanced new Sony Xperia Z1 Compact which is the smaller version of Sony
Kudos to the amazingly built and well balanced new Sony Xperia Z1 Compact which is the smaller version of Sony Xperia Z1. This new phone has come up crushing the  older counterpart but has not lost anything significant in the Specification List as well. In the following article, we will be talking about Sony Xperia Z1 Compact Review. In today's world where all the phone manufacturers are bringing their 5-inch (minimum) phones to the market, this phone would break that trend and would emerge on top against its competitor phones.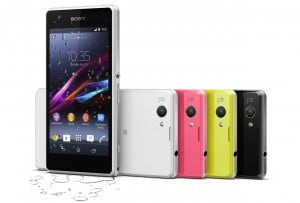 Sony Xperia Z1 Compact Review
Sony Xperia Z1 Compact Design
The Sony Xperia Z1's Compact design is styled with glass and metal, it's beautiful but the design is such that it makes the phone much more difficult to handle, it feels chunky in the hand, rather than elegant. Its design could be somewhat compared to Apple IPhone 5 in terms of size. Its exact dimensions are 5.00 x 2.56 x 0.37 inches (127 x 64.9 x 9.5 mm). The phone is dust-proof and waterproof.
Sony Xperia Z1 Compact Display
Xperia Z1 Compact Display comes with a 4.3-inch screen which ONLY looks small considering almost every phone present in today's market to have a 5-inch screen. If you have been using a phone with 5-inch (or more) screen, it might take a day or two before your eyes could be accustomed to the smaller display. An image of 720×1280 pixels will come up to 342 ppm(versus 326 ppm for iPhone 5S). The image will not be as clear as on a 1080p screen but the difference is negligible.
Sony Xperia Z1 Compact Processor and Memory
Xperia Z1 Compact is equipped with a quad-core Qualcomm Snapdragon 800 SoC processor running at 2.2GHz with integrated Adreno 330 graphics. This deadly combination makes the performance of games and videos even better than on the Xperia Z1 due to lower screen resolution which results in no hiccups. It also comes with 2 GB RAM and 16 GB internal memory and has a slot for Micro SD card.
Sony Xperia Z1 Compact Internet and Connectivity
Xperia Z1 Compact allows you to connect your phone to 4G LTE if it is offered by your Service Provider. If not you could still enjoy high-speed Internet on your device with HSPA+ offering as much as 42.2 Mbit/s download speed and 5.76 Mbit/s upload speed. Latest Wifi protocols like 802.11 a/b/g/n/n 5 Ghz/ac are available along with Bluetooth 4.0
Sony Xperia Z1 Compact Camera
This device has the same 20.7 MP G Lens Camera which is present in Xperia Z11, but to provide the same functioning in a smaller phone credit should go to Sony. The advantage of G Lens is that it fixes a great number of pixels and that too with good size of 1.1 microns. The camera provides excellent low light, high sensitivity, and low noise pictures. Some of the camera options are:-
Front and Rear facing Camera
LED Flash
Auto-focus
Burst Mode
Digital Zoom
Digital Image Stabilization
Panorama
Sony Xperia Z1 Compact Operating System
The Sony Xperia Z1 runs on Android Operating System and the present version is 4.3 Jellybean. It is also said that an update will be launched soon for upgrading the OS to the latest version of 4.4 KitKat.
Sony Xperia Z1 Compact Battery Life
The Xperia Z1 Compact has a talk time of 18 hours when fully charged which is much more compared to other phones which give a talk time of 8 to 9 hours. The total battery capacity, which indicates the battery life, is 2300 mAh which is really impressive for any smartphone.
Sony Xperia Z1 Compact Performance Benchmark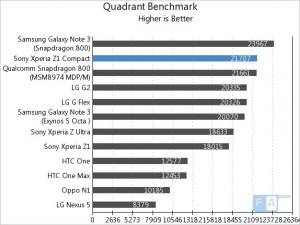 ---