You bought a new smartphone and are excited to get a hands-down with it. Before you can start exploring its
You bought a new smartphone and are excited to get a hands-down with it. Before you can start exploring its features there are some things which you need to do so the phone works perfectly for you. Here are some things to do when you buy a new smartphone.
Read also- How To Clean A Smartphone Or Tablet
7 Things to do When You Buy a New Smartphone
Screen Protector
Whether you have purchased your phone online or through a retailer order/purchase a screen protector so the screen of the phone is safe. The display of any phone is the most important and the most expensive part of a smartphone – a tempered protection is what you should be looking forward to.
Backup Contacts
Having to rebuild an address book could be really painful. This is why ensure that your contacts are backed up in cloud storage. iPhone users would have to use their iTunes and can do it manually too with a computer at home. The Android phones have to sync with Google account.
Check for Updates
Next on the list of things to do when you buy a new smartphone would be to instantly check for updates. Normally a new phone which comes out-of-the-box would be already updated with the firmware. However, these days software get quick updates and by the time you buy there already may be a couple of updates ready for you. You will have to check your Settings and according to your operating system go into the system updates and then run the updates if any. You don't want to miss out on any security patch. They are important to protect your personal details and also ensure healthy functioning of your smartphone.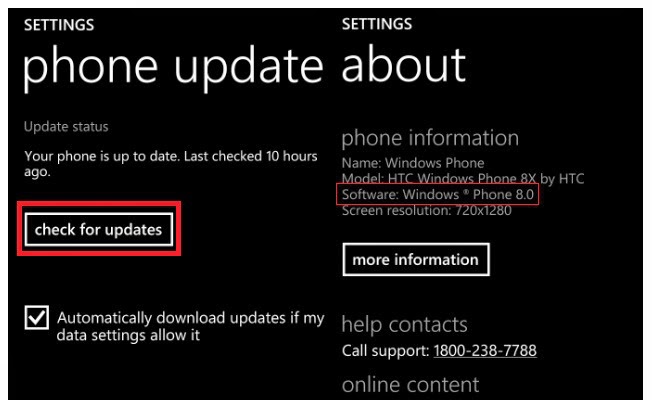 Set Up Security
Since we just spoke about protection of personal details in the above point adding layers of security would keep your smartphone safe. Needless to say, we are all smartphone addicts and prefer to use them for shopping, paying bills, sending emails, banking, and so many other things. With so many details on your smartphone, it makes it an open target for the intruders to take hold of your phone and use it for their personal gains by using your bank details or other important information including personal videos and pictures. Phones these days have been developed with different types of biometric solutions that help in securing a smartphone. There is voice recognition, facial recognition, fingerprint scanner, password, pattern, and PIN. Connected with all this is the GPS tracker which lets you track your phone's whereabouts if it is stolen. Make sure to turn the feature on and keep the location on too.
Save Battery
The biggest factor in a smartphone losing out on its battery life is when the apps in the background make continuous serve requests and retrieve packets. Social network apps and weather apps are seen to draw the most power. If you want to save your battery life then go into the Settings of your smartphone and when you access the apps modify their frequency to update. Set them to update after four hours automatically unless manually updated. This instantly saves battery life.
Sync to Cloud
The internal storage of almost every smartphone has been made quite high. However, you don't want your memory to be full unnecessarily and have your phone running slow. It is best that you synced with the cloud so you can store pictures, videos, songs etc. here. Your phone's performance will never be poor if you use the cloud to store your stuff. Saving in the cloud also secures your data and keeps it safe in case you lose your phone.
Personalize Your Phone
The next thing that you need to dive in the display settings. New phones will have simple screens of their respective operating systems. They may not be quite attractive and every one of us would want to change it. You will also have to adjust the fonts, brightness, language, wallpaper, screen-lock display etc. Next comes in the sound you can add your choice of ringtone and notification alerts.
These are the first 7 things to do when you buy a new smartphone. Once you have completed doing them you can proceed and download some cool apps for your new handset.
Read also- Why Smartphones Slow Down Over Time?
---