If you are planning to buy a new TV and need some additional info on what to consider before deciding which
If you are planning to buy a new TV and need some additional info on what to consider before deciding which model to get, you are in the perfect place. Here, we are going to talk about just that, things to consider when buying a new TV. There are several things you should take into account. That way, you can rest assured that you'll make the best possible decision and get a TV that will suit your needs and desires, and of course, your budget.
See also: Smartwatch buying guide Things to consider when buying a smartwatch
While the list of things you should consider may sound ridiculous to you, and you may think that TV is just a TV, trust us when we say that you should think about several things. There are many different TVs out there, with different screen resolutions, a different set of options, and more. It is important to get the right one for you. That way, you'll know you spent your money wisely. So, let's start.
Screen size
While you may hear a thousand tips about choosing the screen size, the truth is that your own experience is yours only. However, consider the place the TV is going to be placed, how close you sit to your TV, etc. When it comes to larger spaces, a 55-inch TV or more sounds like a good idea, but if the room is smaller, go for a smaller size. If you are not sure about the sizes, make sure to visit a store and see the available sizes right at the spot. It will help you decide what's best for you and your space.
Smart TV
If you are wondering should you get a smart TV or not, the truth is that majority of TVs at the market are smart ones. And that's a good thing. It means they come with Wi-Fi connectivity. You can enjoy streaming services like Netflix, Sling, or Hulu, download videos on demand and more and all of it in great resolution, 4K included. All you need to do is download the app and you are ready to go. Also, most of the smart TVs come with pre-installed apps and you can expect to see Netflix, YouTube and more. Even if you stumble upon a TV that isn't smart we suggest you skip it. Go for a smart one.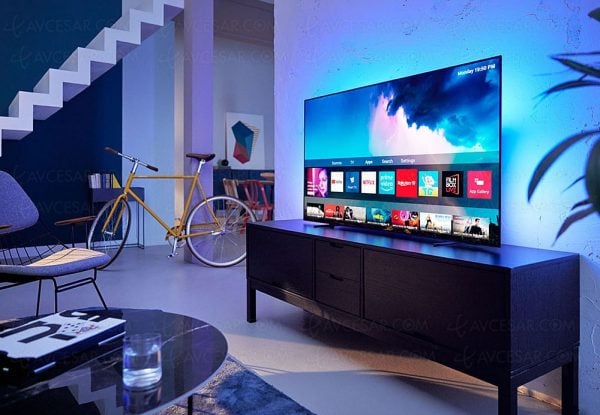 Screen resolution
When it comes to screen resolution, as soon as you start looking for a new TV you'll notice two most common ones HD and 4K. The first one has been the leader in the past few years, but now things have changed, and most TVs come in Ultra HD resolution, known as 4K resolution. Go for 4K and you will have a sharper image and you'll see more details. Also, streaming services such as Netflix are offering content in 4K so you'll enjoy watching your favorite shows and movies, and content in general services like this offer.
When it comes to screen resolution, we also have to mention 8K. But, you won't find many TVs with this resolution. Sure, there will be more in the next couple of months. However, keep in mind that even if your budget allows you to get an 8K TV, you won't be able to find a lot of content in that resolution so that you can experience the benefits of having it. So, for now, 4K is the best.
HDMI inputs
Many people tend to forget this completely. It is very important to consider the number of HDMI inputs the TV is offering. If you ask us, the more the merrier. Just think about it. You may connect your gaming console and other things of your choice, and you'll end up using two or three slots in no time. That is why we said to look for a TV that comes with several HDMI inputs. Then you can rest assured that you can connect all of the things you want, without having to leave some out of the picture.
Warranty
Another important thing you should take into account is the warranty. When buying a TV, you may see different options out there. Some manufacturers may offer a 1-year warranty only, but others can offer a 3-year or even 5-year warranty. Having a TV with an extended warranty is a great idea, but make sure to check it all before making a purchase.
Other things
There are additional things to consider, such as HDR and sound. If you want to see all those true to life colors on your new TV, then you should go for HDR. Let's explain it a bit. HDR stands for "High Dynamic Range". In other words, this means you'll get increased brightness and more colors that you can't get if you buy HD or 4K Ultra HD set.
When speaking of sound, even the most expensive TVs can't brag with rich sound. So, you have a couple of things you can do. You can get a surround system or you can go for a soundbar. If you want to avoid clutter, then a soundbar is a thing for you. Of course, this means additional money you are going to spend, but you can do that over time, not right away.
Budget and deals
Last but not least is the budget. While there are some pretty expensive TVs out there, especially those that are bigger, you may find a ton of affordable ones, even with 4K resolution. Also, you should keep in mind that discounts and deals are all around the place. You only need some patience on your side and spare time to look for deals. Follow what's going on and you may catch a sale that is coming or some special discounts and deals for certain holidays.
Wrapping it up
All of the things we have listed here may sound like a lot. But, it isn't. It won't take a lot of your time to figure out what you do want and what you don't want and what you can afford at the moment. Remember, most of the TVs out there are smart ones, so you can expect to have a lot of fun right away. Just consider a few additional things and you will be ready to go. Don't forget to look for sales, discounts and special deals as you may fetch some amazing TV at an affordable price.
---