Homebezz is supported by its audience. We may get a commission from retail offers
4K TVs are also known as Ultra HD TVs or UHD and all major players are offering these sets like never before.
4K TVs are also known as Ultra HD TVs or UHD and all major players are offering these sets like never before. The technology is constantly improving, with people viewing 4K content from Netflix and Amazon as well as Blu-ray discs and gaming consoles. The number of pixels on the screen, as well as the pixel quality, is important. Latest features include HDR and Wide color gamut, which add to the pixel quality. 4K TVs come with 4 times the pixels of the previous 1080 pixel screens. They also use HDR and WCG technologies. Here, we are going to list the best 4K TVs.
See also: Best Wireless Chargers For Galaxy Note 8
Top best 4K TVs
The Best from Samsung and a Joy to Use
Samsung Q9FN Smart 4K Ultra HD QLED TV (2019), 64.5 inches
It comes with a simple stand assembly, but you can also flush mount it to the wall. You can use the company's One Connect box for connections. Connect it with the Android or iOS app and connect your television to the internet. It has an anti-reflective screen with Direct Full Array LED features. The screen has a resolution of 3840 x 2160 pixels in 4K Ultra HD. It supports HDR Q HDR Elite Max. The sound system is a Dolby Digital Plus and is powered by a quad-core processor.
It comes with an automatic game mode, analyses game content and increases the brightness. The Ambient Mode makes the TV take on the colors of the surroundings in a kind of disappearing act. The Tizen OS enables apps to load and play pretty quickly. Bixby is your voice assistant and the search results are quite good.
The backlight system is a FALD one, with 500 zones local dimming, offering one of the most advanced LED televisions available today. The black levels are great and so is the overall contrast. Images are bright and HDR highlights are intense. A new Q Contrast Elite anti-reflective coating enhances performance in dark as well as bright rooms. Samsung Q Color also offers a bigger color array and volume. It offers support for HDR10; HLG and HDR10+ standard. There are nearly 100 titles of the last category now available on Amazon Video. It can reach about 2000 nits as maximum brightness.
Who is it for?
Those who want a TV that is simply joyful to use and a well-rounded one with a killer picture.
Those who want a 4K TV that is simple and easy to set up, without hiccups.
Those who want an engrossing, engaging and an enchanting TV viewing experience.
A great TV for gamers, as there is very little input lag and it is extremely responsive.
See it on Amazon
Stunning and Gorgeous Picture Quality
LG C8 OLED 4K HDR AI Smart TV (2019), 65 inches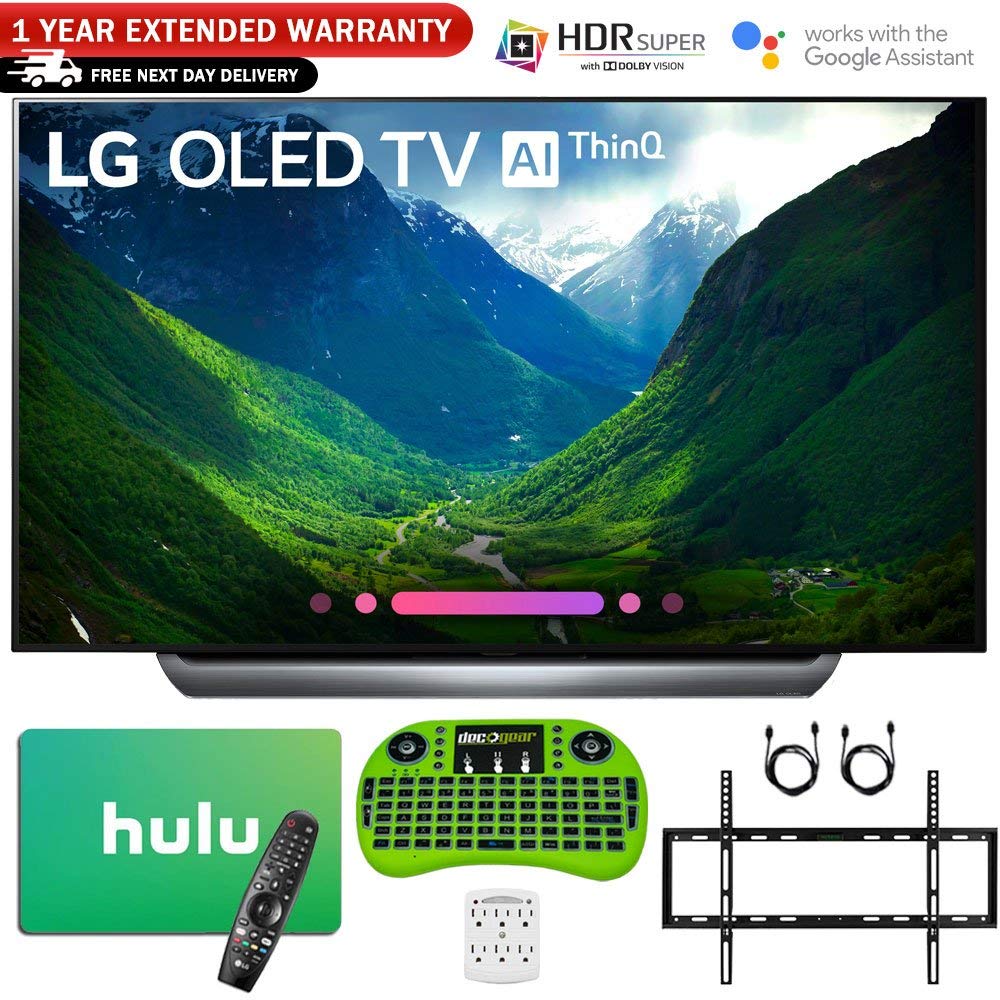 It's a showy design with a long metal slab curving forwards, for redirecting the sound from the speakers that fire downwards. There are the usual inputs, HDMI ports that support 4K and HDR. There is also a Magic Remote, which is an ergonomic wand with standard buttons; menu scroll; along with other features for controlling the cursor on the screen. Inputs include 4 HDMI; 3 USB; 1 RF and 1 Composite in; along with 1 Ethernet; 1 Optical; 1 Mini Jack and one Audio Return channel through HDMI.
The LG webOS is also functional and intuitive. It is powered by the Alpha 9 chipset and offers excellent sharpness and color. One new feature is the Dynamic Tone Mapping, which makes static signals more dynamic. It supports several HDR formats, like the standard HDR10; the Dolby Vision; the HLG as well as Advanced HDR from Technicolor. The peak brightness is about 800 nits. The dimensions are 57 x 34.7 x 9.1 inches and the weight is 56 pounds.
The OLED TV has pixel-level luminance with precision, bettering even the FALD system seen in other top end LCD televisions. The LG C8 does not struggle either with brightness or with dark detail. Viewing angles are excellent, so you can sit anywhere in the room and watch it without losing out on color or clarity. The sound is the best feature of this TV, with the Dolby Atmos, offering an excellent sense of space.
Who is it for?
Those who want a 4K Ultra HD TV with Dolby Atmos sound and crisp, sharp pictures.
Those who want a TV in a fancy design combined with the best performance, offering good value for money
Excellent for gamers as well.
See it on Amazon
Enjoy a Truly Cinematic Experience with Dolby Atmos Sound
LG Electronics 65SK8000PUA 65 inches 4K Ultra HD Smart LED TV (2019)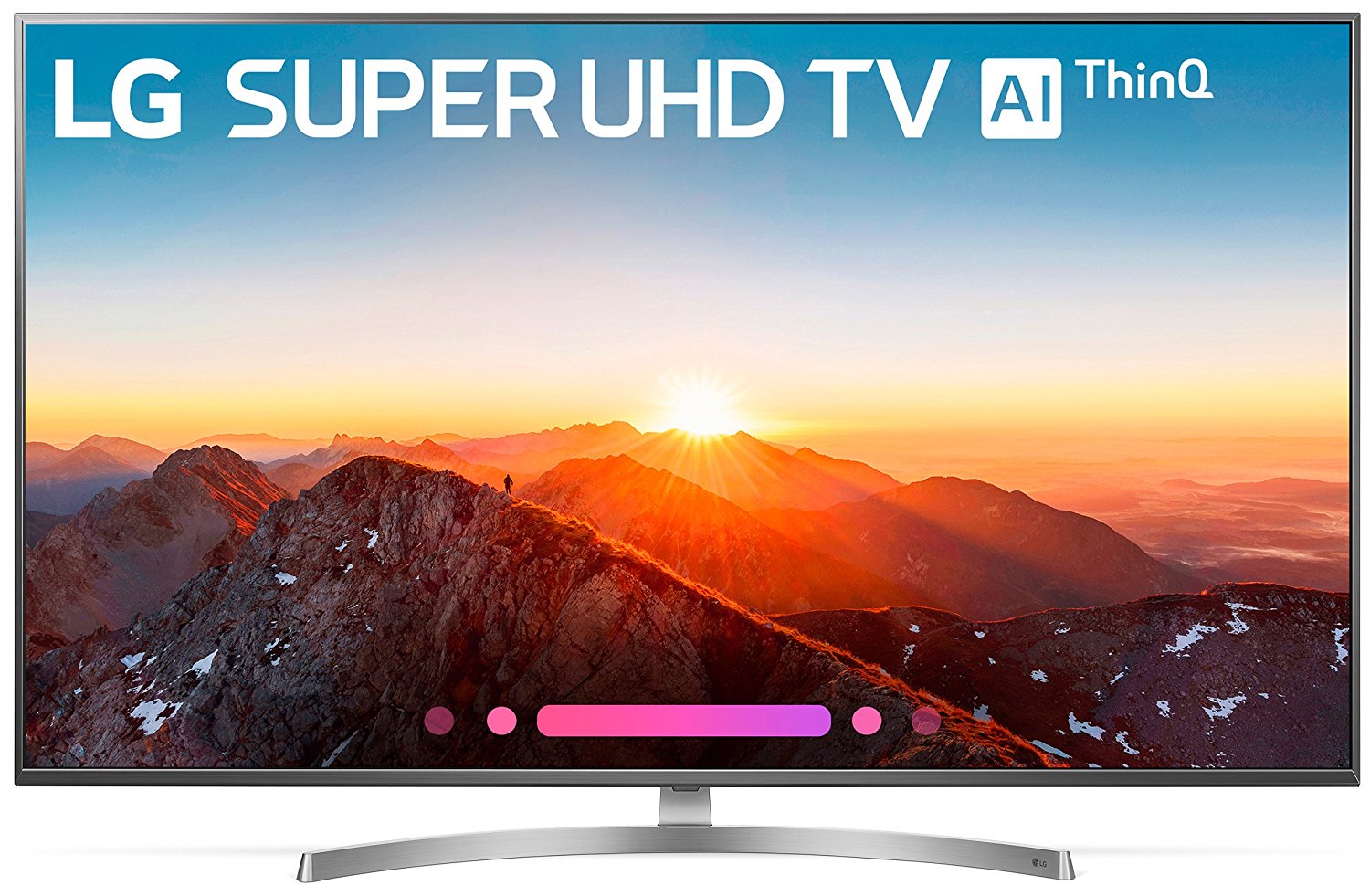 It has the Google Assistant built in it, so you can control your smart home gadgets using the Magic Remote available with the television set. It also works with Amazon Alexa devices. The smart 4K TV makes use of an A7 chipset.
It offers a cinematic experience, with accurate colors, clarity, sharpness and detail. The dimensions are 57.3 x 33.2 x 2.5 inches (WHD) without stand, and it weighs 57.8 pounds. The 65 inches screen comes with a resolution of 3840 x 2160 pixels with 4K Super UHD (216 pixels). Sound effects are Dolby Atmos and it comes with 2 speakers. It has 3 USB ports with 4 HDMI; 3 USB; 1 RF: 1 Composite in; 1 Ethernet; 1 Optical; 1 RS232C; one Audio Return Channel Support through HDMI. It is supported by AI ThinQ features and supports HDR formats along with Dolby Vision; HDR10; HLG using the company's advanced tone mapping technology.
Who is it for?
Those who want a smart 4K TV with low input lag and a quick response time, with decent picture quality.
Excellent for gamers
Also for those who want to control their TV with Alexa.
Those who want a cinematic experience while watching television.
See it on Amazon
True HDR at a Reasonable Price
TCL 55R617 4K Ultra HD Roku Smart LED TV, 55 inches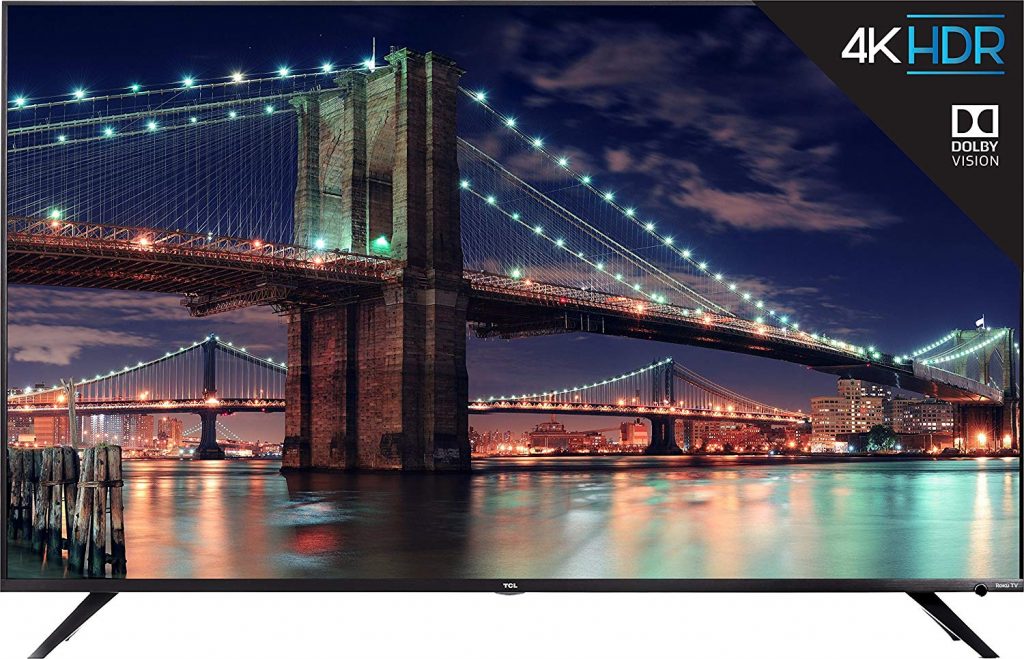 It can easily be mounted on the wall using the VESA mount, but it's not exactly a disappearing type of design.
The remote control works using Bluetooth, but the TV does not support other Bluetooth devices; so, you cannot stream music from your mobile device. However, there is a 3.5 mm headphone jack seen on the remote, so that compensates for it.
TCL makes use of the Roku Operating system offering an excellent presentation of content and easy navigation features. The remote is similar to the typical Roku remote and is simple and effective. It also offers support for voice command and has an output jack for listening to audio using headphones.
The display technology works with SDR as well as Dolby Vision or HDR10 material. Brightness is above average entry-level televisions in the market and colors are also accurate.
The dimensions of this TCL 4K Smart TV are 48.5 x 28.1 x 2.9 inches (WHD) with the stand. It comes with the Smart Functionality offering access to several channels streaming on the Internet using Roku TV. You can watch 4K Ultra HD pictures combined with Dolby Vision and HDR for lifelike images. As for the inputs, there are 3 HDMI 2.0 ports with HDCP 2.2; one USB; one RF Composite; one Headphone jack; one optical audio out and Ethernet.
Who is it for?
Those looking for a mid range 4K television offering decent pictures, color and HDR performance.
Those who want a 4K TV with a good OS that is easy to use.
Those who want a true HDR television at an affordable price.
See it on Amazon
Budget Tier Hardware for a Smart TV OS
Toshiba 55LF621U19, 4K Ultra HD Smart LED TV, 55 Inches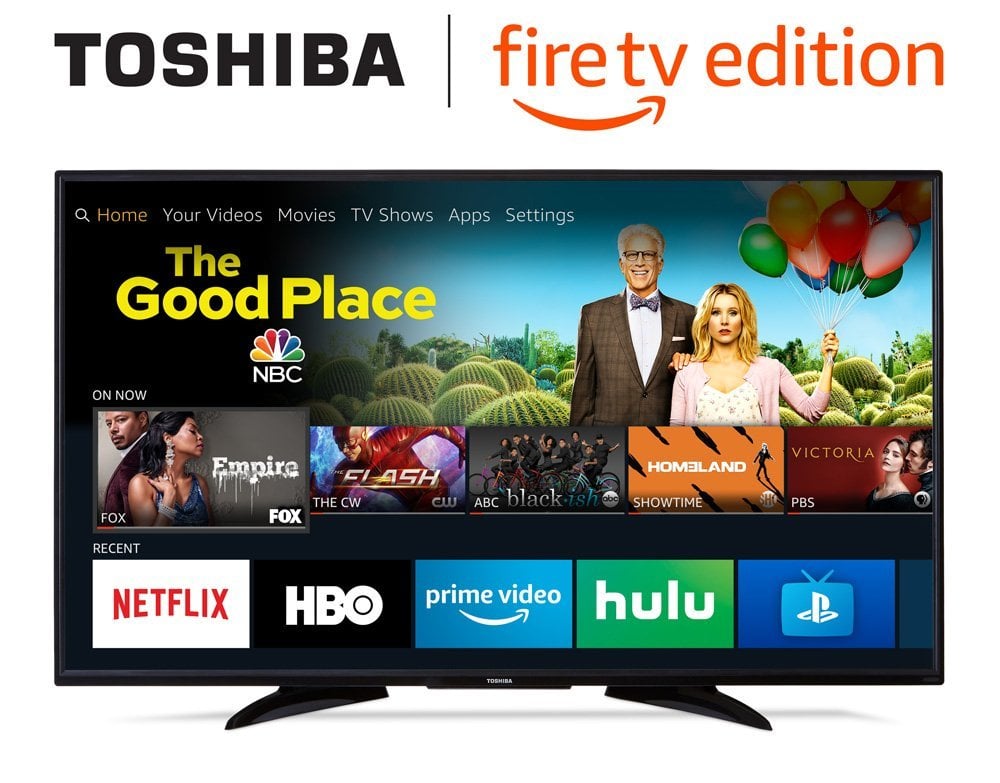 This is a reasonably priced 4K TV with Amazon Fire TV as well as Alexa functionalities. The screen size is 55 inches and the resolution is 3840 x 2160 pixels. It supports HDR10. As for ports, there are 3 HDMI ports and 1 USB port, all of which are visible and accessible. The dimensions of the Toshiba 4K TV are 49.1 x 28.7 x 3.7 inches with the stand and it weighs 33.1 pounds. You can watch true to life 4K images with 8 million pixels, offering good clarity, contrast and colors.
The outer design is a thick plastic cabinet. It comes with smart features using Amazon's Fire TV operating system and has a home screen that is easy to navigate. There are many content recommendations. Alexa comes built-in with the smart TV, so you can use the assistant for searching for content, adjusting the settings, volume, picture settings, apps and also control other Alexa enabled smart home devices.
It makes use of direct LED backlighting and offers HDR10 support, though there is no support for Dolby Vision. Viewing angles are decent and color reproduction is accurate and rich. It has two 10 watt speakers having DTS sound, offering good sound quality. It comes with a remote having all the usual dedicated buttons and controls.
Who is it for?
Those who want an affordable 4K TV option with benefits of Alexa voice assistant and Fire TV streaming media.
Those who want the best, budget, Amazon Branded 4K TV with a reasonable quality of hardware.
See it on Amazon
Sleek, Modern and Impeccable with Best Picture Quality
Samsung Electronics QN75Q7F 4K Ultra HD Smart QLED TV, 75 inches (2017 model)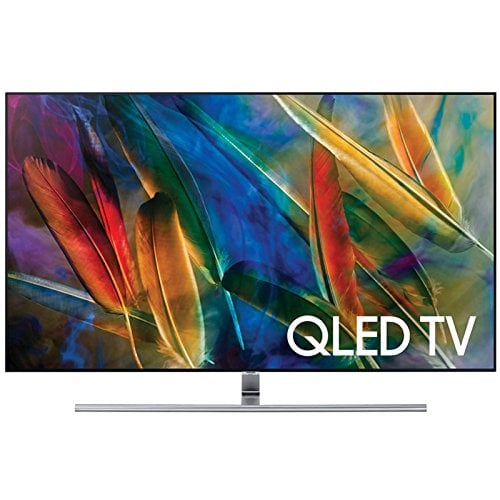 There's a lot of innovation in the design and the features. The wiring is nearly invisible and it also offers an optional wall mount (no gap), which is very easy to install. It has an infrared blaster that comes built-in with the OneConnect box, whereby the remote signals can even reach gears that are hidden in cabinets.
It streams 4K with HDR for Netflix and Amazon content along with the TV Plus App. The UltraFlix app comes with some excellent 4K content. All other major applications like Hulu and HBO Go and HBO Now are also on board. You can access additional content by using Apple TV or Roku.
The display technology used is LED and it uses the Tizen smart TV technology. Samsung mainly touts its QLED or Quantum Dots technology to offer better color and brightness. It has been designed with a bezel-less screen and looks gorgeous from all sides. The screen offers support for HDR content, in the regular HDR10 format and also the HDR10+ format. However, there is no support for Dolby Vision HDR.
As for ports, there are 4 HDMI ports and 3 USB ports; one Ethernet; one Optical digital audio output; one RF input and a Remote port. All the connections are housed in the OneConnect box with its own separate power supply. The dimensions are 65.8 x 16.1 x 41.2 inches and it weighs 94.6 pounds.
Who is it for?
Those who want invisible cabling or wiring and clean looking installations in their smart 4K televisions.
Those who want an excellent design, where they can easily stash away connected gear in a cabinet for aesthetics.
See it on Amazon
Other models worth buying
Best 4K Tv With Amazing Color And Contrast
Samsung Electronics UN75MU6290 4K Smart LED TV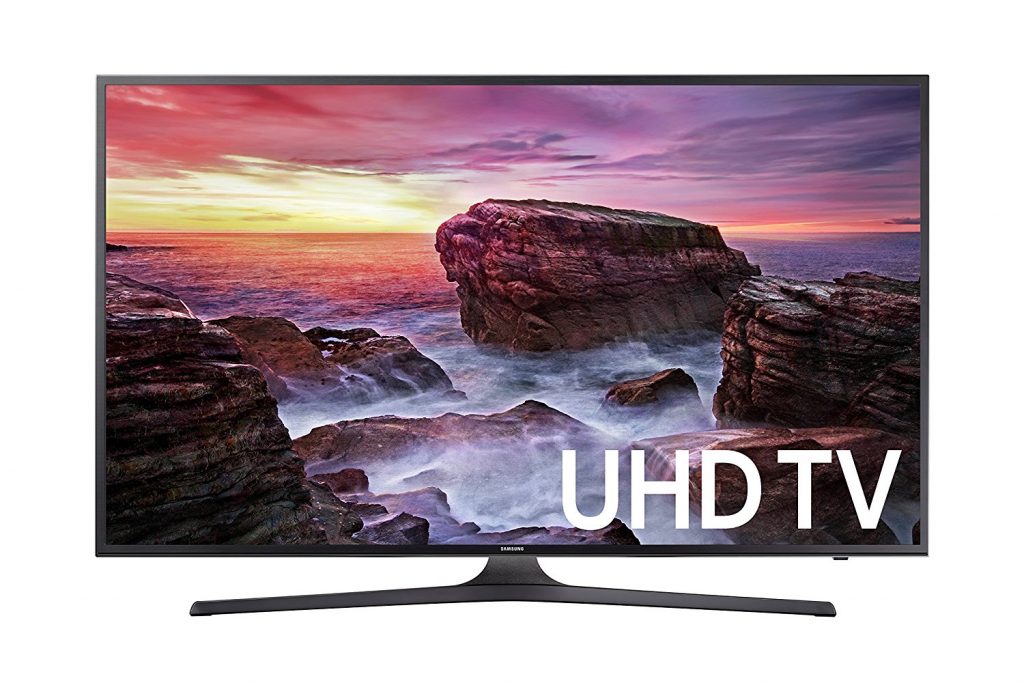 Expect the resolution and clarity of a 4K television to be superb. The colors look lively and pure which make the pictures look realistic. Besides the colors, the contrast is amazing as well. The transition from day to night or dark to light is distinct.
The 4X quality is easily distinguishable from the one on a regular TV. It offers a Motion Rate of 120 so the fastest scenes are depicted in a smooth and clear way. The apps let you enjoy the music, movies and shows through your favorite entertainment channels. You have choices available from 40 inches to 75 inches.
Best 4K TV With Amazing Features Like NBP Photon Technology
TCL 55C807 Ultra HD Roku Smart LED TV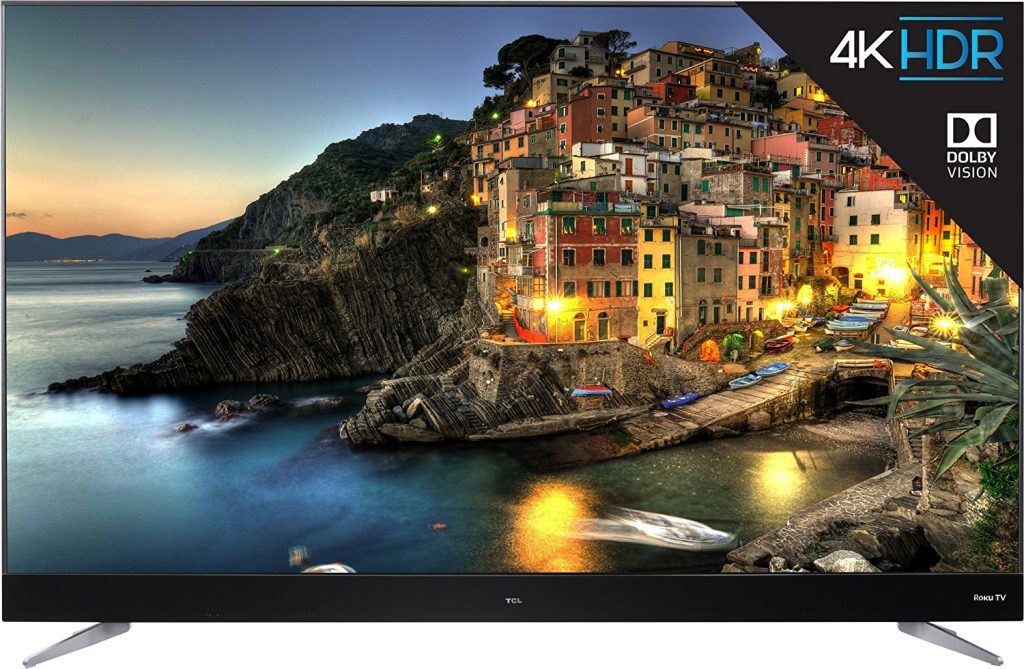 TCL gives you the experience of Dolby Vision through a super slim screen. You get HDR experience with advanced technologies accurate colours, brighter and superior picture quality. It features NBP Photon technology, nearest to the colour palette of human vision. The design of the television is modish – the trim metallic frames and sleek lines give it a contemporary look. Even the back has been beautifully concealed with a cloth grill.
Your favourite programs are located at your fingertips and you don't have to browse through complicated menus. There are more than 4,000 channels to stream from different genres. TCL gives you the option to plug in headphones and voice search and listen to videos or music through your TV. The remote has a clear interface and there is a headphone jack in it for voice search and easy navigation. These superior features make it one of the best 4K TVs to buy this year. You have three options in sizes – 55-inch, 65-inch and 75-inch.
One Of The Top Best 4K TV From LG With Rich Color and Contrast Ratio
LG Electronics 65UJ63004K Ultra HD Smart LED TV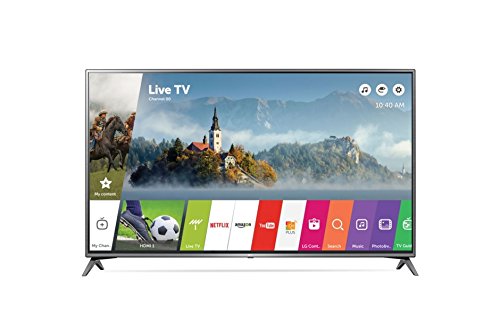 We already know how LG has been enhancing customer experience when it comes to electronics goods. The Active HDR feature alleviates the HDR experience by optimizing the content in every scene. Every picture is clear and its colours are rich – the dark is darker and the bright is brighter. Active HDR also supports backward compatibility so you get to see natural pictures with advanced colours. Any type of colour distortions is corrected by the Colour Accuracy so you get to see life like original colours. Also, in-plane switching used by IPS technology delivers rich colours so a specific contrast ratio is maintained while watching the television from different angles.
You can use the famous apps such as Netflix to stream videos and view it in 4K HDR. You have access to more than 70 premium internet channels that you get through the LG Channel Plus app. Users should, however, contact their internet providers to check the required bandwidth for streaming videos. Netflix has strict criteria while being featured on TV and this is TV from LG is one of their recommendations. You get new features and easy access to apps that will let you experience a whole new level of modern television.
Best 4K TV From Sony With Amazing Sound Quality
Sony4K KD70X690E Ultra HD Smart LED TV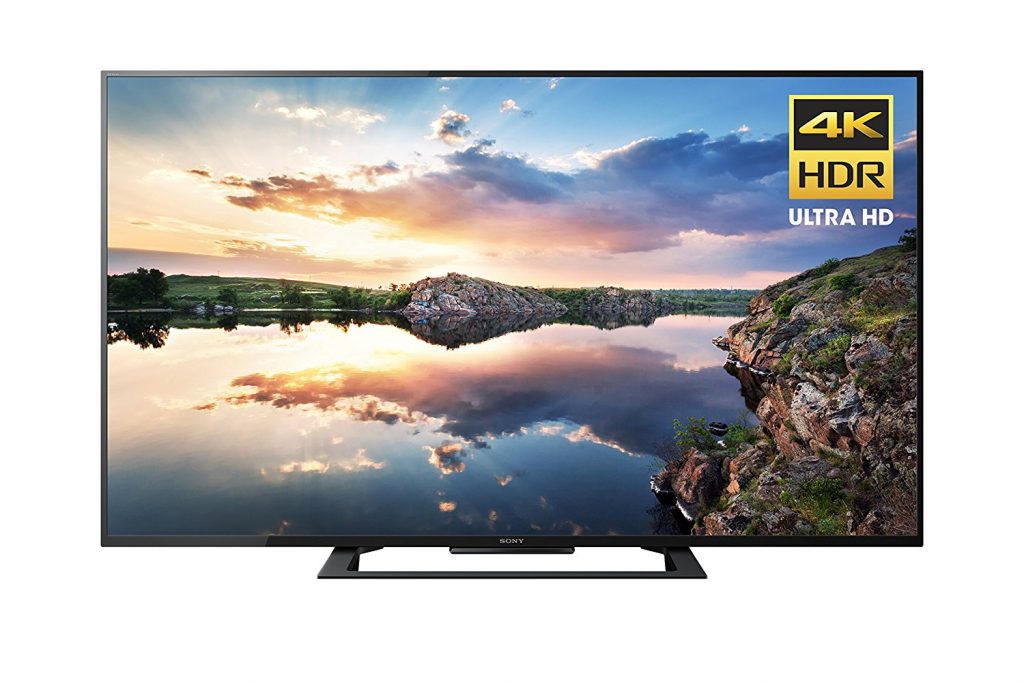 This model from Sony TV is among the top best 4K TVs to buy in 2021. Select between three screen sizes of 50-inch, 60 inches, and 70 inches to enjoy superior quality pictures with amazing sound to compliment it. When HDR comes together with 4K UHD, the images that you see on your television are absolutely amazing. From delivering brightness in your screen to showing off the lively colors of the picture, this television from Sony promises rich viewing experience to its viewers.
You can observe every little detail which gives you a life-like experience, there is a huge difference between a regular TV and this 4K TV from Sony. All the images are upscaled through the 4K X-Reality so you get clear, smooth and natural pictures. The Dynamic Contrast Enhances brings out the texture in the images and makes every scene more vibrant and lively – the blacks are at their deepest and the brighter colors are close to their natural shades. On the remote, you have the buttons to access your favorite entertainment channels – YouTube and Netflix.
Best 4K TV With A very Clean Design
Samsung Electronics UN65MU90004K Ultra HD Smart LED TV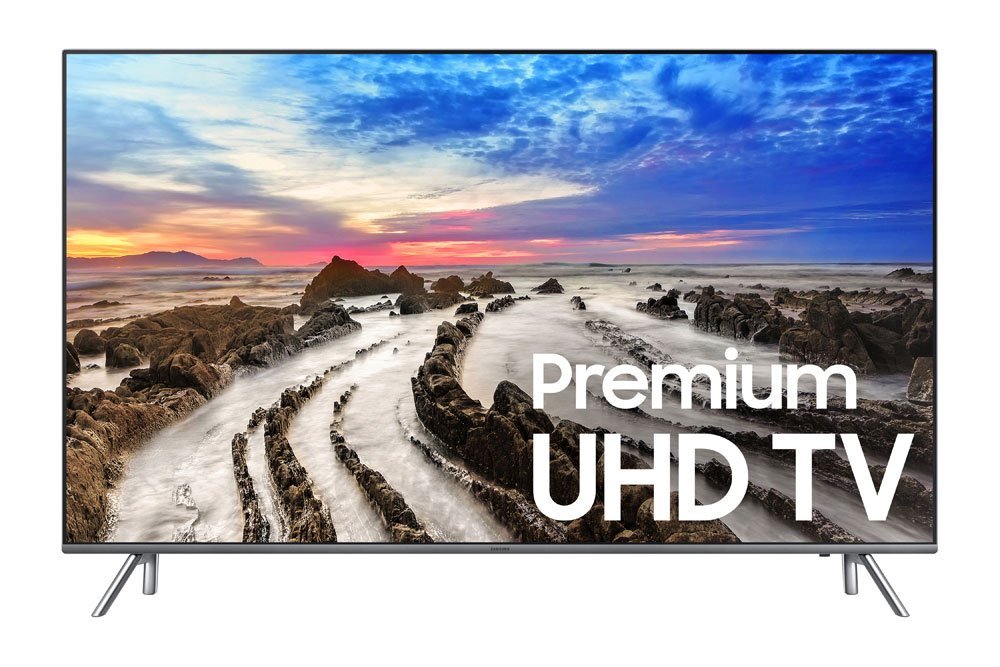 This is yet another model from Samsung that is definite to capture your heart. Every scene witnessed through the screen of this television is breath-taking and life-like. It offers expanded color and depth to every picture displayed and there is a distinct contrast between light and dark. The shades that this TV offers are much more than what the other TVs offer. It promises triple black extreme and brings out the tiniest detail in the scenes despite them being dark.
You get a motion rate of 240so you can enjoy all action and fast sequence scenes with clarity. Another unique feature of the TV is that the chords come out through is stainless steel stand which gives your space a clean look. The One Connect eliminates the need for extra HDMI wires so you have just one device that sits beside your TV. The sound is perfect and gives you the most amazing experience.
One Of The Best Budgeted 4K TV From Vizio
VIZIO E70-E3 4K UHD HDR LED Smart TV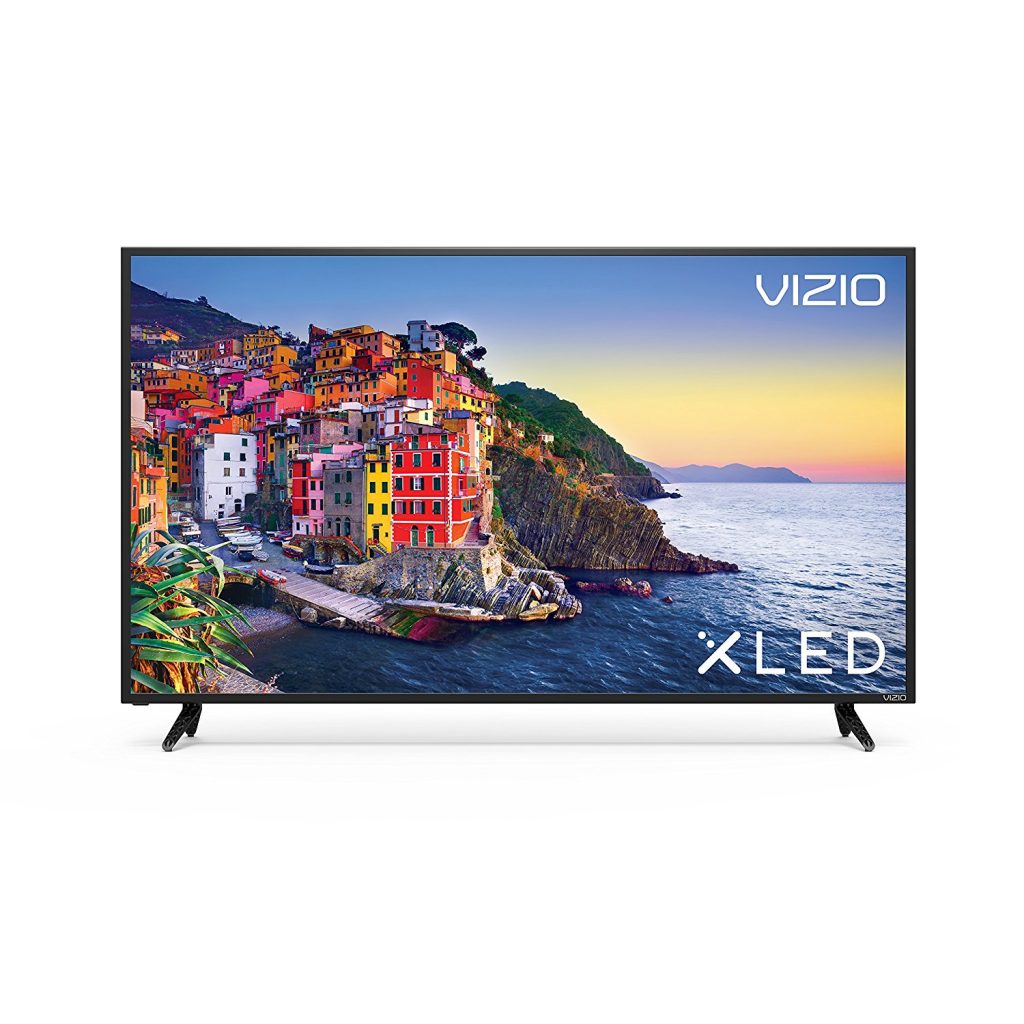 The bright colors and sharp pictures of VIZIO E70 look amazing. For all those who are looking for a budgeted Smart TV with the 70-inch screen then this is what they should opt for. You can have your phone connected within seconds. Once done you can stream your content to your TV. The minimal remote is perfect for handling all the channels. This model from VIZIO is among the best 4K TVs to buy if you are opting for a budgeted one.
Conclusion
4K TVs pack in more pixels in the same screen size, giving a sharper and clearer image with more detail, almost appearing like a 3D image, though it is not. Specifications to look out for are contrast; black levels; brightness; input lag and sound quality of the built-in speakers, among others.
Frankly speaking, it makes sense to buy a 4K Ultra HD television, as they are really good, offering excellent picture quality and HDR features. Even if you're on a budget, there are plenty of options that are priced under $1000. The ones that are featured in this list are a mix of the most advanced and most expensive ones as well as reasonably priced ones. Adoption of 4K technology has recently exploded in the US with most of the new televisions being announced this year being 4K ones. Even the budget televisions are offering a decent 4K experience.
---