Homebezz is supported by its audience. We may get a commission from retail offers
Mirrorless cameras are different from DSLRs and these mirrorless ones are increasingly being used by both amateurs
Mirrorless cameras are different from DSLRs and these mirrorless ones are increasingly being used by both amateurs and professionals. This is because they come in a smaller size, they are lighter and offer great features. DSLRs are bulkier and more complex; so, many people upgrading from smartphone photography prefer to use mirrorless cameras. The main benefit is that these cameras come with interchangeable lenses, unlike the compact point and shoot cameras, which can really change your photography. Let's take a look at some of the top best mirrorless cameras in this article.
See also: Best dash cams 
Best Mirrorless Camera
Full Fledged Mirrorless System with 4K Video
Canon Mirrorless Camera EOS M50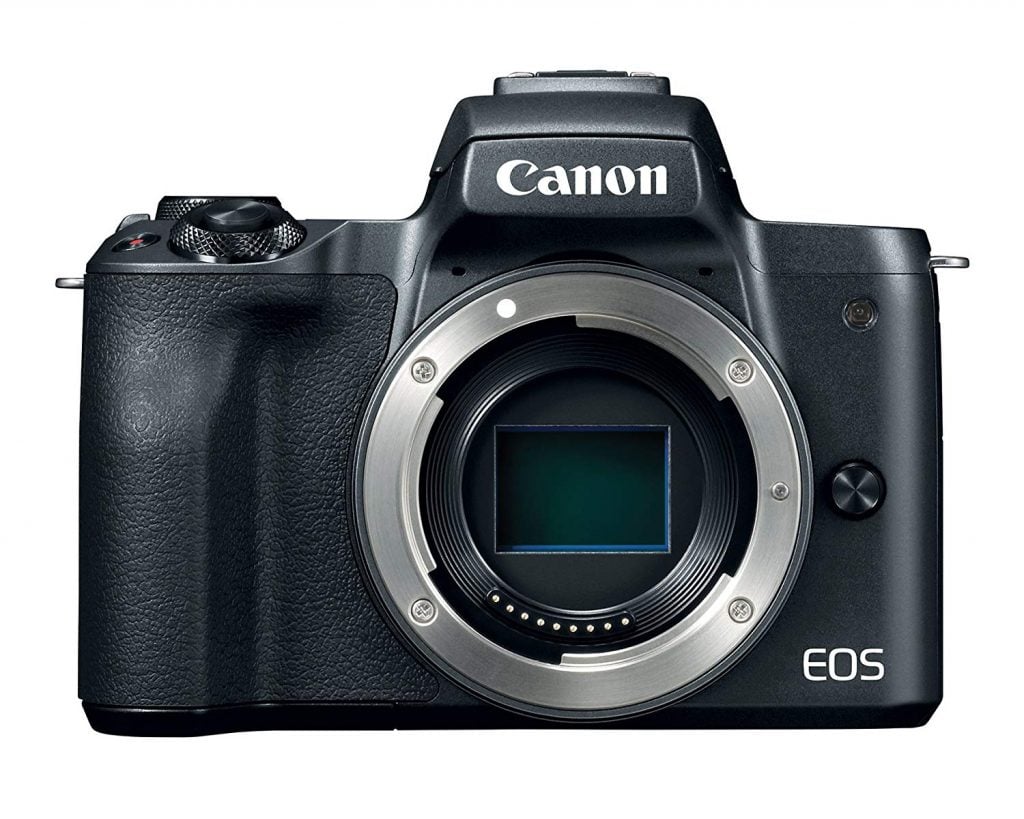 The dimensions of the Canon EOS M50 are 4.6 x 3.5 x 2.3 inches and it weighs 13.7 ounces. The lens has an EF-M of 15 to 45 mm, with f/3.5 to 6.3 IS STM. It offers an optical zoom of 3x and a maximum aperture of f/3.5 to 6.3. The sensor is 24.1 MP APS C size for capturing photographs and videos. This results in crisp, sharp and detailed pictures that are accurate and vibrant. Noise levels are kept to a minimum, even under low light conditions.
The EOS M100 is the entry-level one, but the M50 brings in additionally an electronic viewfinder along with an LCD that swivels fully and a hot-shoe. The ISO ranges from 100 to 25,600 and this can be expanded up to 51,000. It offers 4K video capabilities with excellent stabilization, with 24p and 120p HD to record slow motion. You can share the pictures with the use of the Camera Connect app for Android as well as iOS. As for battery life, it offers about 235 shots under normal modes or shooting 85 minutes in case of video.
The EVF is sharp and clear and the LCD touchscreen shows excellent response. The screen features a touch facility for focusing and shooting. It comes with a 10 fps burst modes that is impressive and useful for shooting action or sports.
Who should buy this?
Those who are looking for a small, lightweight option to DSLR cameras.
For novices, enthusiasts and professionals who are ready to pay the price.
Suitable for enthusiasts who wish to quickly make changes to settings.
The burst modes are suitable for those who want to take plenty of action or sports photos.
See it on Amazon
Entry-Level Mirrorless Camera
Yi M14K Mirrorless Digital Camera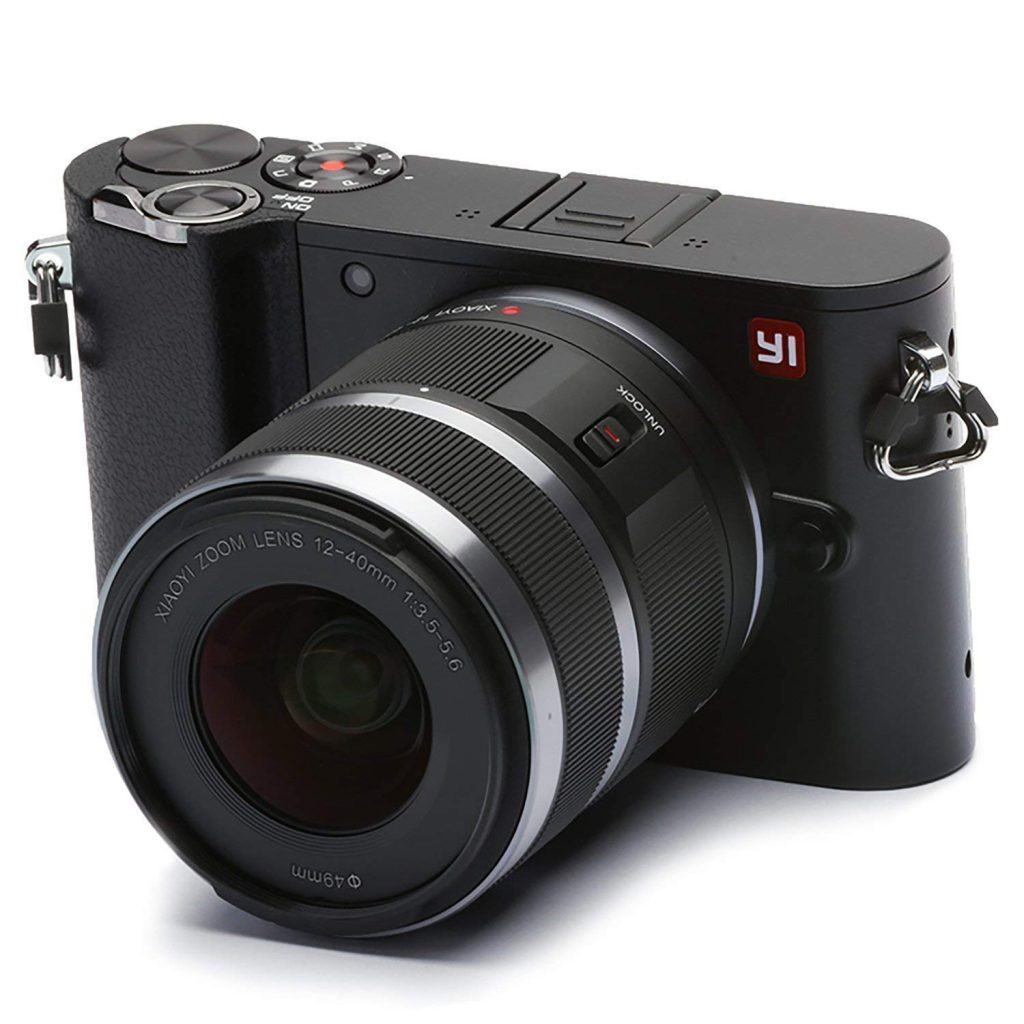 Young Innovators is a Chinese company and the Yi M1 is a 20 MP mirrorless, entry-level ILC camera with 81 point contrast AF system and having the RAW capability. Yi is mainly renowned for its action cameras but has recently launched the M1 mirrorless digital camera. It makes use of a 20 MP sensor having pixelation of 5184 x 3.888. There is an extra image mode that transfers data for creating a 50 MP file. Hence, it is possible to convert the raw files into other imaging programs.
The controls are based on the LCD screen with gesture control features. There are four standard modes, namely the P, S, A and the M mode. Apart from these, there are other modes, such as portrait; landscape, firework. The screen size is 3 inches and it offers 1.94 million RGB dots with the regular LCD screen. The image sensor is from the Sony brand, which is the most reliable in the photography industry. It also comes with built-in  Wi-Fi and Bluetooth LE.
It also makes use of an anti-noise filter that can reduce noise and improve performance. As far as video recording is concerned, it can take 4K videos in UHD resolutions of 3840 x 2160 pixels. There is also an Exotic 2K mode with a pixelation of 2048 x 1536 pixels and a Full HD one at 1920 x 1080 pixels. You can take 4K videos at 30 fps and Full HD mode at 60 fps. It comes with a lens mount that offers compatibility with more than 50 lenses, which can be interchanged easily.
Who should buy this?
Suitable for photographers who are used to handling smartphones.
Those who want a mirrorless camera at an affordable price.
Those looking for a compact, on the go, mirrorless camera with good image quality.
See it on Amazon
Mirrorless Digital Camera Value for Money
Sony Alpha a6000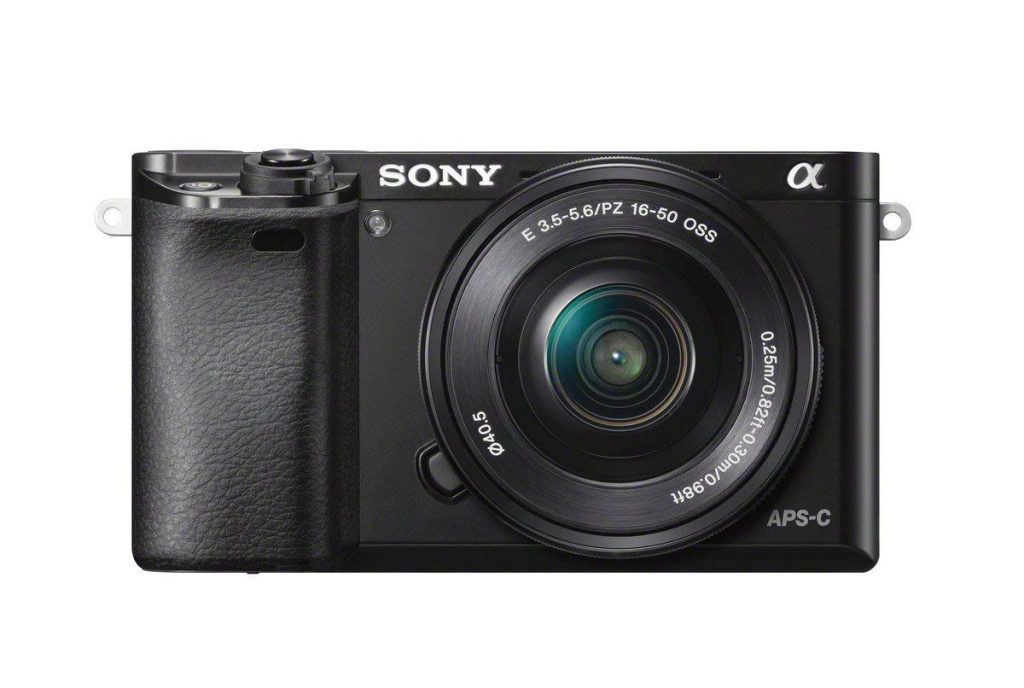 Since the release of the A6300 and the A6500, the price of the A600 has come down quite a bit. It can be considered an APS-C version of A7. It is similar to the Sony A7 and comes with an APS-C CMOS sensor with a pixelation of 24.3 million. The design is an on-chip one that is gapless and this results in increased efficiency. In addition, the sensor contains 179 autofocus points, which are useful for phase and contrast detection. It has a hybrid AF and 179 points focal plane phase-detection feature with 25 contrast detecting points.
According to Sony, the AF is the quickest in the world among APS-C sensors and are comparable with DSLRs and other compact systems. Other features similar to the A7 are the Lock-on AF, the Eye AF and the AF area settings.
The Sony Alpha A6000 boasts of the Bionz X, which is the latest processor from Sony and is three times faster than the previous one. It also offers support for sensitivity speeds up to ISO 25,600, expandable up to 51,200. The LCD screen can be tilted and there is an electronic viewfinder of 0.39 inches. It comes complete with built-in WiFi and NFC and can be customized with apps that you can download, in order to offer greater functionality.
As for battery life, it is about 310 shots. The power zoom is 16 to 50 mm with f/3.5 to 5.6. This camera is offered as a base or body only and you can buy various E mount lenses, with the Zeiss 16 to 70 mm f/4 optics being the perfect all-round lens suitable for it.
There is a quick menu available and buttons can be customized. However, it does not come with a touchscreen.
Who should buy this?
Those looking for a compact digital camera that offers good value for money.
Those who want a feature-packed mirrorless camera at a decent price.
See it on Amazon
True Recording Versatility
PANASONIC LUMIX G7 4K Mirrorless Camera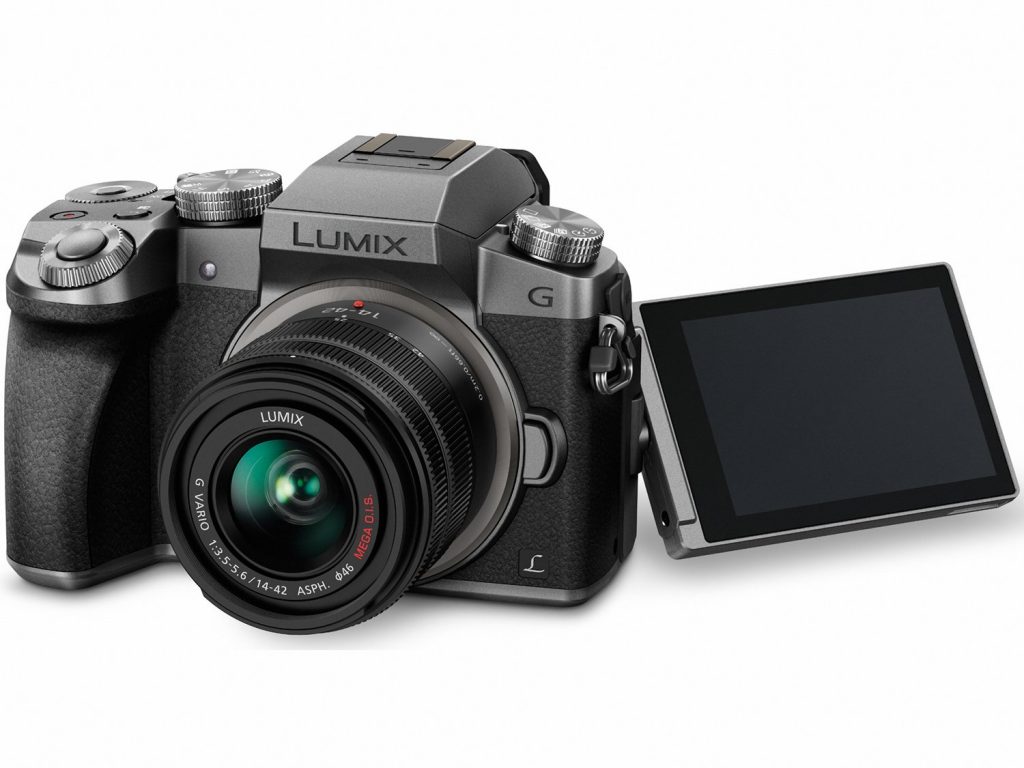 It has an SLR type of mirrorless body type with a maximum resolution of 4592 x 3448 pixels and a CMOS sensor size of four thirds, 17.3 x 13 mm. The viewfinder resolution is 2.36 m dot equivalent and the magnification is 0.70x with a maximum shutter speed of 1/40000 sec and 1/16000 electronic. The viewfinder magnification is 1.4x and the resolution is 2360000.
4K UHD videos can be taken up to 100 Mbps, with 30p/25p +24p. It also features the 4K Photo mode with the Pre Burst mode. The battery life is about 350 shots. The dimensions of the Panasonic Lumix G7 are 125 x 86 x 77 mm and the weight is 410 grams.
It is a camera that comes with interchangeable lens and is a kind of miniature DSLR with all control points available, such as twin control dials. The screen is a touch-sensitive one. The resolution is 16 MP and it offers the capability of 4K UHD videos with focus peaking and warnings for zebra highlights, which is useful for shooting videos. In addition, it features a 4K Photo mode, where you can record videos of 1 second to capture moments. There is the Wi-Fi feature present for remote shooting and for transferring images.
Who should buy this?
Suitable for beginners who want to practice on a mirrorless camera.
Also suitable for professionals or DSLR owners who wish to have a second light and compact camera for shooting videos.
It is a type of scaled-down DSLR, so suitable for people who already know how to control a camera and not for the first time ILC buyers.
See it on Amazon
Compact and Full Features Mirrorless Camera
Olympus OM-D E-M10 Mark II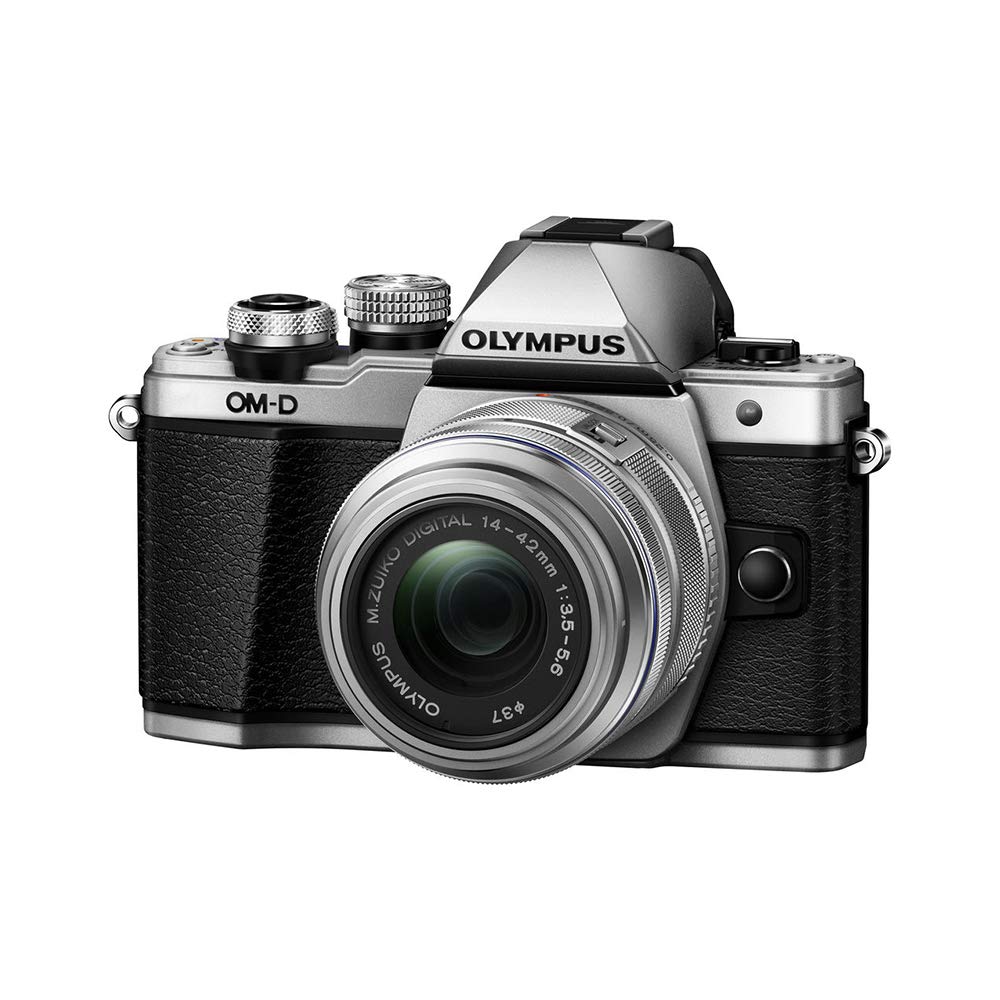 The Olympus OM-D series, E M10 Mark II is a compact camera offering high-quality images. It comes with a 16 MP, four-thirds sensor combined with the TruePic VII processor. The latest additions to this model are a 2,360,000 dot OLED viewfinder that can also act as an optical finder. There is an image stabilizing feature operating on 4 axes. It also offers features of focus bracketing. You can take short video clippings and then join them together to create a dynamic movie. An HDMI output is present for recording on other devices.
It is solid and durable and also very responsive. There is a built-in 5 axis image stabilization feature offering sharp images. In the silent mode, all shutter sounds are eliminated. Burst shooting is available at 8.5 fps. The focal length is 2x and the maximum video resolution is a Full HD at 60 frames per second. The ISO range is 100 to 25,600 and the autofocus points are 81. The maximum burst range is 8.5 fps. It comes with a tilting 3 inches LCD screen that is touch-sensitive and has 1,037,000 dots. The shutter speeds range from 60 to 1/4,000 seconds going up to 1/16,000 with the electronic shutter.
The dimensions are 119.5 x 83.1 x 46.7 mm and it weighs 342 grams. In short, this is a top-quality camera at an affordable price. It has extensive features and is compact enough to keep in your bag. It helps deliver top-quality images even in the most challenging conditions.
Who should buy this?
Those looking for a small, compact but powerful mirrorless camera for taking great shots.
See it on Amazon
Incredibly Advanced Mirrorless Camera
Sony Alpha A6400 Mirrorless Camera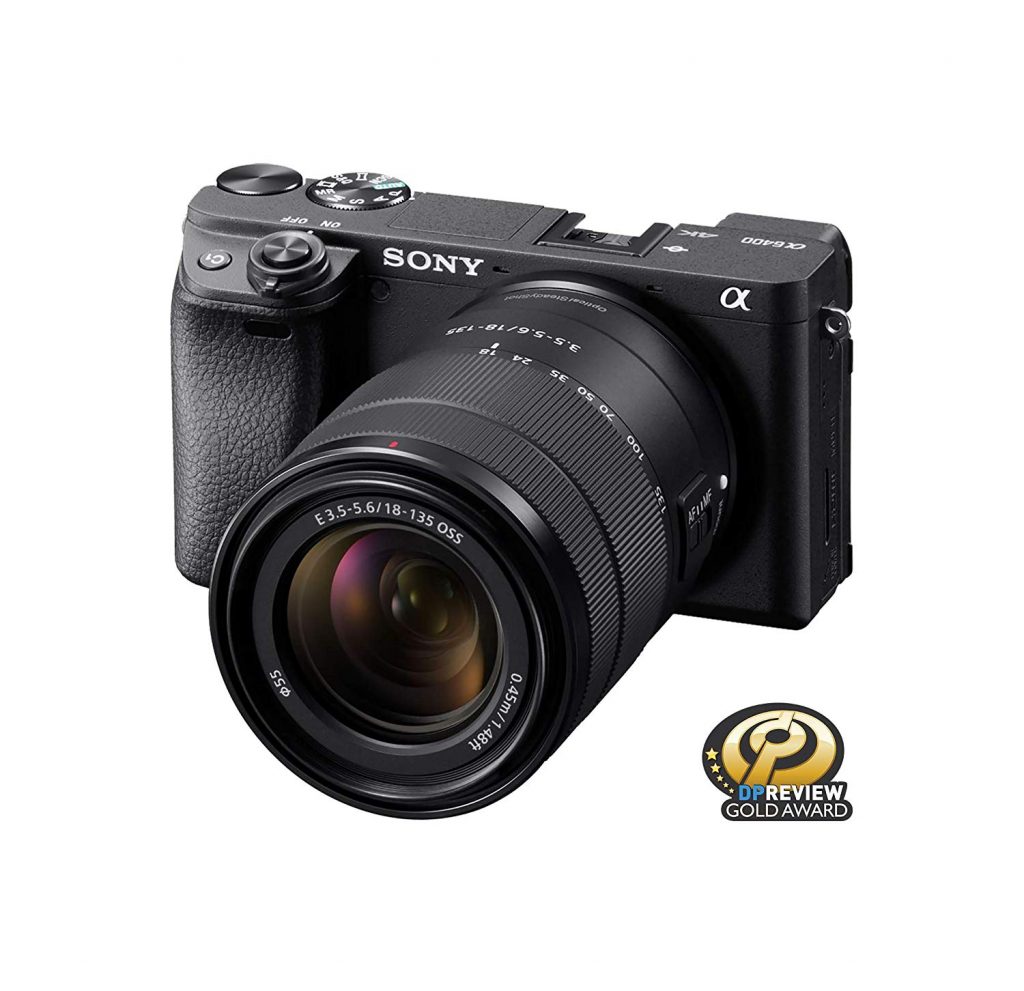 This is an APS-C lineup and is between the A6300 and the A6500, as the name suggests. It has a tilt angle touchscreen as well as an electronic viewfinder. The sensor is 24.2 MP, APS-C CMOS and it has a Sony E mount lens. The touchscreen is 3.0 inches and it comes in a tilted angle with 921,000 dots. Burst shooting can be done at 11 frames per second. It also sports a 4K video shooting feature and autofocus of 425 point AF. As for connectivity, it has Wi-Fi, NFC as well as Bluetooth. The battery life is estimated at 360 shots. It is lightweight and compact at 403 grams.
The ISO ceiling has an upper limit of 102,400. The EVF or electronic viewfinder comes with a 2.36 million dot unit and has a magnification of 0.7x. The touchscreen has a 16:9 aspect ratio and can be tilted up to 180 degrees. 4K videos can be captured at 100Mbps along with a recording of 4K HDR (HLG). There is a microphone jack present and it can be adapted to XLR as well. You can use the company's Imaging Edge app for transferring 4K videos to your phone.
There is also a built-in feature for interval recordings in the A6400, whereby you can set it between 1 to 60 seconds.
The design is similar to the Alpha A6300, but the screen in this one rotates outwards to 180 degrees. It has an amazing focusing speed of 0.02 seconds, which is the world's fastest autofocus, with advanced features for real-time tracking. The EyeAF is also real-time and has been enhanced. The A6400 EyeAF is an impressive feature and offers improvement in speed and tracking.
Who should buy this?
Those who want an excellent, impressive and incredibly advanced mirrorless camera with the excellent autofocus system.
Those who are looking for a sophisticated camera and willing to pay the price for it.
See it on Amazon
Affordable Entry-Level Mirrorless Camera
Fujifilm X-A5 Mirrorless Digital Camera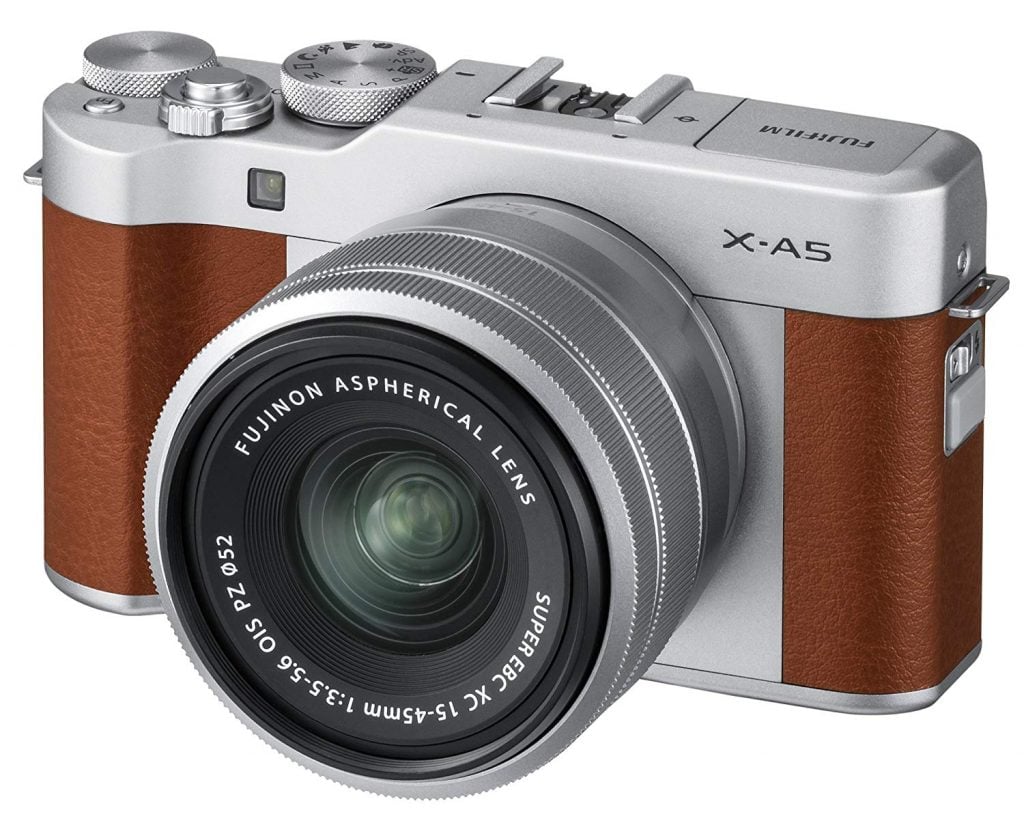 The Fujifilm X-A5 is a mirrorless camera with a maximum resolution of 6000 x 4000 pixels and 24 MP. It comes with an APS-C CMOS type of sensor, 23.5 x 15.7 mm with an ISO of Auto 200 to 12,800, which is expandable up to 100 51,200. The lens mount is the company's Fujifilm X and it has a focal length multiple of 1.5x. The touchscreen size is 3 inches with 1,040,000 screen dots and a maximum shutter speed of 1/40,000 seconds. The dimensions are 117 x 68 x 40 mm and its weight is 361 grams.
The sensor has a hybrid AF system and is very suitable for still shooting as well as video. The touchscreen can be flipped to face forward to take selfies. It also has a microphone input externally. It is capable of shooting burst modes as well. Though it does not boast of the Fujifilm X Trans technology, it has a face-detect autofocus feature. The battery life is good at 450 shots for one charge.
It also has 4K video capabilities at 15 fps for 5-minute clips. You can also take 14-minute clips with 1080 pixels up to 60p and 27-minute clips in 720 pixels. It is integrated with Wi-Fi as well as Bluetooth and has a new lens, 15 to 45 mm with f3.5 to 5.6 offering a motorized zoom, ideal for taking videos. Fujifilm's image processor is one of the best and can be compared with that of Sony and Canon.
Who should buy this?
Those looking for a low cost, mirrorless digital camera with good performance and decent image quality.
Those who want an affordable entry-level mirrorless camera. It is suitable for amateur and social photographers and vloggers.
See it on Amazon
Weatherproof layout in a Mirrorless Camera
Fujifilm X-T2 Mirrorless Camera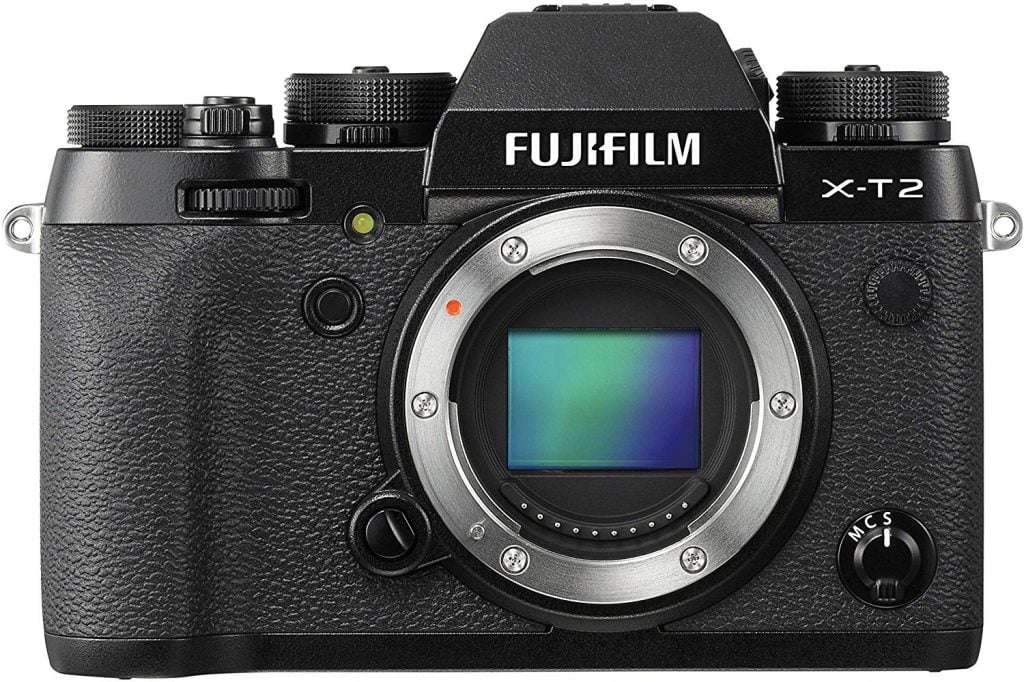 It has a 24.3 MP X TRans, CMOS III APS-C sensor offering excellent image quality. The X Processor Pro enhances response time and reduces noise. The viewfinder is highly precise with 0.48 inches and 2.36 million dots and a magnification of 0.77x. You can take videos at 4K 2840 x 2160 pixels with Full HD. The LCD monitor is 3 inches and can be tilted in three directions, made of tempered glass with 1.04 million dots. The ISO dial can go to a maximum of 12,800 and the shutter speed is 1/8,000 of a second.
The LCD screen is quite flexible but it cannot pivot to the full 90 degrees, so it has limited use.  Weather sealing is ensured at around 63 points and it has resistance to freezing up to 14 degrees F. It makes use of 3 WR zooms and 4 WR primes, so photographers can use the different options during inclement weather. AF algorithms have also received updates, so the tracking performance is improved, as compared to the X-T1. The battery life is rated at 340 shots for a charge.
In short, it has an excellent design and offers a great image quality with advanced 4K video and enhanced autofocus features. It is a great combo of a classic design with high tech processing features. It is a full-featured camera that offers a good user experience even for advanced users.
Who should buy this?
Those who want a tiny, precise, quiet and easy to use, extremely well made, mirrorless camera.
It is capable of being used as a sports or action camera, with enhanced AF. It can handle different types of assignments.
Suitable for taking still photographs as well as videos.
See it on Amazon
Good Value for Money
Sony Alpha a7 Mirrorless Digital Camera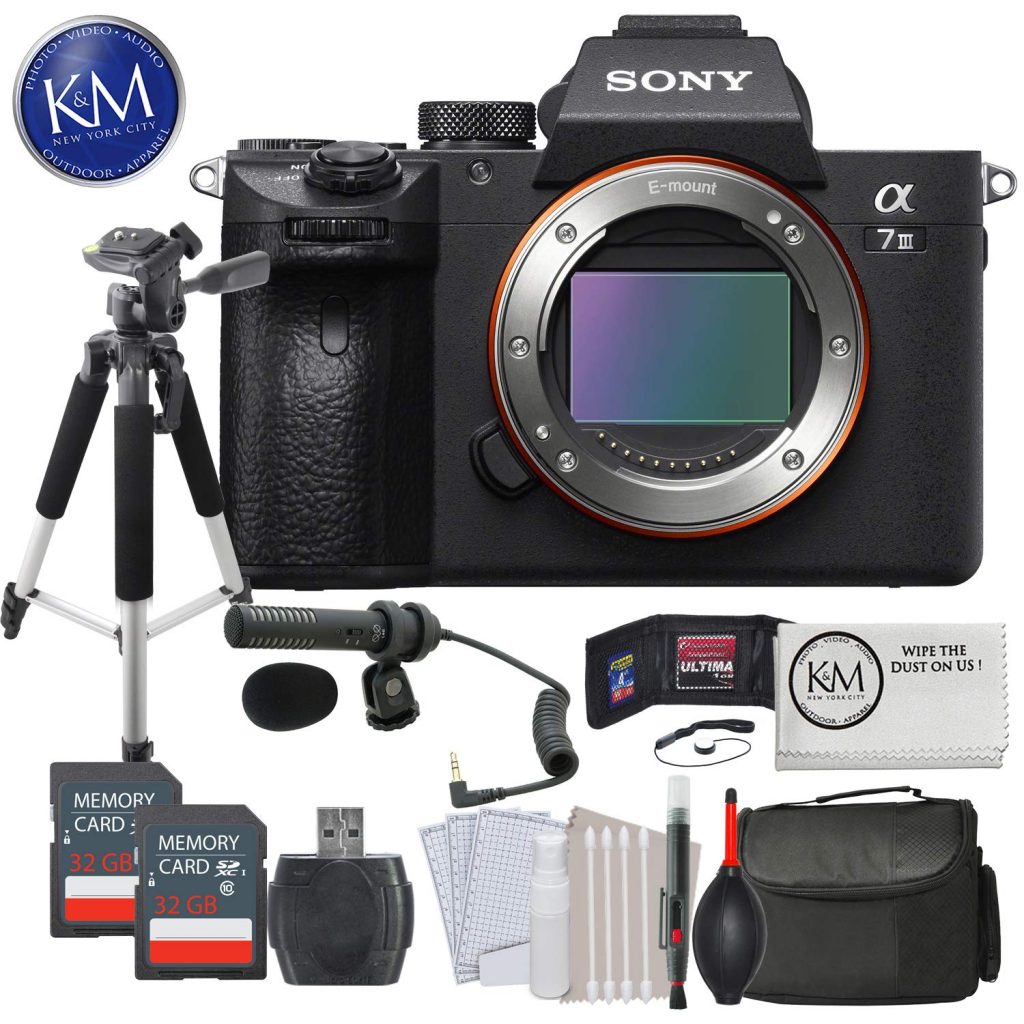 This is a 24.3 MP full-frame CMOS sensor camera with OLPF. It has an E mount supporting FE, E as well as A mount lenses. The processor is Bionz X and it comes in a hybrid AF system with phase detection points of 117. The LCD screen is 3 inches one with tilting capabilities and has 1.23 million dots. The electronic viewfinder has a resolution of 1024 x 768 pixels. You can also record full HD videos at 1080/60p as well as 24 p. You can also record Full HD movies with High 50 Mbps, bit rate, XAVC S21 format. For connectivity, it is compatible with Wi-Fi and NFC as well as downloadable apps.
The Sony Alpha a7 also has an electron first curtain mode, allowing for quite shutter system and reducing vibration for shutter shocks. It also has a weatherproof body. Due to the use of the Hybrid AF, the AF is speedier and you can shoot at 5 fps continuous autofocus.
Sony has used its latest processor, the Bionz X, which is very powerful and sophisticated. The chipset offers context-sensitive noise reduction abilities resulting in enhanced image renditions. It comes with an E mount, so you can use the FE series of Sony lenses. You can also use the present E mount lenses.
Who should buy this?
Those looking for an excellent mirrorless camera from a top manufacturer.
Those who want a compact system camera having full-frame sensor.
See it on Amazon
Entry Level Simplified Model for Novices
Canon EOS M100 Mirrorless Camera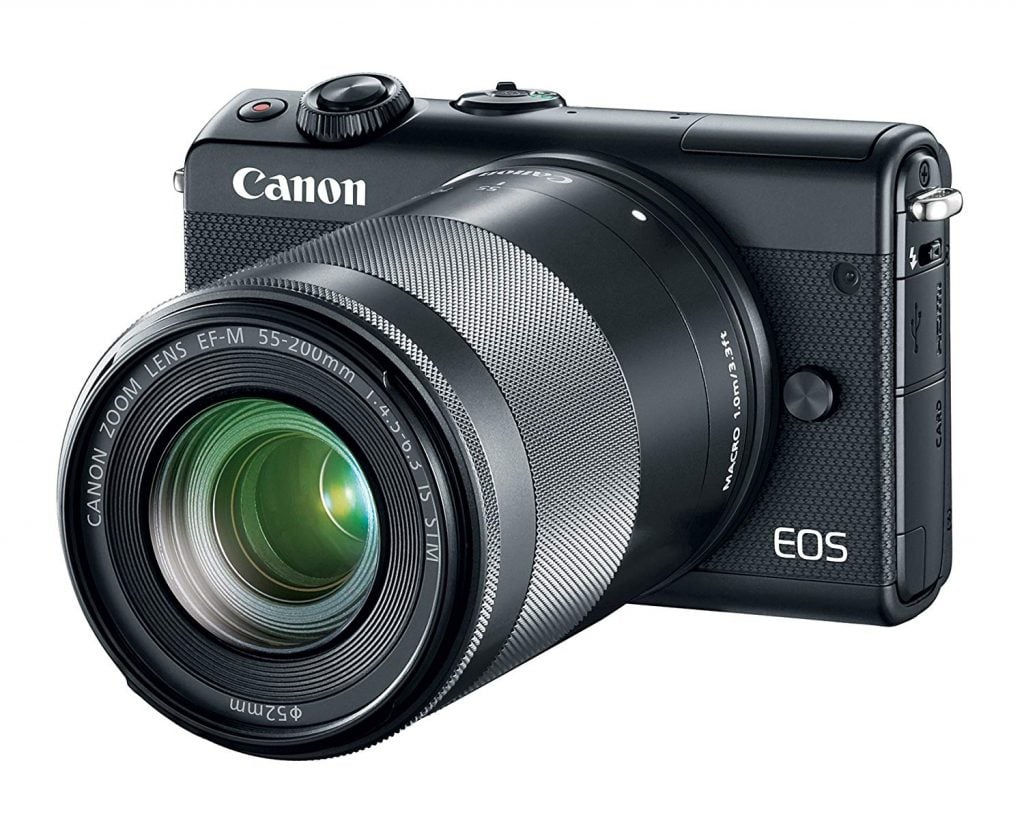 The Canon EOS M100 is an entry-level camera in the EOS M series. The controls are simple and it has a touchscreen interface that is similar to smartphones, including a selfie pivot that flips up to 180 degrees.
You can easily use the camera to share pictures on social networks, using the built-in Wi-Fi, NFC and Bluetooth LE connection for transferring images to your phone. The camera comes with a 24 MP APS-C Dual Pixel, CMOS sensor and offers excellent images and quick autofocus capabilities.
One thing to note is that this camera does not have a viewfinder. So, you will have to use the tilting rear screen to compose pictures. You can take Full HD movies, but not 4K. You can take videos at 1920 x 1080 pixels Full HD. You also get a 15 to 45 mm retracting kit lens. The display is interactive and intuitive, with several semi-automatic modes for landscapes, portraits, HDR and Fisheye effects, etc.
Image quality is good with great resolutions and decent performance in low light conditions. The dynamic range is also excellent. Shots are clear and details and the built-in IS works effectively.
Who should buy this?
It is for the selfie generation who want a simple, unintimidating camera. Suitable for novices.
It is for novice photographers who wish to upgrade from their smartphones. It is for people who have not yet used a proper camera having a large sensor or interchangeable lenses.
Those who want an easy experience, similar to using a smartphone.
See it on Amazon
Feature Packed and Impressive
Fujifilm X-T30 Mirrorless Camera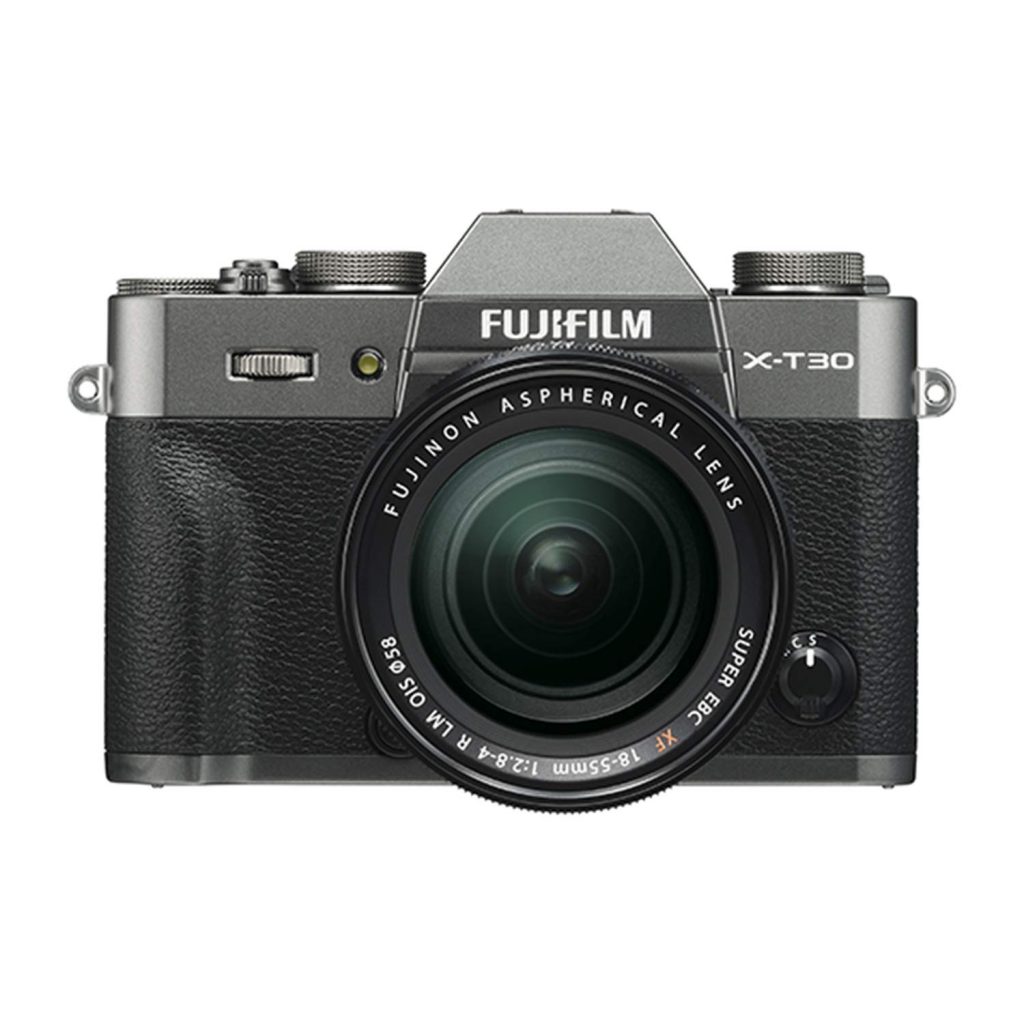 It has a small and light body with a camera resolution of 26.1 MP X-Trans, APS-C CMOS 4 sensor. The processor is X-Processor Pro 4 with an ISO of 160 to 12,800, which can also be extended to ISO 51200. It makes use of Fujifilm's X series lens mount, which is adaptable to the 29XC and the SF lenses created for this system along with some third party options.
In addition to 1080 pixel footage, the camera can record 4K videos. You can also take Full HD video records up to 120 pixels for slow motion. The autofocus system has been highly enhanced, offering quicker rates of burst shooting and a high 1.25x crop feature. There is an electronic viewfinder as well as an LCD screen. The EVF has 2.36 million dots with a magnification of 0.62x. The LCD screen has 1.04 million dots across 3 inches and it can be tilted up or down and is touch responsive. The Wi-Fi and Bluetooth connectivity options make it easy to send images to your phone or a printer. The battery offers 380 shots for a single charge.
In short, the Fujifilm X-T30 is a good value for money. There are several customizable options. The 4K video quality is excellent and the AF system is speedy.
Who should buy this?
Those who are looking for a touch and impressive mirrorless camera and are ready to pay a reasonable price for it.
Very suitable for photographers interested in sports and camera video recordings.
See it on Amazon
Conclusion
Serious photographers will still prefer a DSLR, but many have traded their DSLRs for the smaller and lighter mirrorless cameras. Whether you are a novice or a professional, such as a wedding or theater photographer, you can use these mirrorless cameras for shooting pictures and videos. It is easy to take video recordings, as you can easily focus and maintain the focus on moving subjects with these cameras. Hope this guide helped you pick the best mirrorless camera.
---