There are plenty of games available in the market belonging to a different category like action, adventure,
There are plenty of games available in the market belonging to a different category like action, adventure, simulation etc. One of the most popular games out there is definitely Sims 4. It is a single-player simulation game launched in September 2014. You can play it on your computer, Play station 4 and X box One. With awesome expansion, game, and stuff packs, this game brings neverending fun. No matter how exciting the gameplay is, you can always make it even more interesting with some of the best Sims 4 cheats.
To enable cheat mode on your PC for Sims 4 you need to hold "CTRL" and "Shift" and then press C. After enabling the cheat mode, you need to enter this cheat "testingcheats true" so that your cheats can be accepted by the game. testingcheats must be turned on while entering cheats. Some cheats need to be executed by pressing the shift button. Here are some of the best cheats you must try.
See also: The best Sims 4 mods
Interaction Cheats
You can enable these cheats by activating "testingcheats" true code followed by "cas.fulleditmode" that will allow you to access  CAS abilities. After that enter the cheats below followed by pressing shift button:
Sim  Motives remain static, dynamic, reset a sim, make mood happy etc.
Object – Resets object
Dirty–able Object – Makes object dirty
Dirty Object – Makes object clean
Mailbox – Resets mailbox
Ground – Teleports your Sim or ghost to a specific area
Imminent Death Cheats
Enable the testingcheats true code and then enter the cheats below:
add_buff buff_death_electrocution_warning – Death while working with an electric item
add_buff buff_death_elderexhaustion_warning – Cause death after working out
add_buff buff_mortified – Death due to embarrassment within five hours
add_buff buff_motives_hunger_starving – Death due to hunger
Pregnancy Effects Cheats
Testingcheats true must be enabled for these cheats to work:
add_buff buff_pregnancy_trimester1 – Make Sim pregnant in the first trimester
add_buff buff_pregnancy_trimester2 – Make Sim pregnant in the second trimester
add_buff buff_pregnancy_trimester3 – Make Sim pregnant in the third trimester
add_buff buff_pregnancy_inlabor – Make Sim or pregnant at specified term
Miscellaneous Cheats
Have you ever wondered how great would be to have more simoleons without having to send your sims to work every day? Well, there are cheats for that and many other things as well. Enter the cheats below to access many different benefits:
kaching – get 1000 simoleons
motherlode – instantly get 50 000 simoleons
toggle – Disables Death
resetSim – Resets the particular Sim
promote – Earn promotion in the specific career
demote – Earn demotion in the specific career
modify_funds – Add certain amount of funds
Relationships Cheats
Sometimes, improving the relationship between sims may take a lot of time, but there is a solution for that as well. You can enhance the relationship between your sims by using these cheats:
modifyrelationship Friendship_Main – Enhance friendship between two sims
modifyrelationship Romance_Main – Enhance romance between two sims.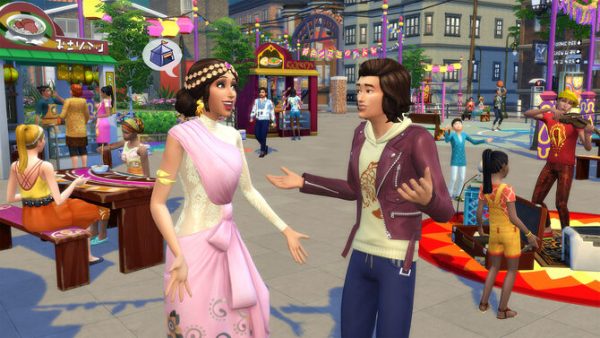 Skill Editing Cheats
You know that improving sims skills may take a lot of your time and time of your sims, especially if you have a family with several members. But, you can cheat a bit and edit their skills with just a few clicks. You can work on their skills Using the code – stats.set_skill_level .When the testingcheats is enabled you can set the skill level of your sim. Let's see some of the skill cheats:
Major_Fishing
Major_Mischief
Major_Gardening
Major_Handiness
Major_Comedy
Major_Charisma
Major_Writing
Major_VideoGaming
Major_GourmetCooking
Major_Painting
Major_HomestyleCooking
Major_Bartending
You can also set the skill level for sims children:
Skill_Child_Social
Skill_Child_Motor
Skill_Child_Creativity
Skill_Child_Mental
As you can see, there are so many awesome cheats for you to try. So, if you have never used cheats before, use some of them now. As mentioned, some things may take a lot of time in the game (for instance, mastering a skill), and if you find some of it boring you can simply skip it and still get what you want. Use the cheats to speed things up a bit. These will bring a lot of fun to your gameplay.
---