Homebezz is supported by its audience. We may get a commission from retail offers
A smartwatch often gives you the advantages of two devices – a smartphone and a watch. Most smartwatches help
A smartwatch often gives you the advantages of two devices – a smartphone and a watch. Most smartwatches help in keeping you fit, a key area that neither your smartphone nor watch can usually be of much assistance. Although smartphones have many fitness apps, it is not always feasible to carry them around when you do your daily workout. When you use a smartwatch, all you have to do is set the app of your choice and strap the accessory on your hand like a normal watch. Thus, you will have both your hands-free to go about your fitness regime with ease. Almost all smartwatches operate on either Android or iOS – the two most popular smartphone operating systems. The following is a list of the best smartwatches.
See also: Best laptops for writers
Best Smartwatches
Best Smartwatch with Rotating Bezel
Samsung Gear S3 SM-R760NDAAXAR Full Color Display Smartwatch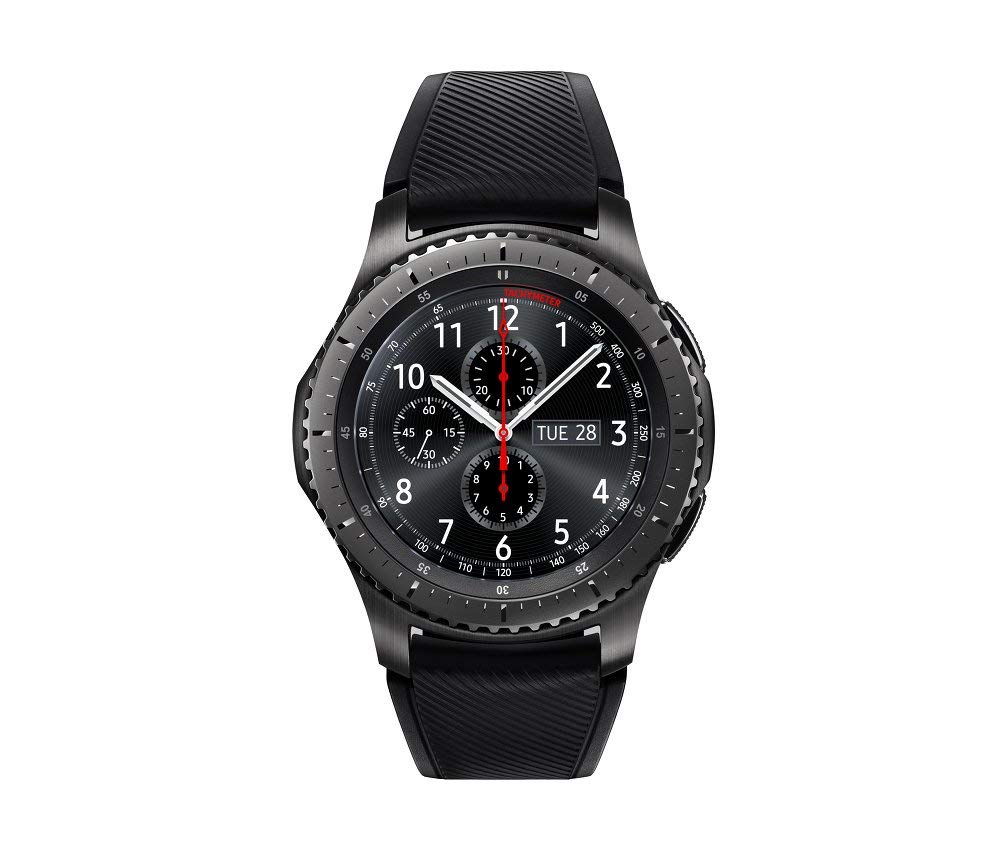 The Samsung Gear S3 smartwatch has a Super AMOLED 1.3" full-color display. The smartwatch has a black strap with a circular chronograph dial and a rotating steel bezel. When the device is Bluetooth enabled, it will keep you updated about incoming text messages and calls on your smartphone. You can also use the smartwatch to send messages and make calls. Moreover, the gadget allows you to use the Samsung Pay feature to make payments where you would otherwise have to use a credit card.
The smartwatch is truly rugged, with its military-grade performance. It is capable of resisting dust and water, as well as withstanding occasional drops and extreme temperatures at the same time. The accessory is compatible with Bluetooth supporting smartphones that have a minimum of 1.5 GB RAM and operate on Android 4.4 and higher or iPhone 5 and later models that have iOS 9.0 and above versions. It works with a CR123A 380 mAh Li-ion battery. The smartwatch is available in two color options of Classic and Frontier.
Who should buy this?
The Samsung Gear smartwatch is ideal for people who want to access notifications and apps very easily by just rotating the bezel
The military-grade performance makes the device apt for those who want a rugged smartwatch
Best Smartwatch with Long Battery Life
Amazfit Bip A1608 Optical Heart Rate Monitoring Smartwatch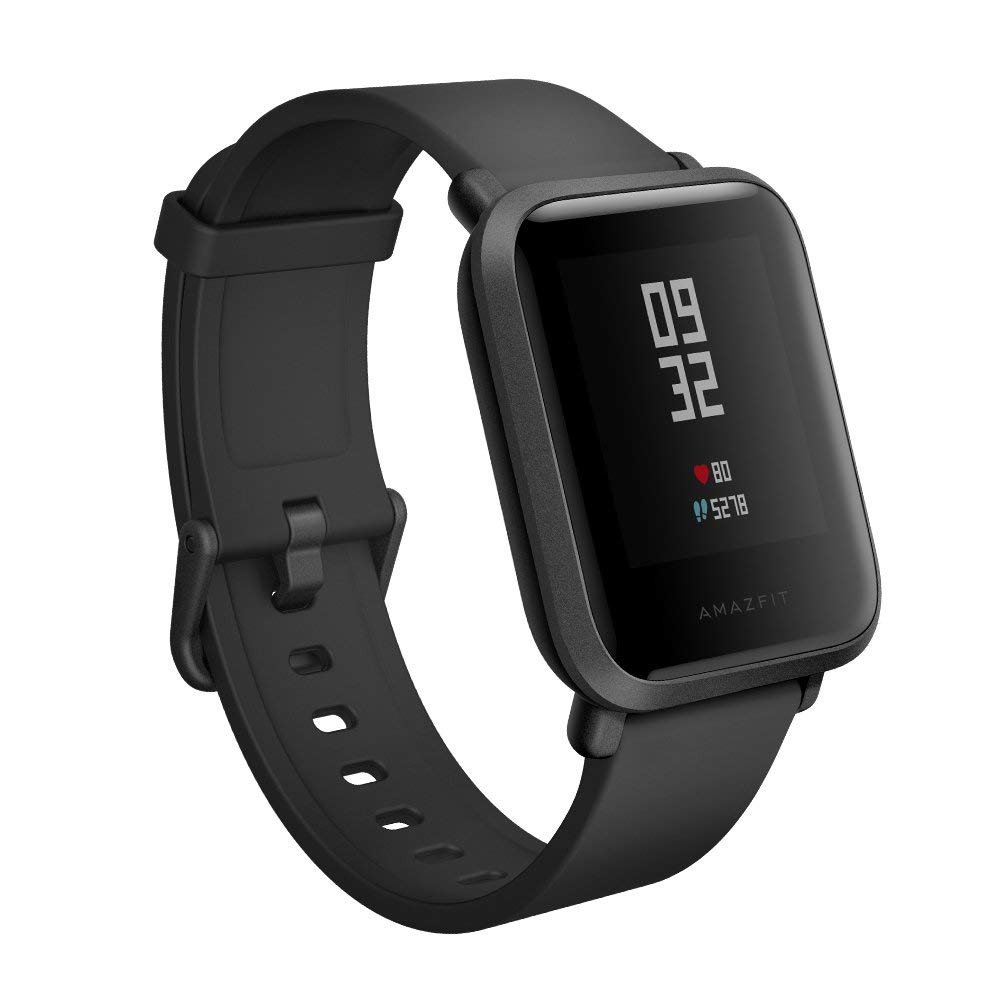 The Amazfit Bip smartwatch comes with a 1.28" display on a rectangular dial. The smartwatch features inbuilt GPS and GLONASS functionalities and supports optical heart rate monitoring. The device helps in accurate real-time tracking of your sleep quality, steps taken, calories burnt and distance traveled. It also supports several sports/activity modes like walking, running, cycling, and treadmill, to give you an in-depth analysis of the activities you perform frequently. The Bip gadget keeps you informed about one-way notifications for SMS, e-mails, and phone calls so that you can take appropriate actions using your smartphone. The gadget notifies you about alerts from various social media, such as Slack, Facebook, Twitter, Snap, LinkedIn, and WhatsApp. The accessory gives you updates on weather forecasts and access to various mobile apps.
The IPS68 waterproof and dust-proof smartwatch comes with 30-day battery life on just one charge of 2.5 hours. The lightweight device comes in four color options of onyx black, white cloud, cinnabar red, and kokoda green. It comes with a 12-month new device replacement warranty and a 30-day refund policy.
Who should buy this?
The Amazfit smartwatch is apt for people who want to have a detailed understanding of the various activities that they perform in a day
The accessory is a good choice for those who engage in outdoor activities and water-sports because of its dust-proof and waterproof features
The gadget is worth being considered by those who want different color options for their smartwatch
Best Smartwatch with Multiple Colors
Ticwatch E Google Assistant Supported Smartwatch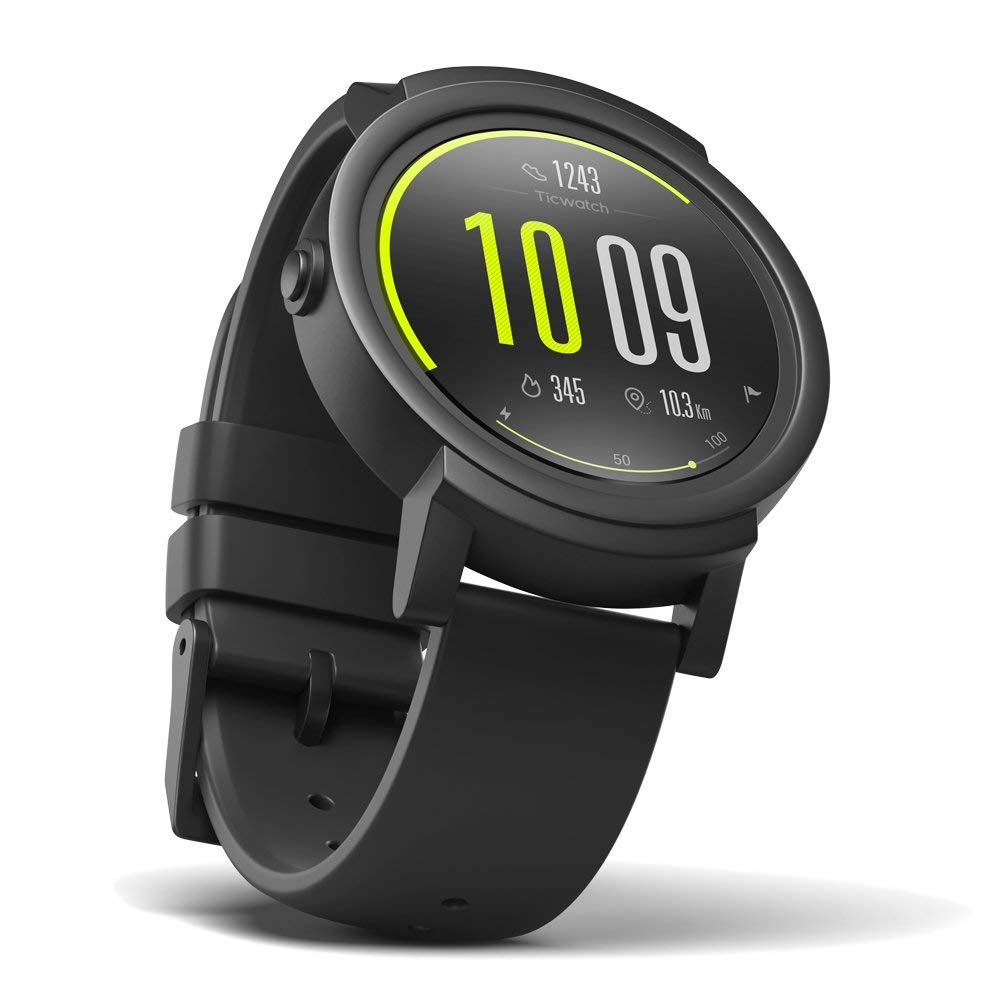 The Ticwatch E smartwatch keeps track of your fitness using Google Fit and other fitness apps by monitoring your strength training, heart rate, rides, runs, and walks and updating with you statistical details like steps taken, speed, calories burnt, and distance covered. The built-in GPS with Glonass sensor provides you with path navigation when you are involved in activities like running, jogging, cycling, or walking. The inbuilt PPG sensor additionally supports real-time heart rate tracking with accuracy and trains you with six heart rate data intervals. The smartwatch houses additional sensors like an accelerometer and an e-compass.
The smartwatch allows you to connect to Google Play Music and listen to music without a smartphone. The Google Assistant support through the Power button helps in attending to various tasks like replying to a friend or to call someone, as well as getting help with directions. The smartwatch is compatible with iOS 9.0 and Android 4.3+ smartphones with Bluetooth v 4.1 connectivity. It allows both sets of users to be notified of incoming calls, messages, and e-mails. However, only Android users can reply to these messages or make calls using their dust- and water-resistant smartwatch. For the best results, you must charge the smartwatch for over two hours for the very first time. The watch must be used until the battery drains up completely before recharging. The device comes in six color choices of Aurora, knight, glacier, lemon, ice, and shadow. It features a 30-day money-back guarantee and a one-year warranty period for quality-related problems.
Who should buy this?
The Ticwatch E smartwatch is the right choice for people who want training on how to maintain an optimum heart rate
A device is a good option for those who would like to listen to music while they are engaged in running, walking or jogging
The accessory is worth giving a thought by those who wish to use different watchbands and use different displays from Google Play Store on the dial of the smartwatch to suit different occasions
Best Smartwatch with Contactless Payment Solution
Garmin Vivoactive 3 010-01769 Daily Fitness and Stress Tracking Smartwatch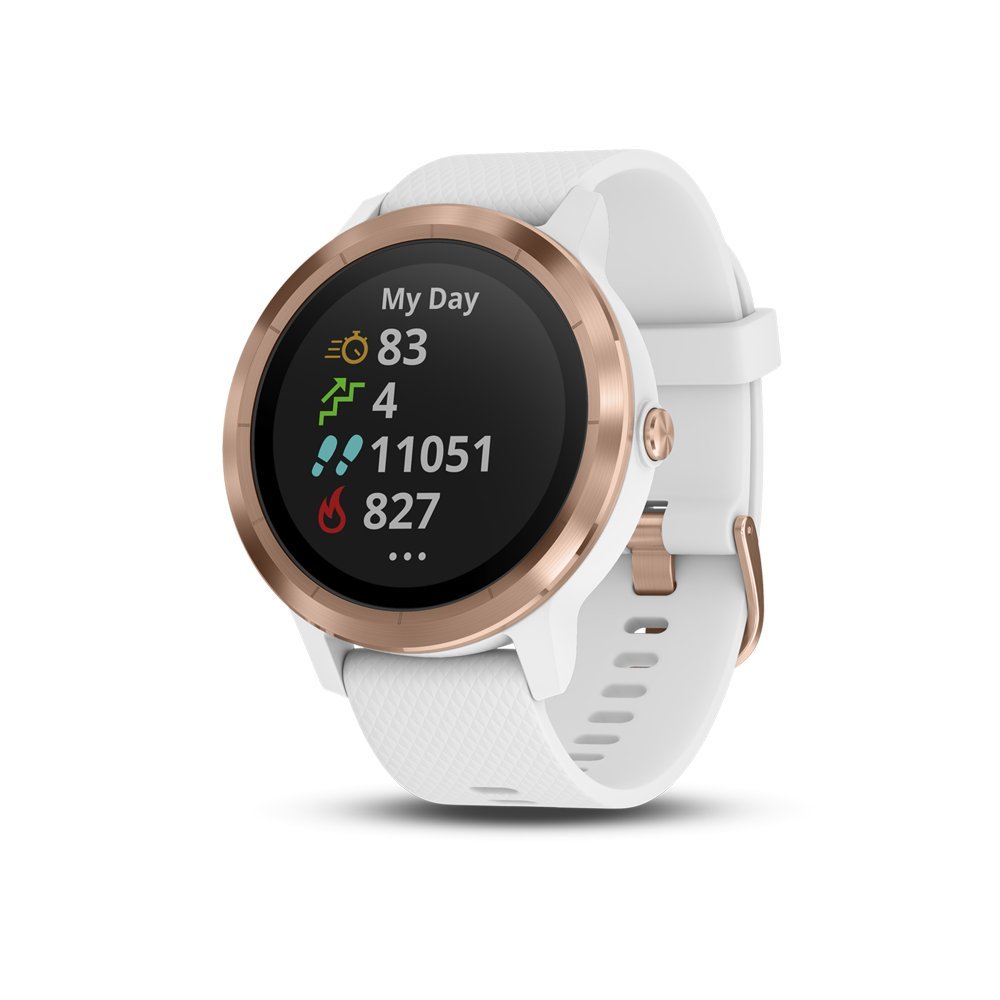 The Garmin Vivoactive 3 smartwatch comes with a Garmin Chroma display that is easy to read even when under direct sunlight. The dial of the smartwatch is protected by the durable Corning Gorilla Glass. It encompasses the Side Swipe interface that makes it scroll and navigate through the various menus and widgets rapidly, with any finger. The over 15 inbuilt sports apps and GPS connectivity allow you to choose from various modes to stay fit and record details like location, pace, distance, and more, for your outdoor activities. You can create customized strength or cardio workouts, as well as schedules for running, cycling, and similar doings and download them to your smartwatch. It allows personalization too, with various widgets, apps, and watch faces.
The smartwatch analyzes your physical fitness by estimating your fitness age and VO2 Max apart from tracking variations in your heart rate to determine your stress level. When paired with a compatible smartphone, the gadget can access various music controls, receive and send text messages, as well as get notified of other aspects such as social media updates and e-mails to mention just a few. The accessory, in addition, supports contactless payment that allows you to make payment for your purchases using the watch. It has a battery life of 13 hours in GPS mode and seven hours in smartwatch mode. The back-light can be minimized to save on battery life. The device comes in different color options of black with stainless, black with slate, white with stainless, and white with rose gold.
Who should buy this?
The multiple sports modes make the Garmin Vivoactive 3 smartwatch a good option for people who want to choose from different ways of staying fit
The Corning Gorilla Glass on the display screen ensures that the device is ideal for those who are apprehensive of the dial getting scratched
The gadget is apt for those who would like to opt for cashless payment for their purchases and not try out card payment
Best Smartwatch with Sunlight Readability
Sony 1275-2741 SW2 Multi-layer Color Touchscreen Smartwatch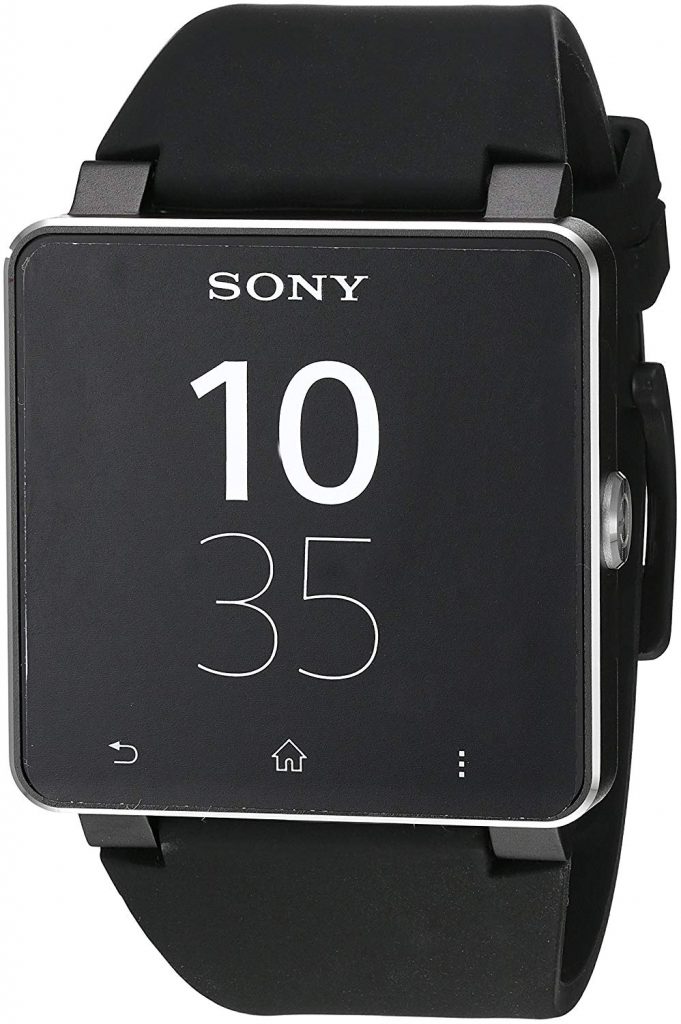 This Sony smartwatch comes with a digital display that supports sunlight readability, as well as pinch, swipe, and touch functionalities. The water-resistant smartwatch can be connected to a smartphone through Bluetooth so that you can access your calls, messages, e-mail, Twitter and Facebook accounts, calendar, music player, and sports/fitness apps. The Android device keeps you informed of any incoming notification through a gentle vibration on your wrist. It allows you to view the new notification by just touching the corresponding app icon on the display screen. The multi-layer color touchscreen helps in browsing through various notifications and reading them at a time.
The IP 57 certified smartwatch supports One-Touch NFC and can be paired with your NFC capable smartphone by just touching both the devices together.  The gadget also works with a lot of Smartwatch 2 apps that you can download from Google Play. The accessory is compatible with tablets and smartphones that run on Android 4.0 or higher versions. It comes with a black watchband that is available in two styles of metallic and silicon.
Who should buy this?
The Sony SW 2 smartwatch is the best bet for people who would like to use their device to track all notifications without having to take their smartphone out of their bag or pocket each time
The accessory is a good choice for those who want to use their smartphone during both sunny and rainy days without the clarity getting affected at any point of time
Best Smartwatch for Women
SKMEI B36 Auto Wake Screen Smartwatch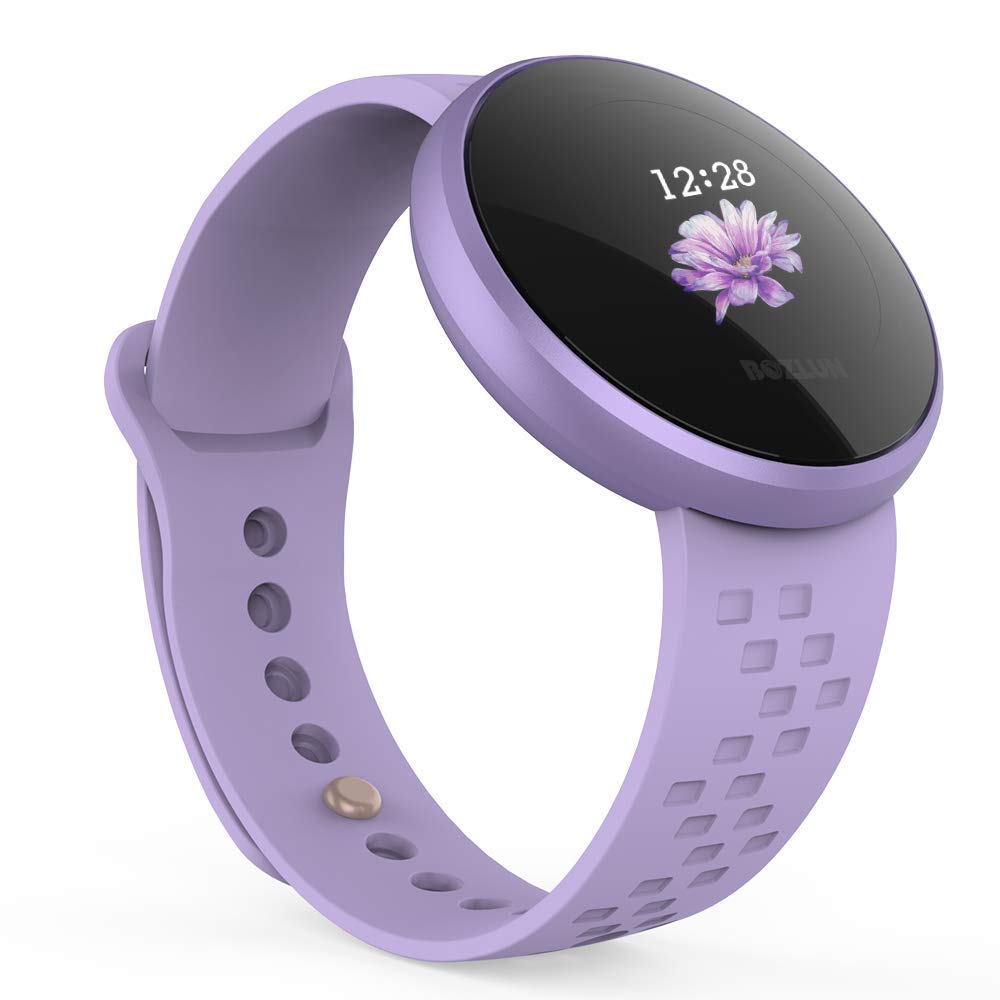 The SKMEI women-friendly smartwatch comprises a 1.04" color IPS circular touchscreen and acts as their personal health assistant. The smartwatch allows you to set the female cycle function using the H Band app. The device helps in female physiological period management by keeping ladies informed about various changes during different phases such as the menstrual period, the safe period, the ovulatory period, the preparing pregnancy period, the pregnancy period, and the mother period. The sleep monitor assists in tracking your light sleep, deep sleep, and awake times. The accessory also tracks your steps, calories burned, heart rate and distance traveled, and records these details in both your smartwatch and smartphone. It keeps you informed of incoming calls, SMS, and push notifications from social media.
The colorful screen is clearly visible even in broad daylight when it is sunny and you are outdoors.  Additionally, the IP 68 certification makes the device waterproof that makes it wearable even when you go swimming or are in the shower or when it is raining. The gadget is compatible with smartphones operating on Android 4.4 or iOS 8.0 and higher, with Bluetooth 4.0 connectivity. The device allows you to take selfies with just a single tap on the oval icon. It features 21 alarm modes that you can choose from as your wake up call with a vibration. The smartwatch works with a 100 mAh lithium battery and has an average life of three to four days. It comes in four color options of black, purple, pink, and red. The accessory comes with a USB charger line and an instruction sheet.
Who should buy this?  
The SKMEI smartwatch is a good option for women who want to monitor the physiological changes in their body at different points of time
The sleek design of the device is a good option for those who want to appear fashionable and flaunt a statement of style
Best Smartwatch for Kids
FILDANCO Kids Smartwatch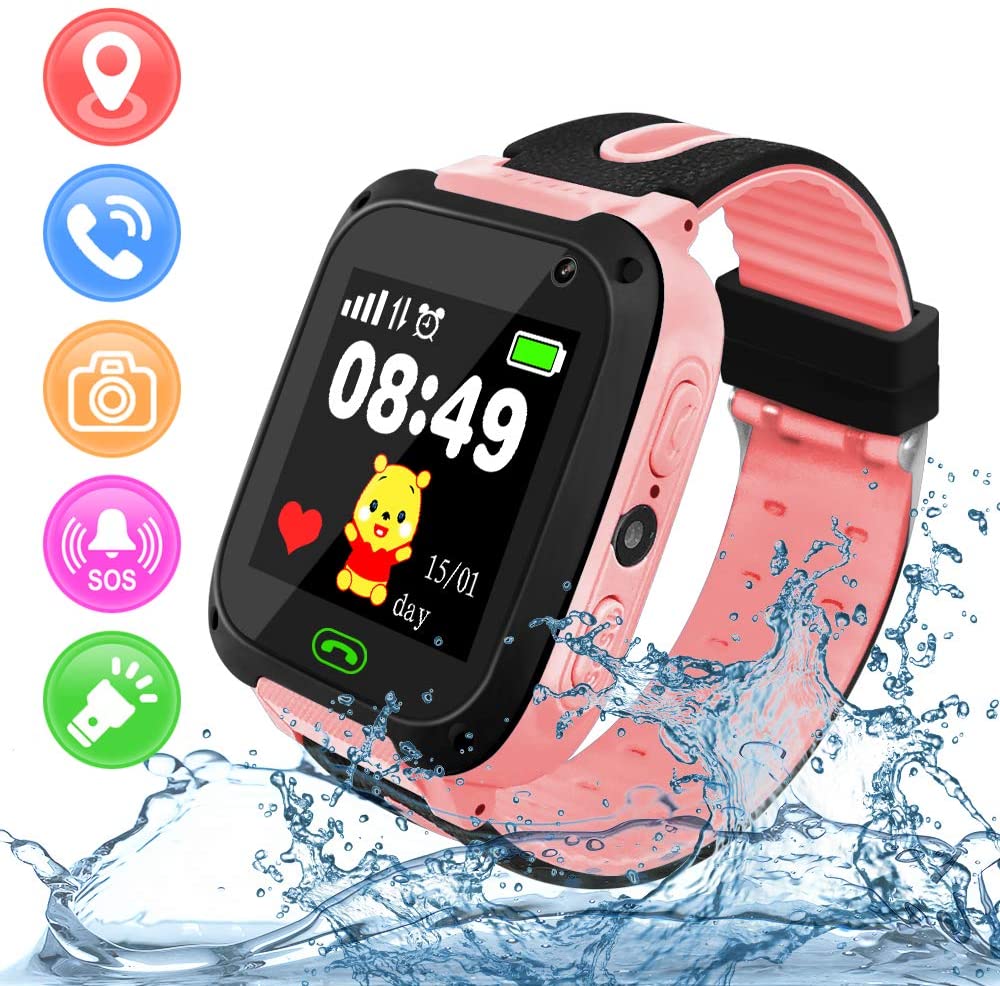 If you are looking for a smartwatch for your little ones, this model has all the things that are needed. You can insert the SIM card into the watch (compatible with 2G network GSM SIM card in US). This allows you to send your kids messages or call them whenever you want. The watch comes with an IP68 rating, which means it is waterproof. Your kids can wear the watch all day long, and you won't have to worry will they take it off if they go swimming or when it is the bath time.
This watch comes with an LBS system that allows you to search for the kids' location at any time. There is also a Do not disturb mode parents can set, so the kids can't use the watch when they are in class. But don't worry, the SOS call option is available even when Do not disturb mode is turned on. In addition, the watch has a flashlight, camera, safe area, two-way call, and more. It is available in two colors, pink and blue, suitable for girls and boys.
Who should buy this?
The watch allows you to search for kids' location at any time
The non-disturb feature makes the smartwatch apt for children whom their parents do not want to be disturbed during a specific period
It has an IP68 rating, meaning it is waterproof and kids can wear it when having a bath or when they are swimming
Best Smartwatch with Steel Strap
Uwinmo Blood Pressure Monitoring Smartwatch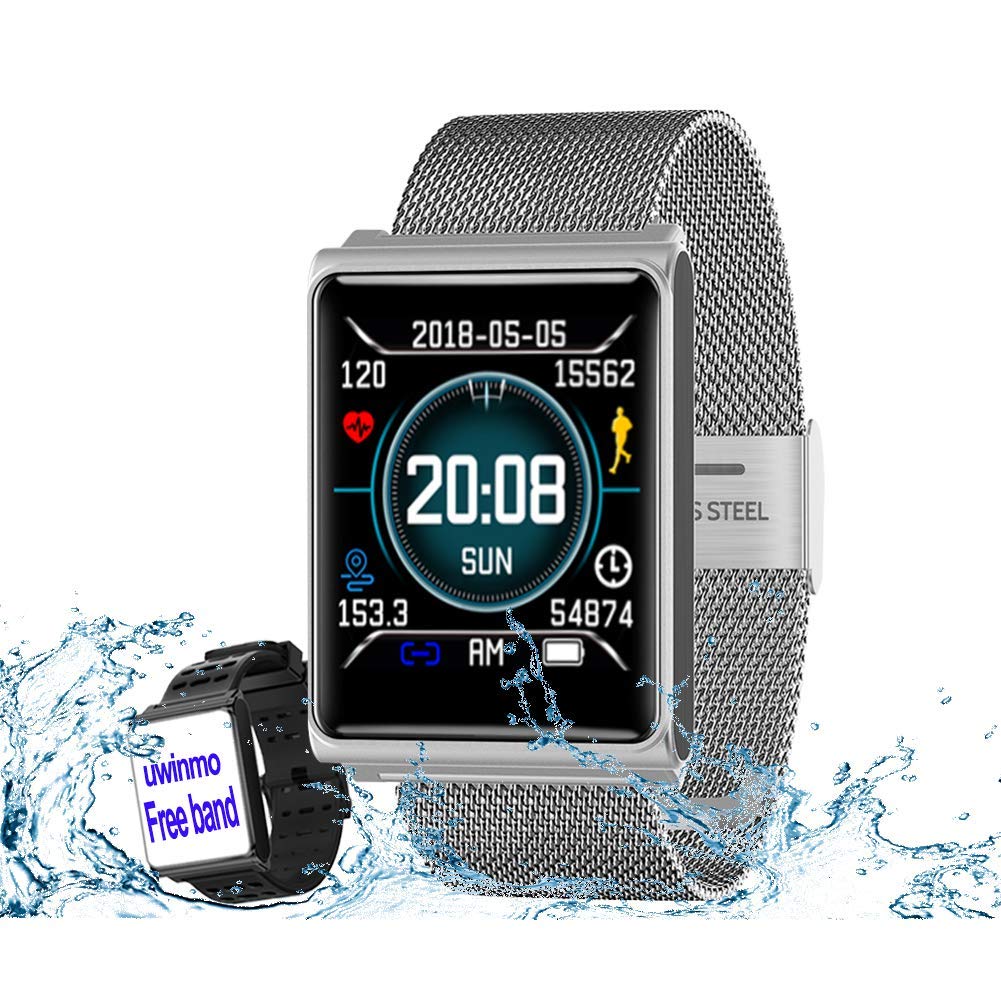 The Uwinmo smartwatch has a 1.3" IPS HD quality big size clear and sensitive capacitive color rectangular touchscreen with a multi-interface time display. The smartwatch comes with an inbuilt pedometer, calorie counter, timer and stopwatch, and distance trackers. It also features real-time sleep, blood pressure and heart rate monitors, sedentary and task reminders, an alarm clock, a remote camera control, and a multi-mode sports tracker.
You can activate any function or change any setting by just pressing the screen. The screen can be customized by choosing any of the four different dial options for a unique visual experience each day. The IP 67 rating makes the smartwatch dust- and water-resistant. The gadget is compatible with smartphones that operate on iOS 8.0 or Android 4.4 and their higher versions and supports Bluetooth 4.2 connectivity. A fully charged device supports about a week of normal use and 15 days standby time. It is available in two color options of black and silver. The smartwatch comes along with a charging cable, a user manual, a screwdriver, and a spare silicone strap.
Who should buy this?
The multi-mode sports tracker makes the Uwinmo smartwatch the right option for people who want to track each of their sports-related activities individually
The metal frame and watchband ensures that a device is a good option for those who wish to own a durable smartwatch that also has an elegant appearance
Best Smartwatch with 4-Pin USB Charging Cable
SMA 09-3 Sedentary Reminder Smartwatch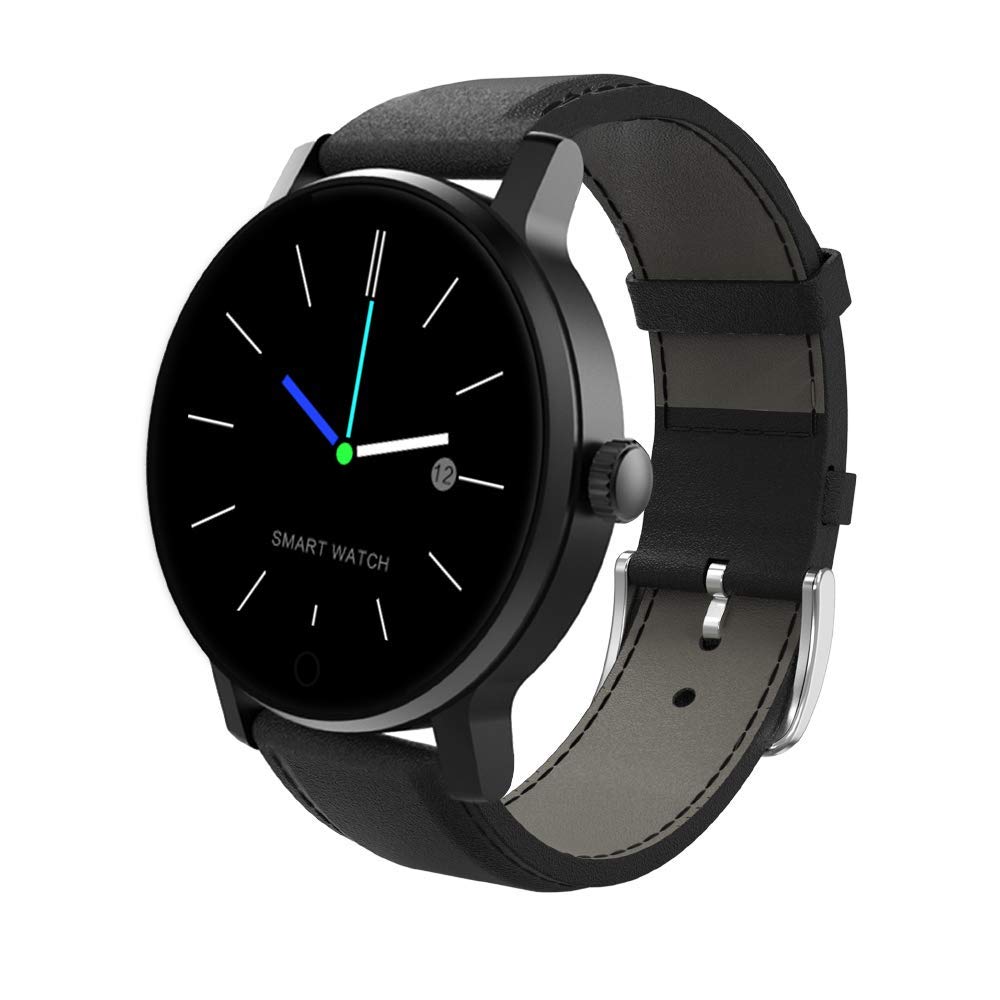 The SMA smartwatch has a high-resolution full view 1.22" IPS capacitive touchscreen with 204 x 204 resolution and a 22 mm replaceable watchband. The smartwatch features a dynamic heart rate monitor with an optical heart rate sensor and green-ray technology. The monitor operates in two modes – Repeat and Once. The Repeat mode monitors the heart rate throughout the day while the Once mode does the monitoring only once at the time specified. The sedentary reminder notifies you when it is time to move around for a while if you have been sedentary for a pre-defined period. The daily activity tracker comprises a pedometer and keeps a note on the distance covered along with the calories burnt. The auto sleep tracker analyzes your sleep pattern, as well as records, fall sleep, deep sleep, light sleep, and wake-up times. The gadget encompasses Do Not Disturb functionality that allows you to set a time when you do not want to be disturbed.
The accessory notifies you of incoming calls and messages with a mild vibration and a flashing LED light. It comprises a Bluetooth dialer, a remote camera, a calendar, a call reminder, and an alarm clock. The anti-splash and waterproof smartwatch can be paired with Android 4.4 or iOS 8.0 smartphones and above, using Bluetooth 4.0 and higher connectivity. The device supports English, Russian, Italian, Portuguese, German, Turkish, Dutch, Polish, and French languages. The smartphone comes along with a 4-pin USB charging cable and an English manual.
Who should buy this?
The sedentary reminder makes the SMA smartwatch worth considering by people who tend to have very limited movement over long periods
The Do Not Disturb function ensures that the device is apt for those who do not want to be disturbed in between a meeting or when at work
Best Smartwatch with Corning Gorilla Glass 3 Touchscreen
ASUS ZenWatch 2 4 GB Storage Smartwatch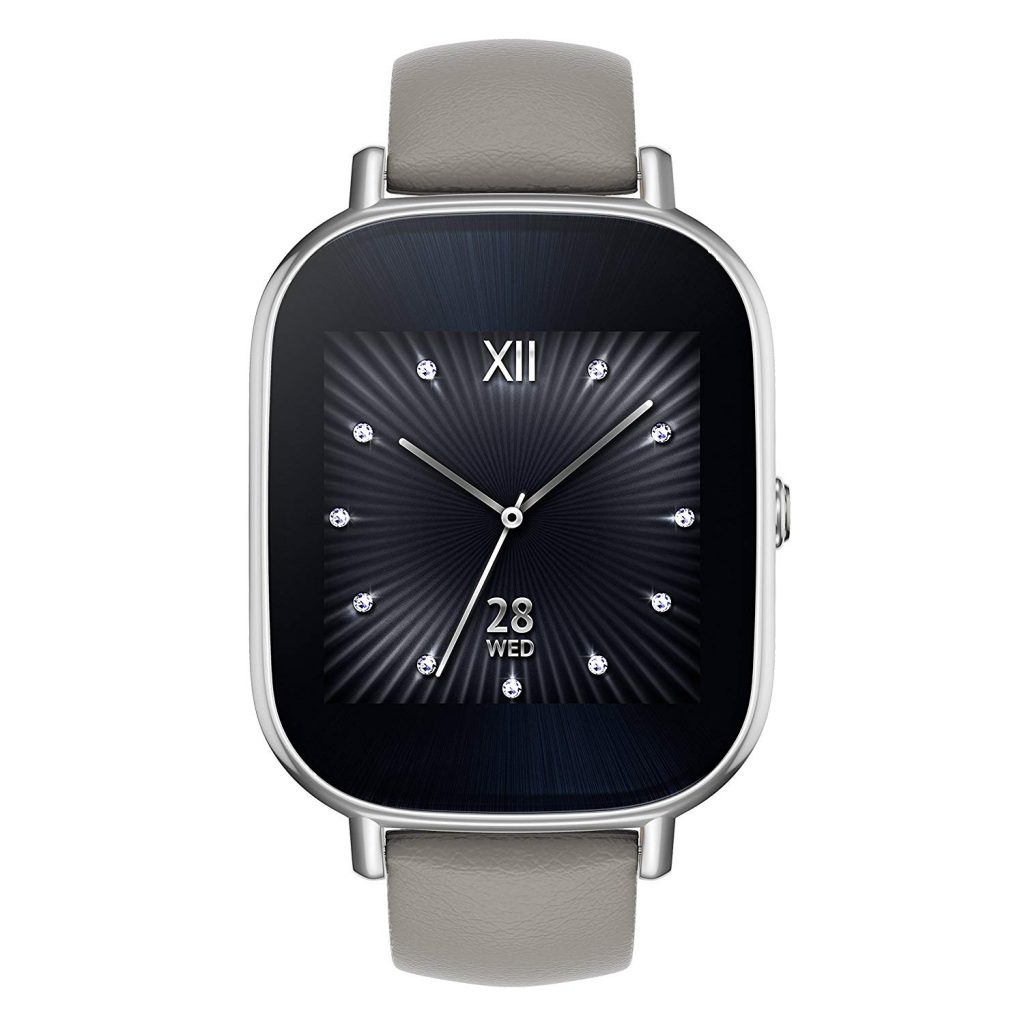 The ASUS ZenWatch 2 comes with a 1.45" AMOLED 2.5 D curved Corning Gorilla Glass 3 touchscreen. The smartwatch comes with a Wellness Suite that has a horde of health and fitness tracking features. These features allow you to set your fitness goals such as time to work out, calories to be burnt, or distance to be covered and measure your performance. You can use the verbal command 'Start Workout' to launch the workout coach to guide you on how to achieve your goals. The device informs you once your goal has been reached. It supports wrist gestures to control your smartwatch by just moving your wrist and screen dimming gesture to automatically activate the accessory into the ambient mode and lessen the battery drain. The gadget is compatible with Google Assistant and has its own unique functionalities like Business Helper, Unlock My Phone, Cover to Mute and Find My Phone.
The dust-proof and water-resistant smartwatch can organize your information and give you suggestions on what you need. It allows you to receive messages, appointment notifications, and weather forecasts while supporting the ability to reply to instant messages, texts, and emails through voice. The ASUS Face Designer helps you to change the way your dial looks in 50 different ways ranging from classic to chronograph to digital. The device comprises a Qualcomm Snapdragon 400 processor, 512 MB RAM, 4 GB storage, and a 400 mAh battery. It is available in three variations of full silver, rose gold case with orange leather strap, and silver case with a beige leather strap. The smartwatch comes with a charging cable and a documentation guide on how to use the product.
Who should use the product?
The ASUS ZenWatch 2 is the right option for people who want to set customized fitness goals based on their capabilities and be informed when the goals have been achieved
The device is a good idea for those who wish to respond to incoming e-mails and messages using their voice instead of having to type out their replies
The gadget is worth consideration by those who want to control their smartwatch with simple wrist gestures
The HyperCharge functionality ensures that the accessory is the best deal for those who want their smartwatch to charge really fast at the rate of 60% in just 15 minutes
Best Smartwatch with Inbuilt Quad Sensors
Casio WSD-F20-RGBAU Outdoor Smartwatch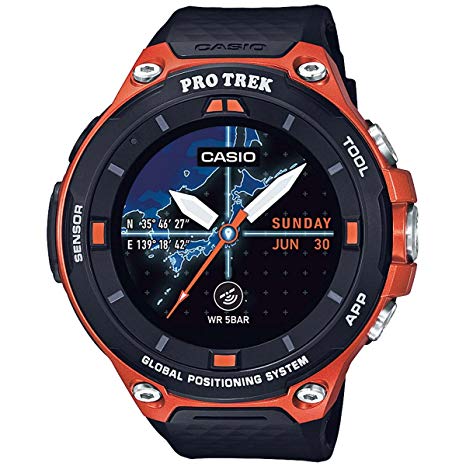 The Casio smartwatch has a quartz movement, a black and orange circular dial, a microphone, and a dual-layer LCD structure. The smartwatch has four built-in sensors that give you real-time notifications of activity tracking, digital compass, barometer, and altimeter. The inbuilt low power GPS highlights your and your friends' exact positions on a full-color map that can be displayed even when the smartphone is out of range of mobile device radio wave transmissions or in offline mode. The device offers water resistance up to a height of 50 m that makes it ideal for short bouts of swimming but not for extensive water-sports like snorkeling or diving. The accessory displays the current time, elapsed time, and travel route for trekking, cycling, and paddling.
The bezel and case are made of resin while the strap comes with a buckling mechanism. The smartwatch is compatible with Android 4.3 smartphones and higher, as well as iPhone 5 and later versions operating on iOS 8.2 and above. However, the functionality of the smartwatch is limited to iPhones. The accessory is compliant with Military MIL-STD-810 G specifications. It has a battery life of one month when used in timepiece mode and a maximum of 25 hours when used with GPS. The gadget works with a lithium polymer battery.
Who should buy this?
The Casio smartwatch is the best option for men who love engaging in a wide range of outdoor activities
The smartwatch is apt for people who want to view the calendar in different formats
Conclusion
You must look into many parameters when you decide to buy a smartwatch. The first aspect undoubtedly that needs to be addressed is your budget. You must also consider the smartphone compatibility aspect to see if the accessory you have in mind works with your smartphone. When you have shortlisted a set of smartwatches that satisfy these criteria, make a study of the features offered by them. Durability and battery life are two other important aspects that you must check out. Although not important, some other factors to think about are customization possibilities; type and material of strap, and contactless payment support. It may be kept in mind that most smartwatches can be worn by almost anyone. However, some of them are designed to cater to a specific group of people such as women and/or kids. This can also influence your buying decision.
---