Homebezz is supported by its audience. We may get a commission from retail offers
The new players in the game of subwoofers have been upping their standards by coming out with the best of features
The new players in the game of subwoofers have been upping their standards by coming out with the best of features in their new subwoofers. Intense sound quality and other exciting characteristics have made everyone invest in subwoofers to enhance their experience. Here is a list of top best subwoofers to buy in 2021.
See Also: Top best Bluetooth speakers for iPhone X
Buying Guide
Music lovers will go to any extent to make improvements in the sound system they have in their homes. They will keep searching the market for a better subwoofer to enhance the listening experience. The same goes for those with home theater systems wanting to improve the delivery of sounds in movies. So what do they look for in subwoofers before they make the decision to buy one? The details could be useful if you are also planning to buy subwoofers.
The following features are important to consider:
Size: The size of the subwoofer does impact the audio output quality and sound. The larger the size of the subwoofer, the louder and better its performance. However, size alone is not the only criterion to determine the sound effect. Another factor you must consider, as far as the size is concerned, is how large is your living room where you intend to fix the subwoofer. If all things are taken into account, a 10-inch or 12-inch size subwoofer would be ideal to buy.
Bass: Bass in a subwoofer is the sound frequency expressed in Hz and you will generally see the specs on the subwoofer like 25-180 Hz. This is the range of the frequency the subwoofer operates in. You can choose the best range you will require based on what kind of sound you wish to get amplified. Some like the loud sounds from action-thriller movies. Others may want to hear the dialogues clearly in a comedy show. Make the choice accordingly.
Power: Power in subwoofers is expressed in Watts and how large your home and the room are will be important to decide on the appropriate power. The frequently chosen one is 1000w of power. It will be more than adequate for an average house.
Sealed or Ported: This is a choice where there is no particular verdict that one is better than the other. You could take a look at all other specifications and if you like everything else, it may not really matter if the subwoofer is sealed or ported.
Powered: Subwoofers come in two types. One is where it is connected to the main receiver and draws power from it. The other is the powered subwoofer where you will have to plug it to a power source. A powered subwoofer is always better.
Best Subwoofer With Excellent Bass Performance
Polk Audio PSW505 12-Inch Powered Subwoofer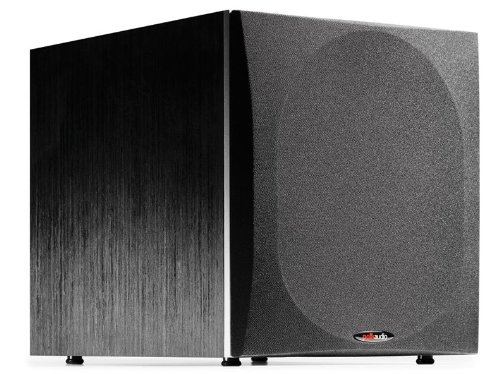 Polk Audio is one of the best companies when it comes to subwoofers. It is best known for its wonderful feature of improving the bass performance. It has very appealing hardware with a real wood veneer finish. It has a great amplifier and huge Hi-Roll Surrounds supporting longer excursion. It consists of a wide and long Slot Load Vent that dramatically lessens the turbulence, noise as well as distortion. This subwoofer has an adjustable low pass crossover that allows just the right blending of volume control with any main speaker.
Why should you buy this?
It is a great device to have as part of your elaborate home theatre system.
A good investment for those looking for a good quality subwoofer at a reasonable budget.
It has a solid structure and has proved itself to be durable.
It is an ideal device for those who want to own a subwoofer that would not facilitate a hassle-free connection.
Best Subwoofer With Great Low Noise Performance
Yamaha YST-SW216 Powered Subwoofer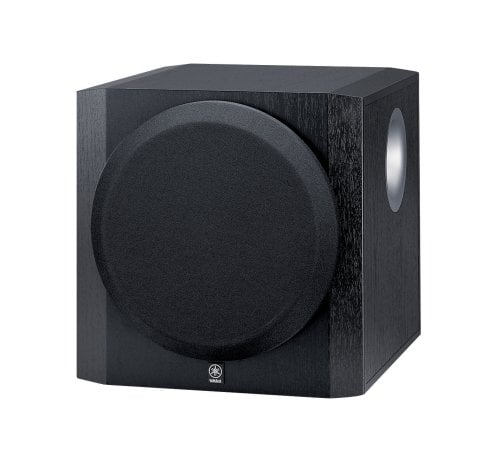 Another amazing player is the Yamaha YST-SW216 Powered Subwoofer. It has a very high dynamic power and low noise performance which are the most crucial features of this Subwoofer. Other features include a linear port and an appealing design. It is based on the Yamaha Active Servo Technology II which makes these subwoofers very advanced. It has a 10" long-stroke cone driver along with magnetic shielding and 10″ Driver with Long-Stroke Cone. What's more, it has a selectable High-Cut Filter and a High-Density MDF Cabinet. The 25–180Hz low-frequency response makes it very beneficial for the users.
Why Should You Buy This?
It delivers a solid performance that is devoid of any kind of unwanted noise.
Yamaha Active Servo Technology II has been used in developing this particular device and that gives it an edge over other subwoofers in this range.
It also boasts of other high-level technology and features like a High-Density MDF Cabinet and High-Cut Filter.
It has a very effective magnetic shield which adds to its robust strength.
Expensive And Highly Functional Subwoofer
JL Audio 12W7AE-3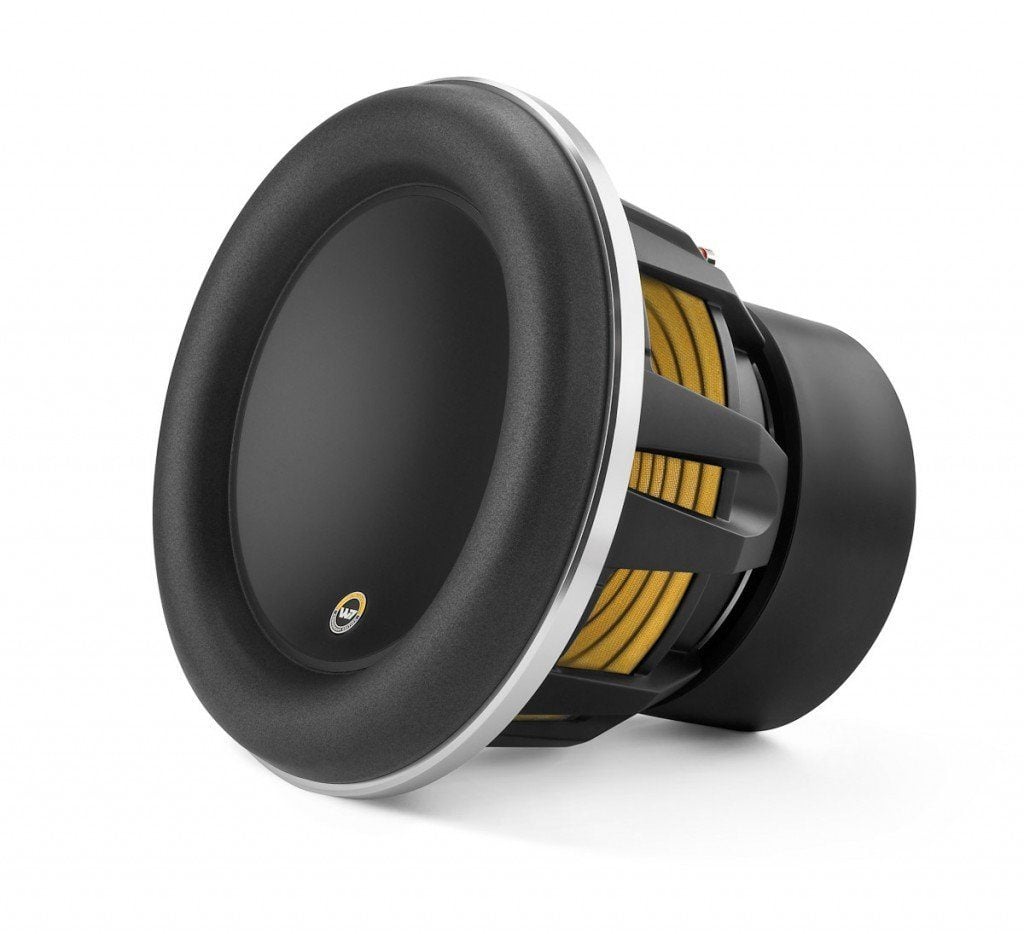 12W7AE-3 JL Audio 12″ Single 3-Ohm Subwoofer is a very efficient and effective subwoofer. It is one of the strongest contenders when it comes to its other competitors in terms of subwoofers. One of its most prominent and important features is the Plateau-reinforced spider attachment. This feature makes it very unique and also enhances the functionality of the subwoofer. Another important aspect is the radially cross-drilled pole piece attached to the device itself. In terms of hardware, the Top Mount Depth is 9-1/2" and the Cutout Diameter is 10-1/2″.
Why Should You Buy This?
It is an ideal device for those who are particular about owning a subwoofer that has a strong and solid structure to it.
It offers exceptional sound quality and does not give you any reason to complain as far as its performance is concerned.
It is a super-durable device and can be used for several years.
It is the most appropriate device for those who love bass.
Best Subwoofer With Wireless Connectivity Feature
Samsung SWA-W700 Sound+ Subwoofer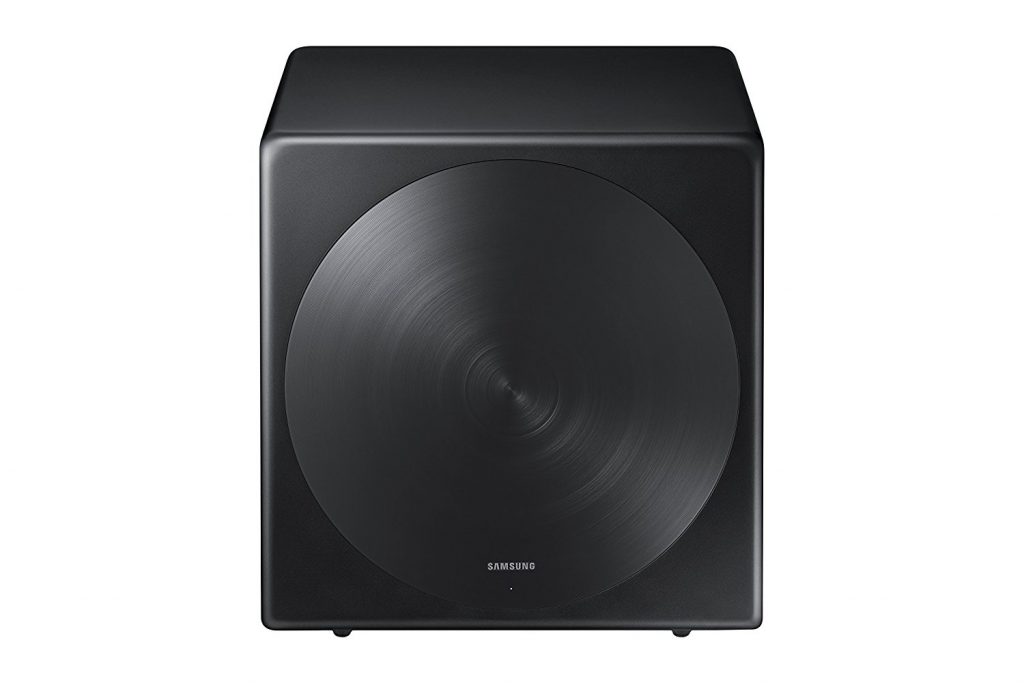 When it comes to high-quality products, Samsung is always on top of the list. Known for all kinds of products, their SWA-W700 Sound+ Subwoofer is amongst the best subwoofers on the market. The sound quality of this subwoofer is good and is known to add room-shaking 27Hz bass to your sound along with a soundbar. It has wireless connectivity which is a very important feature and can be placed in any part of the room as per convenience. It has a seamless design and has a frequency range of 27Hz – 120Hz.
Why Should You Buy This?
It is an ideal device for those who prefer wireless connection that can be set up conveniently.
It has as many as 11 drivers present inside the soundbar, all of which are powered by a Class D amplifier.
The Samsung Multiroom App hugely helps in connecting it to multiple speakers and other devices.
It gives you the option to connect to more than 30 speakers to it at any given time.
Best Subwoofer With Great Appearance
Klipsch R-110SW Subwoofer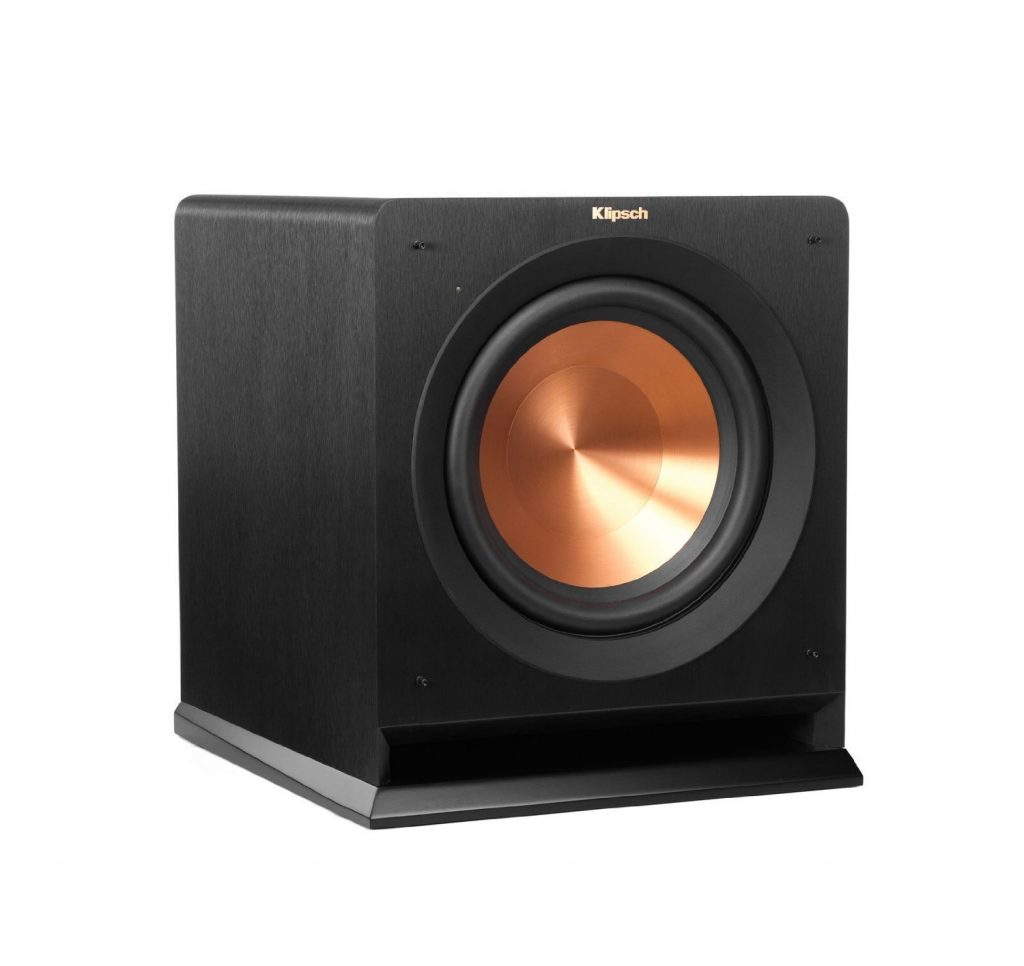 One of the best players in the market is the Klipsch R-110SW Subwoofer which has amazing features. It has a very attractive appearance setting apart from its competitor. It has a 10″ spun-copper Cerametallic woofer that adds a lot to the functionality of the subwoofer. It has an all-digital amplifier that delivers 450 watts of dynamic power. This is very high as compared to other subwoofers. It has an exclusive internal flare technology equipped with a front-firing slot port. The inputs of the subwoofer are compatible with most receivers which is very beneficial to the users.
Why Should You Buy This?
The Cerametallic driver is light but strong at the same time and produces a significantly low-frequency response.
The digital amplifier which features like a built-in device is very powerful.
The black-colored exterior surface is made of polymer veneer which adds to the aesthetic value of the area it is placed in.
It is the most suitable device for people who regularly host house parties and need a hugely powerful subwoofer to regale their guests with.
Excellent Subwoofer With Great Features And Functionality
REL Acoustics T/9i Subwoofer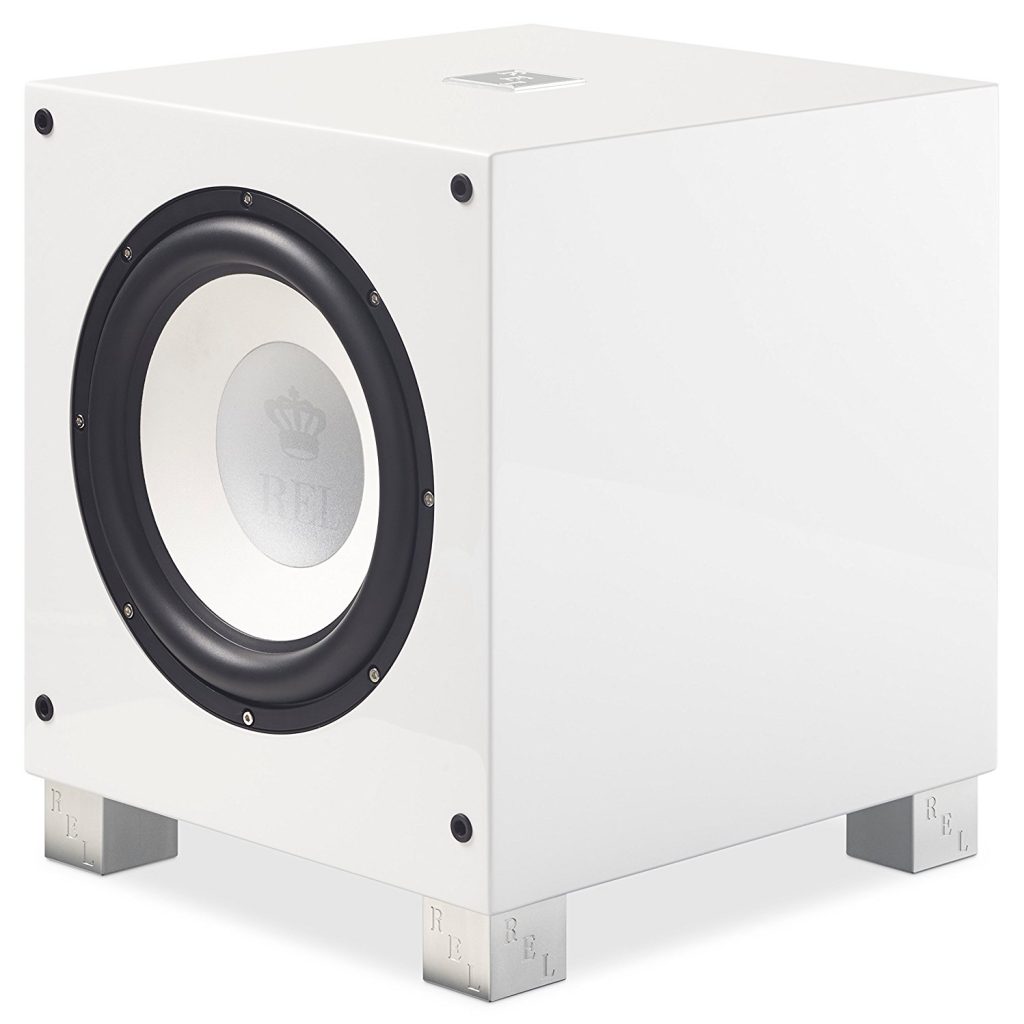 It is without any doubt one of the best subwoofers in the market. It is an award-winning subwoofer brand and the REL Acoustics T/9i Subwoofer has done justice to the brand. It provides the best user experience in terms of music and audio. It is known to match well with any system. This is something that enhances functionality. It does not require any special type of assembly and is easy to use.
Why Should You Buy This?
They have been beautifully designed and add good value to the aesthetics of your home interior.
Despite being lightweight, it has a solid structure that ensures durability.
It is a fairly compact setup and does not require you to dedicate a lot of space in your home to keep it.
The highly efficient input filters and powerful amplifiers contribute towards processing clean and robust sound.
One Of The Best And Budgeted Subwoofer
MTX Audio 5512-22 5500 Series Subwoofer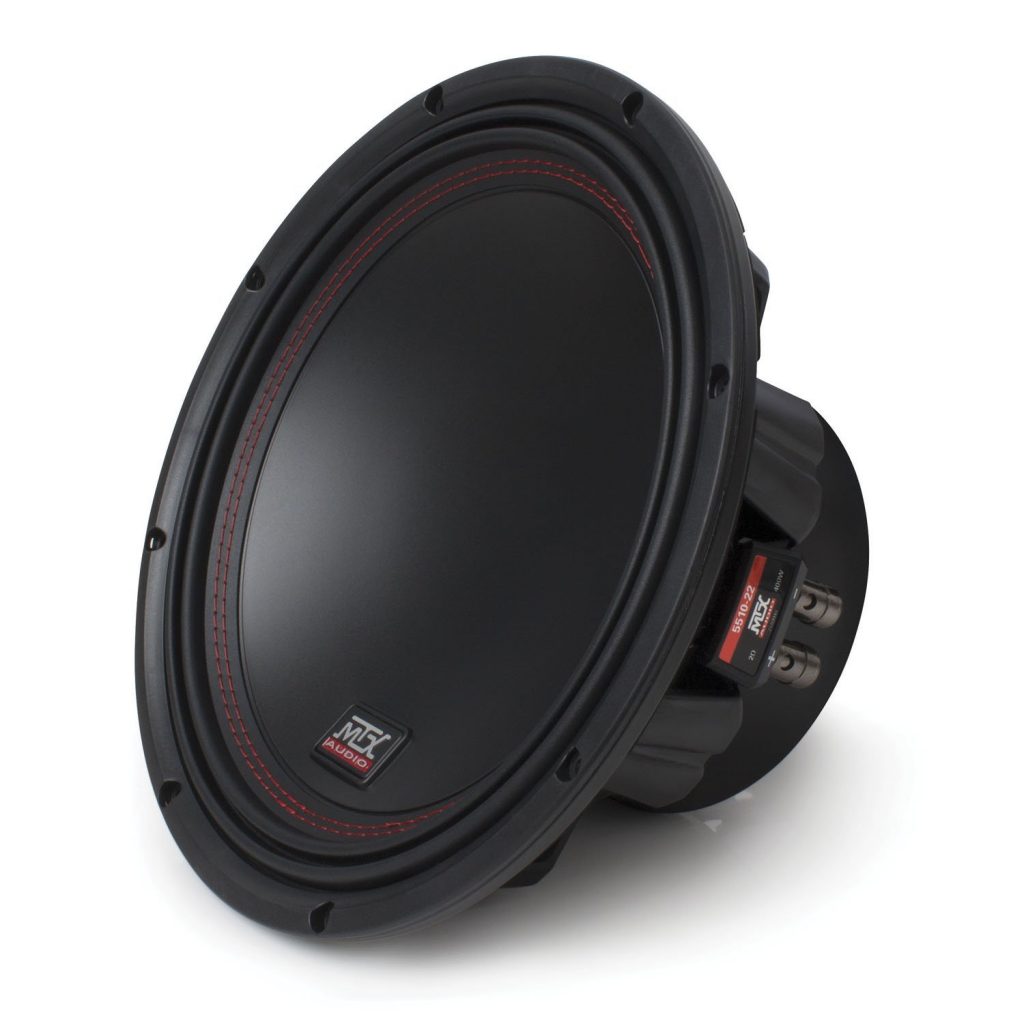 Another impressive contender in the game of subwoofers is the MTX Audio 5512-22 5500 Series Subwoofer. It is a very good subwoofer and performs really well. It has v2.0″High-Temperature Voice Coils that enhances the functionality of the speakers to the next level. For the sole purpose of high-quality sound performance, there is an expanded surface area that allows increased volume displacement and SPL. Another essential feature in this MTX Audio subwoofer is a progressive suspension. It controls excursion at high power reducing distortion. The look and feel of the subwoofer are very appealing and it is very user-friendly.
Why Should You Buy This?
It is very convenient to use and the ones who are not too good with handling electronic devices, should not have much of a problem operating it.
It has a clean and simple design that would appeal to those who prefer devices with a non-fussy look.
The 2-ohm voice coils provide you with multiple options when you go about setting it up.
You do not have to worry about using it for long hours as it does not get heated up quickly.
Best Subwoofer With Powerful Amplifier
Pioneer SW-8MK2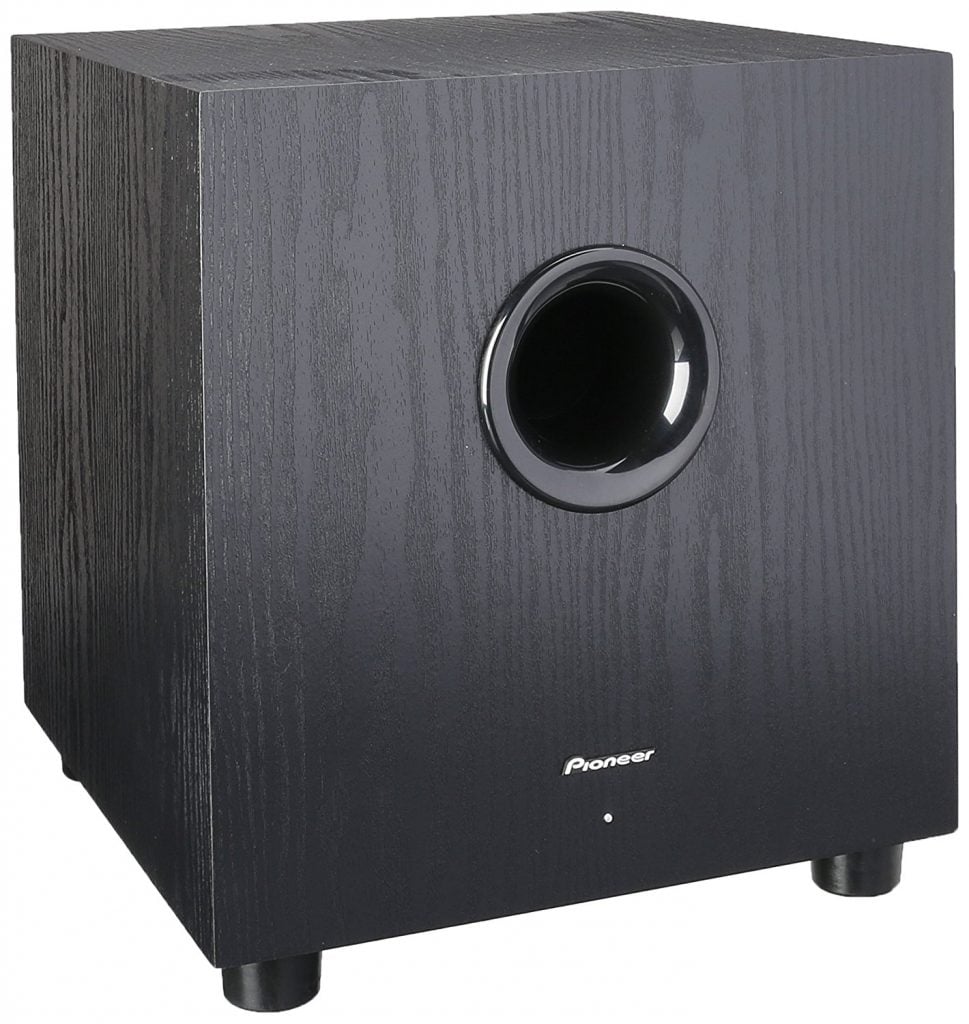 One of the most popular and efficient subwoofers is the Pioneer SW-8MK2 Andrew Jones Designed 100-Watt Powered Subwoofer. It has a very powerful amplifier which is installed at 100 Watt in the internal storage. It controls the bass of the device to provide the users with improved sound clarity and audio. The Frequency Range is 38 Hz – 150 Hz. It has a Crossover and Phase Adjustments to perfectly blend subwoofer with your speakers and give the best experience to the users. The installation process is pretty easy.
Why Should You Buy This?
It comes at a fairly reasonable price and delivers the kind of performance which leaves you little to complain about.
It boasts of very good build quality and bears a premium look.
It is very easy to integrate it with different kinds of speakers or computer systems.
It can be easily upgraded with necessary modifications as and when needed.
Cheapest And Best Subwoofer
Acoustic Audio PSW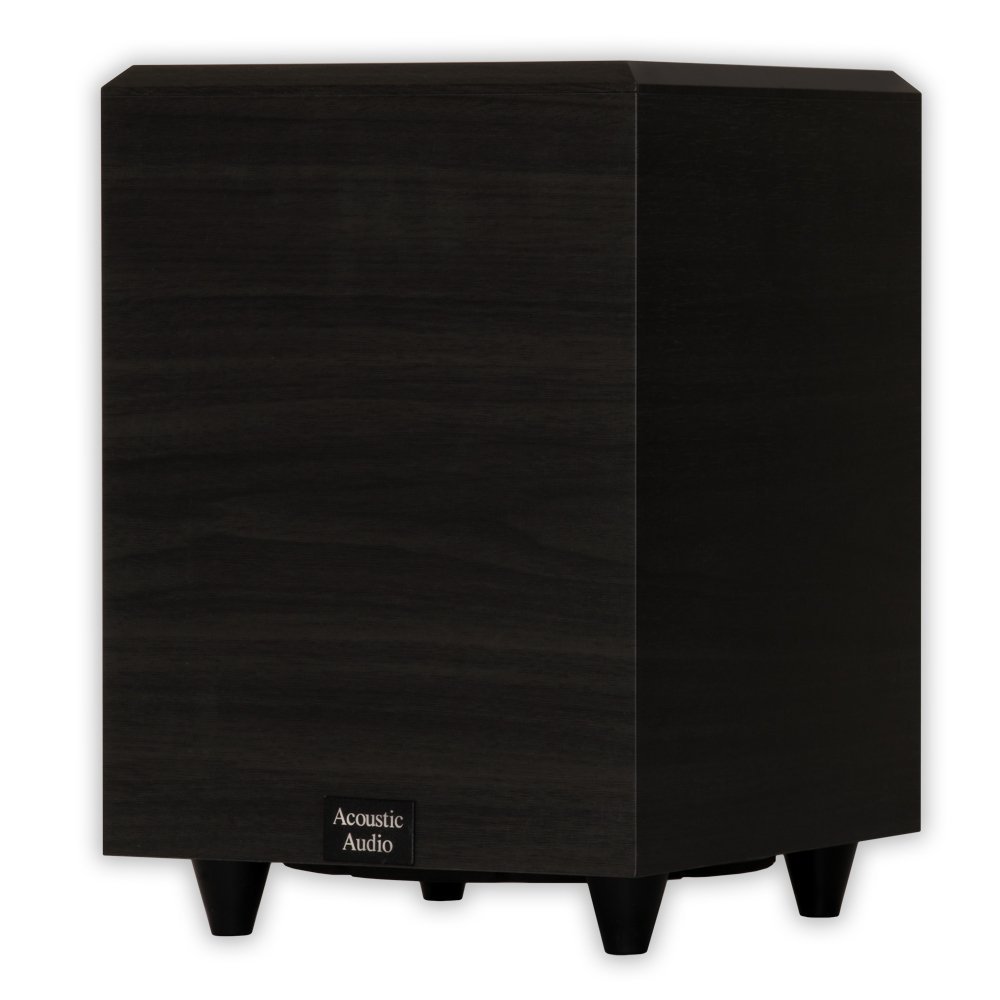 Another contender in the top subwoofers list is the Acoustic Audio PSW-8 300 Watt 8-Inch Down-Firing Powered Subwoofer. It is a part of the specialty series for the best home theatre experience. It has a low-level input and output in terms of speakers. It has a wide variety of usage especially when used for in-wall or in-ceiling home entertainment, home theatre systems, surround sound systems and multiple room systems. The hardware is very sleek and is wonderfully designed and engineered In the USA. The sound quality of this subwoofer is amazing and the installation is also very simple.
Why Should You Buy This?
It has very good hardware which ensures efficient functionality.
By providing superior sound quality, it fulfills one of the most basic and important functions of a subwoofer very well.
Even if you are not too comfortable with technology, you should have no issue in installing it.
It can be used for multiple purposes and different scenarios.
Best Subwoofer With Intense Sound Quality
SONOS SUB Wireless Subwoofer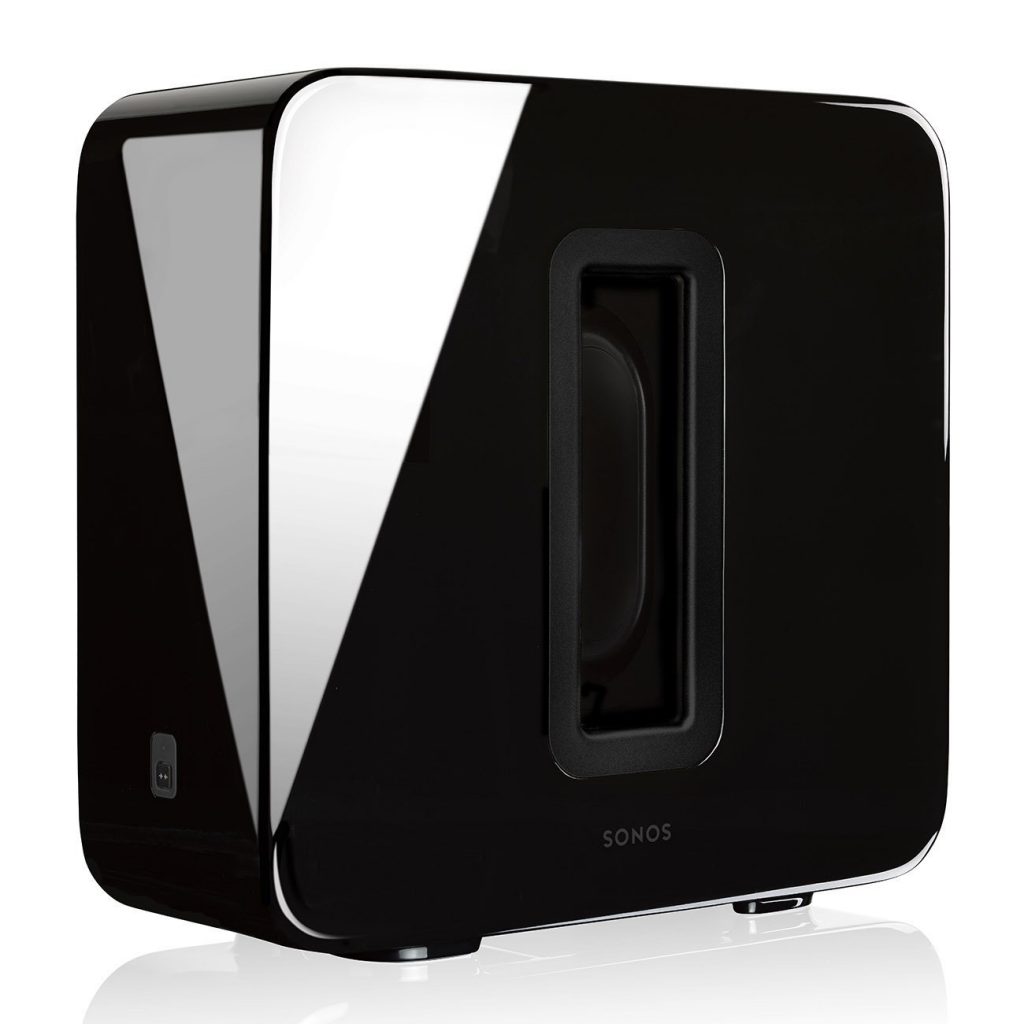 This list would be incomplete without the SONOS SUB Wireless Subwoofer. It is a very good subwoofer and provides good sound quality. It has a deep bass sound which is one of the most prominent features.  It also enhances the functionality of the device. Once added to the Sonos system, the users get to experience intense sound quality. Another important feature of this subwoofer is that it connects wirelessly to Sonos speakers. It can be placed anywhere in the room as per the need and convenience of the user.
Why Should You Buy This?
If you already have a Sonos system, then it should prove to be a valuable addition to your home theatre setup.
The minimalist design would score some points with those who are wary of electronic devices having a garish look.
The sound produced from it is very powerful and is one of the reasons why it is a good investment.
Sonos speakers provide wireless connectivity for Sonos subwoofer.
Best Subwoofer With A Very Appealing Look
Bic America 10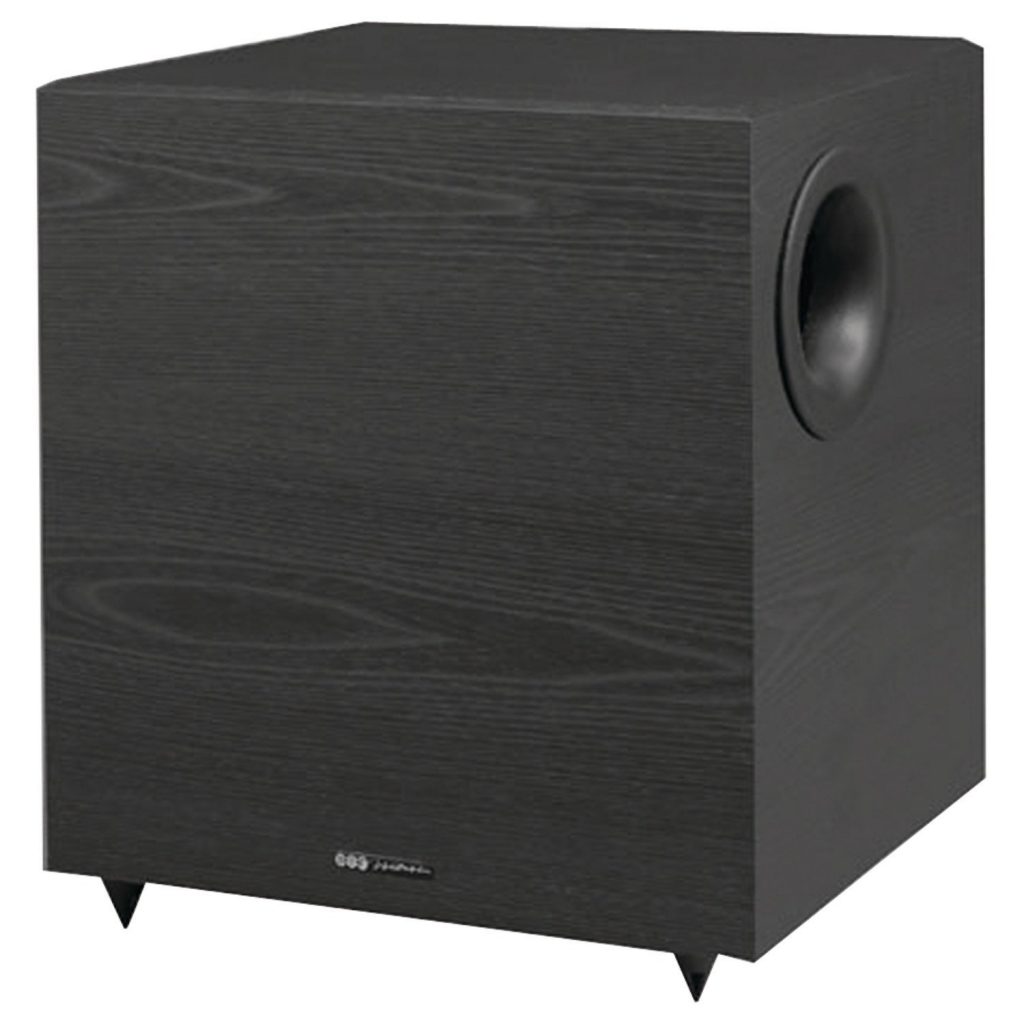 Another very well-known company when it comes to subwoofers is Bic America. Their Bic America 10-IN 160W SUBWOOFER (V1020) is one of the best subwoofers in the market as of now. The appearance of the subwoofer is very attractive and the sound quality is also great. It has a very intense black finish that makes the look of the subwoofer very appealing. The Output Power is 160W (RMS) / 350W (PMPO) which is one of the most prominent features of these Bic subwoofers. The packaging of these subwoofers is great and they are priced at a reasonable rate.
Why Should You Buy This?
If you are looking for a subwoofer that can deliver high-end audio output, then you must go for this one.
The dark black finish gives it a very classy and minimalistic look.
For a fair price, you get a plethora of solid features.
Apart from attractive design, it boasts of some very good dimensions.
One Of The Best Subwoofer With Excellent Features
JBL Sub 100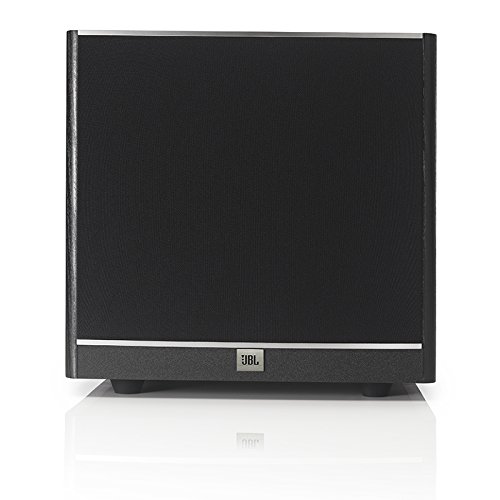 Another very promising brand when it comes to subwoofers is JBL. The JBL Sub 100 Black 10-Inch Powered Subwoofer with High-Efficiency Class D Amplifier is one of the best subwoofers by JBL. It has plenty of amazing features and has got a 10-inch (250mm) high-output woofer as well as 100-watt RMS (200-watt dynamic) digital power amplifier. These enhance the functionality of the subwoofers and provide a unique user experience. The installation is super easy. The essential features of this subwoofer include the phase controls, crossover, variable level, and contemporary cabinet shape with a modern look.
Why Should You Buy This?
It offers a five-year-long warranty for speakers and one year of warranty for the amplifier.
The multiple controls make it very easy for one to operate it.
The poly-cellulose woofer produces great audio output.
The design has great aesthetic value and you get it in two different color options, black and white.
See Also: Top best iPhone X cases
Frequently Asked Questions
I use a pickup truck. Can I fit a subwoofer in it?
Yes, certainly. You can find subwoofers with special fitting arrangements for trucks. You can search for the appropriate online resources to locate one and buy. Your neighborhood garage may help with getting it fixed in your vehicle.
Which subwoofer should I buy ported or sealed?
When you consider the opinion of the experts, they will say there is really no great difference. However, a sealed type subwoofer will give you cleaner sound but needs more power. Ported type subwoofers, on the other hand, are suitable while listening to the music of the hip-hop variety. You can choose the one you prefer.
Does the shape of the subwoofer, like square or round have any significance?
In practical terms, there is very little differentiation in the performance of the subwoofers based on the shape of the speakers whether it is round, triangle or square. The reason manufacturers make these is because people like these choices. The other reason is some spaces can accommodate a triangular shape better than a round one.
What does an amplifier do in a subwoofer setup?
An amplifier does exactly what it's supposed to do. It amplifies the power sent to the subwoofer. This in turn helps with enhancing the sound output of the subwoofer. Without the amplifier, you cannot achieve the same louder sound with the subwoofer.
Can I use any type of cable to connect my subwoofer?
No. You will have to necessarily use only subwoofer cables for linking your subwoofer to the receiver, whether it is the TV or other devices. Amazon Basic has this subwoofer cable in its range.
Conclusion
If you are planning to put together a good home theatre system at your place, you must make sure to make some space for a subwoofer. Even today, a lot of people are unaware of the importance of using subwoofers to enhance the sound quality of one's audio-visual system. Technically, it is a kind of a loudspeaker that serves the function of managing the bass or lower range frequency emanating from the speakers or the woofer. If you have been using a subwoofer for a while and are still oblivious to its utility, just remove it from the rest of the setup for a while and you will see a marked difference in the audio output.
---