Are you a WhatsApp addict? To make things better for you here is a set of top best WhatsApp features that you
Are you a WhatsApp addict? To make things better for you here is a set of top best WhatsApp features that you perhaps didn't know about. You are going to love this app more when you know there is so much that it has to offer.
Read also- WhatsApp Tips and Tricks
List of WhatsApp Features
Customize Notifications
This is one of the best WhatsApp features on this list. You can have a different set of notifications for the individual contacts. This way you will be able to differentiate between the messages that you want to read instantly or put it off for later.
iPhone users can tap on the contact name while viewing chat thread and select Custom Notifications to set the alert.
Android users can set the notifications by going to chat thread and if you click on the picture icon you will see an 'i' within the circle, click on that and it will lead to the details page where you would see Custom Notifications > Use Custom Notifications > Tick the Box > Select Notification tone.
Unique Typewriter Font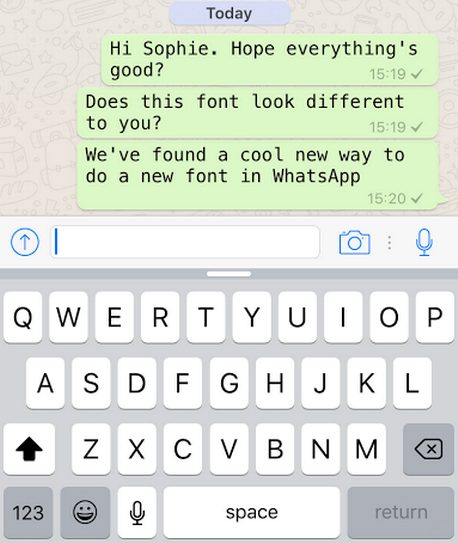 This is a pretty cool font to use. You can do that by using the ` symbol three times in front of the word which will change your font to a typewriter model. For example, you will have to write – "`Busy in Meeting"`. The symbol shouldn't be mistaken for  ' one. The Android users have the symbol on their keypad but the iOS users would have to copy-paste it from here.
Share Documents
You can use iCloud Drive and Google Drive to share documents on WhatsApp. On the chat window tap on the paper pin icon and then tap on Document select the place from where you need to share the document – iCloud Drive, Google Drive or others.
Home screen for Individual Chats
In the list of best WhatsApp features, you can also get links to individual chats on your home screen. The Android users need to long press on the chat icon of the individual and then tap on the three vertical dots option and tap on Add Chat Shortcut to create a shortcut icon on the screen.
Reply to Messages Without Opening WhatsApp
You can enable this feature if you go to Settings > Notifications. You have Message Notifications and group Notifications. Under both the options you will see Popup Notification which is set to No Popup by default. You have three options– only when screen "on" , only when screen "off" and Always Show Popup. You can change this to Always Show Popup if you tap on the option. When you do so you will receive a notification when someone sends you an individual message or in a group and you will have the option to reply even from the locked screen.
The iOS users would have to download a third-party app for this feature.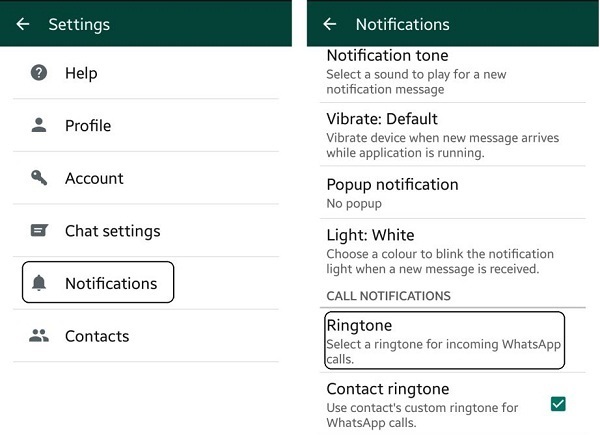 Send GIF's
GIF's are a cool way to communicate. They are cooler than the emoji. You don't have to browse the internet to look for a great one. WhatsApp has a pretty smart collection of GIF's . The iPhone users can tap on + and go to Photo and Video Library. Locate the icon of magnifying glass just beside GIF. You will find a collection of them. If you want to instantly locate one that matches the situation of your feeling you will have to type on the search bar to get one. You can mark them using the star so you can easily locate them or even doodle and write personal text on them before you can send them.
Protect Your Chat From Prying Eyes
You get notifications on your screen from WhatsApp but if you are seeing something on your phone with someone and don't want the first line of notifications to appear on screen so that it is read by the third person then follow these steps.
Android Users need to go to Settings > Applications > Locate the WhatsApp Icon > Look for Notifications and tap on it > Preview in pop-ups and toggle is off
iOS Users need to go to WhatsApp > Settings > Notifications > View in Lock Screen and toggle this screen OFF.
Whose Your Best Pal on WhatsApp
Do you wish to know who you talk to the most? WhatsApp features are exclusive and reveal to you these details too: Here is what you need to do:
Android users will have to go to Settings > Chat > Chat History > Email Chat. You will be able to view all your who you talk to most.
iOS users will have to go to Settings > Data and Storage Use > Storage Use. You will be able to view a list of contacts in the order of who is occupying the most space on your phone. You can click on each contact and view on more details. You will be able to see the images, GIF's and messages exchanged.
Hide Your Last Seen Status  
If you don't want your friends to see when you were last online then you have to go to Settings > Account > Privacy > Last Seen. You will get three options here – Everyone, My Contacts and Nobody. Select the one you want.
Export Conversation
If you want to save a conversation then WhatsApp feature has an option for it.
Android users would have to tap on Menu > More > Email Chat
iOS users can tap a contact on top of the screen and then go down to the Contact Info and select Export Chat.
The above are the top best WhatsApp features which you can use on your app now. Although there are many more features available the ones mentioned above are the best on the list. You can use them to make chatting and sharing on WhatsApp more fun and useful.
---