Apple has just introduced the new user interface innovation for MacBook Pro 2016, called Touch Bar. It lies
Apple has just introduced the new user interface innovation for MacBook Pro 2016, called Touch Bar. It lies in the upper part of the keyboard, above the number keys, replacing the MacBook conventional function keys. Apple thinks by changing that area to a new user interface, users will be able to interact with MacBook Pro better than ever. The Touch Bar itself provides a dynamic access to contents, function, and tools of the active app.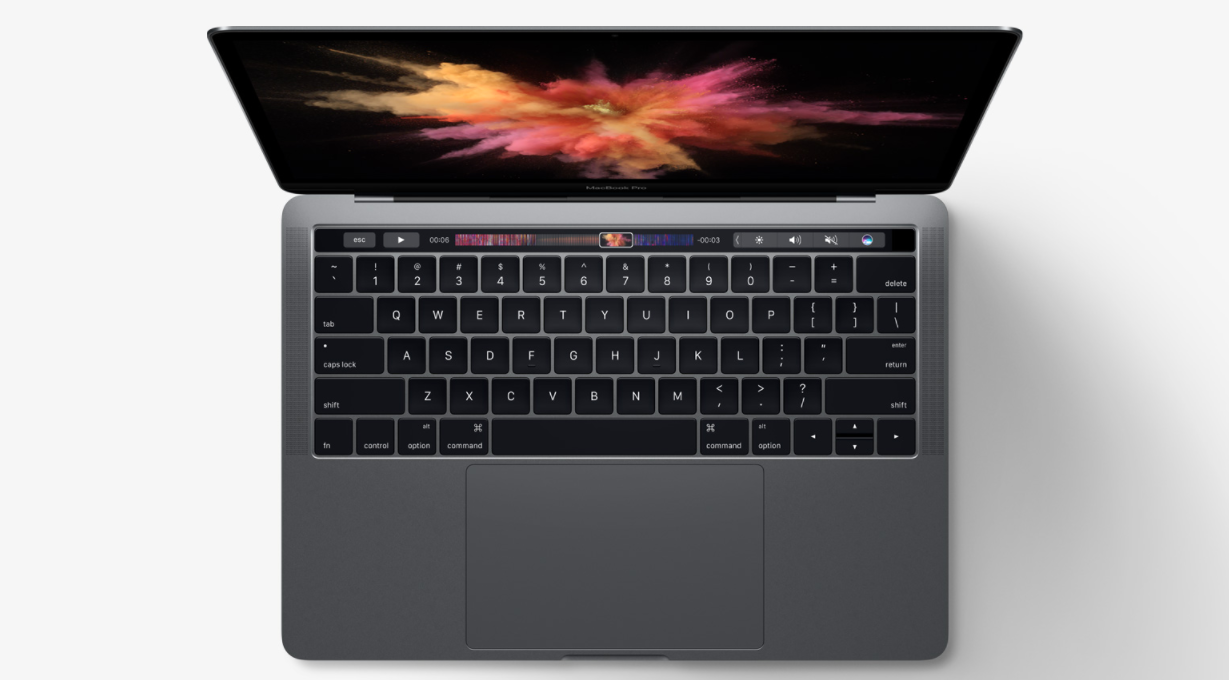 Touch Bar is a multitouch display that is using OLED display technology. The multitouch technology on Touch Bar allows you to access it using more than one finger at the same time. It will give you an interesting and fun experience for example, the DJ application as it was demonstrated by Apple during the October event.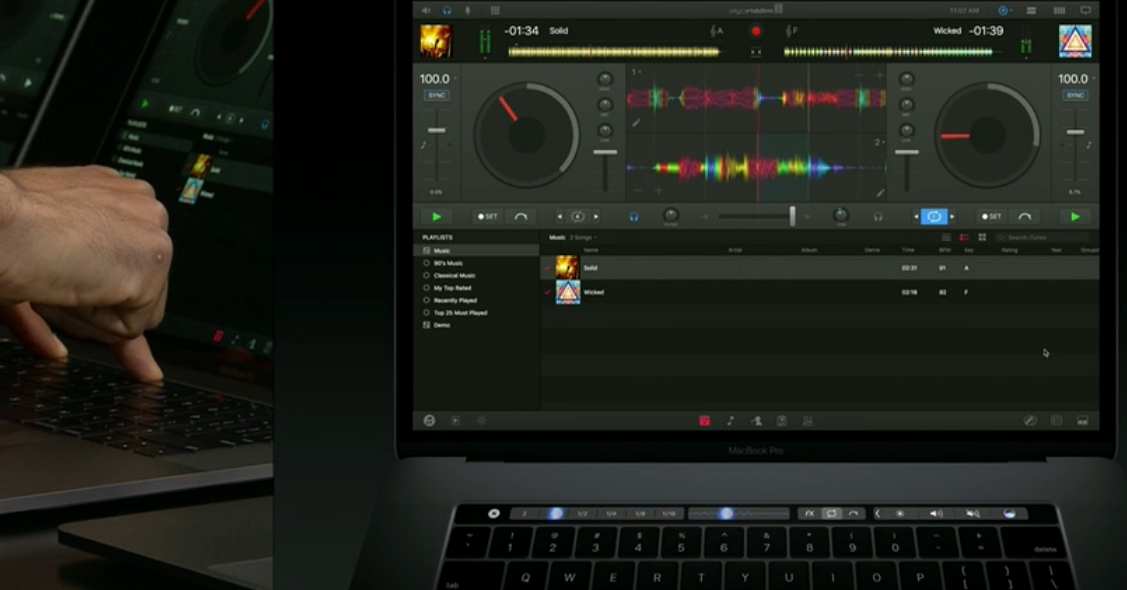 Touch Bar On MacBook Pro 2016
New Experience
Touch Bar gives us a new experience in using MacBook Pro. It also can help you to access menu, contents, and the other features faster without using the cursor to navigate. It reminds us of the time when Apple made the multitouch trackpad for MacBook Pro which provided various finger gestures. These gestures are used on the trackpad to give the new navigating and interaction system experiences. If you own a MacBook Pro 2008 or later, I think you know what I mean. The users love the multitouch trackpad because it helps them switching desktop, dragging, picking a window, and more.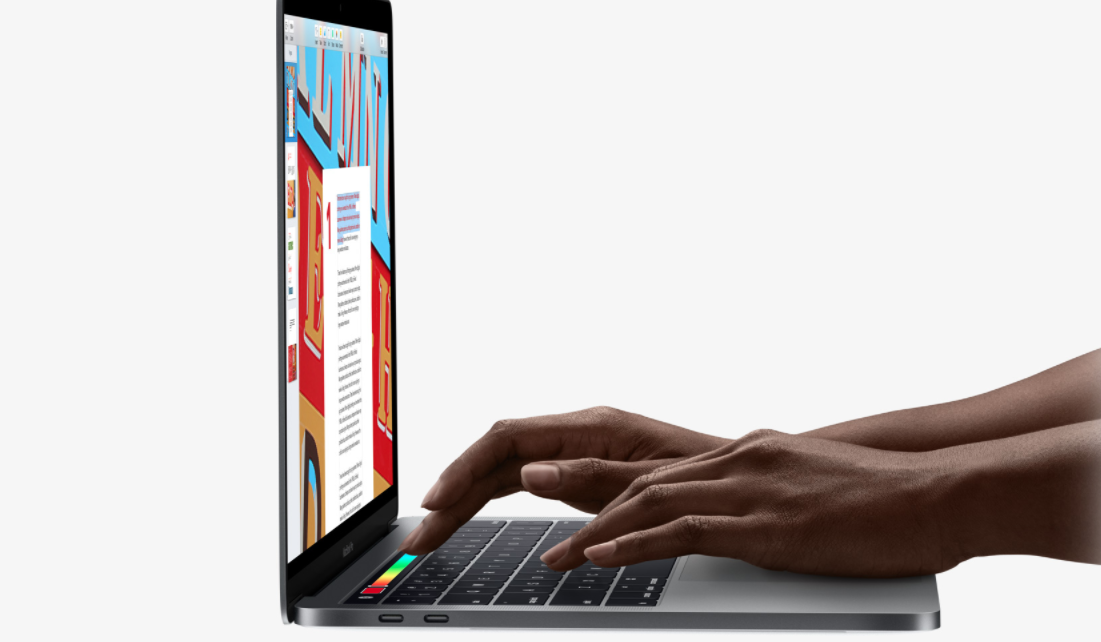 In order to celebrate 25 years Apple PowerBook 100 anniversary, they introduced the new experience using MacBook Pro through Touch Bar. They try to remind us how Apple always gives the best user interface for MacBook users. The Touch Bar can really help users accessing the menu, contents, and certain feature faster and better. Therefore, it can really be useful for users.
Efficiency
The Touch Bar on the MacBook Pro 2016 can lead to more efficient interaction. Even though it's still the first gen, Apple demonstrated it well during the Apple event. They showed that the combination of Touch Bar and MacOS Sierra is actually a killer combination. For instance, on Mail app, Touch Bar will provide a perfect tool for you in making a new email. Moreover, it can also provide the interesting menu, such as send, predictive input, and even emojis to be chosen fast with your finger. Touch Bar and its supporting apps can suggest you a menu. For example, when you highlighting a sentence, it will provide a proper editing menu. Isn't it great?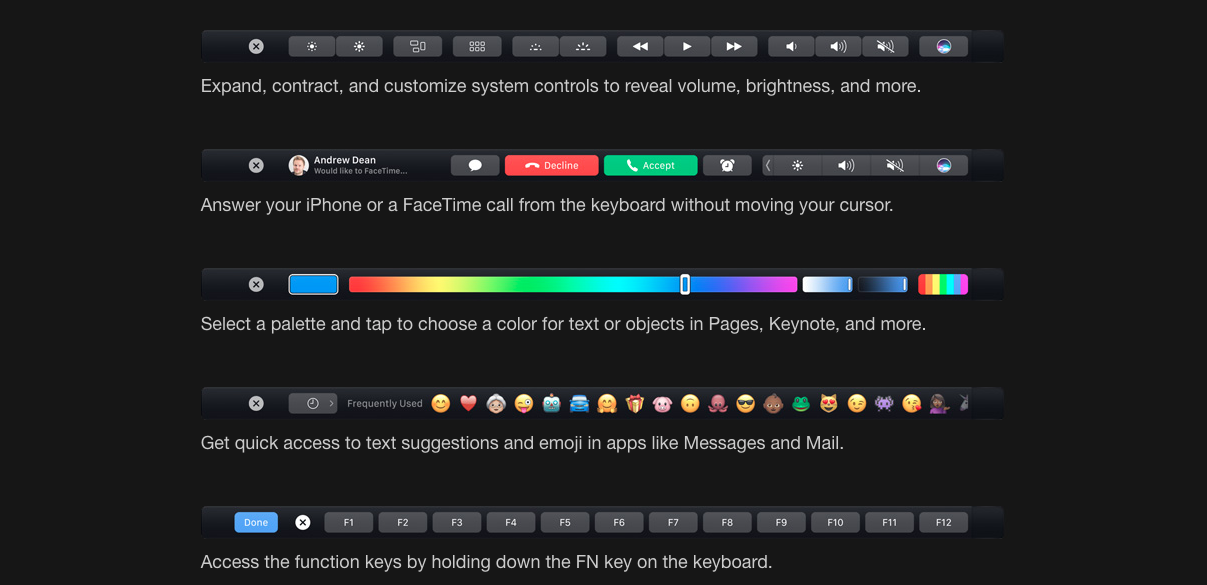 Know How to Use It
Apple is a company which has "it just works" culture. They keep developing the easy-to-use and software and hardware for their lovely users. I think, Touch Bar on the MacBook Pro 2016 is also a part of that culture. It's seen when they demonstrated Touch Bar by inviting the developers and Professional DJs and presented the utility of this new technology from an app.
The question is: will the users be able to use it easily? Of course, it depends on how Apple educate them through the website or the sales associate on Apple stores. Let's point out a few things:
 You can use it without a setting.
You can recognize the icon menu on it with ease because it is similar to Mac and iPhone.
The multitouch input system has been available on MacBook for a quite long time ago. It makes users can understand the interaction with Touch Bar with ease.
Opportunity For Developers
The presence of Touch Bar also gives an opportunity for developers. They will develop their apps to be compatible with Touch Bar. I can just imagine how great Google Chrome will be after adopting Touch Bar. The same goes for Microsoft. They have announced that Office 2016 for Mac will support this new technology.
Will It Fail?
We still don't know yet the users' reaction regarding Touch Bar, but will it be the main user interface of a Mac? Or, is it just a temporary technology? I think this new technology may fail if Apple doesn't consider these things:
Customizable For Each App – At this time, Touch Bar can only be customized for certain functions. The menu options will be limited. Apple should think about the option to allow user customizing Touch Bar for apps.
Only a few developers are interested – If this happens, it can become a nightmare for Apple, as it was 3D Touch technology on iPhone. There are not many apps that available in the App Store which are using this technology. Apple has to make developers interested in creating apps that support Touch Bar technology.
Distraction for some users – Touch Bar can be a distraction. Apple should allow the turn off option and to only provide default functions of a system, like the conventional function keys.
Lack Of Education – Apple should properly promote Touch Bar and educate the users through a website and in Apple Stores. It will be better if their focus on their new technology innovation instead of introducing its faster performance.
Apple has time to make it better by making their best combination of MacOS and SDK for developers. Touch Bar is refreshing. Will the Touch Bar succeed or fail, depends on Apple and the users.
See also: Is Surface Studio Better Than iMac?
---