Need Wi-Fi to run across multiple devices? With the recent advancements, it has become a one-click process to
Need Wi-Fi to run across multiple devices? With the recent advancements, it has become a one-click process to use one's smartphone as a portable Wi-Fi device. Almost any smartphone can be used as a hotspot of the Wi-Fi connection. Through this feature, the smartphones are able to share the mobile data connection in a matter of seconds to any device like some other smartphone, tablet, or even computer systems.
The most important concern while using your phone as a Wi-Fi hotspot is to ensure that your device has the right service plan. Several data connection service plans do not allow "tethering". Therefore, while using your device as a hotspot, if you are not able to establish the connection, then maybe it is time to upgrade your device's service plan. However, there are methods to turn the phone into a hotspot without a plan as well.
Another concern with using your phone as a Wi-Fi hotspot is that it tends to drain the phone's battery soon enough. If you wish to maintain the uninterrupted Wi-Fi connection through your smartphone without harming its battery life, then you can consider using a reliable battery case as well. In case you need Wi-Fi hotspot connection throughout the day, then you should try getting a dedicated Wi-Fi hotspot.
See Also: How to use your Mac as a Wi-fi hotspot
Using Your Smartphone As A Wi-Fi Hotspot
If you wish to know how to use your phone as a hotspot, then firstly, you need to figure out the type of smartphone model that you have. Every smartphone model tends to have a different configuration and settings to turn on mobile hotspot. Therefore, we have made a list of the steps for turning your phone into a hotspot with much ease. Have a read:
Apple iOS
If you are using an Apple iOS smartphone or iOS device and wish to use it as a Wi-Fi hotspot, then here are some simple steps:
Step 1: Head to Settings
Step 2: From there, choose the option Cellular
Step 3: Click on the option "Set Up Personal Hotspot"
Step 4: Advance back to Settings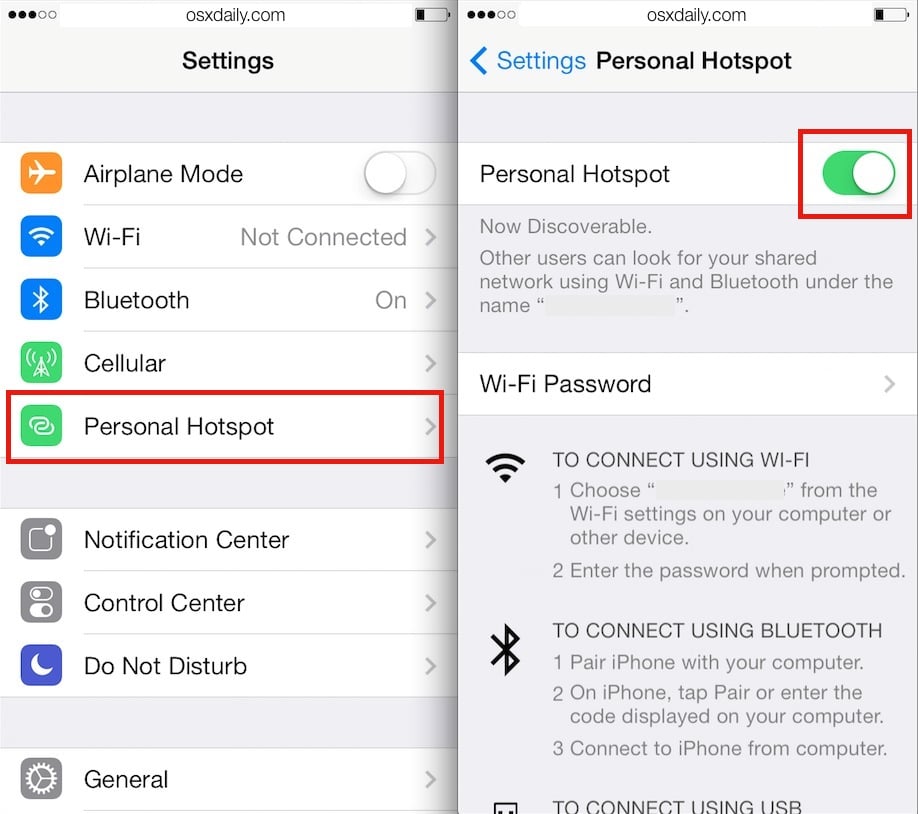 Step 5: Select the option "personal hotspot"
Step 6: Now, you need to toggle the button for turning on the device's hotspot
Step 7: You have to agree to the option "Wi-Fi and USB only"
Now, the hotspot of your Apple iOS device is active. You can see the password of the hotspot on your device's screen. You can edit the same if you wish to. Once you are done using the Wi-Fi hotspot, do not forget to turn off the hotspot to prevent further battery draining of your iOS device.
Android Device
Android devices have different steps of converting the same into an active Wi-Fi hotspot. Android OS also offers several applications like Onavo Count to keep a track of the amount of data being used while on the tethered mode. Moreover, there are also several widgets that claim to turn the Wi-Fi hotspot on and off on their own.
As there are multiple Android devices with different functionalities, some of them tend to have different sets of steps to follow for turning on the Wi-Fi hotspot. However, we are listing a few common steps for every Android device to enable the hotspot. Here are some of them:
Step 1: Advance to Settings in your smartphone
Step 2: Under the icon "Wireless & Networks", click on the option "More"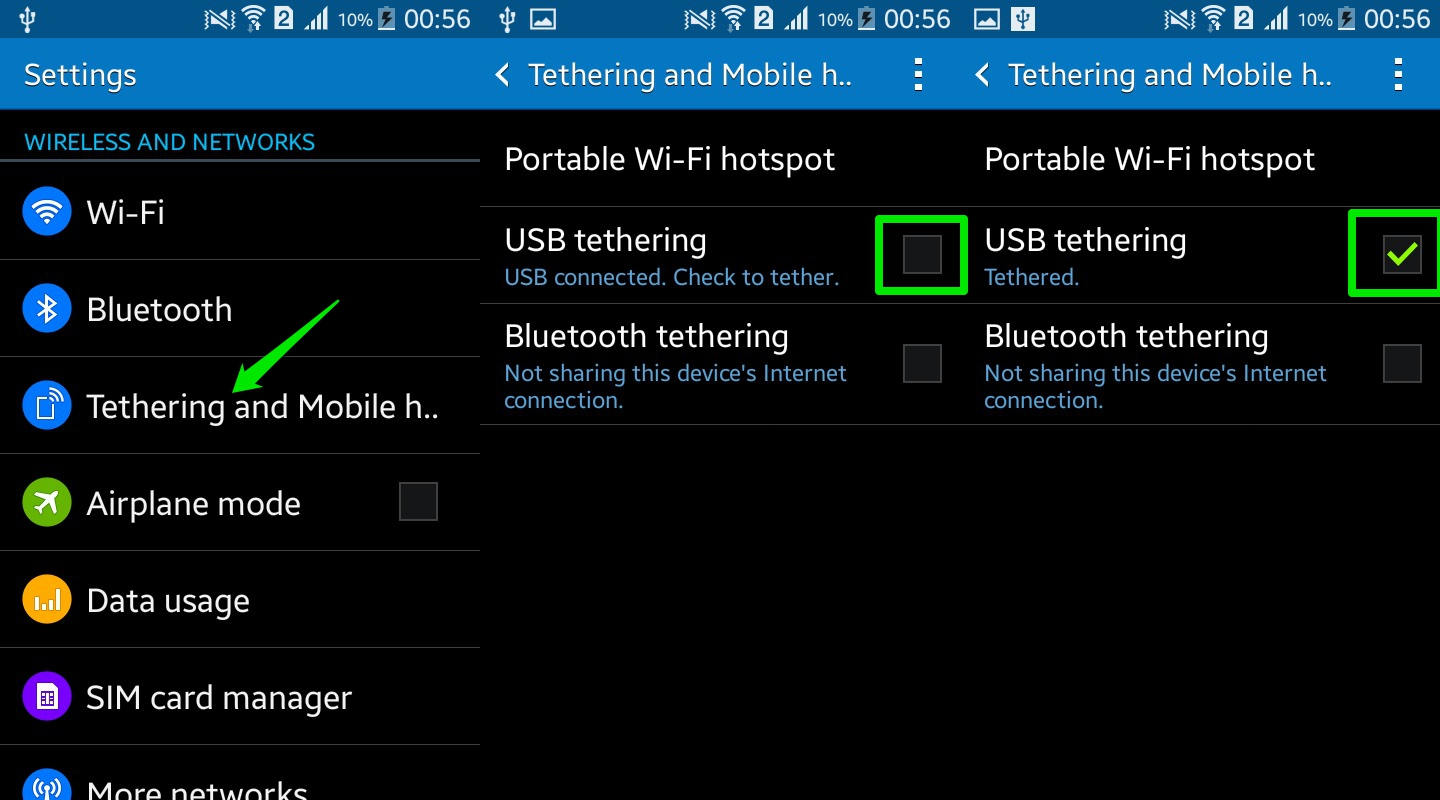 Step 3: Click on the option "Tethering and Portable Hotspot"
Step 4: Tap the option "Set Up Wi-Fi Hotspot". This would ask you to set the password. Once you are done, click on "Save" option
Step 5: Toggle the slider next to "Portable Wi-Fi Hotspot" to activate the Hotspot mode
Now your Android device's Wi-Fi hotspot will be visible over the nearby devices. After entering the correct password as set by you, the devices can access the Wi-Fi data connection from your phone.
Windows Phone
If you have a Windows OS smartphone, then follow these simple steps to turn on mobile hotspot:
Step 1: Swipe down to enable the notifications bars on your Windows phone
Step 2: Scroll down to the option Internet Sharing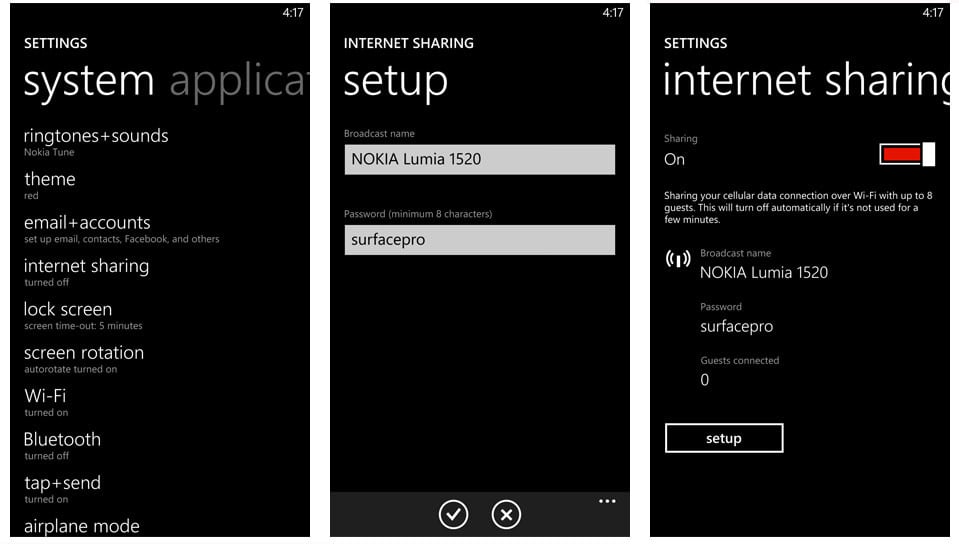 Step 3: Ensure that you have noted the network name of the Wi-Fi connection along with its password
Step 4: Slide the button next to "off" option for turning the Wi-Fi sharing on
Step 5: It is advisable to check on the Data Sense feature of your phone. This will help in limiting the tethering data.
Step 6: If you wish to use Data Sense feature, advance to "All Settings" and scroll down to the option "Data Sense"
Step 7: Here, tap on the option "Set Limit"
Step 8: Under the icon "Limit Type", select "One Time"
Step 9: Under the icon "Days Until Data Expires", select 1
Step 10: Here, you can enter the specific amount of data that you wish to use or share while tethering
Once you are done with tethering, you can head back to "Set Limit" icon and change the "Limit Type" to none or the regular monthly data plan.
Important Tips
While using your phone as a Wi-Fi hotspot, here are some additional tips:
Make sure to turn off the Wi-Fi hotspot on your device when you no longer need the access to shared Internet. This will help your device from draining its battery too soon.
By default, all the portable hotspot might be set up with the option WPA2 security as well as a default generic password. To ensure that your data connection is not used by anyone, try to change the password as per your preference. This will also prevent your device from any potential attacks by the hackers.
Make sure to check the data plan to ensure the data restrictions on your device.
With the help of portable Wi-Fi hotspot, it becomes easy to utilize your phone's Internet connection to be used on the nearby supporting devices as well. Make the best use of it!
See Also: How to fix missing personal hotspot after iOS update
---