Hulu Live is a streaming service by Hulu that also comes with live TV as well as on-demand cable shows from
Hulu Live is a streaming service by Hulu that also comes with live TV as well as on-demand cable shows from over 65 cable channels. It is, simply put, Hulu Basic but with cable and live TV streaming and it goes for $54.99.
YouTube TV is also a live TV streaming service with channels from more than 70 cable and local broadcast networks. Launched in 2017 by Google, YouTube TV stands out because it's the only service that includes PBS channels and additionally, subscribers can get more than 70 of their beloved cable channels for only $50 each month.
Despite the name, YouTube and YouTube TV are operated by Google as completely different bodies. You will need two different apps to access them both. However, YouTube TV does alert you on trending videos on YouTube.
While Hulu Live offers simultaneous streaming for 2 members, YouTube TV offers 6 users under one account although only 3 can stream at the same time. But should you want more users on your Hulu account, get unlimited users, then be ready to part with an extra $9.99 each month. Let's get into the comparison of YouTube TV versus Hulu Live.
See also: Hulu vs. Hulu Plus Live TV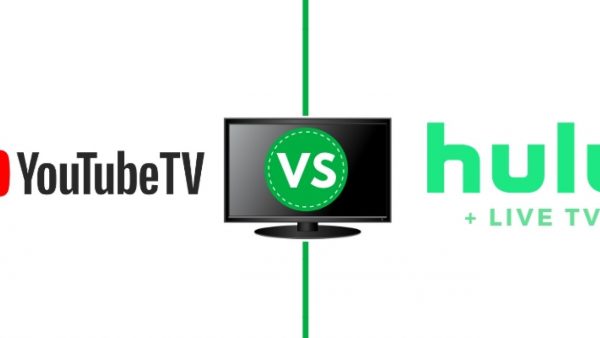 Price:
To subscribe to YouTube TV will cost you $49.99 per month while Hulu Plus Live TV goes for $54.99. Both of these are the base prices before the add-on channels or any other modifications have been accounted for.
Hulu Live comes with a higher price because of all the original content that you get thanks to Hulu. These include new episodes of current TV shows that you can't get anywhere else.
The upside of these two is that there are no additional charges for setting up the devices like there are for cable TV. And unlike cable which requires the signing of a contract, you have the option of exiting either subscription at no cost. YouTube TV and Hulu Live TV also allow their new subscribers to make up their minds by offering a free trial period of 7 days.
Compatible Devices and User Interface:
The devices that are compatible with Hulu Live:
Mac and Windows computers
Apple devices
Chromecast
Smart TVs by Samsung and LG
Amazon Fire TV
Apple TV
Compatible devices for YouTube TV:
Mac and Desktop Computers
Apple TV
Android devices
Xbox One
Chromecast
Apple devices
Amazon Fire TV
Roku OS
Hisense TVs
In the beginning, you could only access YouTube TV on a select number of devices. But over time, devices that have been added on that list include most TVs that work in 4K, as well as all the big streaming device apps. Since February 2020, out of all the TV streaming services, YouTube TV is the only one that is compatible with the PS4 and 4 Pro.
Ultimately, the best chance of getting a device that works with your streaming service is by using the latest models of these devices.
Cloud DVR on YouTube TV:
Although other live streaming services may offer this feature, YouTube TV is unique because not only can you record an endless amount of footage, but you can also keep it for an impressive nine months. This is a feature that doesn't incur any additional charges on your YouTube TV subscription, unlike with Hulu Live.
Cloud Storage on Hulu Live:
Hulu Live offers a limited 50 hours of cloud storage where you can record content to be watched later. To get more storage, you can pay an additional $15 per month to extend it to 200 hours instead of 50.
The difference with the multiple users in both of the streaming services comes with the accessibility. While for Hulu Live, the users need the same password to get into the same account, the 6 members for the YouTube TV account will access their account using their Google accounts. In essence, what this means is that each member can have their password as well as a content library that is not visible to the other members.
Add-ons:
Even with all their cable and local channels, there are still those channels that will not be in the YouTube TV or Hulu Live basic packages. Thankfully, they are available as add-ons and with just a little top-up on the subscription fee, you can have them in your line-up.
Add-ons for YouTube TV:
AMC $5 each month
Fox Soccer – $15 each month
Showtime – $7 each month
Curiosity Stream – $3 each month
NBA League Pass – $40 each month
Shudder – $5 each month
Add-ons for Hulu Live:
Cinemax – $9.99 per month
HBO – $14.99 per month though, for the first six months, it'll only cost you $4.99
Showtime – $8.99 per month.
YouTube TV seems to come out on top in this comparison with Hulu Live. Overall, it is cheaper; it has more channels, more add-ons, more users and even more storage space in the cloud.
Perhaps a one-week free trial, which they both offer, is the test period you will need to make up your mind between the two live streaming options.
---